I get a lot of requests from what I call the "only selling on Amazon/Alibaba type of brands" asking me to test and review their binoculars, most of which I turn down. This is because firstly if I were to accept all of them, I would not have time to do anything else, then on top of that I am often concerned with just how long these brands will be with us and if there is any sort of guarantee or warranty on the product that you can actually bank on as many of these brands are pretty hard to track down outside of their shop on Amazon.
However, due to their low cost and often fantastic claims, many, many people buy these binoculars and thus in order for me to comment on them with any sort of authority, I do feel that I should at least give some of them a try every now and then.
Thus when the Chinese brand UsoGood reached out to me to ask if I would be interested in reviewing their new 12x50 binoculars (approx $80), I first checked to see that they had a website (they do) and then secondly had a quick look at the advertised specs and could offer a good price-performance ratio, and then because I knew that I would also be testing the also new Maven B.6 12x50 binoculars (rrp: $1000 / £1000) at the same time, I decided that looking at these two 12x50 binoculars which sit at the opposite ends of the price & quality spectrum, would make for an interesting comparison and so I agreed:
UsoGood 12x50 Binocular Review
The Body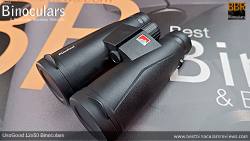 Design
I really like the overall shape and design and for an instrument at this price level, these look to me to be far more expensive than they are.
Like many of the newer 50mm roof prism binoculars on the market, these UsoGood 12x50 binoculars don't look, or indeed feel that dissimilar to a typical "standard sized" 42mm roof prism binocular, which when you consider the added light gathering ability that the larger lenses provide is definitely something to keep in mind.
The single bridge is positioned slightly closer to the ocular lenses than the objectives, which because of the larger objectives does help with balancing, which I found these to be good. This along with the ergonomic shape helps them feel comfortable and easy to hold even over long observation periods, which for a higher 12x magnification binocular is important as it helps you to maintain a more steady view.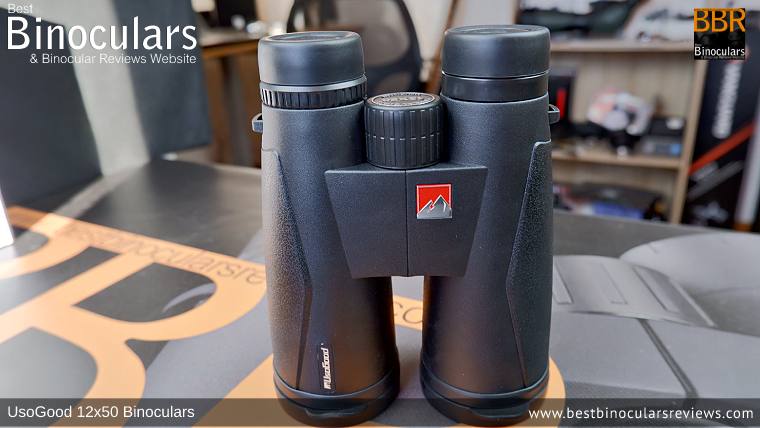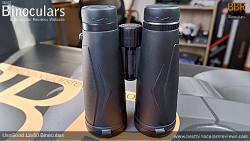 Rubber Armor
Thin, hard rubber, provides less impact protection, and grip than soft, thick rubber armor, but is generally longer lasting and tougher
Fine pattern imprinted on the sides, helps with grip
Fixed tightly to the chassis - no slipping about
Armor covers the entire exterior surface
Housing
UsoGood do not mention what material is used to make the chassis, but due to the very low weight and low cost of these 50mm binoculars, I will assume that it is some sort of polycarbonate plastic and not magnesium or aluminium.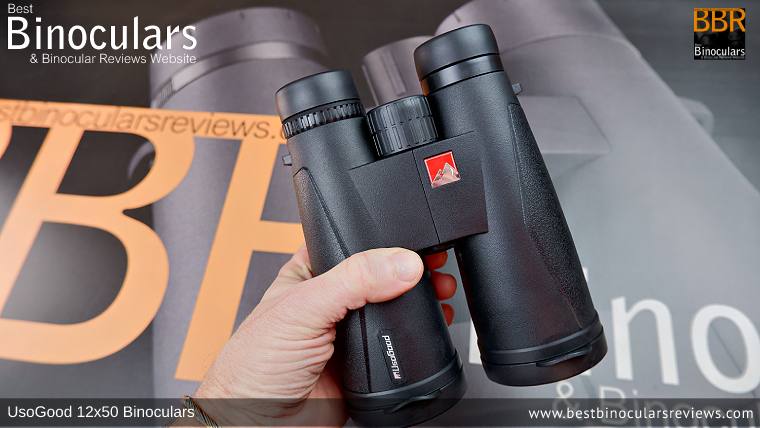 Multi-position, Twist-up Eyecups
Eyepiece housings look to be plastic - this is an area that often gets damaged if you drop your instrument, which is why higher-end instruments use metal even though it is heavier
Outer diameter of 40mm which is a few millimeters smaller than some
Hard rubber coating, which is robust, but less comfortable than softer rubber eyecups
4 click-stops (2 intermediate) offers a very good level of customization
Action is smooth and the eyecups fit well onto the housing with very little free play
The advertised 7.4mm of eye-relief seems strange, but either way the ideal eye-relief on my sample was less than the maximum extension of the eyecups without glasses
I could not obtain the full field of view whilst wearing glasses even with eyecups fully retracted, so would not recommend these to eyeglass wearers.
Central hinge & Inter-Pupillary Distance (IPD) Adjustment
The central hinge on these UsoGood binoculars feels robust and it opens and closes with a good level of resistance and thus maintains your desired IPD setting, matching the distance in between your eyes.
Speaking of which these have an good IPD range of between 6cm and 7.4cm, which means they should accommodate most users.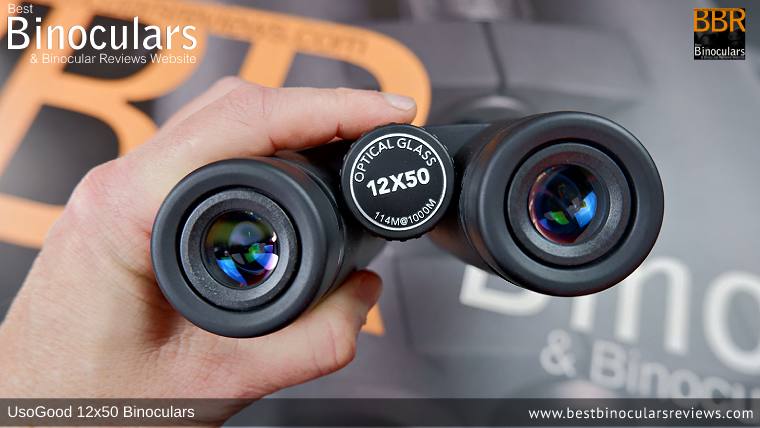 32mm in diameter & 24mm long - Very typical size for this class of binocular
Ideally positioned and easy to reach
The rubber track has prominent ridges, providing a good level of grip and is easy to feel even with gloves on
The focus mechanism is smooth, if perhaps a touch on the stiff side, but this is preferable to it being too loose and sloppy.
The gearing is such that it takes just about 1¼ turns (450°) to move the focus from near to far. This is fairly aggressive, making large focal adjustments quicker to make, but does make fine tuning your setting a little more difficult than lower geared mechanisms.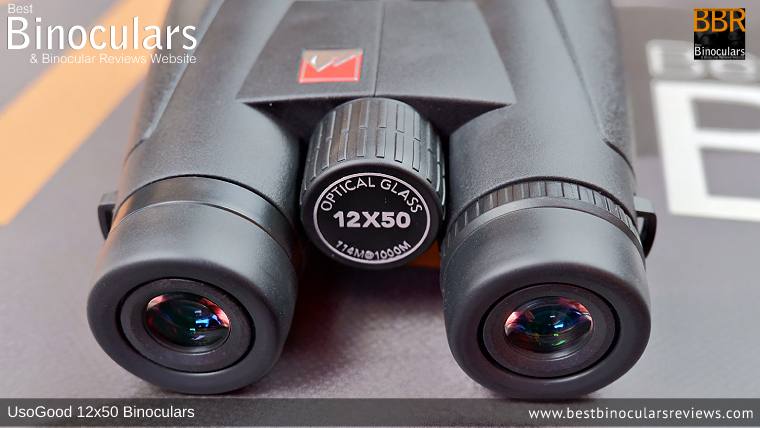 Diopter Adjustment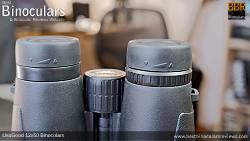 These UsoGood's have a diopter adjuster ring located on the right eyepiece that can be used to calibrate your binoculars to your eyesight by slightly offsetting the focus on this side independently or the left.
The diopter on the UsoGood is not lockable, but at this price level this in normal.
What is frustrating is that they do not have any markings on the body, not even for the neutral position, which will make setting up the binocular, especially for beginners much more challenging. Indeed I am sure there will be manu users who buy these, thinking they are not working properly because they will not know that the diopter has been moved.
To remedy this, I would make a mark on the body once you have finished setting up the binocular to your vision, which is easy to do with something like a permanent marker, but I do feel you really should not need to do this and for me shows a lack in attention to detail.
Rating for Body Construction Quality: 7/10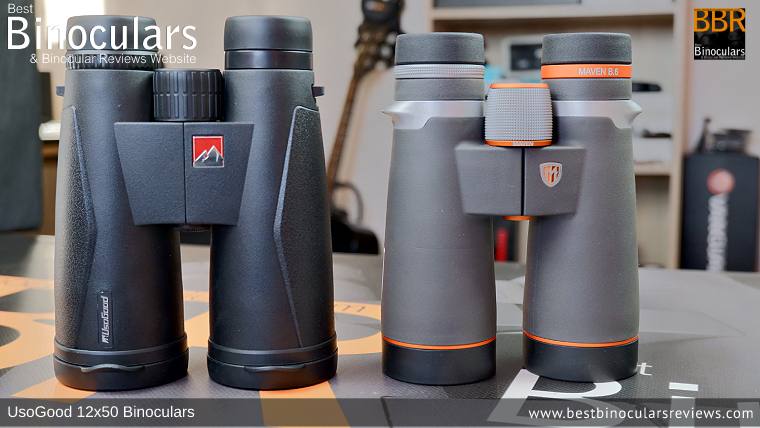 Size & Weight
When opting to use a larger 50mm binocular over a more typical 42mm one, you are sacrificing some extra weight and bulk for the advantage of being able to capture more light which should increase image quality, brightness, and low light capabilities:
Dimensions
The UsoGood is about 6.68in (17cm) long, 2.35in (6cm) high, and has a width of 5.23in (13.3cm) - Comparing these dimensions to other 50mm binoculars (like the Maven B.6 12x50 in the image above), you can see these are quite typical in this area.
What I also think is interesting is if you look at the specifications of a typical 42mm binocular, they really are not that much larger and unless you specifically need to keep the size down, you probably will not notice that much of a difference.
Weight
UsoGood sate that they weigh 750g (26.5oz) in the user manual, which is close enough (I measured 760g).
As you can also see looking at the comparison table above, this is extremely lightweight for a 50mm binocular, which is nice, but also almost certainly means it has a polycarbonate chassis, uses more plastic parts and probably fewer lens elements than higher end binoculars.
BBR Body Stats Score : 8/10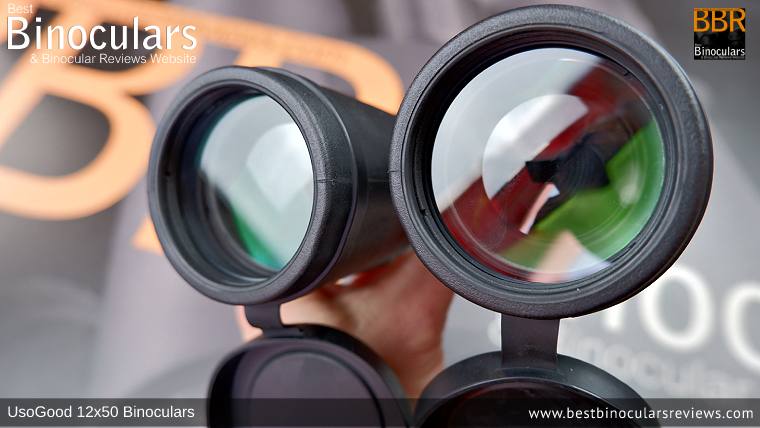 The Optics
Objective Lenses
The UsoGood 12x50 Binoculars have, as the name suggests, 50mm diameter objective lenses. These are made up using a number of elements, but UsoGood Optics do not go into detail, so I can't comment other than to say I am pretty certain that none of them are made from ED glass as they would surely have highlighted the fact if they were.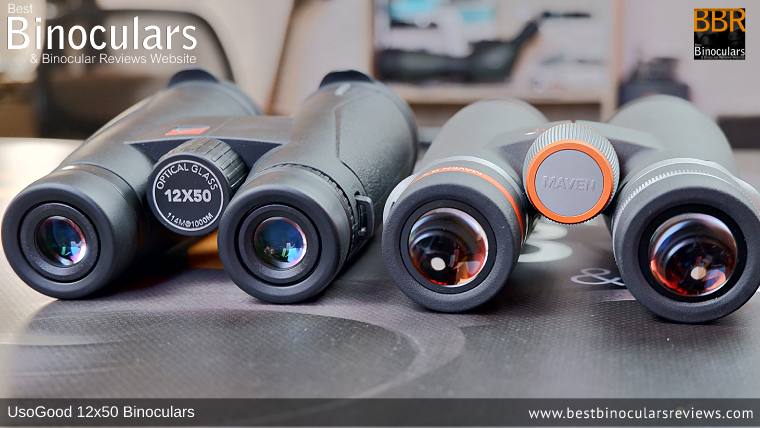 Ocular Lenses
As with the objects, no information is supplied about the oculars other than the fact that they are advertised as being 20mm in diameter. However, part of this is covered by the rubber seal and thus only 18mm is visable, which is pretty small and as you can see in the image above is far smaller than the 25mm used on the Maven B.6 12x50 binoculars.
In my article on ocular lens sizes in binoculars I go over the potential benefits that larger oculars have over smaller ones, but the most important one is that it makes lining up the lenses with your eyes easier and thus there is less chance of black rings forming on the edges of the view.
Prisms
These UsoGood binoculars use Roof prisms, which they state are made from BaK-4 glass. This is good and whilst BaK4 glass made in China is generally considered to be not quite the same as that made in Germany, it is still preferable to the BK7 glass that you will often find on cheaper binoculars like these.
Optical Coatings
The optical coatings used is also very important and is certainly something to look for when buying binoculars as the level of these coatings plays an important role in determining the final image quality and brightness.
Anti-Reflection Coatings
The UsoGood is advertised as having Advanced Fully Multi-Coated Optics which is good. The exact wording is relevant and it is important to note that they are not just "fully coated", "multi-coated" or "coated, but Fully Multi-Coated.
This More on Anti-Reflection Lens Coatings.
Prism Mirror Coatings?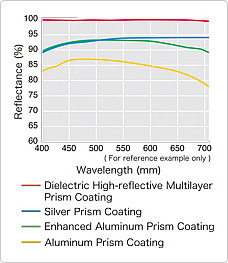 No information is give as to what level or type of mirror coatings are used on the roof prisms.
At this price range we can be almost certain that they are not dielectrically coated and the fact that they don't highlight it would make me believe they use aluminium and not silver, but that is just a guess.
Phase Correction Coatings
What is good is that the prism does have phase correction coatings applied to them. These coatings eliminate something known as phase shift and results in a higher image resolution than those that forego this process.
External Lens Coatings
As far as I am aware, there are no special external coatings to add further protection to the lenses on these UsoGood binoculars, but at this price level, this is to be expected.
Coating Comparisons
Optical Components Quality Rating: 6/10
Optical Stats
Field Of View (FOV)
UsoGood supplies us with conflicting information when it comes to the width of view that you see when looking through these 12x50 binoculars.
In the user manual it states that the FOV is "114M". I assume this is supposed to mean that it is 114 meters wide at a distance of 1000 meters away, but it is not stated. Anyway, if this is what they mean, this roughly translates to a FOV of 342ft at 1000 yards, which for a 12x binocular would be EXTREMELY wide, would beat most 10x binoculars and indeed match the FOV of many 8x binoculars and thus I do find it hard to believe.
I feel quite confident in stating this because when testing and comparing them to other instruments with the same configuration, like the Maven B.6 12x50, I could not help but notice that the image through the UsoGood is certainly not wider than that which I could observe through the Maven B6 which has and advertised FOV of 289ft at 1000 yards.
Further adding to the mystery is UsoGood's listing of the binocular on Amazon, where in the description it states: "The 12x magnification has a field of view of 374 feet at 1000 yards"! This would make them even wider!
Then to add to this, later on in the listing, they state the following: "Field of view ?deg?:5.8 degree". This angle of view (AOV) converts into a FOV of 303ft, which is a little more believable, but is also the third conflicting measurement we are given and I still have my doubts as to the accuracy as this measurement still just feels a little to wide when comparing the view against other binoculars.
Close Focus
UsoGood give us one figure of 5M for the near focus and then I also read this: "It also provides the closest observation distance of 5.5M with the 50mm objective lens". So once again we have conflicting information!
Anyway, on the pair is tested the closest that I could focus on an object was at about 6 meters. Either way, even for a 12x binocular, this is not great and they are certainly not suitable should you like viewing objects like flowers, butterflies or even some birds from close range.
Eye-Relief:
There is no mention in the user manual, but on their listing on Amazon it states that the Eye Relief is 7.4 Millimeters, which I have to say is a rather strange and exacting measurement as in my experience it is usually rounded to the nearest millimeter.
Anyway there is no doubting that the eyecups extend beyond the ideal eye-relief which is certainly not more a lot as there is no way you can use these binoculars whilst wearing glasses and get the full field of view without tunneling even with the eye-cups fully retracted. So I would say it is most likely less than 10mm which certainly means the UsoGood 12x50 is not suitable should you want to use your binoculars whilst wearing glasses or eye protection.
Optical Stats Rating: 6/10
The Image Quality
When comparing the views, it was immediately obvious to me that these UsoGood 12x50 binoculars do not deliver an image that is anywhere near the same level as that which you see when looking through the Maven B.6 12x50 binoculars, however, we do need to keep in mind the Maven's cost more than 10x these and thus this is somewhat to be expected.
Image Brightness
A 12x50 configuration generally results in an exit pupil of around 4.16mm (50÷12), which is what I measured these to be and which is only fractionally smaller than the 4.2mm you generally get with a 10x42 binocular and implies that whilst a 12x50 configuration shouldn't be terrible in low light, it is also far from being the ideal setup as most users would wish for a larger exit pupil under these conditions.
As well as the configuration, the level of optics and the coatings used on them is also very important otherwise all 12x50 binoculars would seem equally as bright. However this difference it is often hard to notice in good light conditions as it is usually very minor. But for me it was obvious that the Maven delivered a far brighter image under all light conditions and it only became more and more obvious as the ambient light conditions deteriorated when I compared them them at and just after sunset.
Contrast & Color Reproduction
Whilst not bad, here once again I could obviously see that the level of contrast between the light and dark areas of a view was far more prominent and obvious when looking through the Maven, compared to the UsoGood 12x50 binoculars. This gave the view on the maven a far greater sense of depth.
Likewise the colors were a little more muted on the UsoGood when compared to the Maven. However, having said all this, I must keep reminding you of the price difference between the two.
Color Fringing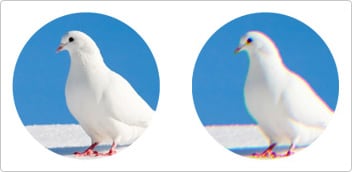 In terms of the views, one area where the UsoGood came close to the Maven was in the level of color fringing around the edges of highly contrasting objects, where both instruments showed what i would describe as very minimal levels, which considering the higher 12x power is particularly impressive.
Image Flatness & Softening
As with the color fringing, I was also impress with just how little softening of the image that was evident right at the edges of the view on these UsoGood binoculars and which I would say is far better than most at this price level.
In terms of any other image distortions like unwanted curving or waviness of the image, I never noticed any when testing my sample, which is obviously good.
Image Quality Rating: 6/10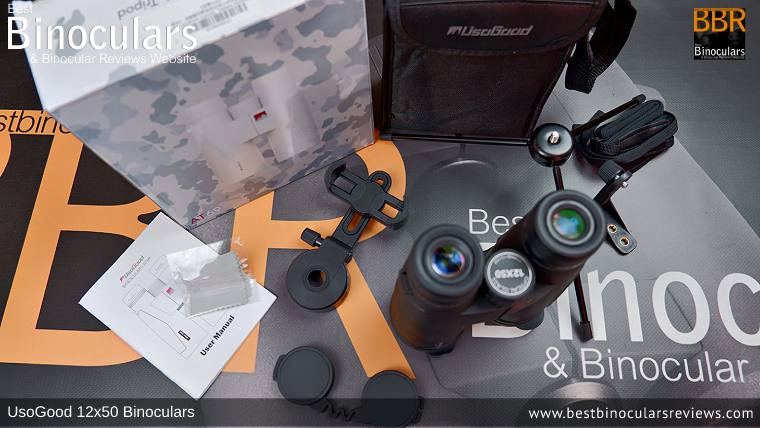 Included Accessories: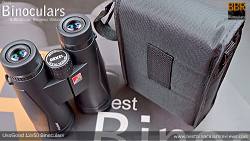 As well as all the standard included accessories (carry case, neck strap, lens covers, cleaning cloth and instruction manual), the UsoGood 12x50 binocular comes bundled with a mini-tripod, tripod adapter and a phon adapter for digibinning:
Carry Case
The included soft carry case is very typical for a binocular in this price range and as with most of the accessories I would describe as being functional but not spectacular.
The padding is pretty thin for this size of binocular, which makes for a less bulky case, but one that offers less protection. A good aspect is that the binoculars fit nicely inside and you can close the flip over lid and fasten it even with the eye-cups extended.
The lid fastens with a strip of Velcro, this makes the binoculars quick and easy to access, but you do need to be careful to not make too much noise when close to timid wildlife.
It has its own unpadded carry strap that cannot be removed and there is a belt loop on the rear. The case does not have any extra pockets either internally or externally.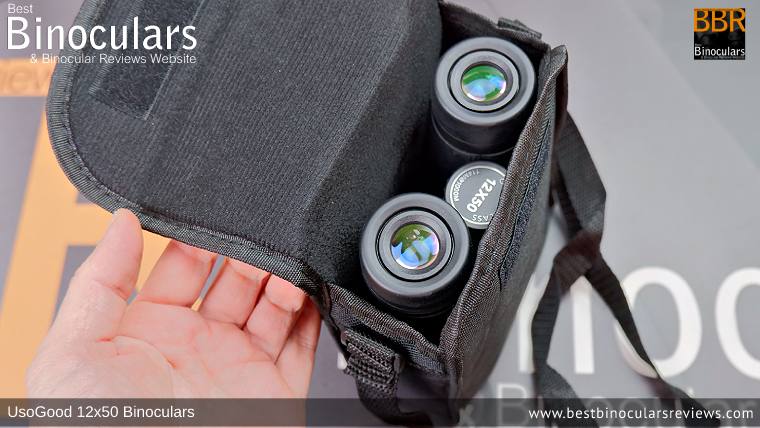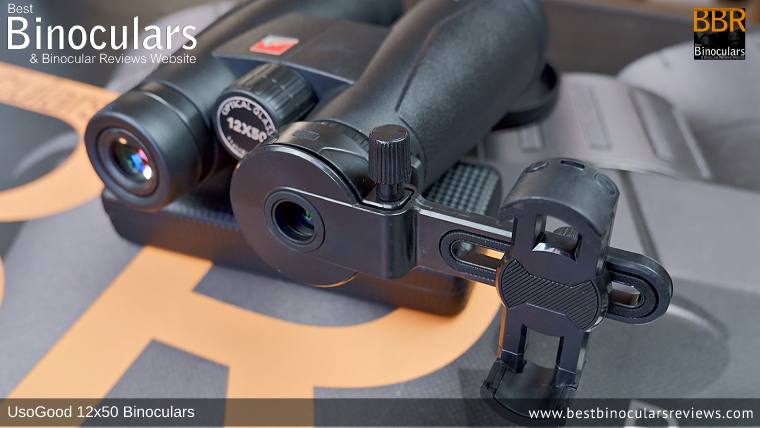 Included Digibinning Phone Adapter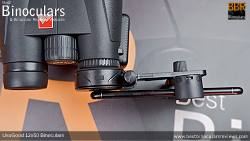 Taking photos though your binoculars with some sort of camera has sharply risen in popularity as the quality of the cameras on mobile phones has increased and thus I think it is a nice addition to the included accessories on a binocular.
Whilst not quite as at the level of the best phone adapters that I have tested (see the SnapZoom Universal Digiscoping Adapter or the Carson Universal Smartphone Optics Adapter for examples), the one you do it is not at all bad.
Fitting it onto the eyecup of the binocular is very easy, and I like how adjustable and flexible it is and thus it should adapt to and accept most/ many modern phones. However on the negative side, it's design means that you don't end up with a setup quite as stable and secure as the better ones that I have used.
Even so, it is workable and if you want to try out digibinning for the first time, this adapter will suffice until you decide that you want to get a little more serious and splash out on something more permanent.
Included Tripod Adapter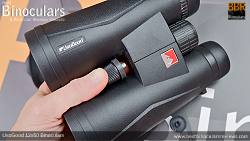 I applaud UsoGood for including a tripod adapter with these fairly powerful 12x binoculars which many users will want to fix onto a tripod even when not taking photos through it using your phone, however, what astounds me is the fact that it does not fit onto the binoculars they are supplied with!
The problem is the mounting screw on the adapter is to large for it to fit between the gap of the two barrels on the binocular and thus you cannot attach it! This to me shows a very low attention to detail and you can only hope that upon reading this review they will look into supplying a different design of adapter that has a narrower profile.
As far as the quality goes, this tripod adapter, whilst not the best is also far from being the worst: Yes, it is not made from metal, but the plastic used is very rigid and as the arm is fairly short, there is no flex to speak of and I would say that it should be plenty strong enough to not worry about it breaking.
I also like that the mounting thread consists of brass inserts which is obviously better than plastic when it comes to the chances accidently cross threading. The fact that there are two of them is also good as this can help with achieving a good balance .. on a binocular that you can actually use it with!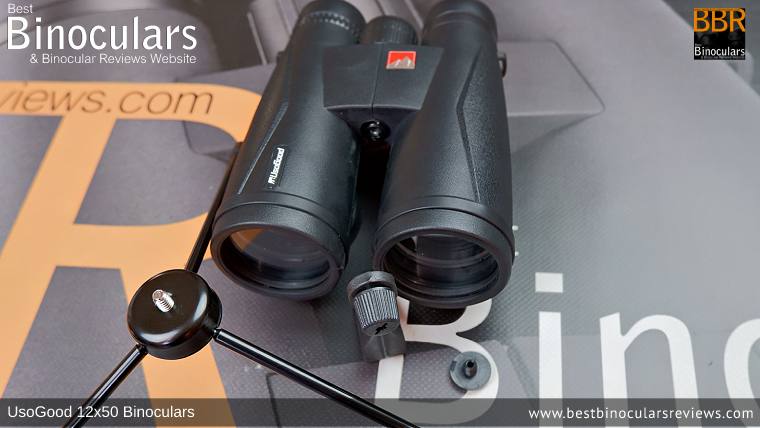 Included Mini-Tripod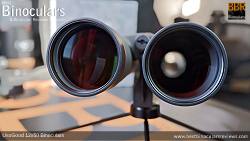 Once again, I can only applaud UsoGood for including a mini-tripod with these binoculars (and a metal one at that) which will be especially useful if you are trying to take photos through it with the included digibinning phone adapter as this will enable you to achieve a much more stable base with which to work with, which will certainly result in better quality, sharper photographs.
As I could not mount the UsoGood binocular onto it using the included tripod adapter, I instead the heavier Maven B.6 12x50 binoculars which has a wider gap in between the barrels and thus worked.
Whilst obviously nowhere near as stable as when using a quality full sized tripod, this ultra portable tiny metal tripod worked surprisingly well and would be ideal for travel or if you simply don't want to carry about a full sized tripod and are able to find a surface like a table to work from.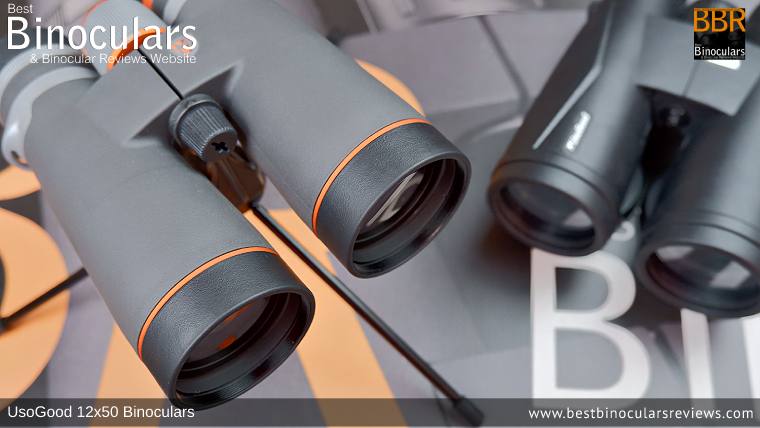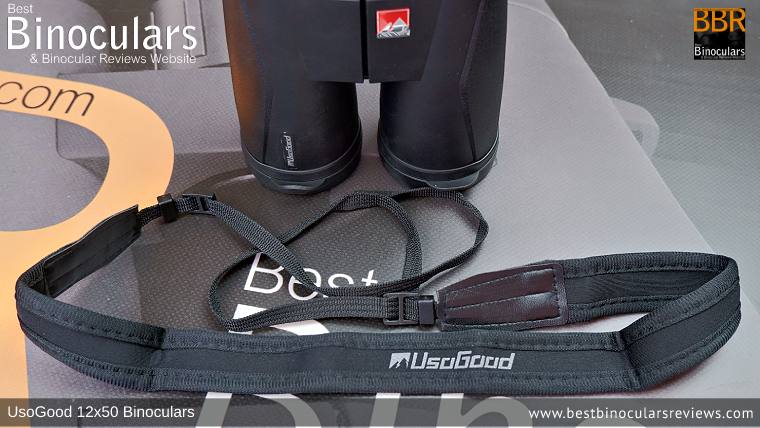 Other Accessories
Neck strap is a little thin and I would prefer more padding for a binocular of this size and weight.
A quick release fastening system on the strap would also make it easier to swap over to a Binocular Harness when needed
Both the objective covers and the rain-guard (ocular lens cover) fit and work very well.
The cleaning cloth is very basic, fine for cleaning the body and very light use on the lenses, but for deep cleaning of the lenses I suggest a lens cleaning kit.
Warranty Information
UsoGood binoculars are advertised as having "a 3-year warranty service". They also mention if the binoculars have any product quality problems, please feel free to contact them. 7 days/24 hours! And that "UsoGood always provides the best service for our customers anytime".
Extras & attention to Detail Rating: 6/10
UsoGood 12x50 Binocular Comparisons
The following table lists the main details of these UsoGood binoculars as well as a small selection of other similar binoculars in the BBR database. To view the full results, open table in full-screen mode.
Review Conclusions:
These UsoGood 12x50 binoculars are perfectly functional and whist not the best low cost binoculars I've tested, they don't feel out of place at this $50 to $80 price range and thus if this is all you can afford, you could most certainly do far worse as overal I feel they offer a reasonably good price-performance ratio. However, just keep in mind that you cannot compare the overall build quality, level of materials, quality of the optics and the final view that they deliver to that of higher quality instruments, even those at around the $150 mark.
Strengths:
I like the overall look 12x50 UsoGood binocular which gives you the impression that they are far more expensive than what they actually are.
Well balanced, they feel great in the hands and for a 50mm binocular these are extremely lightweight compared to others in this size class.
The addition of a smartphone adapter, mini-tripod and tripod adapter is welcomed especially at this price. All three are also of a reasonable good quality.
Weaknesses:
The field of view seems to me to be far narrower than stated
The small amount of eye-relief makes them unsuitable should you need to use or want to wear glasses whilst binning
The minimum focus distance is relatively long which makes the 12x50 UsoGood binoculars unsuitable for close range observation
The fact that the included tripod adapter does not fit onto the binocular is unforgivable and shows a very low attention to detail