Ah the tricky second album! There is no doubting that the first Vanguard Endeavor ED was for the price a great piece of kit, indeed the 10x42 Endeavor ED went on to win my award for the Best Value For Money Binocular in 2013 and really cemented the brands already impressive reputation of giving us plenty of bang for our buck.
Thus with the news that Vanguard were updating this series by introducing the Endeavor ED II, I was immediately interested to see what improvements they would bring to the table and if these would effect their price and either tip them into a new bracket, making them a better binocular, but perhaps a less good value one, or would they still be able to keep them at a point where their features far outbalance the price tag.
Luckily I did not have to wait too long and became one of the first to get the chance to try out the 8x42 version of the Vanguard Endeavor ED II binoculars. Below you can read my full review that includes all their features, my opinions of them and just how well I thought they performed. Along the way, I will also be pointing out the main differences and/or improvements between these and the previous version.
Key Features & Specifications
ED (Extra-low Dispersion) Glass Made in Japan
BaK-4 Roof Prisms with Phase Coatings
Fully Multi-Coated Optics
Magnesium Fog & Waterproof Body
FOV: 378ft @ 1000yds
Close Focus: 6.6ft
Eye-Relief: 19.5mm
Weight: 770g (27.2oz)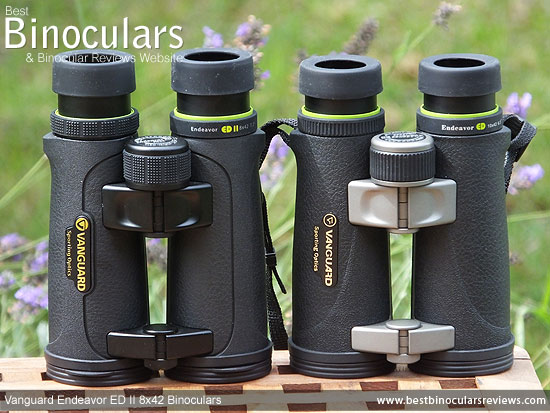 Image comparing the new Vanguard Endeavor ED II binoculars on the left with the original Vanguard Endeavor ED Binoculars on the right
The Body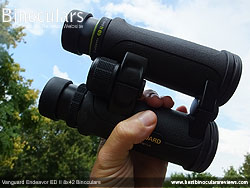 The general body shape is very similar to that on the previous version in that they incorporate a open-bridge configuration that is both comfortable and very secure to hold onto. In some cases, this design can also play a part in reducing weight, but this does depend on the design and materials used for the two thin bridges that take the place of the usual thicker single bridge.
A small difference between these and the original Endeavor is that the bridges are now black rather than silver. Apart from simple aesthetics, being a less reflective color there is now a lesser chance of light being reflected from them, spooking skittish wildlife that you are trying to remain hidden from.
Related to this is the black rubber body armour that covers most of the exterior. Once again this is a very unreflective surface that also does a good job in muffling sounds, which once again can be important to those of us who want or need to remain concealed.
This rubber covering also has a fine leather like texture to it, that helps improve grip levels. However the rubber itself is quite hard and so is not quite as "sticky" as some. The thickness of the rubber is pretty generous and so also offers a more than average amount of impact protection to the instrument.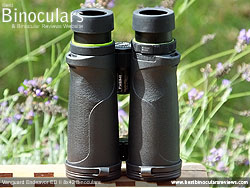 As well as some purely aesthetic designs, Vanguard have also moulded a couple of useful thumb indents on the underside near the eyepieces. These are well positioned and so are there as a small reminder which assists you to quickly hold onto the bino in the right way and place to get it well balanced.
On each side of the bin is a loop that you thread the neck strap through and fix to the instrument. Unlike some that are plastic and/or stuck onto the body, these look to be part of the whole chassis and are therefore far stronger and less likely to break.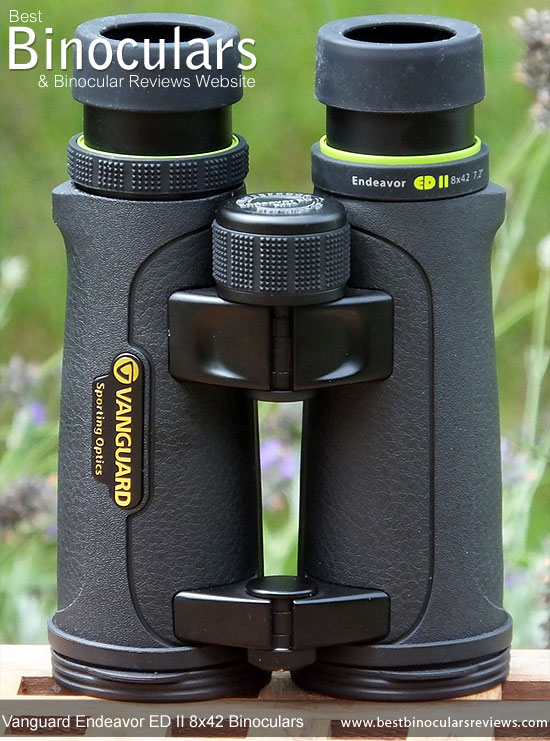 The front objectives are fairly deeply recessed (approximately 8mm) from the ends of the barrels, which not only helps to prevent physical damage, but offers the lenses some shelter from rain and dust.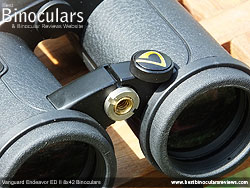 Tripod Adaptable
I am happy to report that this Vanguard Endeavor ED II binocular is tripod adaptable. By this I mean the small cap with the Vanguard logo on the front bridge can be removed by unscrewing it. A standard binocular tripod adapter which are inexpensive and easily obtained can then be screwed in and then attached to your tripod or tripod head (depending on your setup).
Chassis
Fashioned from magnesium-alloy, the main frame on this Endeavor ED II should be much stronger than the plastic/polycarbonate ones as well as a little lighter than the aluminium ones.
Whilst I cant be sure because they don't stipulate what body material is used, but I think this is another area where Vanguard have improved on the original Endeavor which I suspect to have a polycarbonate body and may also be one of the reasons why this newer series is also a little heavier.
Water & Fog Proof
As with the previous version, the body has been fully sealed and nitrogen purged, with nitrogen replacing air inside to prevent internal glass surfaces from fogging and thwart mold formation.
Whilst Vanguard state that the Endeavor ED II is waterproof, they do not quantify this with a recognized standard or water depth.
Eyepieces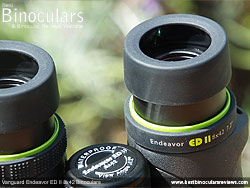 Out of all the parts on a binocular, it is the eyepiece that is damaged the most often, so it is good to see that the Vanguard Endeavor ED II has metal eyepiece housings and eyecups and not plastic ones which I sometimes see. Not only is this obviously stronger, but they generally work better and makes twisting them up and down smoother with a nice solid feeling and they are completely devoid of any free play.
The two fixed intermediate stops and a full 19.5mm of eye-relief is great news, especially for eye-glass wearers as it means you have plenty of room and flexibility to ensure you position your eyes correctly behind the eyepiece for a full, uninterrupted view.
The eyecups are 41mm wide and the rubber that covers the cups is just thick enough to make them about as comfortable as most others out there.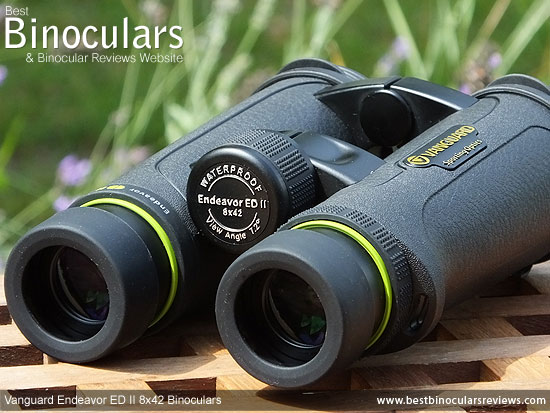 Focus Wheel & Focusing
To me it looks like that the actual focus wheel is fashioned from metal and not plastic like many others out there which is great to see. This quality continues through to the mechanism on the pair I tested as the wheel was beautifully smooth to turn.
The gearing on this Vanguard 8x42 Endeavor ED II binocular is very aggressive as it only takes ¾ of a turn (135°) to go from the extremes of near to far focus. The advantage of this is that it is nice and quick to change the focus over big distances, but in theory also makes it a little harder to fine tune. During my testing of these, I never had a problem getting the focus perfect and really do like the fact that with only a small turn of the wheel, you can quickly take your view from a bird in a nearby tree, to that of an eagle soaring way up above your head.
Covering the central section is a soft rubberized track that has a large number of tiny pointy spikes on it that does a great job of increasing the level of grip.
The wheel measures 32mm in diameter, which is a tad larger than many, this combined with a nice prominent position as well as the rubber grip track made it a synch to turn and adjust accurately. This remained true even when testing them whilst wearing my winter gloves.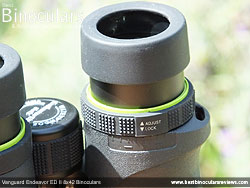 Diopter Adjustment
It is often the small things that separate the best binoculars and a small feature on these is the excellent lockable diopter adjustment ring:
With an adjustment range of about +4D to -4D, it is like most, positioned just below the right eyepiece, however unlike most you can lock it in place. This ensures that once you have taken the time to correctly calibrate the binoculars to offset any difference in vision between your eyes, there is far less chance of it moving by mistake.
To prevent this from happening, many diopter rings that are not lockable are also often quite tight and difficult to turn. This is not the case on these Vanguard binoculars, once unlocked it turns quite freely, which in turn makes it easier to be more precise when choosing your perfect setting.
Covering the ring is also a soft rubber track that is similar to the focus wheel in that it has groups of pointy, raised spikelets to increase grip, should you need it!
I also like the way that Vanguard have included a scale, which makes it easier to return the diopter to your desired setting should you need to change it, if for example you share the bins with someone else.
Rating for Body Construction Quality: 9/10
Weight
Tipping the scales at 770g (26.3oz), you can see from the table below that even though the Vanguard Endeavor ED II binocular has a magnesium chassis and a open bridge body, it is not the lightest pair of full sized bins I have ever used.
However whilst it may not quite match the lightest, it is only slightly heavier than most and remember that whilst some may be a lot lighter, these ones will often use far weaker (but lighter) materials like plastic, both on the body and on important parts like the eye-cup and ocular lens housings, which is most definitely not the case with these Vanguard binoculars.
Weight, Body Materials, Design & Dimensions of some 8x42mm roof prism binoculars I have reviewed
Weight
Chassis
Design
Length
Width
Depth
Vanguard 8x42 Spirit ED
22.6oz (641g)
Polycarbonate
Standard Bridge
5.7in (14.5cm)
4.9in (12.4cm)
?
Celestron Granite 8x42
24oz (680g)
Magnesium
Open Bridge
5.8in (14.7cm)
4.0in (10.3cm)
2.1in (5.3cm)
Pentax 8x43 DCF ED
25.2oz (715g)
Magnesium
Standard Bridge
5.7in (14.5cm)
5.0in (12.7cm)
2.1in (5.3cm)
Hawke Sapphire 8x42 ED
25.7oz (730g)
Magnesium
Single Top Hinge
5.5in (14cm)
5.1in (13cm)
2in (5.1cm)
Vanguard Endeavor ED 10x42
25.8oz (730g)
Polycarbonate?
Open Bridge
6.0in (15.2cm)
5.1in (13cm)
2.1in (5.3cm)
Minox BL 8x44 HD
26.1oz (740g)
Polycarbonate
Open Bridge
5.9in (15cm)
5.1in (13cm)
2.1in (5.3cm)
Hawke 8x43 Frontier ED
26.2oz (743g)
Magnesium
Open Bridge
6.6in (16.7cm)
4.0in (10.3cm)
?
Vanguard Endeavor ED II 8x42
26.3oz (770g)
Magnesium
Open Bridge
6.0in (15.4cm)
5.1in (13.0cm)
2.4in (6.2cm)
Celestron 8x42 Nature
27 oz (765 g)
Aluminium
Open Bridge
5.7in (14.4cm)
4.3in (11cm)
2.1in (5.3cm)
Eagle Optics ED Ranger 8x42
27.4oz (777g)
Aluminium?
Open Bridge
6.7in (17cm)
5.0in (12.7cm)
?
Dimensions
The official length is 15.4cm which is achieved by twisting in the eyecups and removing ocular and lens covers. By adding both lens covers, their length becomes 15.8cm and then twisting out the eyecups it's max length is 16.8cm.
Likewise the official width of 13cm is taken with the central hinge fully open. Closing this reduces it to 11.5cm.
The manufacturer does not publish the height measurement, but I measured it as follows: 6.8cm, fully opened with the lens covers attached, remove these and this drops to 6.2cm. Note: By closing the central hinge, their height increases to a maximum of 8cm with the lens covers on. As you can see from the table above, their height is a little more than most, however this is largely down to the very pronounced focus wheel, which in my opinion is a good thing as it makes it far easier adjust when using gloves.
All of these dimensions are fairly typical for that of a roof binocular of this size.
Inter-Pupillary Distance (IPD)
The Inter-Pupillary Distances are not specified by the manufacturer, but I measured the maximum to be 7.5cm and the minimum 6cm, which for this type and size of optic is fairly standard, which in turn means that most people should be able to adjust them to match the distance between their eyes.
BBR Rating for Body Stats: 7/10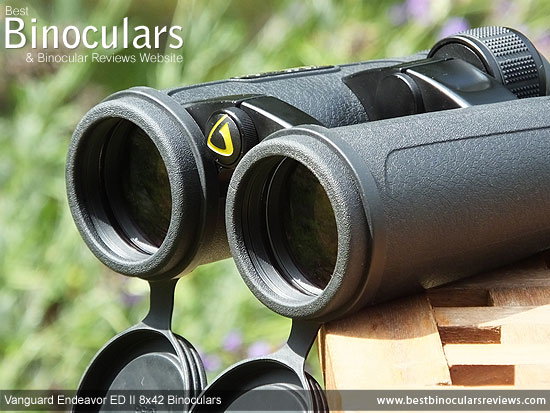 The Optics
Lenses
Like most manufacturers, Vanguard do not publish any information regarding the makeup of their eye-piece lenses, which for me is a constant source of frustration! So all I can say is that I measured their diameter as being a fairly typical 23mm for a bin of this size.
Whilst they also don't go into detail as to the exact makeup of the objective lenses, we do know that they have one extra low dispersion glass element within them. What is more, Vanguard proudly state that this ED glass lens is made in Japan, which is considered by most experts to be superior to the cheaper ED glass lenses often sourced in China.
The result is that these ED elements have the potential to better manipulate the individual lightwaves, returning them to the exact same point with less chromatic aberration which results in a better quality image with little or even no color fringing. I have highlighted the word potential in the previous sentence, because just using ED glass does not magically achieve this, it still requires a huge amount of skill and expertise to maximise this potential, which is why Japanese ED lenses are often considered to be amongst the best.
Note: Whilst the original Endeavor's do have ED glass, they did not highlight that they were Japanese and so we can assume that like most others out there, they were not.

Prisms
Like the original Endeavor ED's, all Vanguard Endeavor ED II binoculars are made using BaK-4 glass in their roof prisms and whilst I know that not all "BaK-4" glass is of exactly the same quality or having the same properties (depending where it is made), Vanguard like most do not go into any detail. However no matter which is used, it is still usually preferred than the BK-7 prisms used for the prisms on some (usually cheap binoculars).
Optical Coatings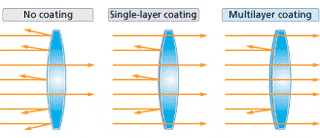 As I fully expect with a bin in this price range the optical system on these have been Fully Multi-Coated (FMC). This tells us that every single external surface of glass throughout the system has been treated with more than one coating of an anti-reflective material.
You need to be aware of this as some bins will highlight that they are "Fully Coated", "Multi Coated" or "Coated" and whilst they are all better than uncoated optics, they are most certainly inferior to those that are FMC.
What is more, unlike some features, you can really notice the difference between a FMC bin and those with fewer or no coatings as they do play a big part in improving the transmittance levels and thus produce brighter and better quality image.
Phase-Corrected Prisms
The prisms on these have also been phase corrected. This means that they have had special coatings applied to them that corrects a phenomenon known as phase shift, where the light passing through the prism diverts into two beams that are slightly out-of-phase and thus when left unchecked (as is the case on many) will deliver a lower resolution, lower contrasting image.
There is however no mention as to what reflective material is used to coat the roof prism surface with that does not reflect all the light that hits it. Cheaper bins tend to use aluminium, better optics have silver mirror coatings and the best use dielectric coatings. The original Endeavor ED's use silver, which I will assume is the same as what is used on these Vanguard Endeavor ED II binoculars. If anybody can help with some more information on what these use, I would love to hear from you.
Optical Components Quality Rating: 9/10
Optical Stats
The Field Of View (FOV)
Vanguard state that the 8x42 Endeavor ED II has a view angle of 7.2°, this extends to a width of view that is 378ft wide at a distance of 1000 yards, or 126 meters wide at 1000 meters away.
This FOV is reasonably good for an full sized binocular with an 8x magnification. Whilst it does not quite match some of the very widest, it still beats many really good bins and is easily wide enough to accommodate most peoples everyday needs.
Near Focus
The official close focus distance is 2m (6.6ft), is more than respectable for a full sized bin. However I measured the minimum focusing distance on my test pair as being 1.7m (5.6ft). This is excellent and is definitely near enough for viewing nearby objects like butterflies, dragonflies, other insects and flowers from time to time.
Eye-Relief:
The 19.5mm of eye-relief is superb, offering plenty of room to manoeuver to make sure that you can see the full image and which ranks them up there with some of the best long eye-relief binoculars. Combine this with their very good eye-cups (see above) and it means that these are an ideal binocular for most eye-glass wearers.
Optical Stats Rating: 8/10
Image Quality
The most difficult part of all my reviews is to describe and rate the view that you get through the device. To help me be as impartial as well as constant as possible, I evaluate the image I see through the bin that I am testing with that of some similar benchmark bins that I use for all my reviews.
For this test I used my high end benchmark 8x42 binoculars and because I had them, my pair of Vanguard Endeavor ED 10x42 binoculars as well. I conducted the following tests once during the day in what were dull, overcast and rainy conditions and then once again later on in the evening at around sunset.
Colours & Contrast
As I would expect and hope to see on any high end binocular, the colors through these were nice and vibrant, but at the same time looked natural. Some bins can have a slightly tinted view, but this was unquestionably not the case on these.
The contrast between dark and light was also good and really helps deliver an image that looks full of depth as well as helps make certain objects almost jump out at you.
Image Brightness
The brightness of the image that you perceive has a lot to do with the available light, the binoculars configuration and the resultant exit pupil size. So in bright light when your eye's pupils are small, 8x42 binoculars with their comparatively large exit pupils will supply your eyes with more than enough light.
However it is in poor light when binoculars with better optics and coatings can make the difference and look to be brighter than those with the same configuration but lesser quality optics. To better understand this concept, please take a moment to read my guide to image brightness & the exit pupil.
Thus even though my first test was carried out in rainy, overcast but daytime conditions, I was not able to discern any difference in brightness between these and my high end 8x42 benchmark. What is more, these Endeavor ED II's were equal in brightness even when looking into some dark foliage when compared to the 10x42 Endeavor ED even though it has a smaller exit pupil.
In poor light, later on in the evening, these Endeavor ED II still matched my high end 8x42's and I really could not notice a difference which is impressive. As you would expect they did now look brighter than the older 10x42 Endeavor ED.
So based on these comparisons I would place the image brightness on these as equal to some of the very best 8x42 bins I have tested and better than most.
Color Fringing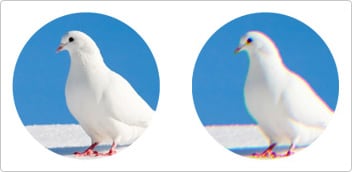 This is where you see a thin line of colour around the edges of an object and is caused by a distortion known as chromatic aberration.
Better made lenses are designed to minimize or even completely eliminate this distortion and as is the case with these Vanguard Endeavor ED II use special extra low dispersion glass elements (ED Glass) that help by giving the lens designer even more options to direct the wavelengths of light better.
Thus because these bins use ED glass and because Vanguard proudly state that theirs are made in Japan by some of the best in the world, I was expecting this to be an area where they really excelled and I was not to be disappointed.
Even by going to extremes and very carefully viewing the edges of objects against very dark backgrounds and then again against a bright sky, it was really hard to see any color fringing. In this area these are up there with the very best.
Interesting and whilst the difference was very minimal, I did think that my Endeavor ED 10x42 showed a little more fringing than these.
Image Flatness & Softening
This is one area where Vanguard have really improved upon the older Endeavor ED, well certainly on the 10x42 version. Whilst it was in no ways bad, the Vanguard Endeavor ED 10x42 binocular did have more softening/blurring of the image on the edge of the view than these newer 8x42 Endeavor ED II's. Indeed I would describe the amount of softening on these to be extremely minimal, almost none and is in my experience is about as good as it gets.
Also to note is that the whole image from the center, right to the edges was nice and flat, lacking any obvious distortions like pin-cushioning or barreling, where straight lines can look to curve slightly. Sometimes a really flat image like this can produce what some call the roller ball effect, but to my eyes this was also not present.
Depth of Field
I tested the depth of field by viewing an objects at different distances and then taking the view back beyond them without touching the focus wheel to see how far you can go without the image becoming blurred. Once again these Vanguard binoculars matched my high spec benchmark and so is also on a par with most other good 8x42's in my experience.
As you would expect this depth of field was a fraction better than the 10x42 Endeavor ED's with their higher magnification that "zooms" more in on an object, sacrificing a little depth of view.
Image Quality Rating: 9/10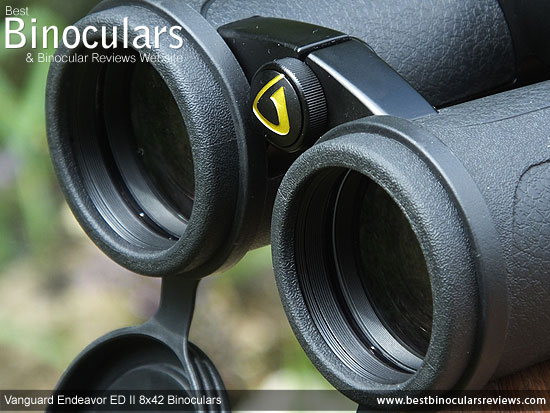 Accessories:
Apart from a few tweaks in style, these newer Endeavor ED II's look like they come with the same, but very good quality as well as functional accessories as the original Endeavors:
Carry Case
Vanguard is probably best known for it's range of photographic accessories that includes tripods and camera bags. So as you would expect the Endeavor ED II comes with an excellent quality as well as functional carry bag.
Whilst it is soft case, there is a good amount of padding that will protect your instrument inside from all but quite severe impacts and whilst it may not be fully waterproof, the fabric and it's close weaving will provide plenty of protection from the elements including rain and dust.
You gain access to the interior with a long Zip that runs across the top and along almost the full lengths of the sides of the bag. This ensures that when fully unzipped the opening is nice and large to make taking out and replacing the bin quick and simple.
A Zip like this ensures the best and most secure way to close the case, it is also easier to make less noise when accessing it than Velcro strips, which in some situations is vital, but is perhaps not as silent or as fast to open and close as some quick release clips or magnetic fasteners.
The hand strap that is fixed to the bag is excellent. Not so much in itself, but because it has a quick release buckle that can be opened and then connected to the quick release buckles on the main neck strap once removed from the bin. Thus if you wish, this carry case then essentially has a fully padded strap with which to carry it with.
The rear of the case has a belt loop, great for those who like to carry the bag around their waist.
A small criticism I have with the case is that it does not have any extra pockets, either on the inside or externally which some people find useful for segmenting a few personal items and/or things like lens cleaning materials.
Apart from a few minor changes like adding their new orange logo, the case is essentially the same as that used with the older Endeavor ED.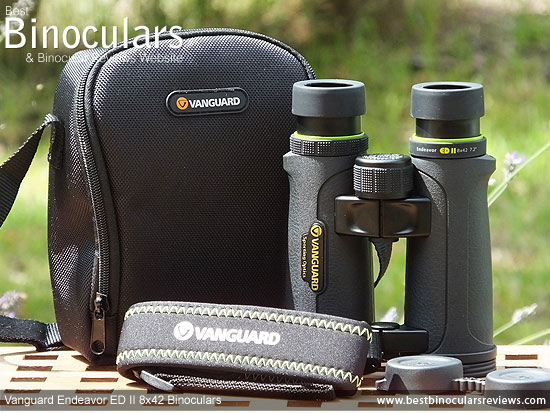 Neck Strap (& Carry Case Strap)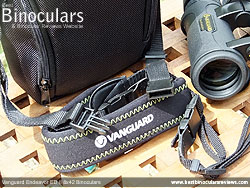 The neck strap is the same as that which came with the original Endeavor ED and that is a good thing - it is a little different to the norm in that it can be attached to the binoculars as well as the carry bag using it's quick release buckle. I really like this feature as it is quick and no trouble at all to change the strap over from one to the other and means that you don't have the added bulk of two straps. On top of this it is possibly the best, most padded case strap that I have ever used!
I also like the fact that with the padded neck section removed, you can now connect the shorter parts that are left on the binocular together with their buckles and hey presto, you now have a hand strap! In some instances like when using my bins around the garden I find this setup far preferable and less bulky than having a neck strap connected to the bin which you don't need.
The actual strap looks to me to be well made with some quality stitching both on the padded section and more importantly on the faux leather pieces that connect this to the thinner nylon straps making the join nice and strong.
The padded neck section is 4cm wide and the 6mm of padding is more than enough for the weight of these bins. There is also a slight curve to better fit round your neck so all in all it is really nice and comfortable.
One very minor trick I think that Vanguard have missed on these is to have a looped connector between the two different sections of strap which helps prevent the neck section from moving as you move the bin from your chest up to your eyes.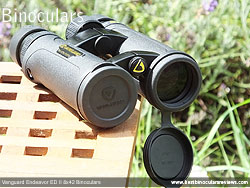 Objective Lens Covers
As with the original Endeavor ED and indeed many other bins, the lens covers are made from a soft rubber and fit over the ends of the barrels. The actual fit on my test pair was perfect, making it quick and easy to remove and replace them, without much chance of them coming away when you don't want them to.
Each cup is hinged and attached to a rubber loop that also fits over the barrel. This means that you can quickly remove each cover and simply let them hang down under the barrels out of the way whilst glassing, but are always at hand to quickly find and replace them when you are done - very simple but also very effective. You can also completely remove them should you prefer to not have them attached.
Ocular Lens Cover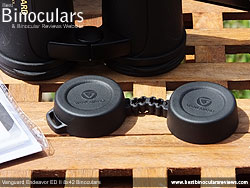 Often also referred to as the rain-guard, the cover that protects your eyepieces and ocular lenses is like the objective covers, also made from a soft plastic/rubber and likewise also attaches perfectly over the eye-cups.
The cups are connected to each other with a bridge that is nice and flexible, ensuring that you can replace the cover no matter what your IPD setting on the bin is.
Vanguard have also included a single loop on the left cup. This is so that you can thread the neck strap through, keeping it handy and available at all times.
Once again both the ocular and objective covers are the same as the ones supplied with the original Endeavor ED.
Lens Cloth
A reasonably good quality micro-fiber cleaning cloth is also contained within the box. This is ideal for emergency or out in the field cleaning, but to look after your lenses and their coatings correctly, I would suggest that you acquire a specialist lens cleaning kit which are easily found on the web and not that expensive.
User Manual & Warranty
Vanguard Optics obviously also believe in this product as you get their "Premium Lifetime Warranty" with it, which is excellent.
Extras & Attention to Detail Rating: 8/10
Vanguard Endeavor 8x42 ED II Comparisons
Take a look at the table blow that makes it simply to quickly some of the main features and stats of this Vanguard Endeavor ED II binocular with a selection of other 8x42 binoculars that I have reviewed:
| | | | | | | |
| --- | --- | --- | --- | --- | --- | --- |
| | Vanguard Endeavor 8x42 ED II | Celestron Granite 8x42 | Eagle Optics ED Ranger 8x42 | Hawke 8x42 Sapphire ED | Minox BL 8x44 HD | Pentax 8x43 DCF ED |
| Approx Price: | $500 | $345 / £398 | $440 | $450 / £340 | $490 / £399 | $850 / £770 |
| Weight: | 27.2oz (770g) | 24oz (680g) | 27.4oz (777g) | 25.7oz (730g) | 26.1ozs (740g) | 25.2oz (715g) |
| Length: | 6.06in (15.4cm) | 5.8in (14.7cm) | 6.7in (17cm) | 5.5in (14cm) | 5.9in (15cm) | 5.7in (14.6cm) |
| Width: | 5.12in (13cm) | 4.0in (10.3cm) | 5.0in (12.7cm) | 5.1in (13cm) | 5.1in (13cm) | 5.0in (12.6cm) |
| Eye Relief: | 19.5mm | 17mm | 18mm | 18mm | 19.5mm | 22mm |
| Min Focusing Dist: | 6.6ft | 6.5ft | 6.0ft | 6.6ft | 8.2ft | 6.6ft |
| FOV at 1000yds: | 378ft | 426ft | 425ft | 426ft | 409ft | 330ft |
| Chassis | Magnesium | Magnesium | Polycarbonate | Magnesium | Polycarbonate | Magnesium |
| ED Glass | Yes | Yes | Yes | Yes | Yes | Yes |
| Phase Correction | Yes | Yes | Yes | Yes | Yes | Yes |
| High Reflective Prism Coatings | ? | Dielectric or Silver | Dielectric | Dielectric | ? | Full reflection coating? |
| Lens Coatings | Fully Multi-Coated | Fully Multi-Coated | Fully Multi-Coated | Fully Multi-Coated | Fully Multi-Coated | Fully Multi-Coated |
| Waterproof | Yes | Yes | Yes | Yes | Yes | Yes |
| Fogproof | Yes | Yes | Yes | Yes | Yes | Yes |
Review Conclusions:
Strong Points: Whilst I cannot know for sure if the Japanese made ED lenses are better than those used by others, I can say that the image you get to see through the Vanguard Endeavor ED II 8420 binocular is superb. Not only is it very bright, but is sharp and flat right to the edges, with vibrant colors and with seemingly almost no color fringing. In this area, I feel Vanguard have excelled and they match bins that are significantly more expensive.
The 19.5mm of eye-relief is up there with the best long eye-relief binoculars and thus combined with their quality 4 stage click-stop eyecups, you have a lot of room for manoeuver to get your eyes exactly the right distance from the ocular lenses making them a great choice for eyeglass wearers.
With little features like a lockable diopter ring, the quick release neck strap and a very grippy rubber tracked focus wheel, Vanguard show that they have paid a lot of attention to some of the fine details, which is great and whilst these may be small, can sometimes be what makes me choose one binocular over another that is very similar.
Weak points? Whilst they are in no way heavy in comparison to most others, if you are looking for an especially lightweight 42mm bin, then these will not be for you.
Likewise, whilst their FOV is good, it is a little narrower than the very widest 8x42 binoculars out there, which for a small minority may be an issue.
Overall - As their name suggests, these are not completely different to the previous Endeavor ED's, but they have made some changes, almost all of which I believe are improvements and thus have taken what was already a good bino to the next level. What I also like is that their initial recommended retail price (RRP) still keeps them within the same price bracket and thus means you are now getting an even better value for money binocular than before!
Ideal Uses: Their 8x42 configuration and the resultant bright view and wide view make these ideal for a wide variety of uses and thus are perfect general use binoculars. These as well as many of their other attributes make them an ideal choice for most types of wildlife and birding uses.
Add to this their tough waterproof as well as unreflective body and they make a good choice for many types of hunting, especially at closer ranges or in forests where a wide view and bright image are important for finding and tracking game.
Genuine & Honest Review
I wrote this Vanguard Endeavor ED II 8420 binocular review after carefully testing and researching them over a long period of time. The observations and comparisons that I have made are based on my experience with them and are 100% my own and truthful feelings and I am in no way biased towards any product or brand. I would also like to make it clear that the manufacturers who send me their binoculars for me to review know this and I am in no way compensated by them for doing so.
I believe all the facts and figures that I have quoted or measured to be correct, however mistakes do sometimes happen, which I apologize for. Please if you discover any, feel free to drop me a line and I will correct it.