Viking Optical & the Viking Osprey Binoculars
At the time of writing, the Osprey is Viking Optical's flagship series and is available in either an 8x4 or 10x42 configuration. Also just as a quick word to mention that I have found that Viking binoculars are only readily available in the UK and thus is you are in a country like the US or Canada, you may wish to look at other comparable products like the Hawke Frontier 8x42 ED X or the GPO Passion ED 8x42 binoculars instead.
Expectations
From may initial look at their product description and specifications (before testing) they seemed to tick most of the right boxes with a very good level of components and optics and thus I immediately had pretty high expectations for them, however and as always I balance what i expect from a binocular against their direct competition in terms of price.
The Ospreys have a RRP of between £499 and £529 (depending on the model), which means they sit right at the junction between what here on BBR is classed as being either a Mid-to-High Level (300 - 500) or a High End (500 - 1200) instrument.
This does make them a little more tricky to review and give my opinions on, especially when referring them in relation to others in their "class" as as I could either view them as being a more expensive mid-range binocular or a "cheap" high-end one. So for this review, I have kept this firmly in my mind and as you will see I will often refer to a particular aspect as being something that goes beyond what is expected at the low level or something that I would have expected to see at the higher level anyway:
Viking Osprey 8x42 Binoculars Review
Main Features & Review Sections:
Retail price approx: £499
Body

Single Top Hinge Design
Magnesium Chassis
Waterproof & Fogproof (Nitrogen purged)
Twist-up Eye-cups
Weight: 695g / 24.5oz
Dimensions 14.5x13cm / 5.7x5.1in

Optics

Fully Multi-Coated Optics
Field Flattening Lenses
Extra Low Dispersion Glass
BaK-4 Roof Prisms

Optical Stats

Field of View: 428ft at 1000 yards / 143m @1000m)
Close Focus: 6.6ft / 2m
18.4mm of Eye Relief
The Body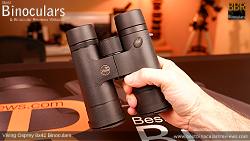 Design & Shape
Viking Osprey binoculars have a fairly modern looking single top hinge design to them which I personally like, both in terms of the look and because this opens up more of the ends of the barrels for you to grab hold of. When holding them up to your eyes this is of little consequence, but if like me and you often use your instrument without a neck strap attached, a barrel that you can get your whole hand around makes for a far more secure and comfortable way of holding onto them when walking about.
Hinge & Inter-Pupillary Distance (IPD) Adjustment
Measuring just 3cm across, the single hinge that connects the two barrels together is fairly thin, but at the same time, it felt to me to be robust and whilst I did not test it to destruction, I don't have any concerns in terms of its strength or ability to keep the barrels perfectly in alignment.
The hinge itself opens and closes smoothly which makes adjusting the distance between the eyecups to match that of your eyes (Inter-Pupillary Distance) simple enough, yet at the same time, it has a good level of resistance and so will remain at your desired setting (It is very annoying to use a binocular with a loose hinge that keeps opening and closing when you don't want it to).
Speaking of which, these Viking Osprey ED binoculars have an IPD range of 5.7cm up to 7.7cm which for a 42mm roof prism binocular is pretty standard.
Exterior Rubber Coating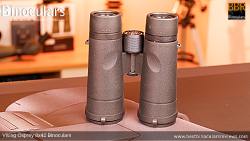 The protective rubber coating that covers almost the entire exterior surface is very thin and hard. These characteristics mean that it offers far less impact protection and grip than those binoculars using thick, soft rubber exteriors.
However, on the positive side, it has been my experience that these harder rubbers tend to be harder wearing and less likely to go tacky/sticky over time.
The very fine texture imprinted into the rubber does help somewhat in terms of the level of grip and I do like the two thumb indents on the underside that are well placed and do just enough to subconsciously encourage you to hold them in the correct way and at the right position to make them well balanced and comfortable to use when glassing.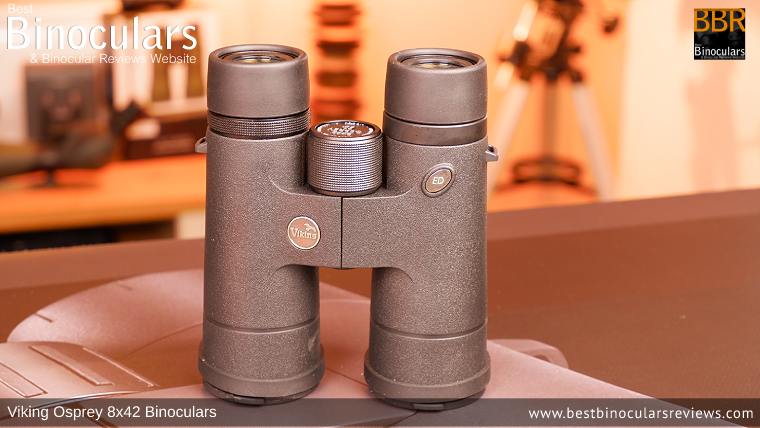 Chassis
Hidden under the rubber armor on these 8x42 Viking Osprey binoculars and indeed the 10x42 version (which incorporates exactly the same body) is a magnesium chassis. This tends to result in an instrument that is a little heavier than those that have a polycarbonate plastic one, but should be stronger and less affected by expansion / contraction due to temperature changes that can cause issues with seals and the optical pathway and thus it is usually the preferred option.
If we consider the competition, at the mid-to-high level, a magnesium chassis is not that common, but I would expect to see it on most high-end instruments.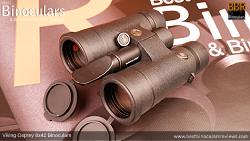 Tripod Adaptable
These Viking Osprey binoculars are "tripod adaptable", by this I mean they have a standard thread (¼ inch - 20 UNC) located under the dust cap on the front of the hinge. Unscrew this and you can easily screw in a standard tripod adapter, which in turn mounts onto a tripod, monopod etc.
Water & Fogproof
If you are thinking something along the lines of "I don't go out in the rain, so why do I need a water proof binocular?" I think it is important to remember that the air-tight seals used also prevent fine dust particles from entering the system, which can and does occur, especially when leaving the binocular out of it's case over time.
At the lower end of the market, it is quite common to find binoculars that are not fully sealed and so whilst they may be advertised as being "weather protected" or "water resistant", the lack of completely air-tight seals means they cannot be submerged and stay water tight. This also means that the internal lens surfaces on those instruments are not protected from fogging as it would not be possible for them to keep a dry gas like nitrogen within them.
So whilst I would be somewhat shocked to find an instrument at this level not to be fully sealed, it is always good to just confirm that yes, these Viking Osprey binoculars are fully sealed and filled with nitrogen and thus are both water (to a depth of 1 meter) and fogproof.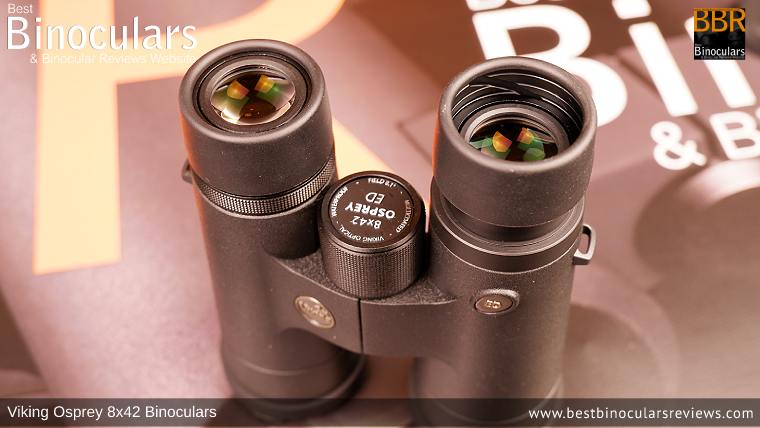 Eye-Cups & Eyepieces
To me it looks (and feels) like metal is used for both the eyecups and main eyepiece housings on these Viking Osprey 8x42 binoculars, which is for me a definite sign of quality that often gets overlooked. At the Mid-to-High Level (300 - 500) this goes beyond what I would normally expect, whilst at the High End (500 - 1200), this is expected:
Manufacturers will often try to save on production costs by using polycarbonate plastic, which can and often do work well enough. But I feel it is also important to keep in mind that this is the part of a bino that can easily get damaged (especially when dropped), so I feel it is very important to have this delicate area built as robustly as possible.
Also, when you compare the twist-up action plastic and metal eyecups, most plastic eyepieces just lack a little in terms of the "feel of quality" and often have more unwanted play in the mechanism.
Indeed, it is important to mention here that I found the eyecups and their twist-up mechanism on my sample Viking Osprey binoculars to be truly superb and pretty much as good as you could hope for at the mid and even high level price range:
The cups snap nice and positively into each of the four (two intermediate) pre-defined click-stops very securely, and there is almost zero free play. On top of this, you also get over 18mm of eye-relief which I consider here on BBR as being long eye-relief and are thus ideal for anyone who wants or needs to wear eye-glasses whilst binning.
With an outside diameter of 41mm, the actual cups are nice and large and thus even though they are only lightly padded using a hard rubber, I did not find them to be noticeably less comfortable than most others under normal use.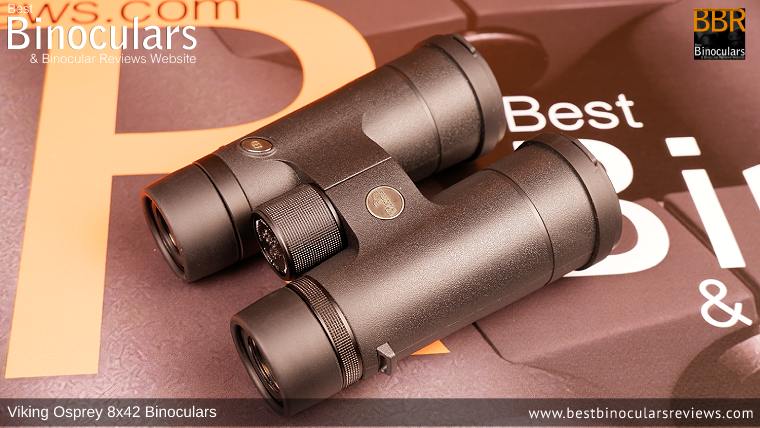 Focus Wheel & Focussing
I really like the focus wheel and more importantly the silky smooth focus mechanism on these Viking Osprey binoculars, which remind me of my all time favorite that are used on most Maven binoculars.
Firstly unlike many, including some "alpha" level binoculars Viking has opted to use metal and not plastic to make the wheel. Yes, in terms of the strength needed, this is probably not necessary. But it just looks, feels and in this case works much better than the average plastic focus wheel and really does give you that great feeling that you are using a high quality, precision optical instrument.
Most wheels use a rubber outer for grip (and to hide the plastic), instead these have an etched surface on the metal that works well. During normal use with bare hands, this is not that important but in winter when wearing gloves, this along with the size (30mm diameter, 24mm long), position and smooth easy to turn mechanism does really help to ensure that you are still able to easily and accurately adjust the focus.
In terms of the gearing, my sample 8x42 Osprey took 2 full turns (720°) of the wheel to adjust the focus from one extreme to the other. In my experience, this is fairly neutral and thus a good all-rounder (More aggressive gearing (less turns) makes it quicker to make large focal adjustments, but also makes it a little more difficult to make fine adjustments, whilst the opposite makes fine tuning easier to be more accurate, but it also take longer to make large focal adjustments.
Then lastly, just to mention that unlike Maven for example that uses an all metal wheel and metal faceplate on the rear of the wheel, the focus wheel faceplate on these Viking Osprey binoculars is plastic, which is just a little bit of a shame as a metal one would just have finished it off with just that little bit extra level of class and totally bury most of the competition.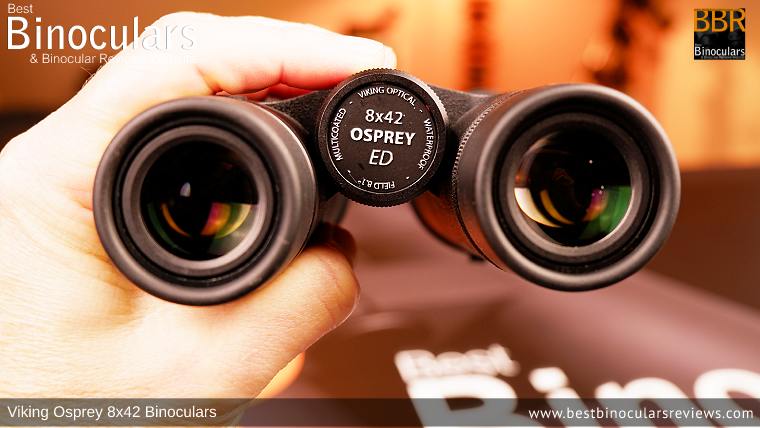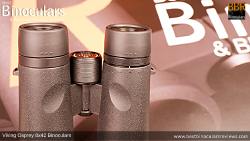 Diopter Adjuster
As with all the other components, the diopter adjustment ring is also made from metal and whist this is not really necessary, it once again re-enforces the overall feeling and look of quality and to me is much better than the hoards of plastic ones out there.
Used to calibrate the binocular to compliment your particular vision, the diopter enables you to offset the focus on the right barrel independently of the left which in turn means you can compensate for any differences between your left and right eyes.
Once you have calibrated your instrument, you should not need to do it again very often (unless you share your binoculars, or your eyesight changes) and thus in my opinion, a good diopter should remain at your desired setting without the chance of being moved by accident and if you need to adjust it when sharing your binocular, it should be able to easy to find and return it to a particular setting.
Some binoculars have lockable diopters which is ideal (usually only very high end / alpha level ones). The diopter ring on the Viking Osprey binoculars is not, but it is relatively thin, has a tight mechanism and has a low profile, all of which help prevent unintentional movement which is good.
In terms of markings and a scale, there is only the single dot on the ring and a neutral marker and a + and - sigh on the barrel to work with and thus if you have a particular setting that doesn't line up with any of these, I would suggest making a small mark with a pen or nick with a sharp knife.
Body Quality Score: 8/10
Weight
At 24.5ozs / 695g this Viking Osprey 8x42 ED binocular is as you can see in the table below, far from being the most lightweight 42mm binocular out there. However, considering they have a magnesium chassis and all the other metal components, this is not at all bad and they compare very well to other similar sized instruments at this level of quality:
Dimensions
The outer dimensions are fairly typical for a 42mm roof prim shaped binocular and thus there is not much for me to add here.
Body Stats Score (for a 42mm binocular): 8/10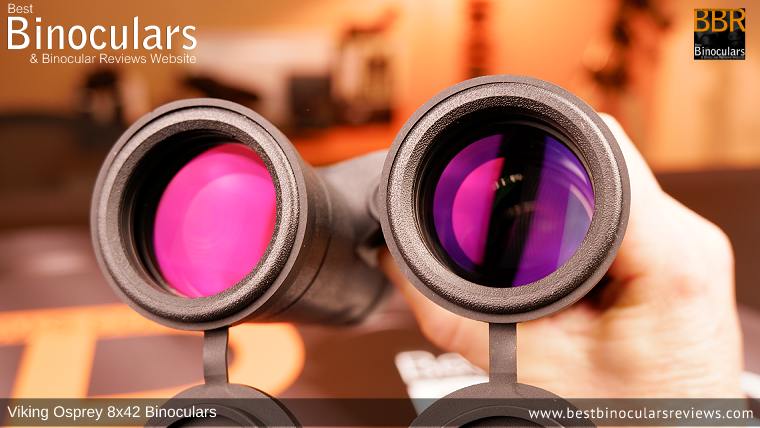 Optics
Objective Lenses
Mounting
As you can see on the image above, the 42mm diameter objective lenses sit back quite deeply in from the ends of the barrels - I measured it at being about 9mm.
This is good as not only does this help protect them from damage and getting dirty, but the overhang also acts a little like a lens hood that you see pro photographers use on their cameras, which can in certain light conditions help to reduce lens flare.
ED Glass
Whilst we are not given the exact makeup of the objectives, I can say that each of them has at least one lens element within them made from extra-low dispersion (ED) glass.
ED glass elements allow for better manipulation of the individual wavelengths of light and thus in a well designed optical system can reduce chromatic aberrations more than standard low dispersion glass and thus potentially deliver an image that displays less color fringing around the edges of the view. Take a look at the Image Quality section below to see how I thought these performed in this area in real world testing.
Eye-Piece Lenses
Viking Optical don't divulge many details when it comes to the actual make-up eye-pieces and their lenses but they do mention that they use field flattening lenses which is excellent as of the problems I see an some binoculars is that as you focus on an object at the center of the view, the outer area can sometimes look slightly fuzzy or out of focus.
To rectify these aberrations, some high-level binoculars like these Ospreys will incorporate field-flattener lenses within the eyepieces resulting in potentially sharper, clearer images from the center all the way to the lens periphery. Take a look at the Image Quality section below to see how I thought these performed in this area in real world testing.
I also measured the external ocular lens to have a diameter of 23mm diameter, which for a 42mm binocular is really good and places them up amongst the larger ones that I have measured.
There are potentially a number of benefits to having larger oculars which include making it a little easier to line your eyes up with them and thus ensure you get the full view without any black rings forming on the edges. There is also the potential for a higher image resolution. For more on this and to compare these Viking 8x42 Osprey binoculars against some others, take a look at my post on Ocular Lens Size in Binoculars.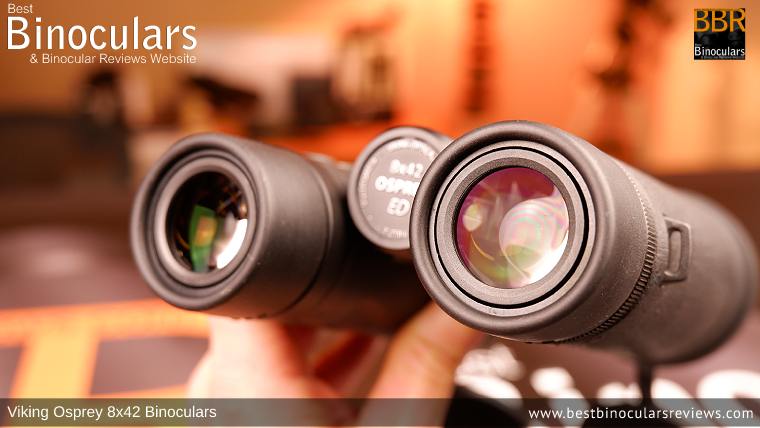 Anti-Reflection Coatings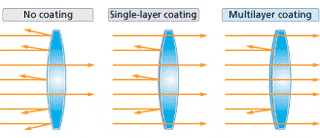 Viking Osprey binoculars are advertised as having Fully Multi-Coated Optics, which is what I would expect to find at this level.
The exact wording is important here as it tells us that all optical surfaces throughout the entire system have multiple layers of an anti-reflection material added to them, whilst fully coated binoculars have a single coat and coated optics only have coatings on some of the optical surfaces and not all.
This is important as the level of these coatings does make an observable difference to image brightness as well as quality as these coatings are designed to increase transmission levels and reduce unwanted reflections.
For more on these coatings, take a look at my article on Anti-Reflection Lens Coatings used on binoculars.
Prisms
The 10x42 and 8x42 Viking Osprey binoculars use the Schmidt-Pechan design of roof prisms to correct the inverted image. These are made from BaK-4 glass, which is considered to be a better option than the less expensive BK-7 glass, which you will find on lower costing instruments, but would be shocked to find at this level. So this is all pretty standard.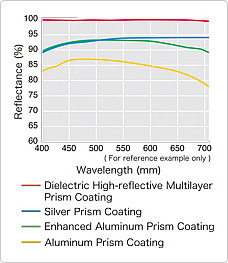 Prism Reflection Coatings
What is good to see though is that they have dielectric mirror coatings applied to the prism surface that does not reflect 100% of the incident light.
At the mid-to-high level, you will find some roof prism binoculars using cheaper and less reflective silver mirror coatings and thus it is good to see that Viking have opted for the best as dielectrically treated prisms can have a reflectivity of more than 99%, which surpasses aluminium and silver treated ones by a long way and results in a brighter, better quality image.
Phase Correction Coatings
As well this, their prisms also have phase correction coatings applied to them.
Not only does this increase image resolution, compared to those roof prisms that are not phase corrected, but this is an important detail to look for as it is a great indicator of an instruments overall quality.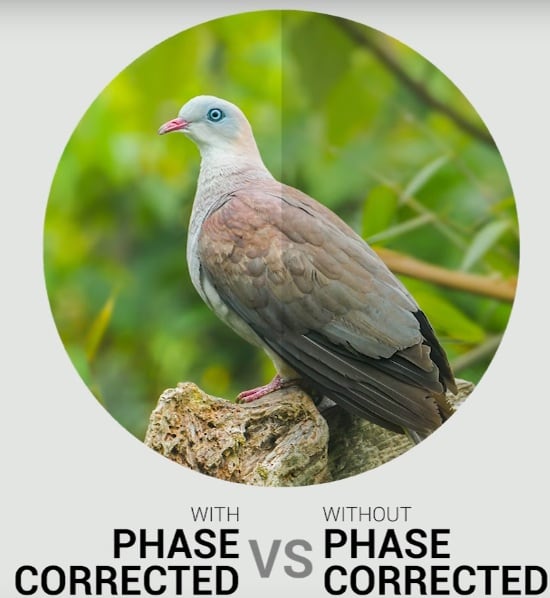 Protective Exterior Coatings
Some binoculars a this level will also include special protective coatings to the outer lens surfaces which can guard against scratching and be water and oil repellent. As Viking Optical do not highlight the fact, i will assume they do not use anything outside of the ordinary.
Coating Comparisons
Optical Components Score: 9/10
Optical Stats
Field Of View (FOV)
If having a very wide view is important to you, which will be the case for many, but especially users like bird watchers or anyone else who often observes or follows small, fast, erratic moving objects, then these 8x42 Viking Osprey binoculars make an excellent choice in this department.
As you can see from the table below, at 428ft wide (when measured at a distance of 1000 yards) they have an extremely wide field of view than ranks them amongst the very best 8x42's I have ever tested. Note that this translates to a viewing angle of 8.1° which once again as you can see on this page of the best wide-angle binoculars, it ranks them amongst the best for an 8x binocular.
During testing, and based on experience, this very wide view was instantly noticeable to me, but was something that became even more obvious when comparing them against instruments with narrower views.
These are many advantages to a wide view (so long as the view is still of a good quality). For example, when viewing over longer ranges, you can scan wider areas more easily and take in more of the whole image without having to pan the view about and therefore have a better chance of spotting something of interest at any given moment.
But it is at closer ranges where it is usually most beneficial. Firstly because you are seeing a "bigger picture" it makes it much easier to quickly locate what you want to observe, which if it is small (like a bird), it can really help. Then if it is fast-moving and erratic in its movements (again something like a bird), a wide view makes it much easier to follow.
Eye-Relief:
At 18.4mm, the level of eye-relief on this Viking Osprey is excellent. Indeed it is what I consider to be long eye-relief here on BBR and thus when combined with their twist-up/down eye-cups, it makes these easy to position your eyes at the perfect distance behind the ocular lenses and thus achieve a full uninterrupted view with no dark rings or vignetting on the edges, be that with or without glasses on. For more on this take a look at my guide to using binoculars with glasses.
Close Focus
The advertised minimum close focus distance of only 2m / 6.6ft on these is also very good and thus whilst you can get binoculars with extremely close minimum focus distances like the excellent Pentax Papilio II 8.5x21 binoculars for example (Minimum Focus: 0.5m /1.6ft) that are designed for viewing things like butterflies from a very close range these Viking 8x42 Osprey binoculars are a good option if this is something you like to do every now and then.
Optical Stats Score for an 8x42 binocular: 9/10
Optical Performance & Image Quality
For this Viking Osprey binocular review, I compared the view through them against my two benchmark 8x42 binoculars (mid and alpha level). I use these for all my 8x42 reviews as I find it enables me to be more consistent with my opinions as I have a number of baselines that I can always refer back to:
The fact that these Viking Osprey 8x42 binoculars use phase correction coatings on the prisms, ED glass in their objective lenses and field flattening oculars, meant that I had very high expectations for them in terms of the image quality and sharpness and thankfully I can report that they did not disappoint:
Sharpness & Blurring:
Once I had correctly focussed onto an object, I found that the view was perfectly sharp, right from the center all the way to the periphery and I was never aware of any sort of distortions or undesired curvature of the image. When you consider that these also have an extremely wide field of view, this makes this aspect even more impressive.
As is almost always the case, there was a certain level of image softening (vignetting) right at the edge of the view, but the amount was very minimal and well within the level that I would normally expect to find at this level.
Color Fringing, Image Distortions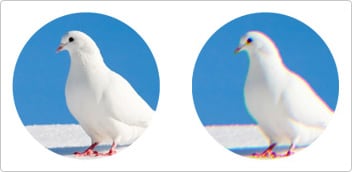 Even when looking very closely along the edge of a black telephone line against a bright blue sky background, the level of color fringing that I observed was very minimal. Here I observed a very thin cyan line on the top and a magenta one on the underside, but I have to stress that the amount was minimal and perfectly acceptable at this level.
Colors & Contrast
When considering the colors and levels of contrast within the view, here again, I was very happy with the 8x42 Viking Osprey.
I thought my sample delivered an image that was vibrant, but at the same time the colors were natural looking and certainly not tinted in anyway, which is sometimes the case with binoculars that use cheaper glass as I have found that they can have a slight yellow/brown tint to the view.
I would probably say that in bright light, my alpha's did seem to offer a slightly better range in terms of contrast between the dark and light areas, but the difference was so minor that even after going back and forth many times, I was still not 100% sure if I should include this in the review, so it is really is not something to be overly concerned with.
Image Brightness
In bright sunny conditions, all three 8x42 binoculars looked to me to be pretty close in terms of the image brightness. This is not surprising as the 5.25mm exit pupils you get with 8x42 binoculars means that they are easily able to supply your eyes with more than enough light for you to perceive a bright image under these bright conditions and thus the optics would have to be particularly bad there to be a easily noticeable difference.
It is under sub-optimal light conditions that you can then sometimes notice the difference between 8x42 binoculars of different optical qualities.
Here I found my alpha-level 8x42 benchmark with its ultra level optics performed best with an ever so slightly brighter view. The Viking and my very good mid range 8x42s were close, but if I had to pick, I would go with the Viking Osprey, but even so all three are more than adequate in this area and if you did want an extremely good low light performance you should possible consider a different configuration that would allow for a larger exit pupil - so something like the Steiner Nighthunter 8x56 or Bresser 8x56 Pirsch ED for example.
Conclusion
Considering the level of optics and coatings used, the excellent quality as well as bright image that I was presented with when looking through these Viking Osprey 8x42 binoculars was not a surprise to me and I would say is beyond what you would expect from most binos within the mid-high level range and whilst I would say they don't quite match my alpha level 8x42's, they rank amongst the better High-End 8x42 binoculars that I have tested.
Score for Image Quality: 9/10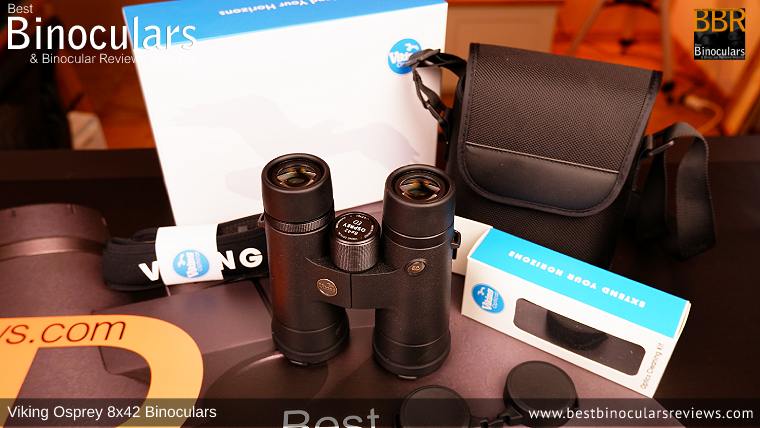 Included Accessories:
Carry case, neck strap, lens covers. As well as these typical accessories, these Viking Osprey 8x42 binoculars also come supplied with an complete optics cleaning kit that goes above and beyond and is a very welcomed addition to the normal cleaning cloth.
Carry Case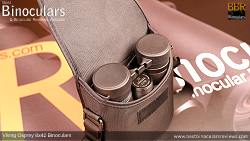 The supplied soft carry case is of good quality and ticks most of the boxes:
Tough, long lasting material with good quality stitching
Is a little generic with no branding - some users may prefer this
Minimal padding - makes the bag more compact and lightweight, but does provide less impact protection
Flip over lid with a Velcro closure. This is not as secure as a Zip, but is quicker to access. On the down side, you do need to be careful not to make too much noise when opening it when near birds and other wildlife
Binocular fits very easily inside and the lid can be closed even with eye-cups fully extended and lens covers attached
Separate unpadded carry strap which is permanently attached to the sides
A separate internal elasticated pocket is a good place to keep a few personal items and cleaning products when out in the field
Belt loop located on the rear - Nice option for a way to carry it, except that you cant remove the carry strap from the case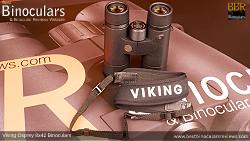 Neck Strap
The neck strap very good, but just lacks a few details to take it beyond and onto a level that I would describe as excellent:
The strap is branded with the Viking logo and the stitching / material quality are reasonably good
The thickness of the padding (5mm) is perfectly adequate for a 42mm binocular
The padded section of the strap is curved to make for a more natural fit around the neck, but at 4.3cm is perhaps a little thin for quality 42mm instrument like these and thus is less adept at distributing the weight than thicker straps. The advantage is that it is less bulky
I like the rubber material on the underside surface of the padded section which inhibits the strap from sliding about on your neck.
The strap attaches to the binocular in the typical way, using a slider so it can be adjust for length which is good, but the best straps in my opinion have quick release clips that allow for quicker removal and attachment.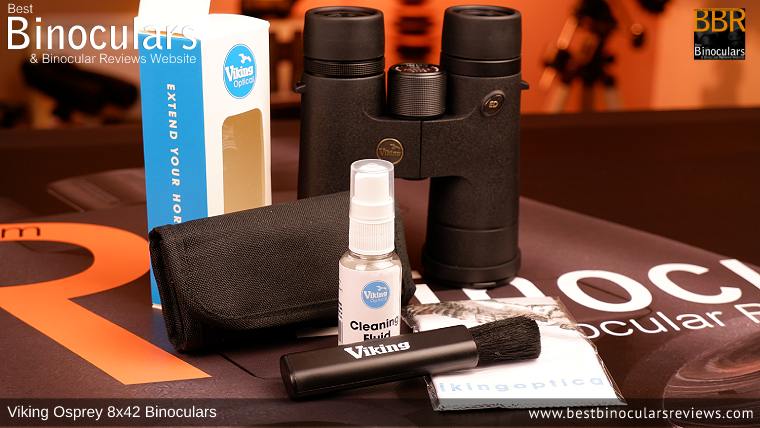 Optics Cleaning Kit
Whilst most binoculars I review come with a cleaning cloth of varying levels of quality, Viking Optical have hit the ball out of the park in my opinion by including a full optical cleaning kit that comes with its own carry case which is excellent as I usually have to recommend you having to purchase a separate lens cleaning kit to properly look after the lenses.
In case for the kit you will find a very soft bristled cleaning brush, cleaning fluid and a large, very high quality cleaning cloth. Indeed the only thing that perhaps you may need would be some sort of a blower, but there are many ways for you to get around this without the need of a further purchase.
Lens Covers
Soft rubber/plastic rain-guard and lens covers
The rain guard fits well over the eyecups cups and I like how the objective covers fit into the ends of the barrels that makes for a far smarter, more integrated look than those that fit over the ends barrels
Objective covers are tethered to prevent misplacement and are always there ready to replace when you finish glassing
Instructions & Warranty Information
Also included in the box is a sheet of paper with a glossary and a few of the most important instructions like how to focus and calibrate the binocular as well as using them with glasses, cleaning etc.
Viking Optics also includes details of their 10 year warranty which in the UK and Europe I believe is the maximum that is possible.
Extras Score: 8/10
Viking Osprey 8x42 Binocular Comparisons
Below are some of the main features, details and links to the reviews of a selection of other High-End 8x42 binoculars that I have fully tested here on BBR:
Open table in full screen mode to view the full results.
Review Conclusions:
I started the review of these Viking Osprey 8x42 binoculars by explaining that as they have a RRP of £499, it makes it a little more difficult for me to place them as they sit right at the junction of what I class as a Mid-to-High Level (300 - 500) binocular and a High-End (500 - 1200) one.
Well, after using over a number of weeks and going through all of their features in detail, there is no doubt that I now think of them as a High-End binocular, which means that I also think they offer excellent value at this level as they perform as the better ones within this price range, yet these sit right at the bottom in terms of their price.
Main Strengths:
Excellent quality view and image brightness
Extremely wide field of view
Plenty of eye-relief, along with excellent twist-up eyecups with 4-click stops makes them a great choice for eyeglass wearers
High quality mostly metal components and an excellent overall build quality
Super smooth focus mechanism
I love the inclusion of a full lens cleaning kit with the accessories
Room for Improvement:
A slightly wider neck strap with quick release clips would have elevated it from good to excellent
Not the most lightweight set of 8x42mm binoculars on the market, but considering all the metal compo nets used this is completely understandable and will be fine unless you specifically require a lightweight instrument, in which case you may be better of with a mid-sized 8x32?
Being extremely picky, I would love it if they had a metal face plate on the focus wheel instead of a plastic one
Ideal Uses