Back when I first started BBR (more than a decade ago now!), unless you were into astronomy, a 10x42 was considered a reasonably powerful binocular and something like a 12x50 was regarded as being powerful.
Recently I have seen the number of high powered long distance viewing binoculars on the market explode and now it seems 10x is looked at by many as being fairly moderate and whilst you can now easily go much higher than 15x, a 15x56 binocular like this new Vortex Diamondback HD is looked at as being a good balance between having a powerful binocular that is still reasonably sized and thus fairly easy to carry about and thus has become a popular choice for uses like long-range hunting, wildlife study, security, surveillance, border or fenceline patrols, plane spotting as well as observing boats or ships out at sea from your balcony.
For general uses, I often steer most users away from choosing a high power binocular as it is one of the biggest mistakes newbies can make in my opinion, this is especially true if you are not prepared to spend a little more and make sure that the level of optics and coatings used is of a high standard.
Instruments like the Vortex Kaibab HD 18x56 or the Vortex Razor UHD 18x56 binoculars both of which are seen by many amongst the very best long-range binoculars are good examples of how, by using the very best optics you can still achieve an excellent image quality and brightness out of a very powerful, yet reasonably sized binocular.
Thus when I learned that Vortex Optics was introducing a new 15x56 model to their more affordable range of Diamondback HD binoculars, I was intrigued to find out if they would still be able to pull off this difficult balancing act of adding a high power to a reasonably priced, Mid-High-End instrument and still produce a bright, high-quality image.
So I immediately contacted them and not long after a package arrived on my desk:
Vortex Diamondback HD 15x56 Binocular Review
So, after a lot of testing, general use and comparisons with other similar instruments, both in the office as well as out in the field, below is my full and 100% honest review of the Vortex Diamondback HD 15x56 binoculars: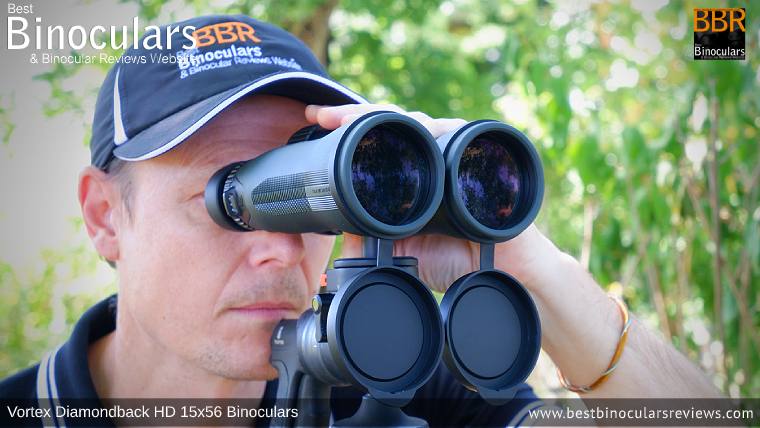 Contents:
Unboxing & First Impressions
The video above is of me unboxing and giving my very first impressions on the new Vortex Diamondback HD 15x56 binoculars on the BBR YouTube channel. Please note that this video is completely unscripted and mostly unedited! So sorry for rambling on a bit, but I do think it offers a good oversight as to what you can expect from the packaging, accessories, the general shape and appearance of the binoculars as well as some of their main features.
The Optics
As the video above gives you a pretty decent look at the exterior of the instrument, I thought that instead of the body, as usual, I would begin my Vortex Diamondback HD 15x56 binoculars review with the optics section:
15x56 Configuration
Whilst it is true that a higher magnification can offer a more image detail at greater ranges, it also presents us with a number of negatives which include a narrower view, image shake and image quality and brightness issues which I feel are important to understand:
Image Quality & Brightness
To produce a greater magnification, the manufacturer has to use thicker glass elements, which in turn means that less light gets transmitted through them, which results in a less bright image.
Low Light Performance
Another issue with increasing the power is that unless you also increase the size of the main objective lenses, it results in a smaller exit pupil.
A small exit pupil not only makes it more difficult for you to line your eyes with the shafts of light exiting the eyepieces and thus have a greater chance of viewing black rings around the edges of the view, but it also results in you observing a less bright image, especially in low light conditions. You can read more about this in complete guide to the exit pupil here.
So if we take this example, a 15x56 binocular produces a 3.7mm exit pupil (Objective lens size (56mm) divided by the magnification (15x)).
In low light, your pupils can grow to about 7mm in diameter, so as you can imagine, having shafts of light exiting the eyepieces of binocular that are only 3.7mm in diameter is far from ideal.
So for this reason, no matter how good the optics are, the 15x56 combination would never be the ideal choice for a low light binocular and rather you would either drop the power and go for something like the 8x56 Steiner Nighthunter, with its massive 7mm exit pupil is specifically designed to excel in low light or increase the lens sizes to something like the 15x70 Celestron SkyMaster Pro, for example, the downside being the binocular is far larger and heavier and thus best used from a static location.
Quality Glass & Coatings
Higher-end instruments negate some of these issues with the use of extremely high-quality glass and coatings, but this is especially problematic in lower-costing binoculars where low-quality optical glass with fewer and less effective anti-reflection coatings are used and I have often seen a huge drop off in image brightness and quality at the lower price points.
So whilst certainly not at the same level as the Razor UHD or Kaibab HD, these Diamondback's look to have most of the main bases covered. Also, because their optics aren't quite as good, I think it is a good idea that Vortex opted for a slightly lower 15x magnification of the massive 18x on their other two high powered instruments. You can see how they actually perform in the Image Quality section later on in this review.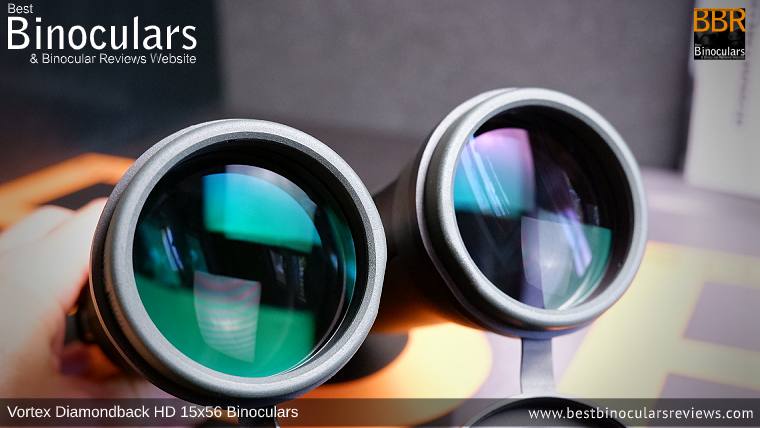 56mm Objective Lenses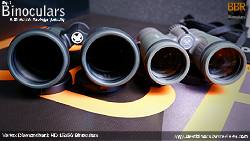 As you can see from the image on the right of this Diamondback versus my 8x42mm Vortex Razor HD, these 56mm objective lenses are considerably larger than the 42mm ones that most of us will be used to seeing on a pair of "standard-sized" binoculars. However, at the same time, the binoculars don't feel excessively large and unwieldy as a 70mm one does for example.
As already mentioned, larger lenses are extremely important in helping ensure that a reasonably bright image is produced on high powered binoculars like this 15x56 Vortex Diamondback.
However, that is just the start as the quality of the glass and coatings have an important role to play in determining both the brightness and quality of the view:
Vortex HD Optical System?
These Vortex Diamondback HD binoculars are considerably less expensive than models in their Razor HD and Kaibab HD ranges and so it is perfectly reasonable to understand that they cannot possibly have the same level of optics, yet the inclusion of the "HD" in all of their names would suggest otherwise.
However, if you look closely under the bonnet, both the Razor HD and Kaibab HD have APO (Apochromatic) objective lenses made up of at least 3 lens elements and furthermore at least one of these elements will be made from ED (extra-low dispersion glass).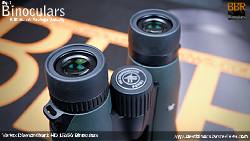 The combination of this means that these higher-end instruments can produce images of a higher definition with less color fringing.
This is not to say that the image you view through a Diamondback HD will be bad, I merely wanted to point out the differences which due to the price difference is perfectly understandable and where I think Vortex have been smart is that yes, these expensive lenses on their top-tier products can improve image quality (if used correctly), they do not make a difference in terms of the image brightness and low light performance.
So these lack ED glass and an extra lens element compared to the alpha level instruments, but I'd also like to point out that not all ED glass is created equal and on top of this you still need to combine the elements well with the rest of the lens and optical pathway to achieve the desired result: I have often observed less color fringing in a well designed, good quality non-ED binocular than that produced by a less well made ED instrument.
See below in the Image Quality section for how they actually performed in this area.
Ok, so enough of what these Vortex Diamondback 15x56 binoculars don't have, let's now turn our focus towards what they do have:
Optical Coatings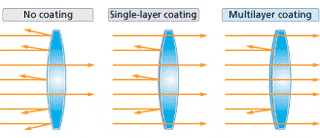 Anti-Reflection Coatings
The optics on these Vortex Diamondback HD 15x56 binoculars are Fully Multi-Coated.
The precise wording here is relevant as it tells us that all lens surfaces throughout the entire optical pathway have multiple layers of a special anti-reflection material added to them which greatly increases both image quality and brightness.
Lesser instruments will merely be multi-coated (only some glass surfaces will have multiple layers) or fully-coated meaning some will only have single-layer coatings.
This is for me one of the most important features to look for when buying binoculars, especially at lower price ranges as it makes an obviously observable difference to both image quality and brightness.
Mirror Coatings
What is impressive at this price level is Vortex has used prisms with the very best dielectric mirror coatings, which because of their price are only found on really high-end Schmidt Pechan roof prism binoculars. These have the highest level of reflectivity which results in a brighter and better quality image than many instruments at this level that will use coatings like silver that have a lower reflectivity index.
Phase Correction Coatings
The prisms have also been 'phase corrected' which is also very good news. This means that they have been treated with a material that corrects the phenomenon of "phase shift" that occurs as light passes through a roof prism. Untreated prisms will deliver a lower resolution image with less contrast.
Protective Lens Coatings
As with their Razor UHD, Razor HD, and Kaibab HD instruments, Vortex has also added their toughened ArmorTek coatings to the exterior lens surfaces that as well as being super-hard and scratch-resistant are also oil resistant which helps keep the lenses cleaner for longer and requires less force when cleaning is needed.
Optical Components Quality Rating: 8/10
Optical Stats
Field Of View (FOV)
As I touched on earlier on in this review, one of the downsides to high magnifications is that the zoomed-in image you get automatically means you have a narrower field of view and thus are less able to view the big picture, which in some situations can be undesirable.
So no matter how good they are in this area, a 15x binocular is never going to compete against an 8x or even 10x instrument, which is exactly what is demonstrated by the comparison table below.
Against their direct 15x56 competition, whilst not the best, they perform adequately and this is pretty much the feeling I had whilst using the Vortex Diamondback HD 15x56 binoculars: not very wide, but also does not feel overly narrow like you are looking down a long pipe.
Minimum Focus Distance
Whilst, not the strong point to just about any high power binocular designed for long-distance viewing, it is still interesting to compare these to other similar instruments in this class.
As you can see in the table above, these do not do that well, but at the same time, 14ft / 4.2m will be perfectly fine for most users unless you need to get extremely close to study something like insects or butterflies, in which case these will not be the right choice of instrument.
Eye-Relief:
A long eye-relief is of most importance to those who need to wear glasses or other forms of eye protection whilst glassing. See How To Use Binoculars With Glasses: Eye-relief & Eye-cups Explained.
Most eyeglass users need a minimum of 15mm - 16mm of eye-relief to ensure they can see the full image without black rings on the edges of the view. So at 15.6mm these just make it.
I tested them using my sunglasses and by fully twisting down the cups was indeed able to quite comfortably take in the full field of view.
Optical Stats Score (15x-20x Bins): 7/10
Image Quality
After about four weeks with these Vortex Diamondback HD 15x56 binoculars where I have used them in a variety of light conditions ranging from complete darkness for astronomy to bright blue skies and everything in between. I have also compared them to a wide range of other instruments and these are my thoughts and observations:
Image Shake
Any movement you make gets amplified by the magnification when looking through your binoculars.
Thus it stands to reason that higher magnification binos are harder to use from the hands and as any target shooters or archer will appreciate, everyone will be different, but in my experience, if I pay extra attention to keeping still, I can use most 15x binoculars for short periods and get a reasonably good view of something.
The fact that this Vortex is relatively lightweight for a 15x56 and has a comfortable, well-balanced body certainly helps and I found them to be pretty good from the hands, but even so, when I compared them to an 8x42, the increase in image shake was easily noticeable.
So for quickly scouting out for something, they are fine from the hands, but to really appreciate the added detail that you get from the 15x power they are best used mounted onto a steady base like a tripod.
Color Reproduction & Contrast
No matter the ambient light conditions, in terms of colors the image I see through the 15x56 Vortex Diamondback HD binoculars looks natural, true to life, and lacks any sort of unwanted tinting which I do come across from time to time especially with cheaper, higher-powered instruments.
Likewise, I felt that the contrast was good and looks pretty natural and thus you observe a little less on a dull, gray day and more on a bright sunny day when looking into a thickly leaved bush for example.
As an extra note, I was impressed just how well they compared to my alpha-level 8x42 binoculars in both these areas, and whilst perhaps a fraction less vibrant, the difference may just be down to the smaller exit pupil. Either way, the difference was very minor.
Image Brightness
At 3.7mm in diameter, the exit pupil is adequate, but not massive and so as I was expecting, in good light, the image brightness, whilst not quite a match of my 8x42 alpha level benchmark, looked just about the same as my mid-to-high level 10x42 benchmark.
In average and then poor light situations, the difference in the brightness of the image that I saw became more noticeable between these and the 8x42 and whilst it is difficult to be 100% sure because of the difference in magnification, I would say that they were about level with the 10x42 in all but the worst light conditions (for terrestrial use).
However, something to mention here is that even though the overall image may be less bright, because of the higher power, so long as you have the steady you can often still get some decent image detail and thus the binocular is still very usable in low light.
For interest, I also compared them against the 8x56 Steiner Shadowquest/Nighthunter and apart from the very different magnifications, in good daylight conditions there, was not much in it, but in low light, it was plain to see which one is ideally suited to these conditions and which was not.
As always when it comes to Astronomy, it gets even more complicated as instead of looking at a dull object in very low light, you are now looking at a bright shiny object, but in the dark:
So here, even though the exit pupil is smaller, I got much more detail when looking at the moon with this 15x magnification when compared to my 8x or 10x benchmarks.
So whilst these couldn't quite match the performance of my 15x70 or 20x80 astronomy binoculars, they are not at all and for casual astronomy and if you do get a set, I highly recommend pointing them up towards the night sky every so often.
Color Fringing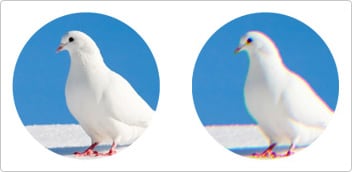 As color fringing generally becomes more obvious the more you magnify an image, this is one area where I am always expecting a higher power instrument like these to suffer when compared to an equal level 8x or 10x instrument.
Once again these performed as expected and these 15x56 Vortex binoculars were no match against my lower-powered benchmarks.
Whilst not guaranteed to reduce the chromatic aberrations that color fringing, ED glass could potentially help with this, but that would certainly inflate the price tag and to be fair the level of color fringing that I observed was not excessive and perfectly within the levels of what I would class as normal.
In fact, I would go on to add that I really only noticed it under extreme conditions when actively looking along the edges of objects that contrast with the background, so for the most part it was a non-issue for me.
Image Flatness
With a high power instrument where image detail is king, being able to produce a sharp, completely flat image right from the center to the edges is especially important, which once focused on an object is exactly what I observed through these Vortex Diamondback HD 15x56 binoculars.
Softening
Whilst present, the vignetting or image softening right at the edge of the view was also very minimal on these and thus at a level that I would expect to find.
Image Quality Rating: 8/10
The Body
Single Top Hinge
At 4cm wide, the bridge is about the same size as that found on many modern 42mm instruments, but because of the longer barrels, it accentuates the top-hinge look, which not only gives them what I feel is a sleek, modern appearance but leaves a lot of area on the barrels free with which to grab onto.
Perhaps a wider, more substantial bridge would further ensure that the barrels remain perfectly aligned, but without testing them to destruction, it felt pretty robust enough to me, which along with the Vortex lifetime warranty means I think you can rest easy in this regard!
I do like the rough texturing on both the outer and inner sides of the barrels and on the whole, I found the Vortex Diamondback HD 15x56 binoculars balanced and very comfortable to hold, which for a high power instrument is more important than normal when glassing from the hands.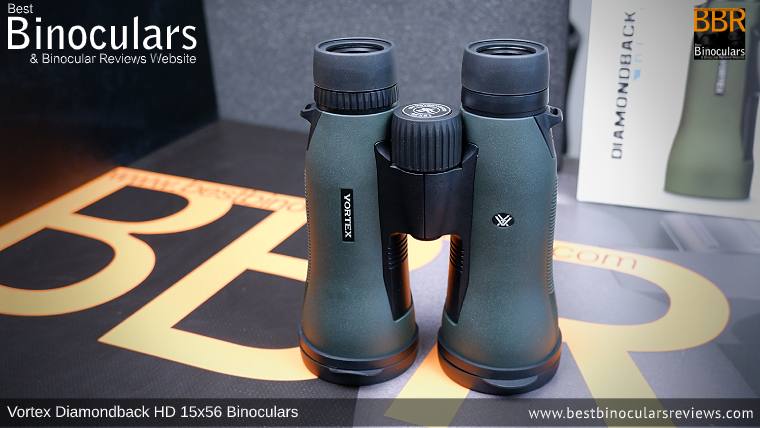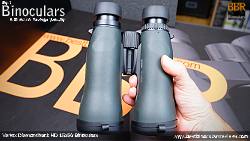 Inter-Pupillary Distance (IPD) Adjustment
Opening and closing the main hinge adjusts the distance between the two eye-pieces which you can use to match the distance between your eyes.
The minimum IPD setting on this Vortex is 59mm which is a couple of millimeters more than normal, whilst the maximum of 76mm is pretty typical.
The hinge tightness was ideal in that it was tight enough to stay at your setting, but not too tight so as to make it difficult to adjust.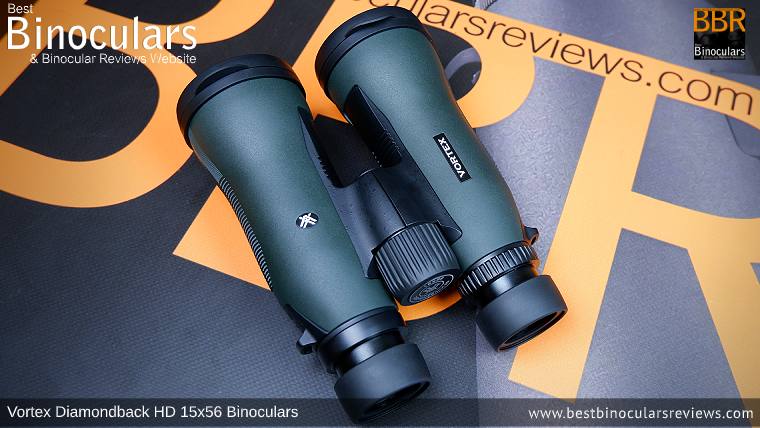 Rubber Armor
Colored in a nice neutral green, apart from the bridge and a small area on the inside of the barrels, the exterior armouring covers the majority of the body.
It is relatively thin and hard and so offers less cushioning from impacts than thicker, softer rubbers, but at the same time is likely to be longer-lasting.
The very fine texture helps a little in reducing the reflectivity of the body and grip, but once again instruments with a thicker, more spongy rubber are better at this.
The armor is glued well and fits very tightly to the body and the only place where I could manipulate it was at the ends of the barrels by the objective lenses which are normal.
The thumb indents on the underside are very inconspicuous, but even so, do encourage you to hold the binocular up to your face in the correct way to help with balance.
Environmental Protection
The Vortex Diamondback HD 15x56 binocular is fully O-ring sealed to prevent moisture, dust, and tiny particles debris from entering the system.
Fogproof
Vortex also fills the inside of the Diamondback HD with a moistureless gas that prevents condensation from forming on the internal elements. Interestingly they use Argon gas instead of the more commonly used nitrogen.
I believe Argon has larger molecules and thus there is less chance of it leaking out over time.
Eye-Cups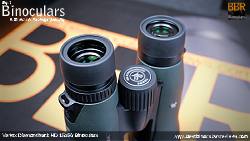 Whilst made from plastic (I think), the screw-up/down eye-cups and how they function is excellent on these Vortex Diamondback HD 15x56 binoculars:
The twist-up/down mechanism is tight, and there is very little free play and I like how they very positively click into each of the stops.
Speaking of which, there two intermediate click-stops in between the maximum and minimum settings, which along with a good level of eye-relief makes them very customizable and so most people should be able to get a perfect fit in terms of eye-relief.
The only downside to me is that they look to be made from plastic, and unlike high-end optics cannot be unscrewed and removed, which makes them easier to replace and helps with ocular lens cleaning. But at this price level, this is pretty much the norm.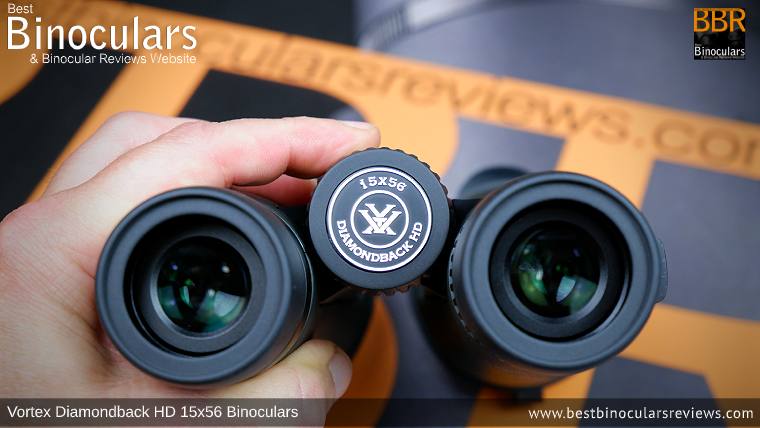 Focus Wheel & Focusing
At 3.4cm in diameter and 2.5cm deep, I like how large the focus wheel is on this Diamondback, which makes it easy to reach and "feel" even when wearing gloves.
The rubber track also adds to the grip and feel, which once again is more important when wearing gloves and whilst it is not the most exciting design ever and the chassis and faceplate are made from plastic, I do like like how it is branded with the Vortex logo and thus differentiates it from the zillions of generic ones out there.
On my sample, the turning the wheel was nice and smooth, but perhaps a fraction on the tight side, but this side of the ideal is preferable to an overly loose or sloppy focus mechanism.
It takes just over 1 turns (about 400°) to move the focus from the extremes of near to far which is very aggressive which is makes large focal changes rapid, but along with the high power, does make it a little more tricky to make fine adjustments than some.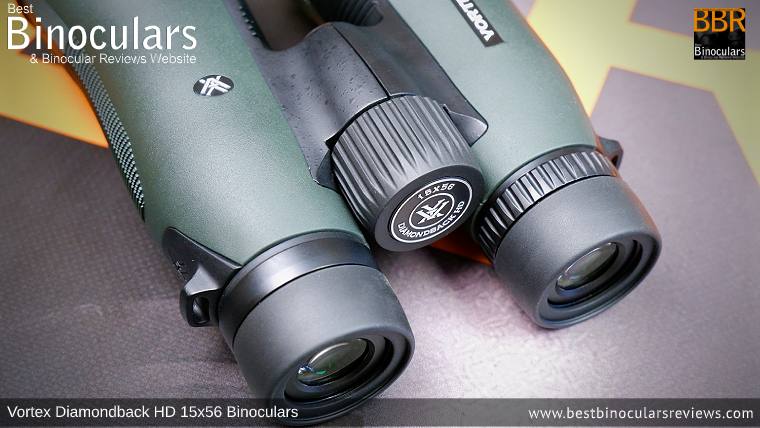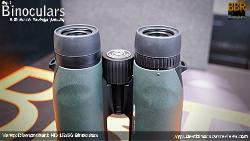 Diopter Adjuster
Positioned on the right eyepiece is a diopter adjustment ring that is used to calibrate your binoculars by off-setting the focus on just one eye.
This works well enough, but it would have been even better if Vortex had made it lockable to your setting, which is a feature you sometimes see on higher-end binoculars, but not often at this level.
Tripod Adaptable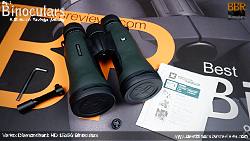 To appreciate the extra detail that a high magnification can deliver, you need the image to be steady. Thus fixing a high power binocular like this onto a sturdy base like a tripod or monopod is recommended and so I would have been shocked if the Vortex 15x56 Diamondback HD had not been "tripod adaptable".
Removing the small dust cap on the hinge reveals a ¼inch screw thread that will accept most tripod adapters.
The really good news is that Vortex not only includes an adapter (which is not usually the case), but the one that you get is pretty darn good as well. You can read more about it in the accessories section below. The really good news is that Vortex not only includes an adapter (which is not usually the case), but the one that you get is pretty darn good as well. You can read more about it in the accessories section below.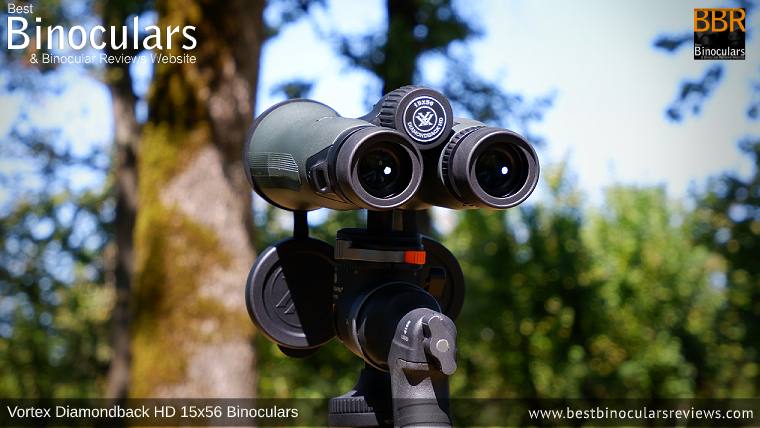 Body Construction Quality: 8/10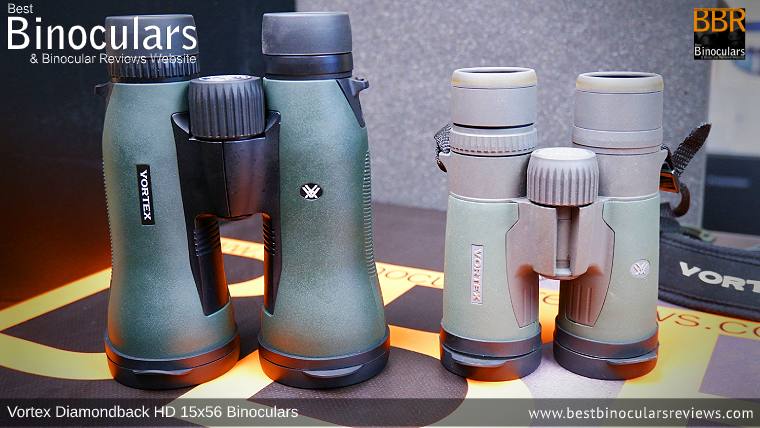 Dimensions
As is demonstrated in the photo above when comparing them against my 8x42mm Vortex Razor HD, the 15x56 Vortex Diamondback HD is roughly about an inch longer than most 42mm instruments, which is quite a lot, but at 7.1in / 18cm in length, they are actually quite short when compared against other 56mm binoculars.
Width wise, there really is not a whole lot in it and as the depth is mostly governed by the size of the objectives, I would say in these two dimensions, they are fairly typical for a 56mm instrument, but at the same time proportionally larger than a 42mm one which is normal and to be expected.
Weight
Considering that they have a magnesium chassis and not plastic, it is impressive how just lightweight this Vortex Diamondback HD is for a 56mm bino.
Sure, compared to your "average" 42mm instrument they are still quite a bit heavier, but they are almost the same weight as the Vortex Razor UHD 10x42, which has to be said is far from average and they have all metal parts and uses Abbe-Koenig prisms which are more efficient, but larger and heavier.
But at 34.8ozs / 987g, the Vortex Diamondback HD 15x56 binocular compares very well against others in this size class in this area, and even though it comes with a bino harness and a good quality neck strap and will often be mounted on a tripod will please those looking for a more lightweight option.
Body Stats Score (56mm Bins): 8/10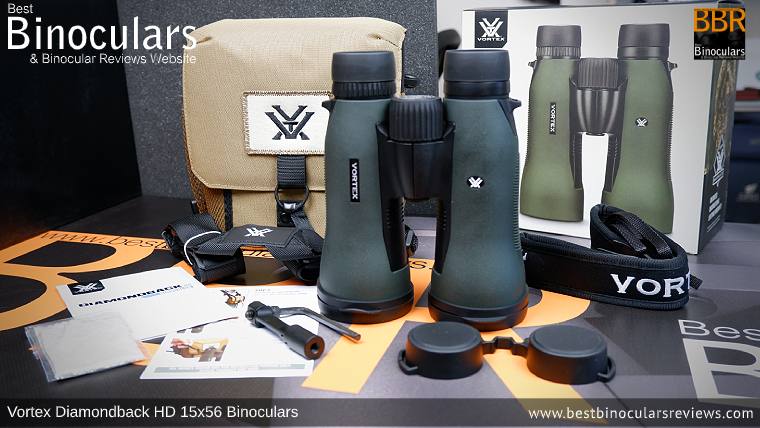 Included Accessories:
When it comes to Vortex binoculars, I am often very impressed with the quality and amount of accessories the instruments come supplied with and am happy to report that with the Diamondback HD 15x56, this is no different. Within their price range, I cannot think of anything that beats these in this area.
As I have already covered much of these in the unboxing video at the top of this review, I will keep this brief and just list the main features, highlights, and any weak points:
Carry Bag & Bino Harness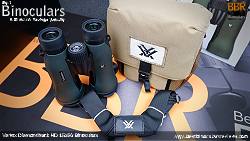 Vortex has decided to bundle their very popular fully covered GlassPak binocular harness/case with these Diamondback HD's, which for the money I rate as one of the Best Binocular Harness for Hunting.
If you had to buy this Vortex GlassPak harness/case separately, it currently retails for $30, so I think the fact it is included is super impressive as Vortex could easily have supplied a lower quality/standard carry case in the hope that many would go out and purchase their bino harness as an extra afterwards.
Main Highlights
Excellent quality materials used and stitching
Carry case easily converts to a fully covered bino harness and includes the harness strap
I really like the elasticated unhooking mechanism on the main opening: it makes your binos very quick and easy to access, is more than secure enough, yet unlike Velcro is almost completely silent, which for uses like hunting can be vital
Well padded offering plenty of protection
Extra mesh pocket with a Zip closure on the rear face, good for storing cash, cleaning cloth, documents, etc.
Two extra mesh pockets with elasticated closure on the sides of the case offer plenty of additional space for the storage of small items, which coal include things like the rain-guard (ocular lens cover) when not in use.
With its Vortex branding and overall style, this bino harness case is certainly not generic like many I cases I come across these days.
The mesh pocket on the rear will help reduce sweat when compared to more tightly woven materials against your chest - shows good attention to detail.
Once you get the idea and set it up to your body shape, the harness is fairly easy to climb into and take off.
Plenty of Storage Space can be used with your other binoculars (or in my case even a camera!)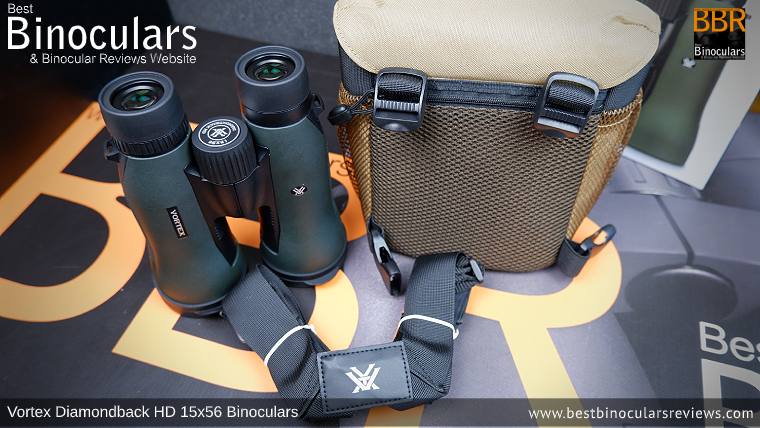 Weaknesses
If I had to be ultra picky and go off on a bit of a tangent, I could say that as a bino harness, if you like to travel light like I often do, then you may find this type of fully enclosed bino harness & case a little bulky.
However, to be fair, they can't please everyone and If this is the case you could get yourself more lightweight bino suspenders or sling style harness (see my guide to Binocular Harnesses and the Different types here) and just use this harness as a storage case.
Neck Strap
In general, this Vortex neck strap is good and at this price range, is about average and what I would expect. So whilst not quite at the level of the best as it lacks a few minor (non-deal breaking) details, that fact that you get one, as well as a bino harness, is welcomed:
Pros
Wide and thickly padded
Good quality materials used & well stitched
Extra grip from the textured neoprene underside reduce sliding on the neck
Vortex branded - not a very cheap completely generic strap I often come across these days
Can be adjusted for length
Cons
No quick release clips to remove more quickly and easily
Not a curved shape that would fit around neck and shoulders more naturally
No rings between the padded section and connecting straps that improve freedom of movement
Objective Lens Covers
Tethered to the barrels, hang under the binocular out of the way when glassing and easy to find and replace, prevents losing or leaving them behind
Reasonably good fit (perhaps a fraction too loose), but easy to replace and don't come away too easily by accident
Vortex logo, not generic unbranded
Made from reasonably thick rubber/plastic, so should last if looked after
Would have looked nicer and more a part of the instrument if they had fitted into the ends of the barrels rather than over them
Not at the same level as the case/harness, but get the job done
Rain-Guard
Simple, very commonly used design, works well without any fuss or fanfare
Unbranded - generic in design and appearance
Soft, but fairly thick rubber/plastic - should last
The flexible bridge between the two cups makes it easy to replace and store no matter what distance you have set the eyepieces apart on the binocular
Fit very nicely over the eyecups: secure yet easy to take off and replace.
Tether loops allow you to attach it to your strap for safekeeping when not in use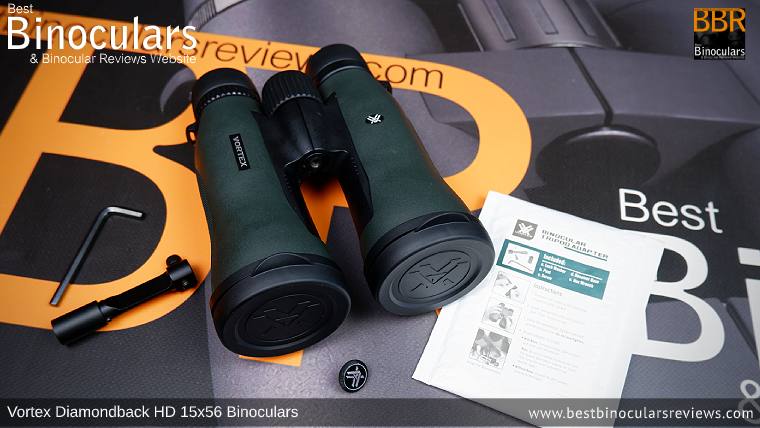 Tripod Adapter
In order to get the best out of a high powered binocular like these, in many cases you should be mounting it onto a tripod/monopod and so making sure it is very simple to do so is a no brainer.
So being tripod adaptable is a good start and which is where in my experience most manufacturers stop and leave it up to you to get yourself a tripod adapter.
Thus when I unboxed this Diamondback HD and discovered that Vortex not only included a tripod adapter, but the one they throw in is for the most part excellent was a very welcomed surprise and I just wish more manufacturers of 12x, 15 and 18x binoculars would follow suit.
The design is a little different from the norm, but the reasons for doing so are well thought out and shows an excellent attention to detail:
Firstly the adapter is split into two parts, with the base remaining attached to your tripod and the top section fixed to your binocular.
At first, I did not like this design as it is less stable and wobbles a little compared to a one-piece tripod adapter. It also comes apart very easily, which if you carry your binocular around on your tripod when moving from one location to another is precarious.
However, this design does mean that you can very easily remove the binocular from the tripod and replace it back into the case section of your bino harness, which would not be possible with a standard tripod adapter as the foot section would prevent it from fitting into the case.
I guess this is how Vortex imagines you will be using the system together as a whole and in this context, it makes perfect sense.
The adapter fixes to the binocular in the standard way except rather than a thumb screw and/or standard flat slotted screwdriver fitting, this Vortex tripod adapter uses a 6mm Hex / Allen fitting and impressively the Key / Wrench is included.
Fixing the adapter between the small space between the barrels is a little tricky, but once done, the adapter is very secure and because the foot is removable you can keep it in place even when storing the binoculars which is something I really like.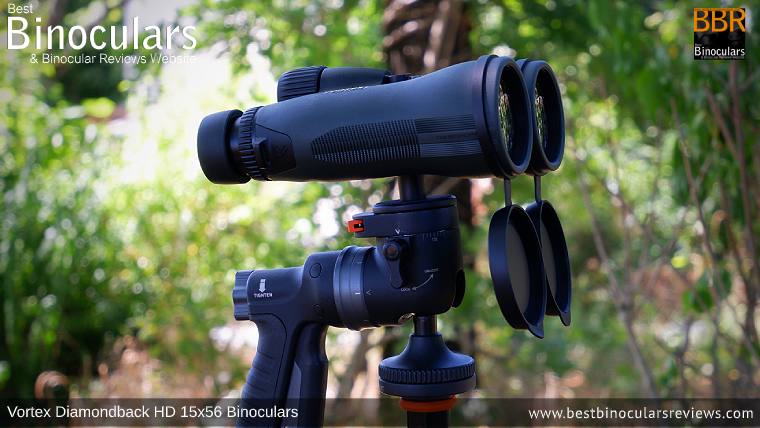 Cleaning Cloth
Vortex also includes a basic cleaning cloth. Fine for basic cleaning and light dusting of lenses, but for thorough lens cleaning I would still encourage you to obtain a Lens Cleaning Kit to ensure you don't damage or mark the coatings.
Manual
The Vortex manual whilst not fully comprehensive, contains more information that what I generally see included which is good They also include separate instructions on how to fit the bino harness as well as the tripod adapter. Once again this is more than what I normally find.
Lifetime Warranty
As with all Vortex binoculars, the Diamondback HD comes with their VIP warranty and their promise to you is they will replace or repair the binocular absolutely free. This Unlimited, Unconditional, Lifetime Warranty is as good as it gets.
Extras Rating: 9/10
Vortex Diamondback HD 15x56 Binocular Comparisons:
(Open table in full screen mode to view the full results)
Review Conclusions:
As an affordable instrument for long distance observation, I rate these Vortex Diamondback HD 15x56 binoculars very highly and so yes, whilst they understandably can't match their alpha level, bigger brothers, the 18x56mm Vortex Razor UHD and Vortex Kaibab HD instruments in all areas, I would say that by being smart where it counts (like lowering the power to 15x), Vortex have successfully managed to achieve that very difficult balancing act of producing a reasonably priced, reasonably high power, reasonably high performance binocular that delivers a bright, high-quality image, which is impressive.
Strengths:
Good quality optical coatings and glass for the price, put together in a well designed optical system that delivers a surprisingly bright, high quality view for a 15x instrument at this price level
Tough, water and fogproof magnesium housing - beats many of the plastic alternatives at this level
Large, smooth and easily adjustable focus wheel that is accurate even with gloves on
Included Bino Harness/Case is and excellent addition
Included tripod adapter - it's the small things that can make the difference
Enough eye-relief for use with eye wear
Weaknesses:
Fairly narrow field of view, but at this magnification this is to be expected
The lens covers do the job, but in terms of looks don't match the very high standard set by the rest of the binocular and it's accessories
Ideal Uses:
Target Shooting & Archery
Security Surveillance, Border Patrol, etc..
Also Good for: