The American brand Vortex Optics has seen a rapid rise in both their popularity and stature within the world of sports optics and is now most certainly considered to be one of the top manufacturers of binoculars (and many other optical products) for most outdoor adventure and sporting pursuits.
Sitting right at the top of their now impressive range of binoculars is the Razor series and it is one that I have a lot of history and experience with. Indeed the previous version, the 8x42 Vortex Razor HD won the BBR binocular of the year award way back in 2012.
I also have one of my own personal pairs of the Razor HD that I have enjoyed using for almost a decade now and still feel that it is one of the very best binoculars that I have ever owned.
Thus when I learned that Vortex was releasing an updated and potentially improved UHD version of the Razor, I was naturally really interested. In fact, before receiving the sample that I used for this review, I did a lot of research into the differences and potential improvements between the Razor HD and these new Razor UHDs, which I go through in detail in my article and video on the 4 Things You Must Know Before You Buy the New Vortex Razor UHD Binoculars.
So as I have already covered the main improvements and changes between the Vortex Razor HD and these new Razor UHD binoculars, I will not focus on them in this review, so if you have the older version and are thinking of "upgrading" or are undecided as to which version to get, I highly recommend that you take a look at that page first.
Vortex Razor UHD Binoculars - which one?
Made in Japan, the Vortex Razor UHD binoculars are currently available in the standard 8x and 10x 42mm variations, as well as two larger, higher power versions, a 12x50 and a super powerful 18x56 option.
I was tempted to test one of these more powerful options, but ultimately I decided on the 10x42 version as I feel that this and the 8x42 will be the most versatile and thus be of interest to more readers. As I have also reviewed many other 10x42 binoculars, it gives us an opportunity to compare them against a wider selection of potential alternatives.
Vortex Razor UHD 10x42 Binocular Review
Contents & Main Features:
Very High-End Binoculars: Approx: $1500 / £1500 / €1600
Body

Single "True Open Hinge" Body Design
Magnesium Chassis
Water & Fogproof (Argon Filled)
Central Focus Wheel
Lockable Diopter Adjuster
Twist-up Eyecups
Tripod Adaptable
Weight: 32.2oz
Dimensions: 7in x 5.6in

Optics

XR Plus Fully Multi-Coated Optics
APO Lens System
Abbe-Koenig Roof Prisms
Phase Corrected
ArmorTek Exterior Lens Coatings

Optical Stats

16.7mm of Eye Relief
Wide FOV: 346ft @ 1000 yards
Angle of View: 6.6°
Close Focus Distance: 4.5ft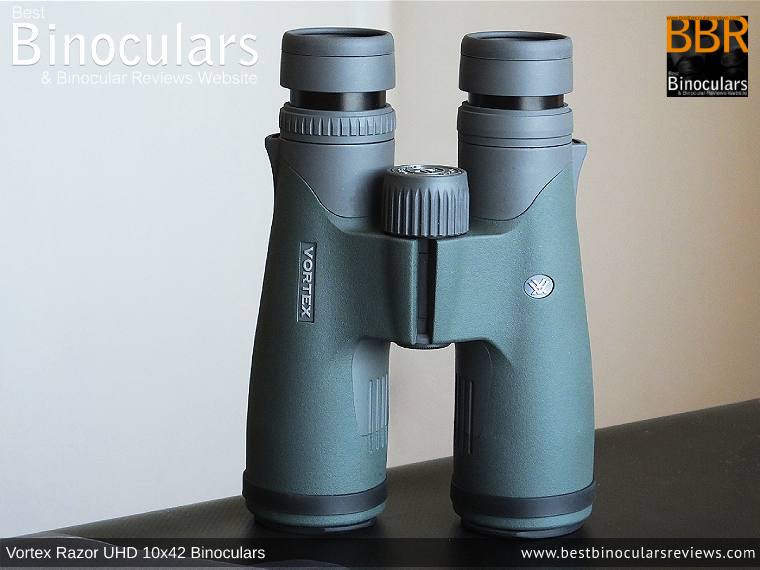 The Body
Single Top Hinge
These Vortex Razor UHD 10x42 binoculars are advertised by Vortex as having a "True Open Hinge" design, which I would rather describe as a top hinge design.
Whatever you call it, it is a relatively thin bridge that connects the two barrels and is positioned closer to the ocular lenses than the objectives. This has the effect of opening up more space on the barrels for you to grab onto for a better grip. If you are like me and often carry your binoculars one-handed without the use of the neck strap or harness, then this seemingly insignificant detail can actually be quite important.
The less amount of material used in making a thinner bridge can also result in a decrease in the overall weight, but at the same time it also means that there is the potential for the bridge to be less robust and thus more likely that the barrels become misaligned should you accidentally drop them.
However, after rigorously testing my sample, the bridge felt very strong and I would say is as robust as any binocular I have used, even those with thicker or double hinge designs.
Inter-Pupillary Distance (IPD) Adjustment
The hinge itself also has what I would describe as the ideal level of resistance to movement, meaning that I could open and close it easily enough, but at the same time it would remain at my desired setting.
Speaking of which, this Vortex Razor UHD 10x42 binocular has an IPD (Inter-Pupillary Distance) range of 5.6cm, up to 7.6cm with the hinge fully open, which is pretty conventional for a 42mm roof prism binocular.
Rubber Armor
As with the predecessor, the new Vortex Razor UHD binoculars have a very hard and relatively thin rubber coating.
These properties mean that the armor offers less cushioning from impacts than instruments using a thicker, softer rubber.
I also find that soft, spongy rubbers generally offer a higher level of grip. However, Vortex Optics have largely negated this problem by imprinting a fine texture into the armor. This fine pattern also makes the surface less reflective than a smooth one and thus in a small way adds to the camouflaging, which for some uses where you need to remain hidden like hunting and security purposes can be important.
Also important is the fact that this armor jacket fits very tightly onto the chassis underneath and so there is no chance of it slipping or moving about, which is something that really annoys me on some lesser quality instruments.
Another advantage to hard rubbers like this is that in my experience it is longer lasting as it is less prone to becoming tacky and perishing.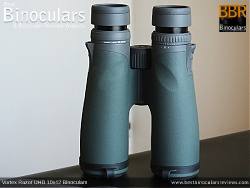 Chassis
Whilst at this level it is somewhat to be expected, I think it is also important to mention that the main chassis under the armor on the range of Vortex Razor UHD binoculars is made from a magnesium alloy.
Some instruments will still use aluminium which is not quite as lightweight, whilst others (mostly cheaper binoculars) may opt to use polycarbonate plastic, which is more lightweight and cheaper to produce, but not as robust.
O-ring Sealed
These Vortex 10x42 Razor UHD binoculars are advertised as being fully waterproof.
This means that they use O-ring seals that not only prevents water, but all moisture and dust from entering the system that can completely ruin the instrument.
Fogproof
As well as this, the air inside the chassis is replaced with Argon gas which is completely moistureless and thus inhibits internal fogging on the lens surfaces.
Note, that most fogproof binoculars will use Nitrogen gas and whilst the evidence is not 100% conclusive, Argon with its larger molecules seems to be a superior option as there is less chance of it leaking out over time. If you want, you can read more on this here: All About Fogproof and Waterproof Binoculars.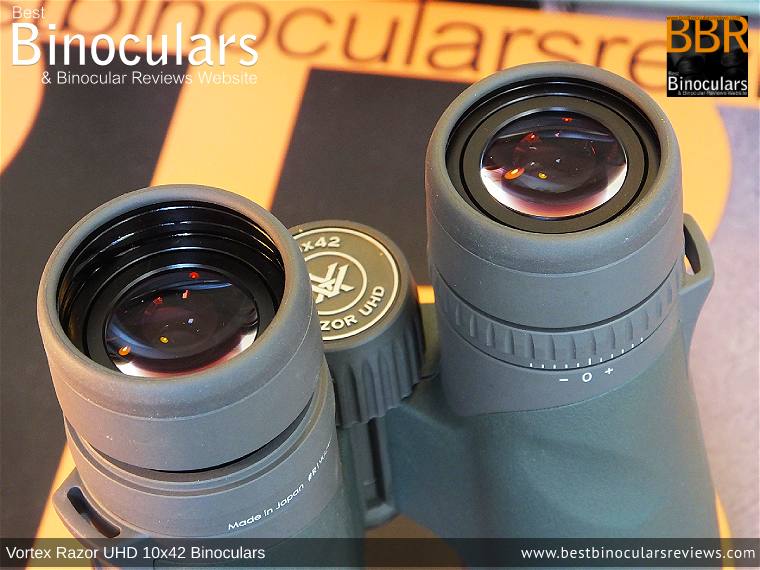 Eye-Cups
In general, the twist-up/down eye-cups on the Vortex Razor UHD binoculars are excellent:
Under the thin rubber coating, the cup has a metal body (probably aluminium) and not plastic which you often find these days. Metal is not only more robust, but certainly is part of the reason why the twisting mechanism on my sample so smooth and lacked any free play or looseness.
The cups have one fixed "click" stop midway between fully extended and fully twisted down. However should you need even more personalization in getting the eye-relief exactly right for your needs, I found that there was just about enough resistance of movement to enable me to position the cups at any point along the helicoidal pathway and have them stay there even after firmly pressing them against my face. Although here a little more resistance would have been better.
However, for the majority of users, this will be a non-issue as those who don't use glasses will usually have them in the fully extended position, whilst eyeglass users will probably have them completely twisted down.
The 10x42 Vortex Razor UHD binocular has an impressive 16.7 mm of eye-relief indicating that they will be suitable for most users who wear glasses or some sort of eye protection.
I tested them by fully twisting down the eye-cups and wearing my sunglasses and at this setting I was easily able to achieve the entire field of view with no dark rings forming on the outer limits of the view.
Eye-Piece Housings
Whilst Vortex don't explicitly state it, I am sure by looking at them, that the eyepiece-housings are also made from metal. This is obviously far more desirable than the plastic alternatives, but at this price range, this is to be expected and I would have been really shocked to have seen otherwise.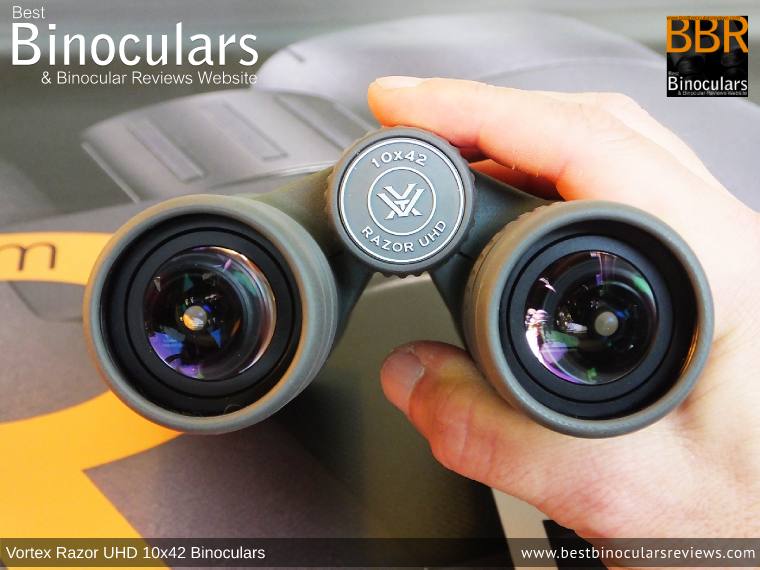 Focus Wheel & Focussing
When it comes to the focus wheel on the Vortex Razor UHD 10x42 binoculars, I would sum it up by stating that it is very good, but not quite at the level that I would describe as being outstanding. To be fair to Vortex, it is excellent in all the most important areas, but it just falls short when it comes to some of the more finer details that can separate the very good from the truly excellent:
Whilst it certainly looks good and is very far removed from the generic ones used on millions of mid range and cheap binoculars, the face plate and the main body of the wheel looks to me to be made from plastic, which is a bit of a shame.
The actual turning action on my sample pair when adjusting the focus was very smooth with absolutely no stiff sections or free play anywhere along the entire focal range.
With its deep ridges and soft rubberized track on the outer surface, there is plenty of grip on the wheel. This in combination with the fact that it is reasonably large (30mm diameter & 22mm long) and sits proudly above the barrels means that it is easy to reach and use even when wearing thick winter gloves.
The gearing of the focus mechanism is an interesting one: To adjust the focus from one extreme to the other takes just short of 3 full turns (approx 1050°) of the wheel.
This amount of turning is far more than what I need to do on the majority of binoculars I test (average is about 1½ turns).
The advantage of this is that it makes fine tuning the focus to get your image 100% sharp that much easier, which is something I definitely noticed when using these Vortex Razor UHD binoculars.
However, on the negative site, it does take a little longer than normal to make large focal adjustments. This is something to keep in mind if you often go from studying nearby things like butterflies or insects to trying to view an eagle soaring way up high in a rush before it disappears.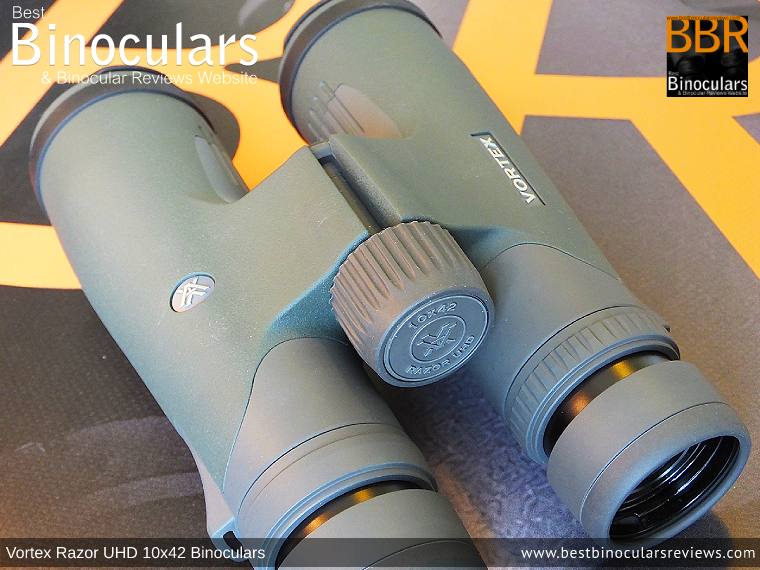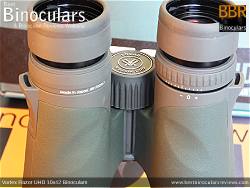 Lockable Diopter Adjuster
Used to calibrate your binocular to your particular eyesight, the diopter adjustment wheel on these Vortex binoculars is excellent.
Positioned in the normal spot just below the eyecup on the right eyepiece it turns nice and easily, which on most binoculars would be an issue as once you have set up your binoculars, it is only rarely that you want its position changed and thus accidental movement is undesired.
However by pushing the ring downwards towards the objective lenses, you can lock your exact diopter setting in place.
Now I'll admit that this is a small and to some it may seem like an insignificant feature, but for me it is a definite indicator of quality and shows an excellent attention to detail that you don't see on most instruments.
Tripod Adaptable
The Vortex 10x42 Razor UHD binocular and all other models in this series are 'tripod adaptable'. By this, I mean that you can unscrew the protective dust cap on the front of the hinge and then screw in a standard tripod adapter making it very easy to fix these binoculars onto a tripod should you wish.
Body Quality Score: 9/10
Weight
This is not the instrument for you if you require a device that is very lightweight. The extra weight is something that I immediately noticed as I took it out of the box and is confirmed once you take a look at the specifications:
As you can see in the table below, at 32.2ozs (913g), this Vortex 10x42 Razor UHD binocular is up there with the heaviest 42mm binoculars currently on the market.
There is no doubt the use of a magnesium chassis and not a plastic one contributes to this, but as you can see, there are many other magnesium instruments that weigh less and indeed the older Vortex Razor HD was also more lightweight. So what is the reason for the added weight?
Well, the main reason these are heavier is because of the improved optics. Firstly the Apochromatic (APO) lenses each have an additional element in them when compared to most other instruments and then there is the use of Abbe Koenig roof prisms, that are considered superior, but both heavier and longer than the more commonly used Schmidt-Pechan roof prisms.
I get into each of these and their benefits in more detail in the optics section below, but for now, you just need to understand that in order to get the very best possible views, the compromise for Vortex was the addition of a little more weight.
Dimensions
Another thing that I instantly noticed and which is once again confirmed by the stats is that this Vortex Razor UHD is a little longer than your average 42mm binocular. Indeed as you can see from the photo below, they are substantially longer than the HD version or the Razor.
As with the increaded weight, this once again down to the use of the Abbe Koenig roof prisms that have a more elongated shape to them. Note I go into this in more detail in the optics section below.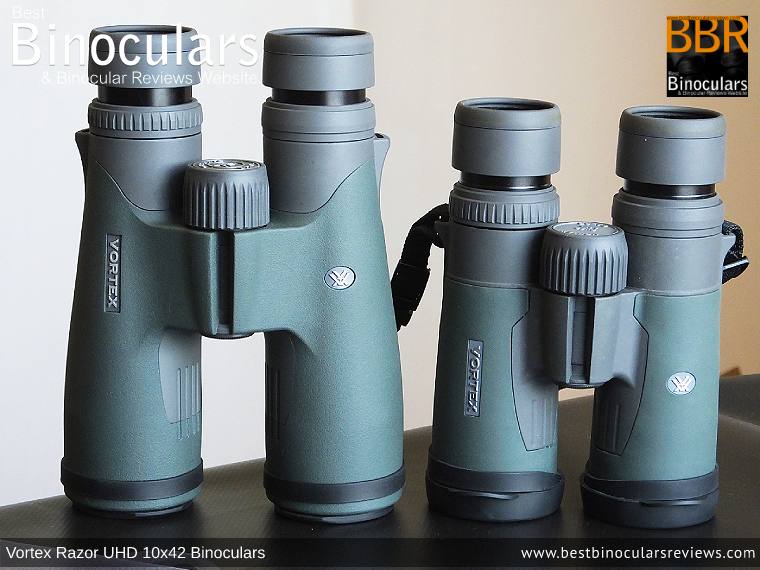 Body Stats Score (for a 42mm binocular): 7/10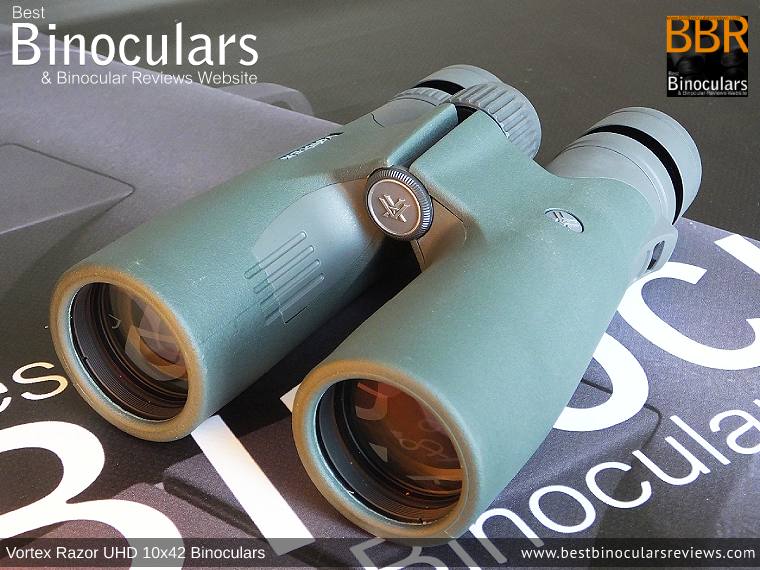 Optics
When I first learned that Vortex was bringing out a newer "improved" version of their Razor, I was a little concerned that the changes would be largely cosmetic and that going from HD (High Definition) to UHD (Ultra High Definition) was just a marketing ploy and the optics would be no different.
Indeed, even after visiting the Vortex Optics website and taking a close look at the features and specifications, I was even more worried as they were very vague about what UHD actually meant.
However, after contacting them, I got a full explanation as to what the exact differences are and make no mistake, as good as the Razor HD is, in terms of the optical components and coatings, the new Razor UHD is even better!
Eyepiece Lenses
As with its length and weight, another aspect that I instantly noticed that stands out from the ordinary is just how big the ocular lenses are.
Measuring 24mm in diameter, they match the largest that I have personally come across on 42mm binocular.
Larger ocular lenses potentially offer a number of advantages to the user, which I go through in this article on ocular lens sizes, but one of the most important is that it makes it easier for you to line up your eyes with them and thus there is less chance of you getting dark rings forming on the edges of the view.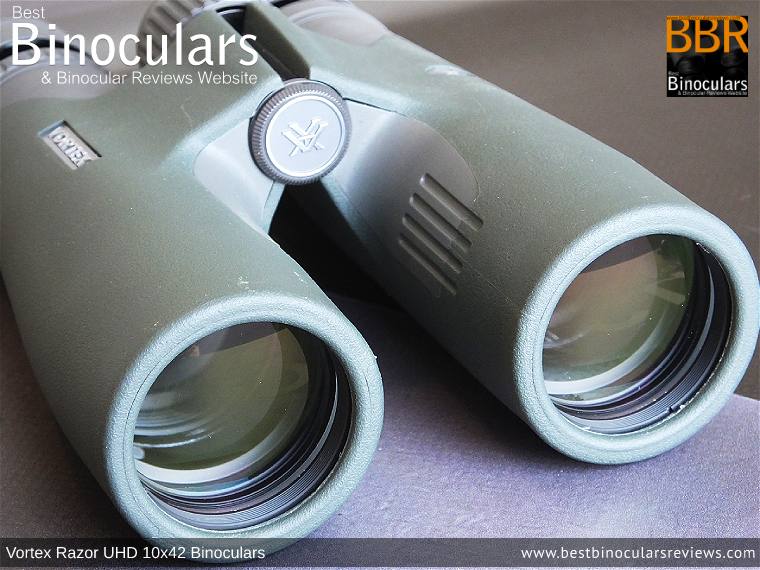 Objective Lenses
The 42mm objective lenses are set at around 9mm in from the ends of the barrels. While this is not super deep, it is enough to provide a good level of protection to them.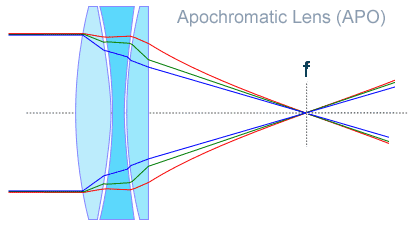 Apochromatic (APO) Lenses
Rather than the more widely used and less expensive achromatic doublet lens design that as the name suggests uses two lens elements within each lens, Vortex Razor UHD binoculars have apochromatic lenses that are usually made up of at least 3 lens elements.
Whist this additional piece of glass in each lens is certainly one of the contributors to the instrument being both heavier and longer than average, the advantage is that instead of just two, an APO lens is able to focus three wavelengths of light onto a single point and thus are able to better reduce chromatic and spherical aberrations for a higher definition image.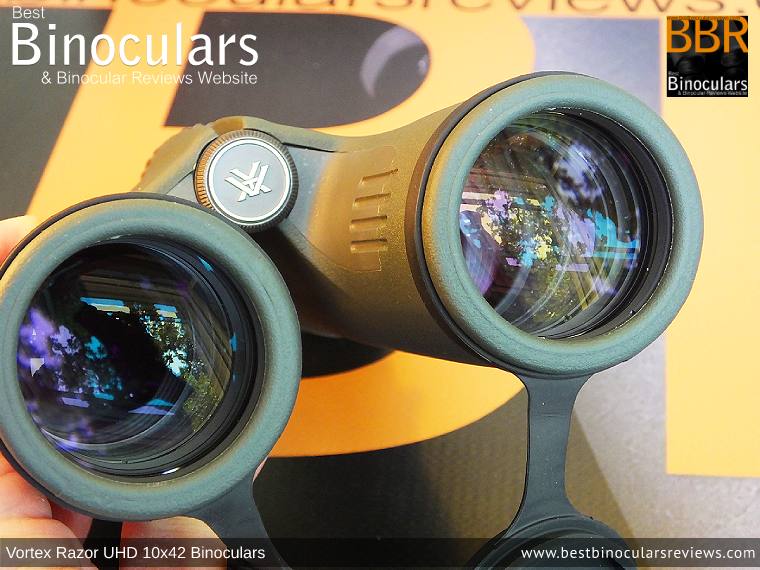 ED Glass
In addition to the physical APO arrangement, the actual glass used for the lens elements is also of a higher level than your typical mid or even high range instrument.
So whilst Vortex Optics don't go into specifics, APO lenses usually consist of special fluoro-crown glasses, abnormal flint glasses, and even optically transparent liquids that are added in between the thin spaces between glass elements all of which have particular properties designed to better manipulate the individual wavelengths of light in order to achieve a much higher quality image.
Note: To see exactly how these performed, take a look at the Image Quality Section Below.
Prisms
The biggest and probably the most important difference on the new Razor UHD when compared to the Razor HD and indeed the majority of other roof prism binoculars on the market is that they use the Abbe Koenig design and not the much more widely used Schmidt Pechan type.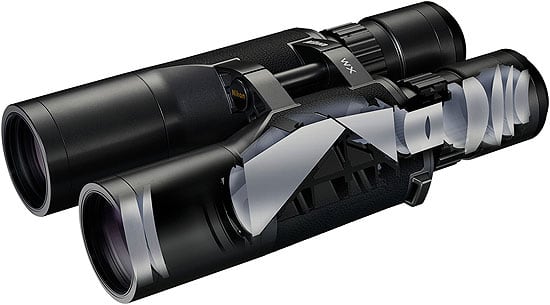 Abbe Koenig roof prisms are certainly more efficient at transmitting light because like the Porro prism, they are able to reflect all internal light and thus do not need to highly reflective mirror coatings to achieve 100% internal reflection.
Note: The best Schmidt Pechan roof prism binoculars use expensive dielectric mirror coatings that are able to achieve a 99.9% level of reflectivity, which is close, but still not quite the total internal reflection you get with the Abbe Koenig prisms used in these Vortex Razor UHD 10x42 binoculars.
Another small, but nice feature/advantage of Abbe Koenig roof prisms is unlike Schmidt Pechan prisms where the light exits exactly in-line with the entry path, it is possible to have the light exit offset slightly to the path of entry.
This means that Vortex has been able to place the centers of the objective lenses a little further apart than the centers of the ocular lenses and whilst this amount is not as obvious as that on a typical Porro prism binocular, it still offers a slightly better stereoscopic effect for improved depth perception.
On the negative side and one of the main reasons that more binoculars don't use the Abbe Koenig design is that the shape is much longer and the prism is heavier and thus you end up with a longer, less compact instrument, which as we have already spoken about is exactly the case with these.
Optical Coatings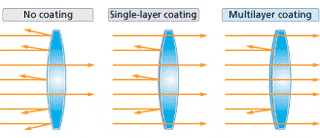 Anti-Reflection Coatings
Almost all binocular manufacturers treat at least some of their lens surfaces with coatings that are designed to inhibit unwanted light reflections and better direct the light as it comes into contact with the glass. These coatings make a big difference to both the quality and brightness of the view, but it is important to take note of the wording used:
Lesser quality instruments will only treat some surfaces and sometimes with only a single layer coating. These are described as being multi-coated or fully coated and whilst better than nothing, at this level, it would be unacceptable.
These Vortex 10x42 Razor UHD binoculars are Fully Multi-Coated, meaning all lens surfaces throughout the entire system are multi-layer coated which is what you want to see when choosing which instrument to buy.
Another point to mention is that not all these coatings are created equal, but as almost every top manufacturer keeps their exact recipe a closely guarded secret, it is impossible to say which is best.
What is a little different with these is that Vortex use a coating application process which they call Plasma Tech and which they say "provides unparalleled coating durability and performance". I can't really comment further on this, other than to say it is something that they use on all their high-end instruments. Note: If anybody knows more about this process, I would love to hear from you.
For more: What To Look For When Buying Binoculars & Anti-Reflection Lens Coatings.
Protective Coatings
Vortex Optics also use their ArmorTek coatings on the exterior lens surfaces. These super hard coatings add a level of scratch resistance and make it less easy for dirt, dust, and oil (often from your fingers) to stick to the surface. This means less frequent cleaning is needed and when you do need to clean, less pressure is needed which further protects the glass and its coatings from damage.
Prism Coatings
As I have mentioned, the use of Abbe Koenig prisms means that these binoculars do not need mirror coatings on their prisms, but to ensure the highest definition image as possible, they do still require coatings to eliminate something known as phase shift where the individual wavelengths of light step out of phase with each other as the light gets bounced around the prism.
Thankfully I can confirm that these and indeed all Vortex Razor UHD binoculars have phase correction coatings added to their prisms.
Coating Comparisons
In order to put the level of optics and coatings into context, take a look at the table below that shows how the level of glass and optical coatings changes as the price of the instrument increases:
Optical Components Score: 10/10
Optical Stats
Field Of View (FOV)
This new UHD version of the Vortex Razor 10x42 binocular has a FOV that is 346ft wide when measured at a distance of 1000 yards (approx 115m @1000m). Making it one of the widest views I have ever used on a 10x42 binocular and this is something that you can appreciate when you compare them against an average alternative and even competes with some 8x42 binoculars.
Worth mentioning here is that the HD version of the 10x42 Vortex Razor goes even better as it has a massively wide field of view (for a 10x42) of 6.9 degrees (362 feet @ 1000 yards). Thus if you are specifically looking for a 10x binocular with an extremely wide view, you could save a little money and opt for this instead.
However, for most users, the wide view that these 10x42 UHD Razors present you with will be more than sufficient and will be an advantage in many situations, but especially for birding, wildlife, and hunting where it makes it easier for you to quickly locate and then follow your point of interest.
Close Focus
If you take into account that for any full-sized binocular, I rate a minimum close focus distance of 1.82 meters (6ft) or less as excellent, then you can appreciate why at only 1.42m (4.5ft), I rate the close focus distance on these Vortex Razor UHD binoculars as exceptional.
For most users of a 10x42 binocular which is primarily intended for longer range observation, the minimum focal distance may not be important, but if you would also like to study nearby objects such as flowers, butterflies and other insects, these certainly make an excellent choice.
Eye-Relief:
These Vortex binoculars provide you with 16.7mm of eye-relief, which is once again impressive, made even more so when you consider the excellent FOV and close focus distance.
With this amount of eye-relief and by twisting the eyecups down, I was still able to enjoy the entire field of view without any black rings forming on the edges of the view whilst wearing my sunglasses. (for more: How To Use Binoculars With Glasses: Eye-relief & Eye-cups Explained)
Therefore I would certainly recommend these Vortex Razor binoculars to users of eyeglasses or those who wear some sort of eye protection as is the case at some shooting ranges.
Optical Stats Score for a 10x42 binocular: 10/10
Image Quality
It is really easy to get carried away with these ultra-impressive stats and optics used on the Vortex Razor UHD and just assume that the resulting image is going to be as equally as good.
However, this is not always the case as it still takes a great level of expertise to bring it all together and get the best out of all the components so that they function well as a unit.
To help me with my assessments and to be as consistent as possible, I tested these against my mid and very high-level benchmark 10x42 binoculars on a number of occasions in varying levels:
Image Brightness
To my eyes, these Vortex Razor UHD 10x42 binoculars produced an image equally as bright as my alpha level 10x42 benchmark binoculars, even in very low light when the sun had just dropped below the horizon.
In good light, there wasn't really a noticeable difference between all three binoculars, but as light conditions got worse, the higher level of optics and coatings on the better quality instruments really began to shine through, until in very low light there was an obvious improvement in image brightness between these and my mid-level benchmark binoculars.
Therefore, in terms of image brightness, I rate this Vortex Razor UHD as superb and in my opinion as good as it gets for a 10x42 binocular.
Colors & Contrast
Colors & Contrast Whilst these Vortex binoculars deliver an extremely bright image, it is not at all washed out which can sometimes be the case. The colors are vibrant, but without looking unreal, indeed I would say that the color reproduction was, to my eyes completely true to life without any sort of unnatural tinting.
Considering the level of brightness, I also found that contrast between dark and light areas in the image to also be excellent.
This is certainly another area where these showed a noticeable improvement over my mid-level benchmark.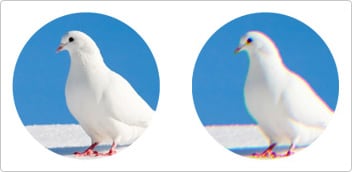 Color Fringing
The amount of color fringing that is visible through these 10x42 Vortex Razor UHD binoculars is very minimal and what I would rate as excellent. This remained true even under extremes, like when I studied the edges of a black telephone wire lit up against a bright blue sky in the background.
As good as it is and whilst they certainly showed an improvement when compared to my standard non-ED glass mid-level benchmark, I hoped that I would see an improvement when compared to my other alpha level benchmark, but to me, the level was about the same.
Image Definition, Distortions & Blurring
Image softening right round the edge of the view through these Vortex binoculars is extremely minimal and certainly less than the vast majority of binoculars that I test.
I would also add that the image on my sample was nice and flat, remained sharp and in focus from the center, all the way to the edge of the view and lacked any sort of unwanted curvature or distortions.
Conclusion
In my experience of looking through hundreds of binoculars and after very closely comparing them to my benchmark instruments, I have no hesitation in rating the view through these Vortex Razor UHD binoculars as superb and certainly at least equal to the very best 10x42 binoculars that I have ever had the pleasure of looking through.
Score for Image Quality: 10/10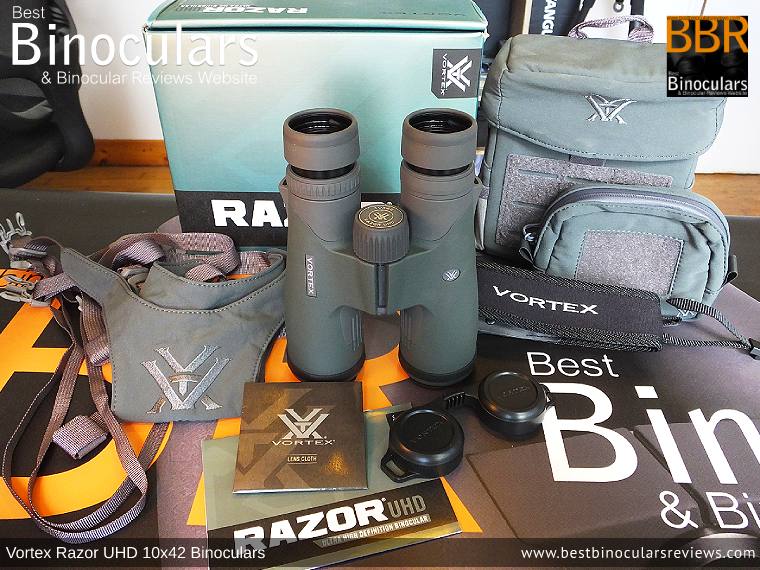 Included Accessories:
Another area where the Vortex Razor UHD binoculars stand out from the crowd is with the included accessories. I say this his is because as well as the usual assortment of lens covers, cleaning cloth and neck strap, the protective case comes with a strap that converts it to a fully covered bino harness.
What is more, you also get an ammo/rangefinder/accessory pouch that you can either carry independently or attached to the front of the case using the MOLLE attachment system.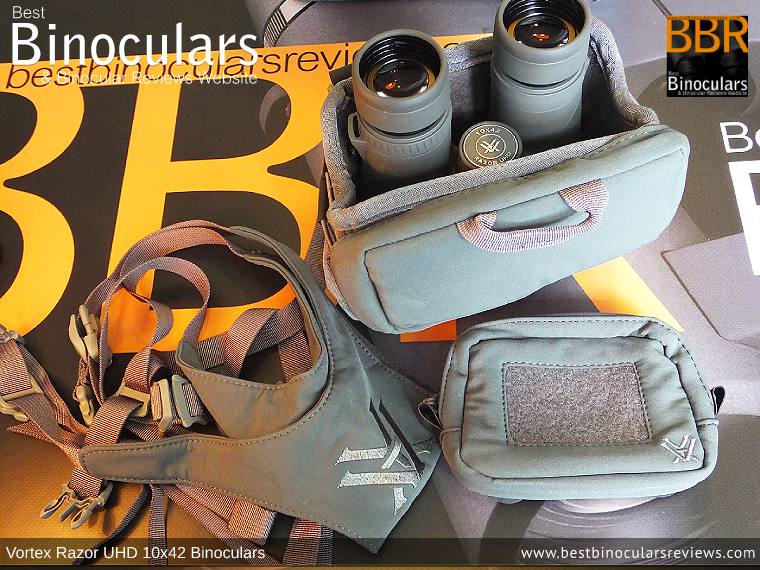 Bino Harness / Protective Case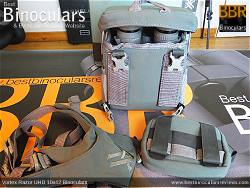 Right off the bat, and just by looking at it, you can tell that the protective case is well made and that a whole lot of thought has gone into the design. Indeed it is so good that it deserves a review all on its own, which I do plan to do in due course, but for now, you will have to be content with my brief overview:
Whilst you can certainly use it as a standard carry case, it is designed to primarily be used as a fully covered bino harness that sits on your chest, which is a great addition as to buy a good quality one of these separately can be pretty expensive.
On the rear of the case, there are four quick-release clips that you use to fix the harness onto. There are also two Velcro straps that could be used to attach the case to your belt, backpack or anything else.
The harness itself is fairly typical in its design and whilst it is un-padded, I found it to be easily comfortable enough even when I was testing it out in the field all day. It can be adjusted in length and has two quick-release tethers that you can fix to the binoculars so that you never have to worry about dropping your optics accidentally.
The case has a semi-rigid design that feels comfortable against your body, yet offers a very good level of protection to your optics.
The inside is lined with a soft fleece type of material, whilst the outer looks to me to be a very fine nylon/cotton material. If I had one criticism of the case, then this would be it as I think this fine material could quite easily get damaged should you be operating in an area with a dense thorny bush. So whilst it may not look as nice, a thicker nylon weave would no doubt be tougher.
The top lid has an elasticated flip open lid design. This is not quite as secure as a fully zipped closure, but makes accessing your instrument much easier and quicker and is something that I personally really like.
The binoculars fit reasonably well within the case making them nice and easy to take out and replace, but not so loose that they flop about too much inside. Indeed the elasticated lid ensures that all movement is kept to a minimum.
One comment I have here is that perhaps the case could have been just a little deeper as once you have extended the eyecups on your binoculars, the lid does sit quite high up. This is not a big deal, but it does to me look like it may have been designed for a more conventional 42mm binocular that is a little shorter than the Razor UHD.
On each side of the bag, there's a separate elasticated pocket and on the front, there is MOLLE webbing designed to accept the included accessory pouch or just about anything else that uses this attachment system.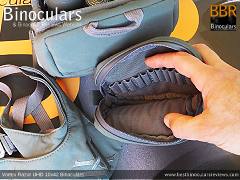 Accessory Pouch
Designed to fit onto the front of the case, your belt, or backpack or anywhere where you have webbing, the included accessory pouch is another welcomed addition.
It is well padded and has a zip closure. Inside there is easily enough room to take something like a compact rangefinder and it has a woven strap designed to accept spare ammunition.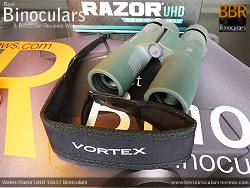 Neck Strap
On the whole, the included neck strap is excellent, but I feel Vortex Optics have missed a trick or two and could have done even better:
The padded section of the strap is excellent. It is very well made, the stitching looks good and it is thickly padded.
The padded section is also slightly curved to better fit the shape of your neck and shoulders and I like that on the underside, the neoprene material has been left exposed as this provides a little extra grip and thus reduces the amount that the strap will slide about around your neck.
The thinner un-padded sections are made from a tough nylon material and I like that they connect to the padded section via a couple of small metal loops. it is a small detail, but this allows for a little extra free movement and thus means that the padded section does not move as you bring the binoculars up to your eyes.
This is all excellent, but I was surprised to find that the neck strap attaches to the binocular in the standard way using a pair of sliders.
Whilst ordinarily this is not an issue at all, considering that the harness comes with a couple of quick release tethers, it would have been so much better if the neck strap also had quick release clips on it. This way it would make it much easier and quicker to change between the neck strap and your harness.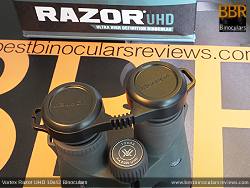 Rain-Guard
Branded with the Vortex logo, the ocular lens cover (rain-guard) is typical in its design, but certainly not a simple generic one that I see supplied with many, many binoculars.
Fashioned from soft plastic or rubber it attaches firmly to the eyecups and so does not fall away too easily, but at the same time is easy enough to remove and replace when you want to.
The bridge connecting the two cups has a flexible section that enables you to place it onto the eyecups and keep your desired IPD setting, which again is a tiny detail, but something that really annoys me on ones that don't allow you to do this.
There are also loops on each side of the guard that you can use to thread through onto the neck strap or the tethering straps on the harness.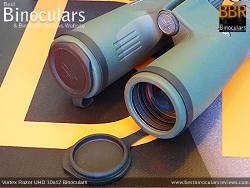 Objective Lens Covers
I really like the objective lens covers that come with these Vortex Razor 10x42 UHD binoculars.
To the average user, they may look very similar to most others, but there are a number of small details that for me sets them apart:
Like many others, they are tethered to the binocular using a second loop that goes around the barrel of the binocular which is great, but I have found that this loop often breaks.
However, the Vortex ones look and feel to be made from a rubber that is thicker and tougher than most and thus I suspect will be longer-lasting and less likely to break.
Next, there is the fact that the covers actually fit into the ends of the barrels and not over them. As well as having a nice tight fit, this just looks far nicer and makes them appear part of the instrument and not just some afterthought bolted on at the end.
I also like that far from being generic and designed to fit and be used with almost any bino on the market, the ones that you get with this instrument are branded with the Vortex logo, once again making them add to the overall look of the binocular in a more positive way than most.
Cleaning Cloth
As is the norm, you are also supplied with a 'lens cloth'. In this case, Vortex has included a high-quality one made from a microfiber material that you can use to clean the body and the lenses with when out in the field.
As good as this is, I still suggest you invest in an optical lens cleaning kit to ensure that you maintain and properly look after the lenses.
Instruction Booklet
As far as these go, the small instruction booklet that comes with the Vortex Razor UHD binoculars is pretty good and fairly comprehensive.
It includes some nice labeled diagrams and photos with instructions on how to use the eyecups, adjusting the IPD, focusing as well as diopter set up. There are also details on how to attach the accessories as well as cleaning the instrument.
Warranty
These Razor UHDs come with Vortex's impressive VIP Warranty as standard, details of which can be found on the last page of the instructions. But basically, they promise to repair or replace the binocular for free for life which you certainly can't argue against!
Accessories Score: 9/10
Vortex Razor UHD 10x42 Binocular Comparisons
The following table displays some of the most important specifications of some other high end 10x42 binocular that I have fully reviewed as well as these Vortex UHD Razor binoculars. To view the full results, open table in full-screen mode.
Review Conclusions:
Before receiving them, I was in no doubt that any binocular designed to supersede the Razor HD (one of my all-time favorites) was going to be something a little special, but I did have my reservations and did wonder if they were just going to be on the same level and that these 'improvements' were more about marketing hype than actual real-world improvements.
Well now after very thorough testing, comparing against others and using them in real-world conditions out in the field, I can say that I'm genuinely very impressed.
The Vortex Razor UHD 10x42 binoculars is a fantastic instrument and most certainly ranks amongst the very, very best that I have ever come across. For those wondering about the hefty price tag and if they compete with the top 'alpha' level brands from Europe, I have absolutely no hesitation in saying that they are as good or better than anything currently on the market.
Strengths
Sometimes when I get to the end of a review, I struggle to fill out this section as some binoculars can feel very "samey" and thus whilst they may be good, they sometimes don't have that something extra that makes them stand out above others.
With this Vortex Razor UHD 10x42 Binocular review, it is almost the case of the opposite being true and so if I was to list all their strengths, it would involve repeating much of the review!
So instead of going through them all again, below are only the features and specifications that really stand out for me and which are in my opinion as good as or better than other similar instruments at this level:
High-Level Components & Build Quality
From the magnesium frame to the APO Lens System and Abbe-Koenig roof prisms, apart from a few minor exceptions (see weaknesses below), just about every single component used on this instrument is the best that you can get.
On Top of this, it is instantly noticeable that overall build quality is of an extremely high standard. Added to this with things like the lockable diopter adjuster and the included bino harness as standard, the attention to detail is also seriously impressive.
Image Quality
Both the brightness and image quality are exceptional for a 10x42 binocular.
Field of View
Whilst not quite matching the HD version of the Razor, the field of view on these is still mightily impressive which offers up many advantages and opens up the instrument to a wider range of uses.
Close Focus
Minimum focus distance is exceptional, which like the FOV adds to the versatility of these optics.
Bino Harness / Case
I seriously like the included bino harness. Indeed it is as good as many standalone versions that cost a whole lot of money to buy as an extra. Indeed, it is so good I plan to write its own review! Watch this space!
Weaknesses
Weight & Size
In life and especially with binoculars, there are always compromises. In the case of the Razor UHD, Vortex Optics decided to aim for the best possible image quality and product robustness with the compromise being added weight. This is certainly not the instrument for you if you are after a small, lightweight 10x42.
Focus Wheel
Whilst there is certainly nothing wrong with its function, I just feel that it would have been a better match with the rest of the instrument if Vortex had opted for a metallic focus wheel instead of plastic. Although this, of course, would have added further weight to
Neck Strap
The actual padded section of the strap is very good, but I just feel that Vortex could have gone one step further and added quick-release clips to it that match the ones on the bino harness which would have made it easier to swap between them.
Good Value For Money?
It may seem a little strange to some to describe a binocular at this price level as being good value, but If you are looking for an alpha level binocular, then when compared to many of their direct competitors, I do feel that in this context, these Vortex Razor UHD 10x42 Binoculars offer good value for money.
Ideal Uses