I recently had a reader contact me saying that they were looking for some optics specifically for long range hunting and that they had initially been drawn to the excellent Steiner HX 15x56 and Vortex Kaibab HD 18x56 binoculars.
He mentioned that both of these high power binoculars designed for hunting ticked all the boxes in that they wanted a high-quality instrument with powerful magnification, but because they had to carry loads of equipment including their rifle over long distances on foot, they were worried that even with a good bino harness for hunting, this binocular would be just too big and heavy for their needs and so did I have any ideas.
Rather than a binocular, a monocular immediately sprang to mind as the ideal solution and in particular I thought that the Vortex Recon RT 15x50 Monocular may make a great choice:
Already on my list as one of the Best Monoculars to buy, the smaller 32mm Vortex Recce Pro HD monocular impressed me so much that I thought I just had to take a closer look at its bigger, more powerful and generally even higher quality brother, the 15x50 Vortex Recon RT Monocular.
Packing a massive 15x magnification and with a built-in, heads-up RT rangefinding reticle there is no doubt that the Vortex Recon is designed for long range hunting, border patrol or security needs.
Vortex Recon RT 15x50 Monocular Review
Main Points: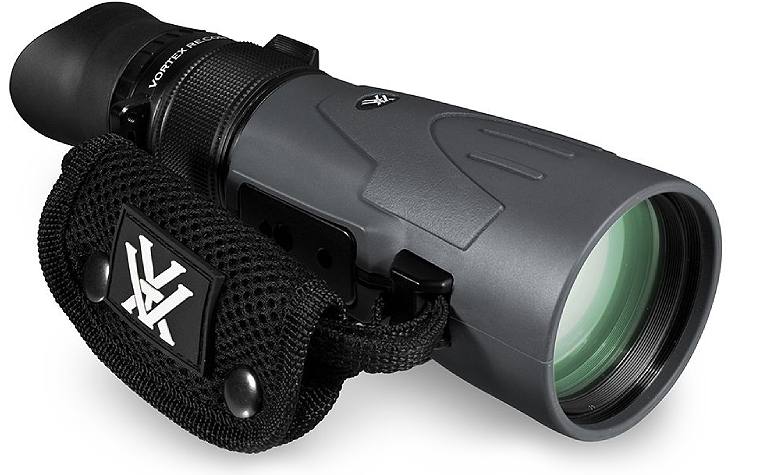 The Body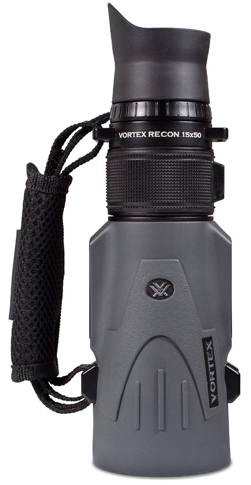 Size & Weight
Basically, half a binocular and with its large 50mm objective lens, the 15x50 Recon R/T is not the smallest or most lightweight monocular out there, but it is much more portable than the equivalent binocular.
For example, the Steiner HX 15x56 weighs 44.1ozs (1250g), is 7.1in (18cm)in length and 5.6in (14.2cm) wide.
Whilst the equivalent Vortex Vulture HD 15x56 binocular at 43.6oz is also almost three times heavier than the Vortex Recon R/T 15x50 Monocular and is 7.6 inches long by 5.8 inches wide, whilst the Vortex Kaibab HD 18x56 Binoculars are also very similar.
Thus at only 15.2oz in weight and with a similar length of 7 inches, but a much thinner shape (2 inches), you can see that the Vortex Recon monocular will certainly appeal to those hunters, wildlife observers, and security personnel who carry a bunch of other gear, like a camera, rifle, bow or another weapon, and so need their optics to be as small and lightweight as possible.
However, the ease of transport and carrying goes even further than this with the inclusion of a carry clip on the side of the body.
Utility Clip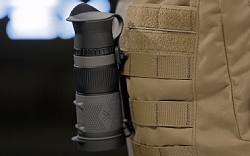 Something that I see on most Vortex monoculars, but on many others is the utility clip on the side of the body.
Most monoculars only come with a hand strap, which works fine, but it does mean that the hand that you are carrying it from is never a fee as you would like unless you put your monocular away in your bag, but this does mean that it is not as accessible and as easy to get to as you would always like.
This carry clip on this Vortex Recon monocular makes it possible to simply hang it from your belt, webbing, pocket edges, rifle strap or even the outside of your backpack where it is completely out of the way, but still very easy and quick to get to when needed.
Eye-Cup & Eye-Relief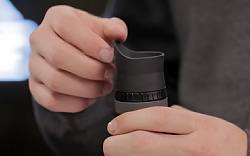 Vortex has opted to use a simple fold-down rubber eye-cup with a side shield shape on the Recon monocular which is an interesting option.
Rubber cups are often more comfortable against the face than twist-up eyecups, but In terms of their adjusting the level of eye-relief, they are not as flexible as the only choices you have are full or zero (with them folded down), whilst twist-up cups often have a number of intermediate settings.
For most users, especially those who don't wear glasses this will not at all be an issue as the level of eye-relief will be perfect.
However, for eyeglass wearers, or those who need some sort of eye protection for shooting, the only option you have is folded down, which with16mm, of eye-relief, this should be enough to achieve the full field of view.
Side Shield
Very under used and underrated, the flared cup shape design is an excellent feature on these that I really like:
Similar in shape as the eye-cups used on the best Steiner binoculars, like the excellent Steiner HX 15x56 Hunting Binoculars, they do an excellent job following the contours of your face around the sides of your eye. The result is that you get less light entering from the side which is not only less distracting but it makes for a better view as you don't get light reflecting off of the ocular lens from the sides.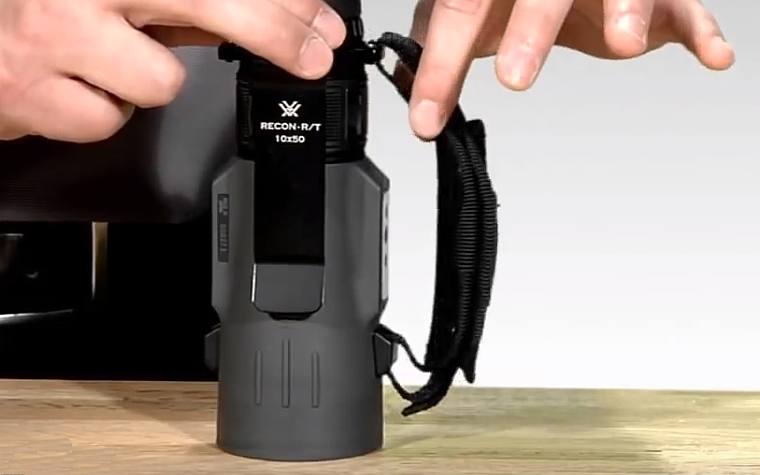 Image Shake - Hand Strap & Tripod Mountable
The high magnification makes it much more difficult to keep the image steady as any tiny movement is magnified that much more.
So it is good to see that Vortex has included a robust as well as ambidextrous hand strap to help improve your hold on the device as much as possible.
Having the same design as the ones you often find on camcorders, it provides improved stability when glasses as well as helping to ensure that you never drop the monocular accidentally.
The Vortex Recon R/T 15x50 Tactical Scope also has a threaded recess making it very easy to mount onto a tripod, or monopod to completely eliminate image shake.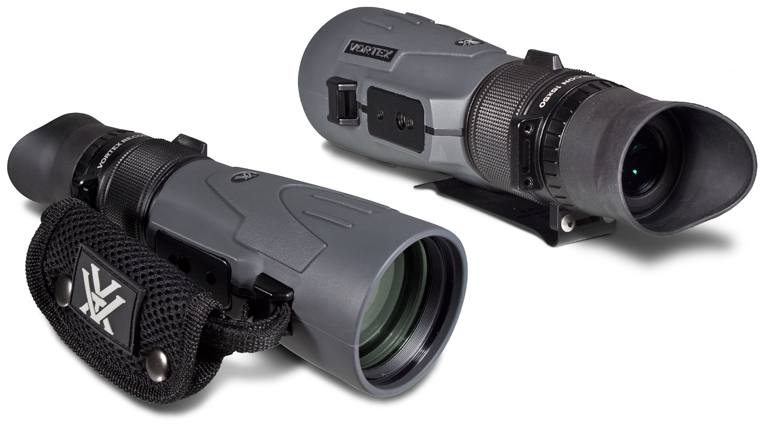 The Optics
With a large 50mm lens, a heads-up rangefinding reticle and Vortex's premium level XD glass and XR lens coatings, the Vortex Recon RT 15x50 Scope is designed to offer the long range hunter or security personnel with a very high level of image detail and clarity at long distances:
Extra-low Dispersion Glass Elements
The Vortex Recon monocular uses Vortex's premium level lenses which includes what they call their XD™ Lens Elements. Basically, this means they have ED glass (Extra-low Dispersion) elements in the large 50mm lens that can help reduce color fringing for a higher definition image.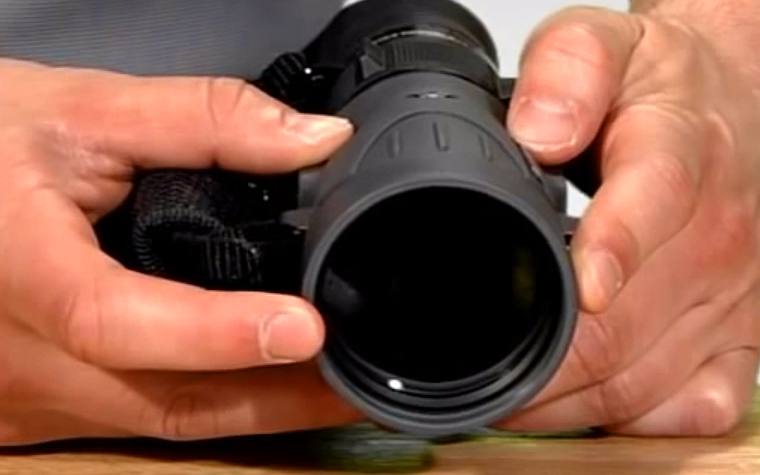 Optical Coatings
Anti-Reflection Coatings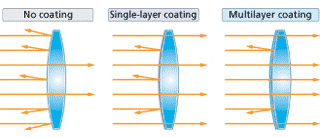 All well as ED glass, Vortex Recon Monoculars are Fully Multi-Coated using their proprietary and once again premium level XR™ coatings, which are the same as that used on the top spec binoculars and rifle scopes.
This means that all lens surfaces throughout the optical pathway are treated with this special anti-reflection material and thus results in an increase in light transmission and less unwanted reflections for improved image quality and brighter views.
I can't comment on the XR coatings themselves and tell you if they are better than those used by other brands, but what I can say is that fully multi-coated devices show a noticeable improvement when compared to lower quality optics that are only multi-coated (only some lenses are treated not all) or single layer coated.
This is definitely something to look for when choosing binoculars (or monoculars!) as the level of these coatings has a huge say in determining the final image quality and brightness. More info here: Anti-Reflection Lens Coatings.
ArmorTek®
Vortex Recon RT monoculars also have their incredibly tough ArmorTek® coating on the exterior lens surfaces which protects them from scratches, oil (often from fingerprints), and dirt.
Because they stay cleaner for longer, they require less cleaning and when you do need to clean them, you don't have to apply as much pressure to remove marks, dirt and oil, which in conjunction with the scratch resistant properties ensure the lens surface remains in perfect condition.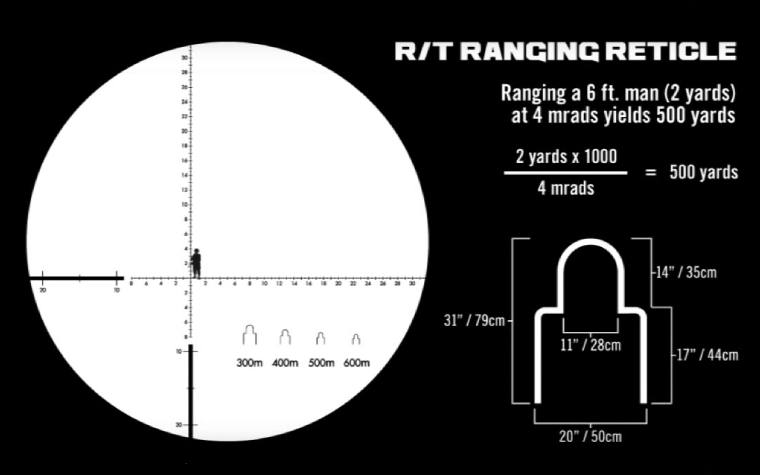 MRAD Milling Reticle
The Vortex Recon RT 15x50 Monocular has a in view MRAD (MIll / Milliradian) based reticle that incorporates number of silhouettes to help with size and therefore distance measurement without having to make calculations.
For more details, check out my page on Vortex Rangefinders.

Optical Stats
15x Magnification and 50mm Lens
The very powerful 15x magnification working in conjunction with the very high level of optical glass and coatings will most certainly deliver a very detailed and high-resolution image at long distances.
However, it is important to understand that despite using a large 50mm objective lens, that is able to capture more light than a smaller one would, this and indeed all 15x50 scopes only deliver a 3.3mm wide exit pupil.
During the day, this is perfectly adequate, but the relatively small 3.3mm shaft of light exiting the ocular lens will be a limiting factor in very bad light when the pupils in your eyes have enlarged.
Therefore, just be aware that the 15x50 Vortex Recon RT monocular is not an ideal solution if you plan on using them often in conditions that you would experience at or just after sunset
Field Of View (FOV)
Another downside to the powerful 15x magnification is that this very "zoomed in" image also results in a much narrower field of view.
At close distances, this can make finding objects and keeping them in very difficult, but at long range, which this monocular is designed for, this is not as important. Although a wide view can make it easier to scan wide open spaces looking for game.
Minimum Focus
At 12ft, the minimum focus distance on the Recon is relatively long, but as this monocular is designed with long-distance observation, this should not be an issue for its intended use.
Included Accessories:
As mentioned earlier, these Vortex Recon monoculars have a carry clip fixed onto the back of the body making it very easy for you to fix the instrument to an item of clothing, strap or bag.
Also included is an ambidextrous hand strap and the monocular is also supplied with lens covers, a cleaning cloth and user instructions.
Warranty Information
As with all high end Vortex instruments, the Recon RT is backed up by the Vortex VIP warranty as standard which states that "in the event, your monocular becomes damaged or defective, Vortex Optics will repair or replace the monocular at no charge to you.
Ideal Uses:
Hunting
With its heads-up reticle display, there is no question that the Vortex Recce Pro HD monocular has been designed with hunters and hunting in mind, indeed I have it listed as the Best Monocular For Hunting for this year, however, I do feel that it is far more versatile than this:
Target Shooting
Whilst it is most common to use a spotting scope at a target range, sometimes you want or need something more compact and easy to carry. So here a spotter or even yourself can at use this Vortex monocular and the reticle to get accurate information to make adjustment s to your shot, be that with a rifle, gun or bow.
Security / Search & Rescue
The Vortex Recce Pro HD Monocular will most certainly be a good choice for many security and search and rescue applications, especially where a minimal weight and size is a necessity. For use at night this would not be ideal, but during the day yes, for sure as the wide field of view makes scanning wide areas searching for someone or something much easier.