As the popularity of this website and especially since the BBR YouTube channel continues to grow, I have found that I am receiving more and more requests from Amazon/Alibaba only types of sellers for me to test and review their products.
Usually, these brands only offer low-end, very cheap binoculars, scopes, monocular, and Night vision devices and it is extremely difficult to find any information on them or the brand other than the usually very bad, inaccurate marketing jargon and my fears are that they are here today, gone tomorrow types of products/brands with no accountability, warranty or customer service.
These are aspects to any night vision binocular, scope, or actually, any device that I value as a really important here on BBR, and so I usually decline the offer.
However, I do look at each request individually and I do make exceptions. This time with these Wildgameplus WG500B Digital Night Vision binoculars this was mostly down to the fact that the product itself really intrigued me and I wanted to try it for myself:
Cheap Night Vision Binoculars
The reason for this interest started a while back when I was contacted by someone asking about some "Night Vision Binoculars" that they had seen advertised on TV that cost under $40, have an "Atomic Beam Laser" and which truly offered a level of night vision as good as any used by the military!
Anyway, this and products like this are truly nothing more than a scam and blatant cases of false advertising that I can't believe is permitted, and I was so incensed that I wrote an article and made a video about it and the crazy, out of this world claims that they make, which you can read/watch here: "As Seen on TV" Atomic Beam Night Hero Binoculars.
However, in that article and video, I also suggest some REAL Night Vision Alternatives that do actually work and are available to those shopping on a tight budget.
The problem is that there really is no such thing as a true working night vision binocular that costs anywhere near as little as this and in most cases cost at least 10x more.
So whilst these will set you back about $240 / €180 / £160, when it comes to real, working night vision this is considered cheap and thus I wanted to take a look through them myself, test them and review then to see if I could recommend them as a viable option for Night Vision for those shopping on a tight budget and below are my true and honest findings:
Wildgameplus WG500B Digital Night Vision Binocular Review
Main Features & Specifications:
Mid Level Night Vision Binoculars: Approx: $200 / £180 / € 180
High-sensitivity CMOS Sensor
Record in 1080p HD Resolution
Screen Resolution: 640x360
Day & Night Use
Variable Magnification: 3.6x-10.8x (3x Digital Zoom)
31mm Objective Lens
Field Of View: 7°
Built-in 5w Infrared Illuminator (850 nm) with 7 levels.
Tripod Mountable
Max Viewable Distance (Dark): 300m
Storage: Included Micro SD Card (64 GB)
Dimensions (LxWxH): 17cmx15cmx6cm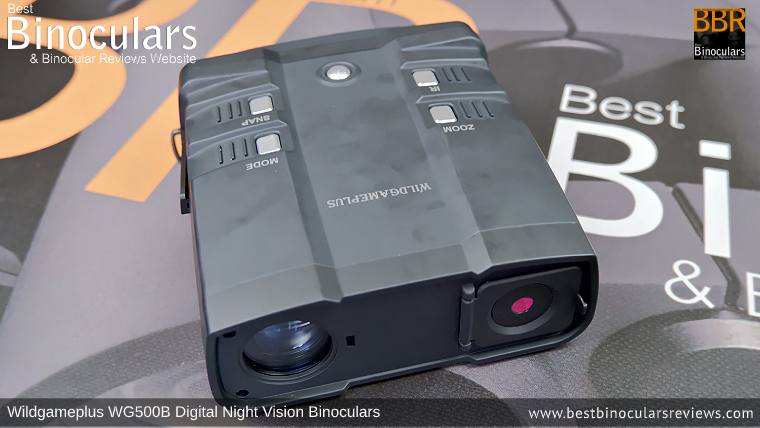 Digital Night Vision
From being more easily usable in both daylight and at night, to allowing you to more easily record what you are looking at, digital night vision has a number of inherent advantages but also disadvantages versus the analog ones using image intensifier tubes and phosphor screens to produce the green-tinted images that we are all used to seeing. But I think the most important difference in the context of this device is that digital NV is quite a lot less expensive to make and thus at this lower level price range you can generally expect a better performance from a digital device.
The Body
Shape & Design
The Wildgameplus WG500B has a very angular, rather box-like shape to it, which does give it a somewhat retro look which may not appeal to all tastes, but in the hands, I found it very comfortable to hold.
I especially like the positioning of the four main buttons on the top, which along with the fact that they sit in a channel makes them all very easy to use and more importantly find without looking, which in the dark is obviously an important feature.
These buttons are also relatively large and click with a positive and reassuring sound, so there is no doubt in your mind when they have been pressed. What is more, I found them easy to locate and use even whilst wearing gloves, which on a cold night is another important feature as too often in the past I have used night vision devices with small, less obvious buttons that are placed too close together and thus are more difficult to use, especially with gloves.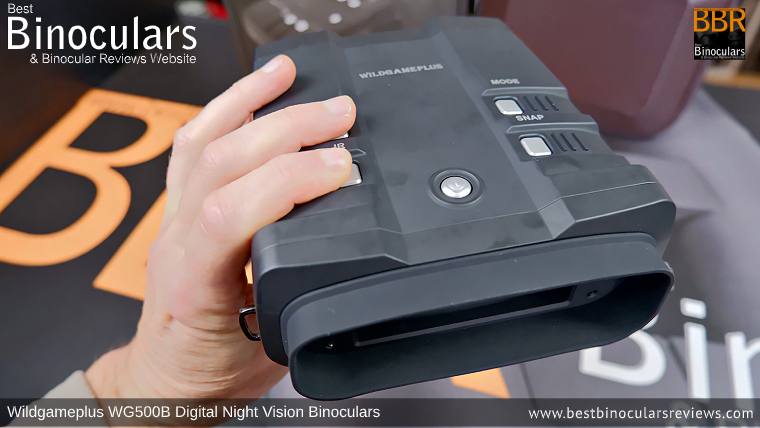 Night Vision Binocular?
The WG500B is marketed by WildGamePlus as being a night vision binocular. This is technically incorrect as whilst you do look into them using both of your eyes, the light is actually collected via a single objective lens like a monocular and not two as you get on a binocular (The lens you see on the left in the image below is actually the infrared illuminator). So I was thinking this device should be described as Bi-Oculars, but even this is incorrect as they don't have two ocular lenses, rather you observe the image on a single large screen.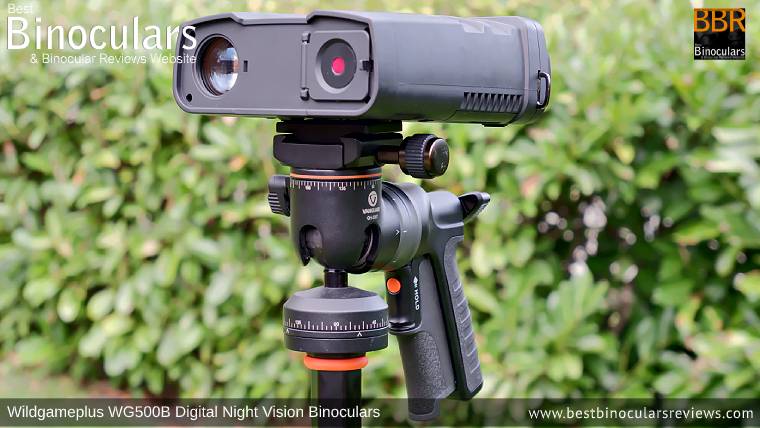 Binocular vs Monocular
So whilst outwardly they may look like an NV binocular, I think technically they are actually closer to a monocular, but with the added advantage that you can use two eyes to view the image.
This last bit is important as in my experience it feels more natural to use both eyes and you get a far more immersive experience overall.
Only needing one lens also results in a device that is simpler and cheaper to make, but on the downside, the amount of light it is able to collect is halved when compared to a binocular with two lenses of the same size and thus if all else remains equal, a binocular should perform better.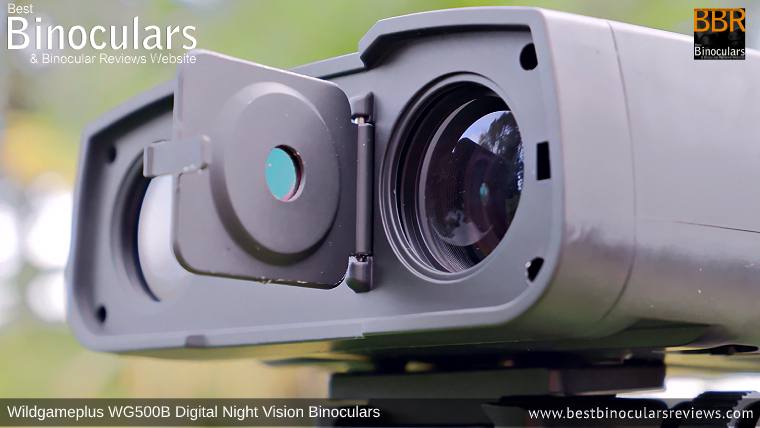 31mm Objective Lens
Speaking of the single lens at the front, firstly it is important to point out that it is only 31mm in diameter. For a night vision device where you need to collect as much light as possible this is relatively small. This in combination with the fact that unlike a true NV binocular that has two lenses, is a double whammy. So why the small lens? I am not 100% sure, but one explanation would be that larger lenses are more expensive and so to keep the price down, a smaller lens is often used. Smaller lenses also make for a smaller device, but as the body is quite large anyway, they could have easily used a large lens if they had wanted to.
You will also notice the cover (image above) this is there to actually reduce the amount of light that enters the device for use in the day. The sensors inside NV devices are so sensitive to light that you actually have to reduce the amount when using them in daylight. Usually these come in the form of a cap that you either screw in place or clip on, but in this case Wildgameplus has used a hinge system that I really do like as it eliminates the risk of misplacing it.
Underside
Tripod Adaptable
On the underside, you find a brass thread insert which can be used to mount the device on to a tripod which is great as not only does this enable you to train the view onto a single spot, but will also ensure that it is as stable as possible, which is important for any photo or video footage that you take.
Battery Compartments & Batter Life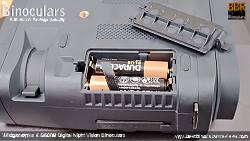 Still on the underside, and each side of the Wildgameplus WG500B Digital Night Vision binoculars, positioned roughly where the palms of your hands are placed when holding it, are the two battery compartments. These are accessed via a cover held in place via a clip. Here it is important to note that these covers do not contain rubber seals and thus will not be watertight.
Each of these compartments takes 4 AA batteries (for a total of 8). Not the most lightweight solution and battery life will vary widely depending on the quality and capacity of the battery you purchase (none are included).
As you can see I just purchased some standard Duracell batteries and I have to say battery life was very short - about half an hour! Thus I was glad that I could still keep using the device with the USB cable to power it. So my suggestion would be to either get and use a battery bank or much more longer lasting, High-Capacity Ni-MH Rechargeable Batteries.
Focus Adjustment & IR Illuminator Adjustment
On the left side, there is a dial which when turned adjusts the focus for the objective lens, whilst on the right is a lever which is used to change the spread of light emitted from the infrared illuminator (more on this later in the review).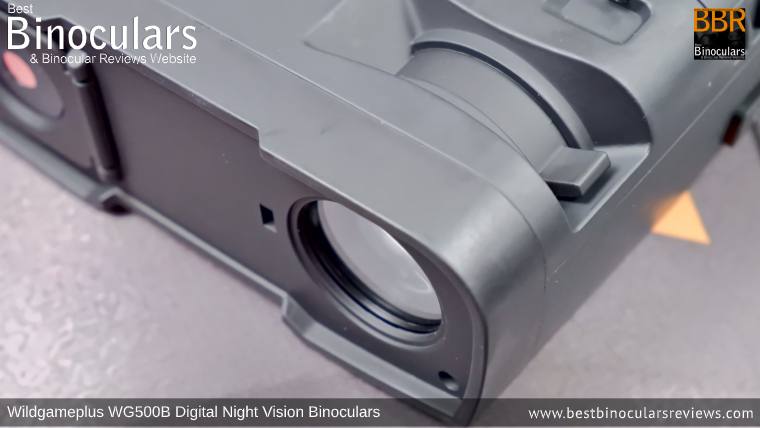 Sides
On both sides of the device, there are metal loops for attaching the neck strap. Note that some users may prefer a Bino Harness and these will work just fine as an attachment point for most systems.
Then on the right side, there is a plastic cover, under which you find the USB port, TF card slot (a 64 GB card is included), and the TV-out port.
One point I would like to raise about the USB port and something that I really like is that it can also be used as a power source, and when connected, it overrides the batteries.
Focus Wheel & Focussing
Unlike a standard pair of optical only binoculars where you are looking through the instrument, with a night vision binocular like these, you are viewing a screen, and thus focussing is a little different.
To adjust the focus you turn the dial located under the instrument on the left side near the objective lens.
I found the easiest and most natural way for me to do this was to use my thumb. The dial turns easily and whilst it has deep grooves on it for grip, I just wish that it was a little more prominent to make it easier to feel when wearing gloves.
Otherwise, focusing on this NV device is straightforward and relatively easy to do.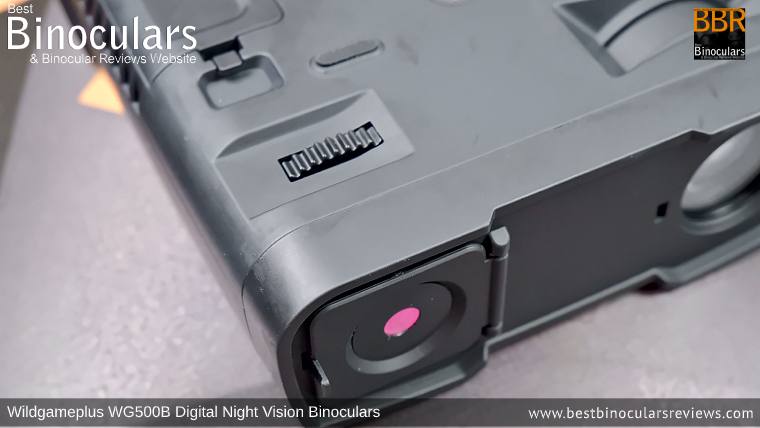 Waterproofing
Waterproofing It is important to note that these Wildgameplus WG500B Night Vision binoculars are not waterproof or even advertised as being water protected. If you often go out in bad conditions this will most certainly be something to keep in mind.
Weight
Without batteries, the Wildgameplus WG500B Digital Night Vision Binocular tip the scales at about 700g / 24.7oz, and with batteries, this increases to 890g,/31.4oz which as you can see below is substantially heavier than your average most NV monocular, but in my experience is lightweight for a night vision binocular:
NV Monoculars
NV Binoculars & Bi-Oculars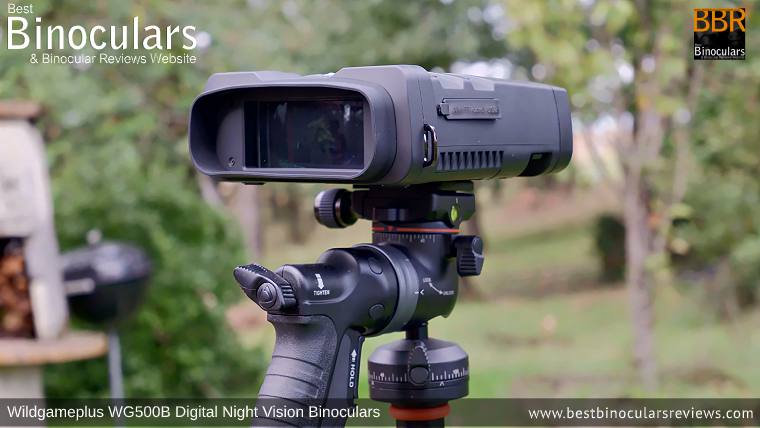 Optical Stats
Magnification
I found the way Wildgameplus advertises the magnifications (optical and digital) for the WG500B to be a little confusing as on the back of the box and in the specifications you are presented with the following information all in different areas:
Magnification: 3.6-10.8x31
Digital Zoom 3x
Eyepiece Magnification: 2x
From the first line, this means to me that you are able to vary the magnification from 3.6x to 10.8x and the device has a 31mm objective lens.
However, with an eyepiece magnification of 2x and a variable digital zoom of up to 3x, my taking from this would be that the optical magnification is 2x, and with the digital zoom it would go up to a maximum of 6x, so it should read 2-6x31 and not 3.6-10.8x31.
Although, I found that when looking through the viewfinder without any digital magnification applied, the optical only magnification to me seems to be higher than 2x and so I will assume that it has a 3.6x optical magnification and thus if we multiply that by 3x with the digital zoom, we get a maximum 10.8x, which makes more sense.
Field Of View
The advertised Angle of View is 9.2° which is very wide even for a 3x device as it equates to a field of view of around 480 feet wide at 1000 yards or 160 meters wide at 1000 meters.
A wide field of view can be an important factor to pay attention to, especially at night and at closer ranges as it makes it much easier for you to locate your subject and then follow it if it happens to be moving.
Minimum Focal Distance
In the specifications chart, Wildgameplus indicates that the minimum focus distance is about 5 meters (16.4ft), which is fine, but maybe a consideration, especially if you are like my wife and want to study things like frogs or insects at night from very close range.
Max Effective Viewing Distance
The stipulated Maximum viewing distance is 300 meters in darkness. This does depend on the viewing conditions and just how dark it is, but on an average night with a half-moon and no mist, etc, I found this to be about right.
Compared to other Night Vision devices this is about average and I have had some devices that you can view more than double than this, but having said that those devices cost more than double the price of these.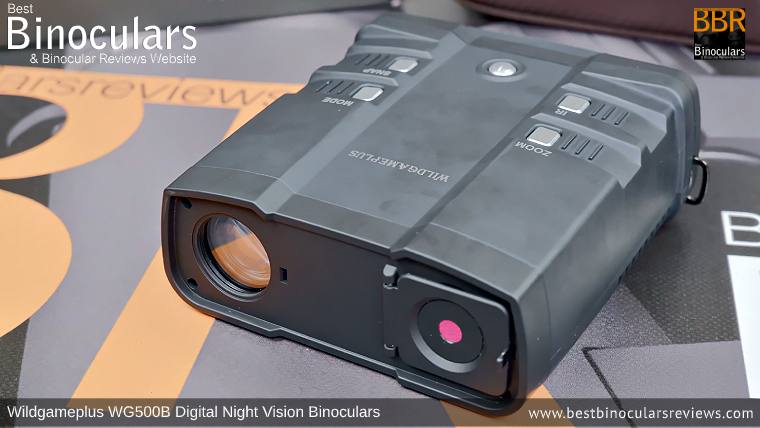 IR illuminator
On the right-hand side of the Wildgameplus WG500B Digital Night Vision Binoculars is what looks like another objective lens, but this is actually the IR illuminator.
For those who don't know, when switched on via the button on top of the instrument, it emits a beam of infrared light and basically acts like a torch for the binoculars as it lights up the scene, but to our eyes, this light is invisible. You only notice it when looking through the viewfinder.
Thus, this IR illuminator enables you to use these Night Vision binoculars in very dark and even completely black conditions.
The 5W Infrared 850nm LED IR illuminator has 7 different level settings that you cycle through when pressing the IR button on the top of the instrument.
You can also adjust the spread of the beam (focus it) by moving the lever on the underside.
Whilst not the most powerful IR illuminator that I have ever used, I found it worked well enough, especially considering the price level. You can see this in some of the example photos and video below.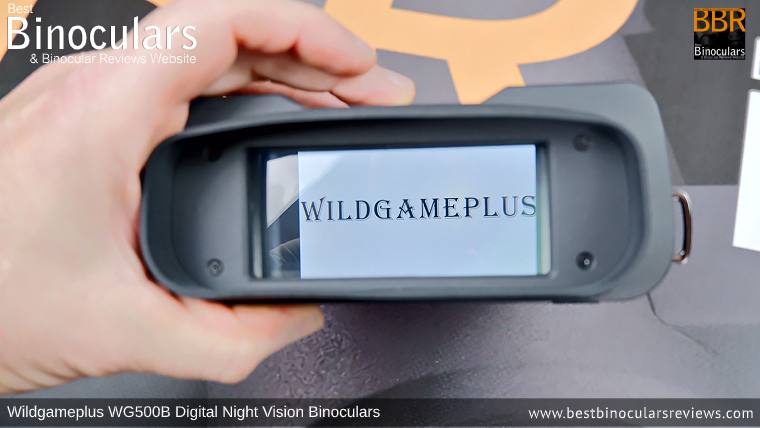 Image & Video Quality
LCD Screen and the Viewable Image
Measuring approximately 8.5cm x 3.5cm, the LCD screen has a resolution of 640x360 and I found it to be large and easy to view.
Should you wish and depending on your preferences or if you need to save battery life, you can adjust its brightness.
The device has a large rubber face cup which helps with comfort when placing your eyes up to it. It also prevents some light from reflecting off the screen but is not as effective as I had initially thought it would be.
This is mainly because of the shape of the cup which for me left a large gap on the side of my face and thus if there was any light source from the side, it would not block it out.
This is just a small point as the only time this becomes an issue is if you have a distracting light from the side and found the screen clear and easy to view most of the time, be that during the day or at night, but thought it was worth mentioning nonetheless.
Still Images
You can take still images of the view you see in the LCD screen at any time by pressing the "Snap" button on the top when in the photo made.
The Wildgameplus WG500B saves the image as a JPEG file with a resolution of 1920x1080 pixels with a horizontal and vertical resolution of 180dpi.
Like almost all digital night vision devices I've used in the past, the quality is not comparable to a good quality stand-alone camera, and I wouldn't suggest buying it if photography is your primary focus, rather I look at it as a way of simply capturing a memory or evidence of what you saw.
Samples
Below are some sample photos that I took with the device, both during the day and at night. Click on any image to get the full size 1920x1080 version (Note that these have been slightly compressed from the originals, but think they give you a good indication of what to expect).
The first image below was taken at a distance of about 100 meters away without adding any digital zoom, whilst the second one was at maximum magnification. The third image was take at a distance of about 10 meters with no additional magnification added.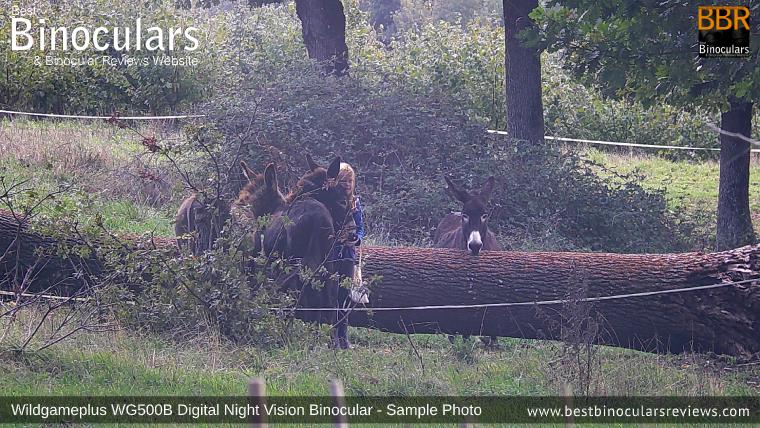 The first image below was taken with the standard 3.6x optical magnification with the focus set to the background. Then the second photo I changed the focus to the sign and then on the third I increased the magnification to the full 10.8x (3x Digital Zoom).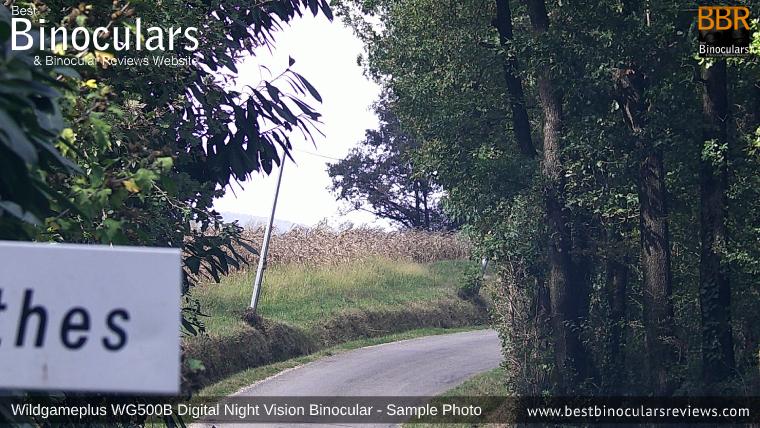 In the Dark - All the photos below were taken at night in what I would describe as very dark conditions: No moon and no light from the house and so I had the IR illuminator turned on.
The first image below was taken with the standard 3.6x optical magnification at a distance of about 10 meters and with the IR beam set to minimal spread. Then the second photo is at the maximum 10.8x (3x Digital Zoom). The third photo is at the standard 3.6x optical magnification, but with the IR beam spread to maximum.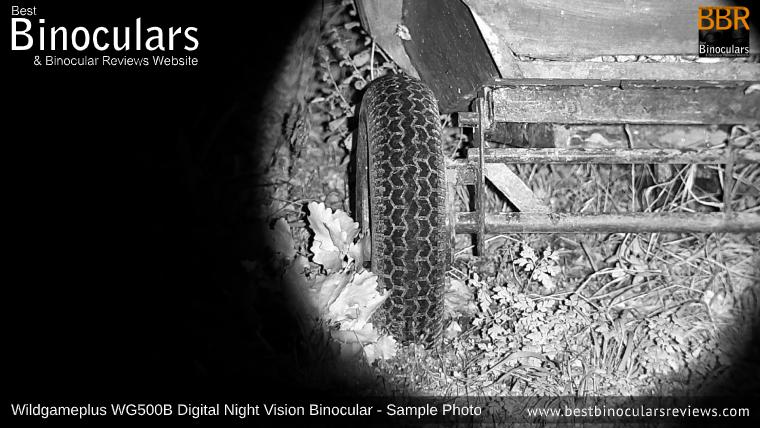 In the Dark - Once again, all the photos below were taken at night in what I would describe as very dark conditions: No moon and no light from the house and so I had the IR illuminator turned on.
The first image below was taken with the standard 3.6x optical magnification at a very close distance of about 3 meters with the IR beam set to the maximum spread. Here it is interesting to note that my cat's behavior did not change with me switching the IR beam on and off and thus I am sure it is invisible to them.
Then the second and third photos show what it is like to use the device for astronomy. Here, I managed to get a really good view of Jupiter in the night sky on the 9th October at about 9:30pm here in France. Next to it you can see the stars of Xi² Sagittarii and 29 Sagittarii. Below them but less visible are Nu² Sagittarii and 28 Sagittarii, which as their names sugges are all in the constellation Sagittarius. With the last photo below, I just wanted to show you what it is like if you turn on the IR illuminator when viewing the night sky with some trees in the foreground.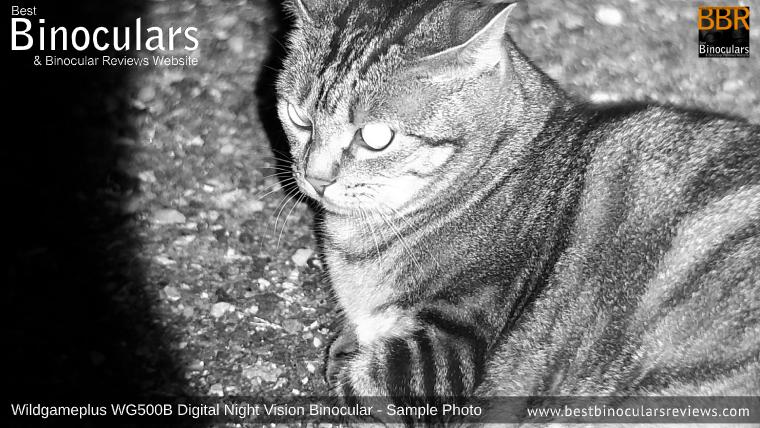 Video
Once you have pressed the mode button to change to the video setting, to start and stop video the recording you simply press the "Snap" button.
Video is recorded in a 1920x1080 resolution and stored in the AVI file format which was annoying to me as I could not easily import it into the video editing software that I use and had to convert it first before editing was possible. Note whilst this was a pain I was able to get around it by downloading completely free software. I used a program called Prism Free Video File Converter from NCH Software, which I found on the download.com website.
So below is some sample footage that I quickly put together for you. Please note I will also be adding a video review, where I will go over this in more detail.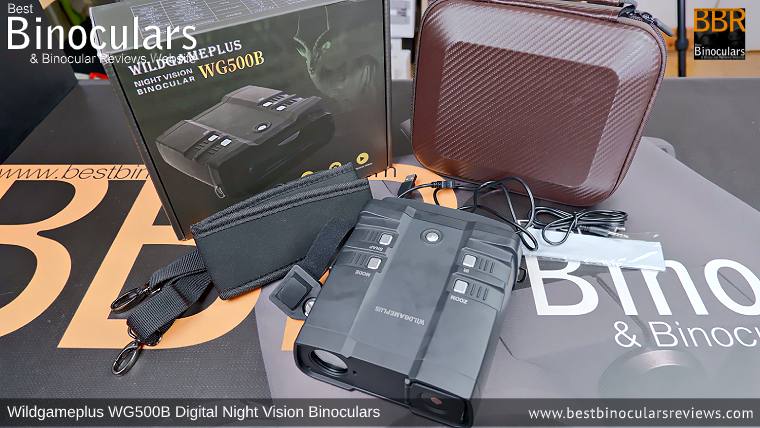 Included Accessories:
The Wildgameplus WG500B Digital Night Vision binoculars are shipped with an included carry case, neck/carry strap, cleaning cloth, USB Cable, AV Cable, 64G TF card, and a user manual:
Carry Case
Whilst stylistically it does not hit the high notes for me, in terms of the build quality and level of protection that it offers the night vision binoculars inside, the carry case was a real surprise and far exceeds what I would expect to receive at this price level.
The case has a semi-rigid construction and an insert, that is designed to fit the exact shape of the WG500B NV binoculars which offers an excellent level of protection and prevents it from moving or flopping about inside.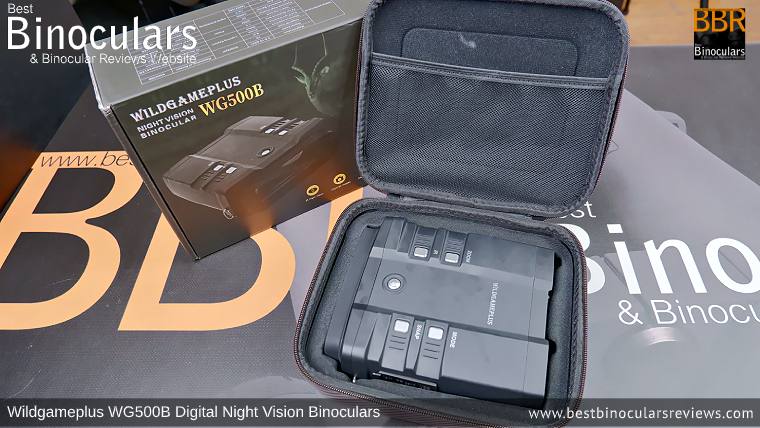 Neck Strap
The neck strap is quite generic and unbranded but at the same time, the one that Wildgameplus has chosen is of a reasonably high standard.
During testing, I mostly had the device attached to my tripod, so did not test the strap as much as I would have liked, but it is thickly padded and very wide, helping to distribute the weight over a larger area and thus should be comfortable to use.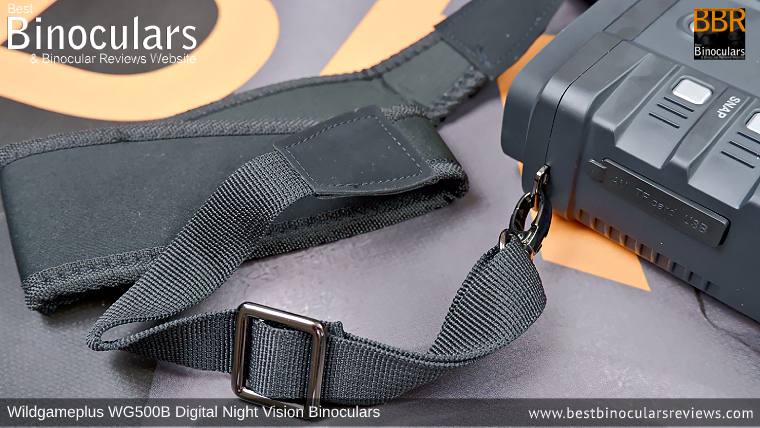 Cleaning Cloth
Wildgameplus also includes a cleaning cloth and the microfiber material is of good quality and thus more than fine for cleaning the body and the occasional light dusting of the lens when out in the field.
As always, for deep cleaning of the lens, I recommend you purchase a lens cleaning kit to ensure you do not mark or damage the lenses.
Tripod Adapter
Whilst the Wildgameplus WG500B NV Binocular can easily be attached directly to your tripod head, they have also included an adapter. It has a Velcro strap and thus will allow you to attach the device to a wide range of other objects that don't use a standard thread.
Instruction Booklet
The included user manual is basic, but covers all the main topics including naming all the parts of the WG500B 1080p, battery instillation, inserting the memory card, the menus and all the main functions.
Wildgameplus WG500B Comparisons
Below is a sample of other Night Vision binoculars and monoculars that I have hands-on tested and fully reviewed here on BBR
Review Conclusions:
I started this review wondering what kind of performance we could expect from a digital NV binocular that this price level and whilst the Wildgameplus WG500B Digital Night Vision Binocular is far from perfect and has a few limitations when compared to higher-end products, on the whole, I was very pleasantly surprised.
If you plan on using your NV binoculars a lot an/or for professional use, I would still recommend moving up to a higher tier, but if you occasionally go outside at night and see what is out there, or have something to take along on your next camping trip and don't want to spend too much then you could definitely do far worse than these Wildgameplus WG500B Digital Night Vision binoculars.
Strengths
Relatively low cost night vision that actually works and indeed works pretty well. I think this makes good vale for money and a viable choice for those wanting NV on a tight budget
Simple to setup and use
Large easy to find controls in the dark
Powerful 10.8 magnification (3x Digital Zoom) if needed
Excellent quality carry case
Wide field of view
Good minimum focus distance
Weaknesses
Short Battery Life - Don't buy standard AA batteries, my Duracell Ones only lasted about 30 minutes, rather get some High-Capacity Ni-MH Rechargeable batteries.
Records video on AVI - for me this was not convenient as I had to convert it first before editing was possible. Note whilst this was a pain I was able to get around it by downloading completely free software. I used a program called Prism Free Video File Converter from NCH Software, which I found on the download.com website.