Plane Spotting Binoculars
Binocular Reviews Home > Binoculars by Use > Airoplane Binoculars
>> Skip the blurb, show me the best plane binoculars
Aircraft Binoculars
In this section of the site, I take a look at two different types of uses of binoculars in connection with aircraft:
1) Aircraft Spotting
2) Binoculars for use Inside an Aircraft
Aircraft Spotting
was recently asked a question from someone looking to get a pair of binoculars for plane spotting and I myself have often enjoyed going to air days in the summer where, in my opinion, a good set of binoculars are essential in getting the "best seat in the house." So I have decided to put together this page to help you choose the best aeroplane spotting binoculars.
So just what makes a good pair of binoculars for airplane spotting and what features do we need to look out for?
How to choose Binoculars for Aircraft Spotting
Even within the fairly constrained world of aeroplane binoculars there are a couple of different options open to you and unless you plan on getting more than one pair you need to ask yourself a few questions to ensure that you get exactly the right optics for your specific needs:
Will you mostly be using your binoculars for
Binoculars for High Altitude Plane Spotting
If you plan on using your binoculars exclusively for spotting planes flying at full altitude and want a pair that are strong enough to spot and recognize the airline and plane type then obviously a pair of binoculars with a very high magnification is key.
High Magnifications
There are a few down sides to using binoculars with very high magnifications, which include image shake and a reduced field of view:
Image Shake
As you increase the magnification on a pair of binoculars it becomes harder and harder to hold the image that you see through the optics still (any hand movements become more and more magnified). This "image shake" can get very annoying, make it more difficult to keep what you are looking at in view and can make it hard to identify the plane that you are spotting.
As a general rule of thumb, any magnification over 10x is considered reasonably high for hand-held binoculars, with 12x high powered and 20x or 25x considered very high powered. Almost everyone will quite easily be able to hand hold a 10x and 12x bin without too much trouble and be able to keep the image still enought to follow and observe a plane.
The larger 20x and 25x bins will also almost certainly also have larger objective lenses, which makes the device larger and heavier. So as well as making it harder to keep the image still, you now also have to hold up a heavier weight, which can get tiring, especially if you are always looking up above your head. I can quite easily hold the Celestron SkyMaster 25x70 Binoculars and keep the image still enough to view planes for short durations, but over longer periods, you really do need some sort of support.
There are two ways of reducing the image shake that are worth considering:
Image Stabilization Binoculars
Binoculars using image stabilization technology that was initially developed for the camcorder market have been around for some time now and they do really work well. Inside the binoculars, there are two sensors that detect horizontal and vertical shaking and the optics have two vari-angle Prisms that are controlled by a microprocessor to instantly adjust refraction angle of the incoming light to compensate for any movement. To make them work you usually have to press and hold a button on top of the binoculars. You can get binoculars with 12x, 15x, 18x and even 20x magnifications with stabilization to work well enough in your hands. Down sides to image stabilisation are the price and because of the micro computer they do need batteries and this does add to the weight of the product. For my money the best IS binoculars on the market are made by Canon: Canon IS binoculars.


Using a tripod with your binoculars
This is a far cheaper option than image stabilization, most high powered binoculars are tripod adaptable. What this means is that they usually have a screw cap on the front of the binoculars that can be removed, you can then attach a tripod adapter to the binoculars, which in turn attaches to a tripod. With this setup and so long as you have a good steady tripod, you can use very high magnifications without any, or very minimal image shake. The downside is that because your binoculars are attached to a tripod and because you are looking upwards, it does mean that the eyepieces will be in an awkward position.

I found that one of the best ways to get around this is to use a chair and position yourself almost under the tripod. With traditional tripods this can be a little awkward as the legs often get in the way. So I would suggest keeping any eye out for tripods like the Vanguard Alta Pro 263AT tripod that has an adjustable central column that you can adjust to position your binoculars away from the center of the tripod (see image below) so that you can then more easily position yourself under your optics.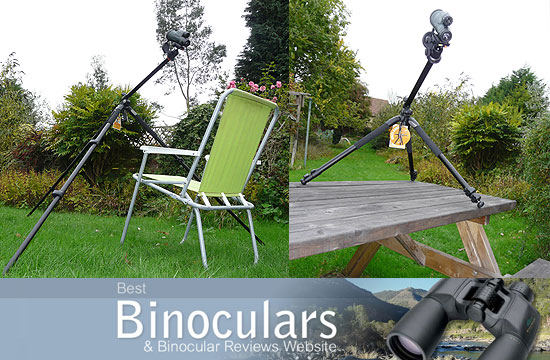 So what magnification you choose to get will depend on what or if any method you plan to use to reduce or eliminate image shake. If you plan to hand hold your binocular all the time, I would suggest not going higher than 12x at an absolute maximum. Image stabilization binoculars are available in magnifications up to about 20x and you can get binoculars for a tripod with magnifications up to 25x, but I would suggest that 15x is adequate.
Zoom Binoculars
Personally I tend to stay away from zoom binoculars as the view through the ones that I have reviewed are a little fuzzy in comparison to high end fixed magnification binoculars and they often have a much smaller field of view. If you want variable magnification a better option is to choose ones that accept different sets of eyepieces to change the magnification. For more and why I don't recommend them, take a look at my article on zoom binoculars.
Field of View
In general as you increase the magnification on a pair of binoculars your field of view (the width of the image that you see through your optics) reduces. A wide field of view is most important to those needing to scan wide areas or for those wanting to follow fast moving or erratic objects like birds. So in general I would not worry too much about the field of view for plane spotting at high altitudes, but if you have the choice between two that are similar, go for the one with a wider field of view as a wider view definitly makes it easier to locate and follow the airplane, especially if you are using a tripod.
Size of Binoculars
Binoculars with large objective lenses take in more light and therefore in general produce a brighter image which is optimal. The down side is obviously that the binoculars become larger and heavier. If you plan on fixing them to a tripod this is not really a problem especially if you don't need them to be portable. Hand holding heavy binoculars and looking high into the skies can get tiring over longer periods and would suggest not going larger than 50mm objective lenses if you plan on using them without a tripod.
Best Binoculars for Plane Spotting - High Altitude
Below are binoculars that I feel would be ideal for viewing planes at higher altitudes:
Celestron SkyMaster 25x70 Binoculars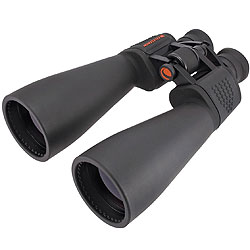 The low cost 25x70mm Celestron SkyMaster binoculars come with a very high powered 25x magnification wand large 70mm objective lenses and whilst the can easily be attached to a tripod (they come with a tripod adapter) for the most stable views, they are also light and small enough for most people to be able to hand hold them as well.
Their field of view is 141t wide @ 1000 yards (47m @ 1000m), which for a binocular with such a high power is also pretty good.
Read My Full Review for all the details on what I believe is a great cheap high altitude plane spotting bin, general long ranger observation as well as ideal for viewing the heavens at night.
Price Range
Last time I checked, the Celestron SkyMaster 25x70 Binoculars had a price tag of about $90 in the US or £80 in the UK.
>Nikon Action EX 16x50 CF Binoculars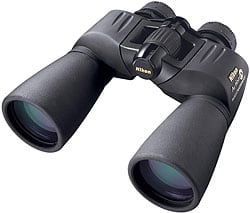 The obvious selling point to these Action Extreme binoculars are their very powerful 16x magnification for long distance observation or surveillance. With any magnification this powerful, I highly recommend using some sort of stabilization to keep the image still and what I do like is that according to the Nikon website, these 16x50 binoculars come with the tripod adapter included that will enable you to easily attach the binoculars to almost any photo tripod. I have not always seen this mentiond on retailers sites, so just check. If they don't come with one, don't worry as they use the standard ¼-inch threading and most tripod adapers that are fairly innexpensive will work fine, or you can buy Nikon's own adapters. Read more about Binocular Tripod Adapters.
Main Features
Powerful 16x magnification - Long Distance Viewing Binoculars
Waterproof - Optics are sealed with O-rings to prevent moisture, dust, and debris from getting inside the binocular.
Fogproof - Barrels are filled with nitrogen gas to inhibit internal fogging.
Porro Prisms - Generally offer a richer depth of field and wider field of view than roof prisms.
Multi-coated Lenses - Increase light transmission with multiple anti-reflective coatings on at least one lens surface.
BaK-4 Prisms - Made of superior optical glass that produces clearer images. These are what you want in your binoculars.
Adjustable Eyecups - Twist up and down for comfortable viewing with or without eyeglasses.
Tripod Adaptable - Can be mounted using standard ¼-inch threading.

Price Range
The Nikon Action Extreme 16x50 ATB Binoculars are available for around $180 / £180
More Options: Buy & Compare Prices for High Power Bins:

Long Distance binoculars on Binoculars.com
More Information
For mor information as well as a few binoculars that I recommend for higher altitudes, take a look at my article on the Best Binoculars for Plane Spotting.
Alternatives
As an alternative to aviation binoculars that is worth considering is using a spotting scope and a tripod as these generally have a much higher magnification than binoculars. The down sides are that they usually have a much narrower FOV and because of their size are less portable than bins.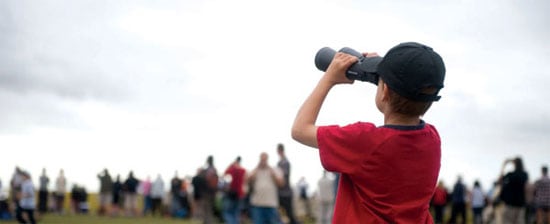 Airday or Airshow Binoculars
I cannot stress just how important it is to have a good pair of binoculars at an air show. It makes all the difference and is like the difference between the very cheapest seats at the back of the arena and having ring side seats. You will see so much more of the show - don't go to an air show with out a pair! So what are the best binoculars for airshows?
FOV vs Magnification
Whilst magnification is important, it is less so than high altitude observation and I feel that because most of the displays will be at far lower levels and most planes will be moving much faster through the sky you will want and need a much wider field of view to ensure that you can quickly locate and keep the plane in your view.
Size
Portability is also key as you will be carrying your binoculars to the event and as you wander around. For most people a tripod will also be less feasible and so we need to keep the magnification levels to a level that are suitable for hand holding without too much image shake.
So I would say an ideal binocular for an airshow would be fairly lightweight and compact, have a reasonably wide field of view and a magnification that gets you close enough to the action without making the image shake too great unless you are using image stabilization binoculars:
Ideal airshow binoculars would therefore in my opinion have objective lenses between 22mm and 45mm, have a field of view as wide as possible, but more than 260ft at 1000 yards and a magnification of between 8x and 12x - See below:
General Use Aeroplane Binoculars
For me a general use binocular would be very similar to that of one that you would take to an air show, it should be flexible to handle most situations. So should have a magnification powerful enough to identify planes at large distances, but still be steady enough to use in the hands and have a wide enough field of view to make them useful for viewing closer faster moving objects. Below are some binoculars that are ideal: