Alpen Optics - Binoculars
About Alpen Optics
Founded in December 1996 by Tim Gardner, a veteran within the optical industry, Alpen Optics presented their first products to market in 1997.
Then covering a span of more than 20 years, Alpen Optics gained an excellent reputation amongst the general wildlife, outdoor and hunting communities for their high quality binoculars and spotting scopes. During this time they were presented with seven Outdoor Life Great Buy Awards, one Outdoor Life Editor's Choice Award and a Field & Stream Best of the Best Award.
Then sadly when Gardner retired in 2018, Alpen Optics also closed it's doors. It was at this point that Explore Scientific recognized the importance of the Alpen brand and stepped up to acquire all of Alpen's designs and trademarks and thus ensured that this well known brand would continue to live on.
However, most importantly Explore Scientific has made a commitment to maintain the same level of quality, performance and service that long-standing Alpen Optics had come to rely on.
The Alpen Binocular Range
The Alpen brand also produces spotting scopes, thermal imaging devices and rifle scopes, but for now we will just take a look at their wide selection of binoculars. At the time of writing, they have 8 different families, of mostly roof prism instruments that range in price from about $59 for the entry level Alpen Magnaview 8x42, right up to amost $1600 for the impressive looking, very high-end Alpen Rainier ED HD binoculars:
Alpen Binocular Families:
Alpen Rainier ED HD binoculars - High-end, Pro Level
Alpen Teton Binoculars - High End, Abbe Roof Prism Binoculars
Alpen Apex Binoculars
Alpen Wings
Alpen Shasta Ridge Binoculars
Alpen Kodiak Binoculars
Alpen Pro Binoculars
Alpen Magnaview Binoculars - Entery level
Alpen Teton Binoculars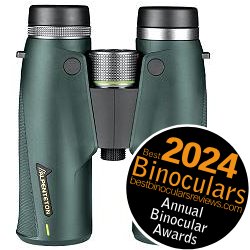 The Teton is for me a very interesting range in that it currently sits second in line behind Alpen's flagship series, the Rainier ED HD, yet it possesses many very high-end features and components that many top tier brands would be proud of:
Currently available the 8x42 and 10x42 configurations, the standout feature for me is that they use the Abbe-Koenig design of roof prisms instead of the much more commonly seen Schmidt Pechan roof prisms. Whilst not as compact, the major advantage they have is like porro prisms, all surfaces on the Abbe-Koenig prisms reflect 100% of the incident light and thus they potentially transmit more light to your eyes for a better performance, especially noticable in low light.
Some other standout features include a fully sealed, waterproof, and nitrogen filled Magnesium chassis, a locking diopter, fully multi-coated optics with Extra low dispersion (ED) glass elements in the 42mm objectives as well as phase correction coatings on those excellent Abbe prisms.
Models Available:
Alpen Teton 8x42 Binoculars
Price Range & Where to Buy:
Depending on the model, Alpen Teton binoculars have a RRP of between $659.99 and $669.99 which means they at the low end of the High-End ($500 - $1200) category here on BBR. Thus when you consider all the very high level components that they incorporate, you could easily pay almost double for the same thing and thus they look to me to offer very good value for money.
Where to Buy Alpen Binoculars, Thermal Imaging Devices & Scopes:
---
Tested & Reviewed Alpen Binoculars
Below are a few feature Alpen Binoculars that I've tested, view >> All Alpen Binoculars reviewed
The Alpen Teton binocular incorporates many metal components and magnesium chassis that protect very high-end optics at a price well below what you would usually expect to pay for an Abbe-Koenig bino.

The result is a tough, versatile instrument that delivers a high-quality image and what I consider an excellent low-light capability for a 10x42 binocular.

Price: (5/6) High Value Binoculars
BBR Ratings:
Body Quality:
9/10

87%




Outstanding

Body Stats:
8/10
Optical Quality:
9/10
Optical Stats:
9/10
Image Quality
9/10
Extras & Details:
8/10
View >> All Alpen Binoculars reviewed on The Best Binoculars & Reviews website.
---
Alpen Optics Contact Details
USA
1010 S. 48th Street, Springdale, AR 72762
Phone: 866.252.3811
Email: service[at]explorescientific.com
---