Best Astronomy Binoculars 2021
Binocular Reviews Home > Astronomy > Annual Binoculars Awards > BBR's Best Binoculars for Astronomy 2021
Intro
In this article (and in the video above), I'm going to reveal to you the winners of the BBR awards for the Best Astronomy Binoculars of 2021 . This will include two price categories, as well as any winners from years gone by that are still relevant and current
Before we get started, please note that this article just highlights the award winners. For more information on the most important features to look for in a good pair of binoculars for stargazing and links to all the astronomy binoculars that I have reviewed. take a look at my Buyers Guide to the Best Binoculars for Astronomy.
BBR's Award Winners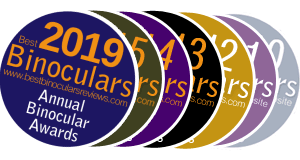 About the BBR Binocular Awards
From humble beginnings and as a good way for me to highlight the very best binoculars, scopes, night vision devices and accessories that I fully tested and reviewed in the past 12 months, the BBR awards started all the way back in 2010! They and have now grown into what I believe are the most important and prestigious awards for binoculars anywhere on the web. For more and to see the winners in all the other categories take a look at the main BBR Awards Page here.
Best Binoculars for Astronomy
There is no doubt that with the rise of manufacturing and imports from places like China where labor is extremely cheap, the increase in competition in the market place has produced an improvement in the general standard of the best budget binoculars and this is something that I have definitely noticed over the past decade or so that I have been reviewing binoculars.
However, this has also resulted in the flooding of the market with many sub-standard and in some instances truly terrible instruments, especially at this cheap and low-cost price range.
Thus it is always a great feeling to unearth a budget binocular that rises up well above the crowd and over the years, I have unearthed a number of real gems:
Winner Best Binoculars for Astronomy 2019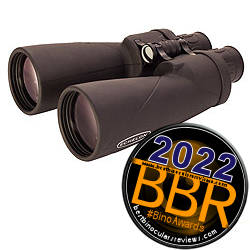 Designed for astronomy, but also a very capable binocular for long-range terrestrial uses, the Celestron Echelon features a powerful 20x magnification and very large 70mm objective lenses.
So, just like the windows in your house, large lenses are able to capture more light than smaller ones.
But this is just the start because to ensure the brightest, best quality views, you need more than just large lenses, what is also required is a really high-quality optical system and this is where this Celestron really excelled:
High-Quality Optics
Scoring an outstanding 9/10 for Optical Components on the BBR scale these Celestron Echelon binoculars use very high-end Japanese made optical glass and coatings to ensure that as much of the collected light gets right through the optical pathway and onto your eyes as possible.
With such a high magnification and for use in very low light situations, this is critical and is where I really notice that these completely outperform less expensive lower quality alternatives.
Body Quality:
8/10

82%




Outstanding

Body Stats:
9/10
Optical Components Quality:
9/10
Optical Stats:
8/10
Image Quality
8/10
Extras & Details:
7/10
Assembled in the USA
The quality doesn't end with the optics, indeed these Celestron binoculars are assembled by hand in the US where the focus is very much on precision and quality rather than volume. On top of this, Celestron uses an Aluminum Chassis on the Echelon. Whilst not as lightweight, it is certainly more robust and gives off a much better feeling of quality when compared to the may plastic polycarbonate alternatives on the market.
These binoculars are also completely sealed and filled with nitrogen gas, making them both fully water and fog proof. Now I know you may be thinking astronomy doesn't really work in the rain, so what is the point of this, well, for me it is a strong indicator of a higher quality instrument and on top of this, remember that these seals will also prevent tiny dust particles from entering the system.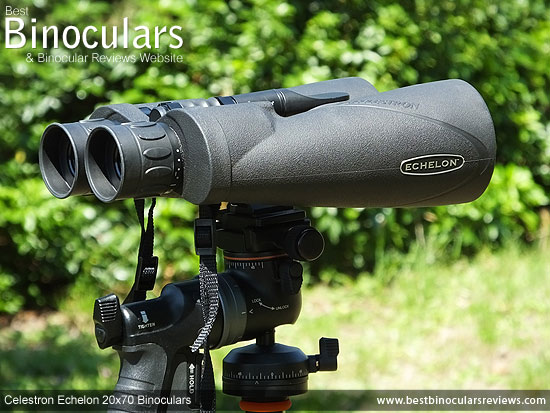 Tripod Adaptable
Whilst it is just about possible to use these very powerful and somewhat heavy binoculars by hand for short periods of long-range terrestrial observation, for best results and rock steady, shake-free views that are especially important for astronomy, mounting them onto a tripod is essential.
So as you would expect these are tripod adaptable and thus all you have to do is unscrew the dust cap located on the front face of the hinge, where it reveals a standard sized 1/4inch thread.
This thread will then accept pretty much any standard binocular tripod adapter, that you screw in like this. Once attached you then fix the adapter either directly onto your tripod or to your tripod head depending on what setup you have.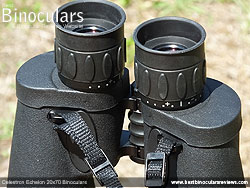 Always in Focus
Often somewhat misleading referred to as having some sort of "Auto Focus", these Celestron Echelon binoculars use an individual eyepiece focus system, which means that once you have calibrated the instrument by adjusting each of the eyepieces to match the vision in your left and right eyes, no further focus adjustments are ever necessary and everything from their minimum focus distance right to infinity will remain perfectly sharp and in focus.
For long distance and astronomy, this "Always in Focus" optical system works particularly well and makes the binoculars easier to use and it is often quicker to lock onto your subject.
Long Eye Relief
The 19.5 mm of eye relief is another impressive feature on the Celestron 20x70 Echelon binoculars and beats many of its competitors.
This very long eye relief makes sure that you are able to enjoy the full image without dark rings on the edges of the view whether you wear eyeglasses or not.
Waterproof Hard Case
Another major difference between these Echelon binoculars and lower-priced or lesser alternatives is the included hard carry case which is a massive improvement on the soft cases that I typically see.
This case is practically bomb proof in that not only does it have a rigid construction, but like a high-quality camera case it comes with a perfectly molded foam insert to ensure the binoculars survive the roughest of handling.
On top of this, the case has a rubber O-ring seal around lid and so whilst inside, these Echelons also completely protected against dust and moisture.
Indeed because it is completely sealed, there is also this cap that allows you to equalize the internal pressure when transporting the binocular between places that have different altitudes.
Weaknesses?
Whilst the neck strap and especially the hard carry case are truly excellent, I cannot say the same for the lens covers which have to be said are very basic.
To be fair to Celestron, they do fit well and work pretty much as intended, but, it would have just been nicer to have had them match the very high standard set by the rest of the binocular.
Main Features & Specifications
Japanese Optics, Hand-assembled in the USA
Ideal for Long Range Terrestrial or Astronomy
Large 70mm Objective Lenses
20x Magnification
Fully Multi-Coated
BaK-4 Porro Prisms
Fog & Waterproof
Included Waterproof Hard Case
Tripod Adaptable
Field of view: 157ft @ 1000yds
19.5mm Eye-Relief
Current Price & Where to Buy: Celestron Echelon 20x70 Binoculars Binoculars
Best Mid Level / Budget Astronomy Binoculars 2019
Not everyone will have the budget or will want to take the stargazing hobby to the level that warrants spending the amount it takes to buy a high-end Astro binocular like the Celestron above.
So below are some of the award winners for the best budget astronomy binoculars: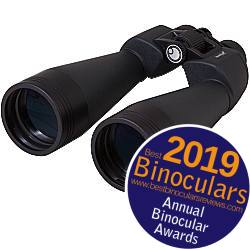 Like the Celestron above, these have large 70mm lenses and whilst they don't match them in terms of the quality of the optical components and coatings, they do partly make up for this by using a slightly lower 15x power which helps them maintain a very healthy 4.6mm exit pupil, which along with the use of a fully multi-coated optical pathway results in a bright image of the sky at night.
Main Features:
Mid Range Binoculars - approx $174 / £179
Aluminium Chassis
Tripod Adaptable
Waterproof & Fogproof
Twist-up Eyecups (3 fixed positions)
Dimensions: 280x210x90mm / 11x8.2x3.5in
Weight 1.3kg (2.9lbs)
Central Focus Wheel
Fully Multi-Coated 80mm Objective Lenses
Porro Prisms BaK-4 glass
Field of View: 77m wide at 1000m (4.4 degrees)
Eye Relief: 19mm
Please note, if you want more power, Levenhuk also makes a 20x80mm Bruno Plus that scored the same as these when I tested them and so could also have won this award, but at the time of writing as out of stock, so I decided not to include it. I am not sure if this is temporary or it is no longer being produced, but it is worth checking if you are interested.
The other advantage is that it gives them a wider field of view great for scanning the sky and it does make them less heavy and not so large.
Other highlights include the fact that they are waterproof and fog proof and have twist-up eye-cups where many of their competitors have simple folding rubber eyecups.
Unlike many budget astronomy binoculars that use polycarbonate plastic, this has an all aluminum chassis.
All in all, I was really very impressed with this Levenhuk Bruno Plus 20x80 binocular and they easily exceeded my expectations at this price range (approx $170 / £170) with both the quality of the view and the general build quality and materials that have been used:
Current Price & Where to Buy: Levenhuk 15x70 Bruno Plus Binoculars
Best Cheap Binocular for Astronomy 2019 (Under $50 / £50 / €50)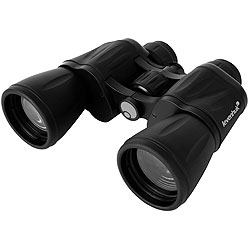 Whilst a 7x50 binocular is a classic combination for astronomy and a good one especially if you are wanting a cheap binocular as you not only get a wide field of view, but also a massive exit pupil of more than 7mm, which should ensure a bright image for stargazing even with lower quality glass an coatings.
However, I also though that the 10x50 Levenhuk Atom 10x50 binoculars make a good choice if you are willing to sacrifice a little brightness and width of view for a deeper reach into space.
On the whole the Levenhuk Atom is better than what their very low price tag would suggest and so from that point of view, I think you are getting some good value for money.
Highlights included a good quality and bright image, wide view for a 10x binocular and a good build quality.
The fact that they use porro prisms helps with the image quality and brightness as they do not require a number of expensive treatments in order for them to deliver the same performance as a roof prism made from the same glass. However I think it is important to keep your expectations to a realistic level and thus mind that there are a number of areas where these and indeed every bin in this price range dol fall short when compared to more expensive products.
However if this is your maximum budget, then these Levenhuk Optics are not at all bad and far better than having not optics at all.
If you prefer a roof prism binocular, take a look at last years winner below, the Tom Lock Series 1 really surprised me when I tested them and still make a great choice for 2015/16:
Current Price & Where to Buy: Levenhuk Atom Binoculars