Best Budget Binoculars 2019
(under 200 $/£/€)
Binocular Reviews Home > Binocular Guides > Annual Binoculars Awards > BBR's Best Budget Binoculars 2019
Intro
In this article (and in the video above), I'm going to reveal to you the winners of the BBR awards for the Best Budget Binoculars of 2019, as well as past winners that are still relevant and current as this is where you can really grab a great bargain! Not all binoculars on this page retail for well under 200 $/£/€, with many under $150. So let's get started...
BBR's Award Winners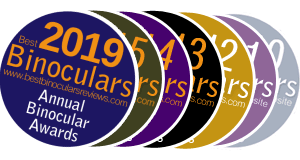 About the BBR Binocular Awards
I started the BBR awards series back in 2010 and since then they have grown to become what I believe are the most important binocular awards on the web. They are also a great way for me to showcase the very best binoculars, night vision devices, scopes and accessories that I have fully tested and reviewed in the past 12 months in a range of categories. For more take a look at the main BBR Awards Page here.
Best Budget Binoculars under 200 $/£/€
There is no doubt that with the rise of manufacturing and imports from places like China where labor is extremely cheap, the increase in competition in the market place has produced an improvement in the general standard of the best budget binoculars and this is something that I have definitely noticed over the past decade or so that I have been reviewing binoculars.
However, this has also resulted in the flooding of the market with many sub-standard and in some instances truly terrible instruments, especially at this cheap and low-cost price range.
Thus it is always a great feeling to unearth a budget binocular that rises up well above the crowd and over the years, I have unearthed a number of real gems:
Best Budget Binoculars 2016/17 (Under $130 /£/€)
Best Budget Binocular 2015 (Under $130 /£/€)