Best Bird Watching Binoculars 2022
Binocular Reviews Home > Birding Binoculars > BBR's Best Birding Binoculars 2022 Awards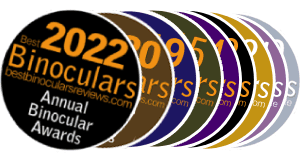 This page consist of the winners of the Best Binoculars for Birding 2022 in a range of sub-categories and forms part of the main 2022 BBR Bino Awards. As always, I also highlight a number of winners from previous years which I feel are still well worth your consideration.
Best 8x42 Birding Binoculars 2022
General, All-Round, Value-for-Money, Birding Binos for use in a variety of conditions & environments
In this first section I am looking for a very high-performance instrument, but not at any price. So whilst not cheap these winners have what I would describe as an excellent performance to price ratio and are what I consider to be right at the sweet-spot in this regard. As well as this core price to performance ratio, they must also possess many other attributes like a wide field of view for example that make them an ideal all-round birding binocular:
Two Winners, the same as last Year!
As with last year, I have been spoilt for choice in this particular area and have tested many excellent instruments that I would describe as being an ideal all-round birding binocular.
Both the GPO Passion ED 8x42 (winner in 2020 & 2021) and the Hawke Frontier 8x42 ED X binoculars (winner in 2019 & 2021) are not only very evenly matched, but both make extremely good binoculars for birding, and thus I knew that it was always going to be tough for any instrument to come along and beat them this year. So whilst I have tested several very good binos, in my opinion, there were none that I would consider to be better than these two for what I would describe as a general, all-round birding binocular.
Therefore and as with last year, because I really can't bring myself to separate or choose between them again, I have decided to have joint winners and let you opt for which you prefer the most! So listing them in alphabetical order, the two best general birding binoculars for 2022 are:
Also Very Highly Recommended
Best of the Best Birding Binoculars 2022
The winner in this section is quite simply the very best binocular for birding that I have ever tested and reviewed here on BBR and is ideal for those who simply want the best no matter the price:
Past Winners Still Very Highly Recommended