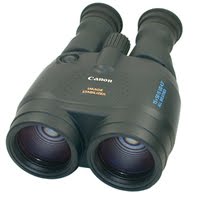 I have written an in-depth review on the main site explaining all about Canon Stabilized Binoculars and just how well they work and have also been lucky enough to be able to review a couple of their binoculars.
The main advantage is obviously the Image Stabilization (or image stabilisation depending on which side of the pond you live on) that allows you to use a larger magnification than you would with a normal pair of binoculars, without the need of a tripod to stop image judder.
The 10x30 and 12x36 models that I reviewed were superb and that has got me thinking, just how much magnification can you get before even image stabilization binoculars need a tripod?
15x50 Canon Image Stabilizer Binoculars
At 15x magnification, believe it or not these are not even the most powerful in the range (Canon also make a 18x50 IS binocular), but is still way more power than you could seriously use on a binocular without IS without the need for a tripod.
Interestingly they do come with a built-in tripod adapter and you could use them without the image stabilization feature. But it is the convenience of being able to take these wherever you go and to quickly raise them up to your eyes, press the magic button and get a fairly stable image that makes these binoculars so special. If you are very unsteady however, the resolution looks to become reduced slightly as the prisms try to correct for the motion and I did notice a very slight yellow tinge to the image as well as a faint yellow edge to dark objects.
Image Stabilization does have it's drawbacks however, mainly you need batteries to make it work and the binoculars can be a little on the heavy side.
Magnification Is Not Everything
It is a mistake that many people new to binoculars make and I feel that it is important to point out that the greater the magnification does not mean the better the binoculars. Far from it, apart from image shake, there are other drawbacks to large magnifications, your field of view is often also reduced and this can often be a really important factor in being able to quickly locate what ever it is you are looking at, especially if it is a fast moving object:
The Canon 15x50 IS Binoculars have a field of view of 237ft at 1000 yards (you get about 310 – 340ft from most good 10x roof prism binoculars)
So I would not recommend them as your first choice birding binoculars, but they are ideal Binoculars for Astronomy and because of the IS feature that negates the need for a tripod can also be convenient enough to use anywhere and for many other purposes.
Cost & Where to Buy Canon IS Binoculars