New BBR Patreon supporter Andrew is looking to get either an 8x42 or a 10x42 binocular to be used mostly for handheld astronomy, but also a little birding and has the following question:

I've been very happy to join Patreon, as a way of getting advice and to say thanks for your excellent website.
The advice I need is pretty basic, so I hope it won't take much of your time.
I'm about to buy my first binoculars, and I want a really good pair of general-purpose ones, with the proviso that they should be good for brief handheld astronomy observations. Apart from that, I'll take them walking in the country, and may spot the occasional bird – but by no means do I want specialist bird-watching binoculars.
I've done some research, and settled on the new 2021 model of the Oberwerk Sport ED 8x42 or 10x42.
The former looks more suitable. What do you think, 8x42 or 10x42? Oberwerk or another manufacturer? Finally, is it worth paying big bucks for image stabilization?
Firstly, many thanks for your support. I really appreciate it as it really helps me continue with the website and BBR YouTube channel.
Answer
There are pro's and cons to both, but given the choice between the two, I would probably opt for the improved low light performance and the wider field of view you get with the 8x42 over the slight increase in image detail that you get with the 10x magnification on a 10x42.
I say this because I feel that lower-powered handheld astronomy is more about laying back and enjoying wide views of the night sky, taking in as many stars in one view as possible without having to pan about.
Indeed, this is why many astronomers choose an even lower-power 7x50 configuration as their binocular as they usually deliver even wider views of the night sky and offer an excellent low light performance.
Besides, if you want more detailed views, you really need to go to a much higher power than 10x, and then because of this, you will also need larger lenses to ensure that the exit-pupil remains large enough to get enough light to your eyes and thus the binocular becomes too big and powerful to use effectively from the hands.
You also state that your secondary interest is bird watching. Unless you specifically need a longer reach like for instance you do most of your birding on a lakefront or at the cost, an 8x, with its wider views and better low light performance is what most birders will go for.
So for these reasons and for your purpose, I would say go with an 8x42 binocular.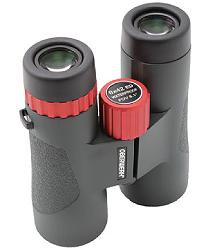 Unfortunately, I have not used these binoculars, so I cannot comment from first-hand experience, but if we take a look at their main features and specifications we can compare them to some others that I have within their price range:
Price: $319 (approx.)
ED (extra-low dispersion glass) lens elements
Fully multi-coated – Good
Roof prisms are phase-corrected: Good
Magnesium-alloy Chassis – Excellent
Waterproof – Good
Aluminum diopter ring – Good
Field of view: 8.1° – Outstanding
Eye-Relief of 18mm is Excellent
Minimum Focus: 2m (6.6ft) is very good
Dimensions: L=5.5″, W=5″, H=2″
Weight: 1.48 lbs.
All the above specs and features that they supply look good (what I would expect at this price range) to excellent (better than many), however it is the extremely wide field of view that really stands out for me:
Field of View
Oberwerk only give the angle of view measurement for these which is common for astronomy, but less so for terrestrial uses, so for ease of comparison we need to convert the angle that you view from the binocular to width at a specific distance: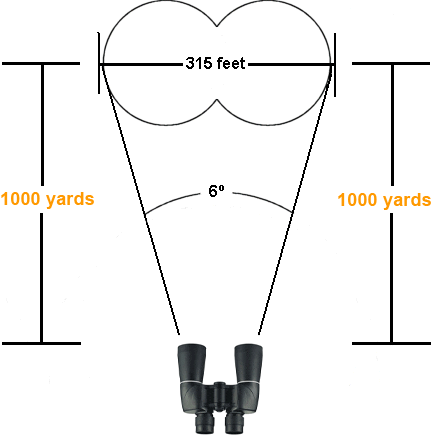 The formula is tan(z)*1000*3 (result in feet) where z is the angle of view:
tan(8.1) = 0.142321 x 1000 = 142.3 x 3 = 426.9
So we get a result of 426.9ft @ 1000yds
This Field of View is incredibly wide and ranks them up there with some of the best in terms of Wide Angle Binoculars
Prism Coatings
Oberwerk does mention that the prisms are phase coated, which is good as it will ensure a better image quality than uncorrected roof prism binoculars, however they fail to mention what mirror coatings they use.
My experience is if they don't highlight it, then it is not special, so I will assume they don't use the very best dielectric mirror coatings (more than 99% reflectivity across the visible light spectrum), and will instead likely have silver mirror coatings which are good (reflectivity of about 95% to 98%), but not excellent.
Update: I have since had confirmation from a reader who asked Oberwerk and they say these DO contain Dielectric coatings – Which changes a lot and certainly makes these look like an excellent option at this price range.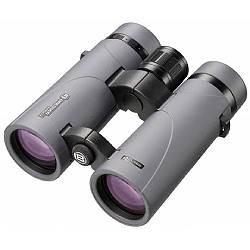 An excellent pair of binoculars for the price (Approx $200 / £150 / €160) has ED Glass, Dielectric & Phase Corrected Prisms, is fully multi-coated, and Metal Focus Wheel & Eyepieces.
However, it is a little hard to find in the US, and whilst its FOV of 375ft at 1,000 yards is excellent, it does not match the Oberwerk.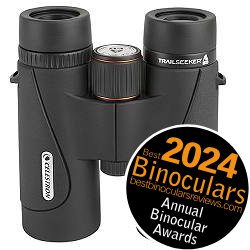 These Celestron binoculars could be an interesting option to add to your shortlist as they cost slightly less and amongst other things they have the same extremely wide field of view and are dielectrically Mirror coated:
Current Price: Approx $290 / £285 / €300
Magnesium Chassis & Bridge
FOV: 426ft @ 1000 yards (142 @ 1000m)
ED Glass Lens Elements
Phase Corrected
Dielectric Coatings
17.2mm of Eye Relief
Close Focal Distance: 2m (6.5ft)
Water & Fogproof (Nitrogen Filled)
Image Stabilized Binoculars for Astronomy
Up until fairly recently I have been fairly skeptical towards IS binoculars, largely because I was somewhat underwhelmed by them when I first used them many years ago and just thought that the extra price, weight and pain of having to use batteries was just not worth the amount of stabilization they provided.
However the technology has most certainly moved on and with added competition in the marketplace, the are not only more options to choose from, but the price has come down and so now you get far more stability per dollar spent.
I recently tested the Kite APC 16x42 Image Stabilized Binoculars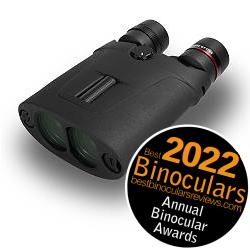 And I have to say, I was really, very impressed and if you are interested, I would highly recommend going through my review of them as I go into detail into many of the pros and cons to these, but also Image Stabilized binoculars in general.
However, at around $1000 / £950 / €950 these and other sets like them are not cheap. So as to if they are worth it, that all depends on your personal circumstances and how often you plan on using your instrument.
What I can say is that yes, they do most certainly work and for hand-held astronomy, a good set makes an excellent option.
Anyway, these are just a couple of ideas and my thoughts to throw into the mix, let me know what you think, and please do feel free to ask if you have any further questions.
Response
Hi Jason
Thanks very much for the advice.
I maybe wasn't so clear about my requirements: Rather than astronomy being my main interest, the binoculars are mainly general purpose, but I will do some astronomy and bird watching also.
But I think your recommendation will still be the same, 8x42 rather than 10x42 for general use?
Do you think the Oberwerk Sport ED is a good choice?
Finally, what are your thoughts on splashing out on image stabilization? Presumably, I could then go for a higher magnification too?
Answer 2
Hi Andrew,
Sorry for the misunderstanding, but yes, you are 100% right, for general use, unless you particularly want/need more reach (like if you live on a lakefront or have views of the hills/mountains), then for general use I would recommend an 8x42. 

Yes, to me the Oberwerk Sport ED does look like a good binocular for the money and has a lot going for it with many strong features.

As I say, the only reservation I have is if it had silver/dielectric mirror coatings. At this price range, silver is common, but as I say you can find some like the Celestron Trailseeker that use dielectric. UPDATE: I have now established that the Oberwerk Sport ED binoculars DO use Dielectric mirror coatings on the prisms, making them even more impressive than what i had initially thought.

As for Image Stabilization binoculars – it works for sure, but having batteries means they are a little more finicky or less straightforward than an optical-only device and at 8x the amount of image shake from most peoples hands on a standard pair is not massive anyway – that is unless you have particularly unsteady hands, you often go boating or perhaps are buffeted by the wind, like at the coast.

So whilst they are good in some ways, there are also drawbacks.

But yes, with IS you could then opt for a higher magnification instrument – A 12x42 or even higher, like the Kite APC 16x42 Image Stabilized Binoculars which are great but also do keep in mind the downsides, like a narrower field of view and being less effective in low light.

However, using high-powered binoculars from the hands is where IS is certainly an advantage and is where I would certainly recommend it for most uses. 

So to sum up, I would say, for an 8x instrument for general use, Image Stabilization is only worth it if the amount you need to spend on a pair is of little consequence to you, for higher magnifications, the balance starts to swing towards using some sort of way to make the image more steady – be that with a tripod, monopod or onboard stabilization.
I hope this helps?