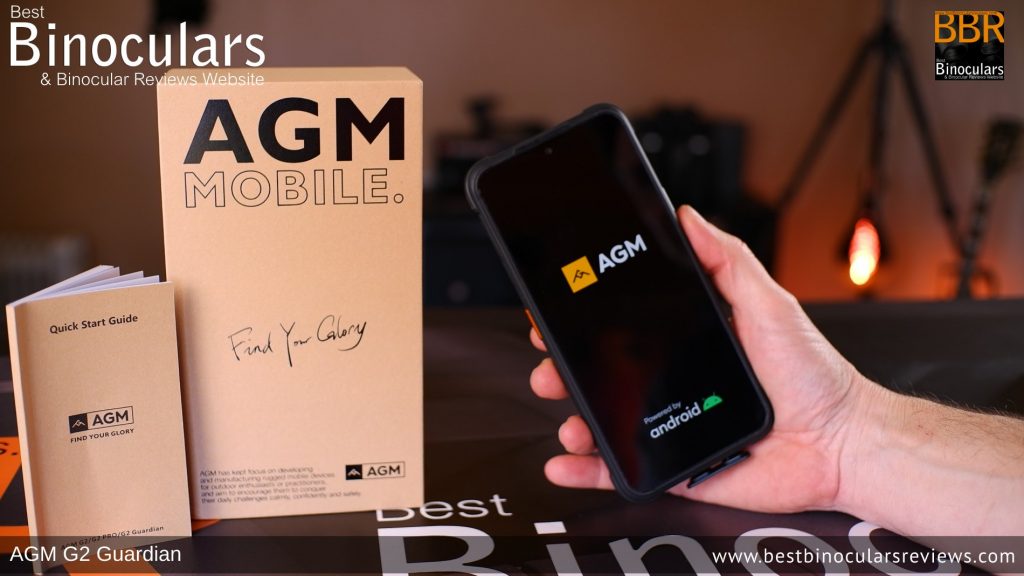 AGM G2 Guardian Smartphone: The Future of Thermal & Night Vision Technology?
Launched in early 2023 the AGM G2 Guardian is a tough, take-anywhere smartphone that is somewhat unique in that it combines all the features and more that you would expect to find on a high-end smartphone, but it also includes integrated night vision and thermal imaging capabilities, which are the main reasons why I was really interested in trying it out.
So for my AGM G2 Guardian review, I will list the phone's other main features, but will mostly be focusing on its cameras and the night and thermal vision abilities:
Cameras: How Does the AGM G2 Guardian compare to other smartphones?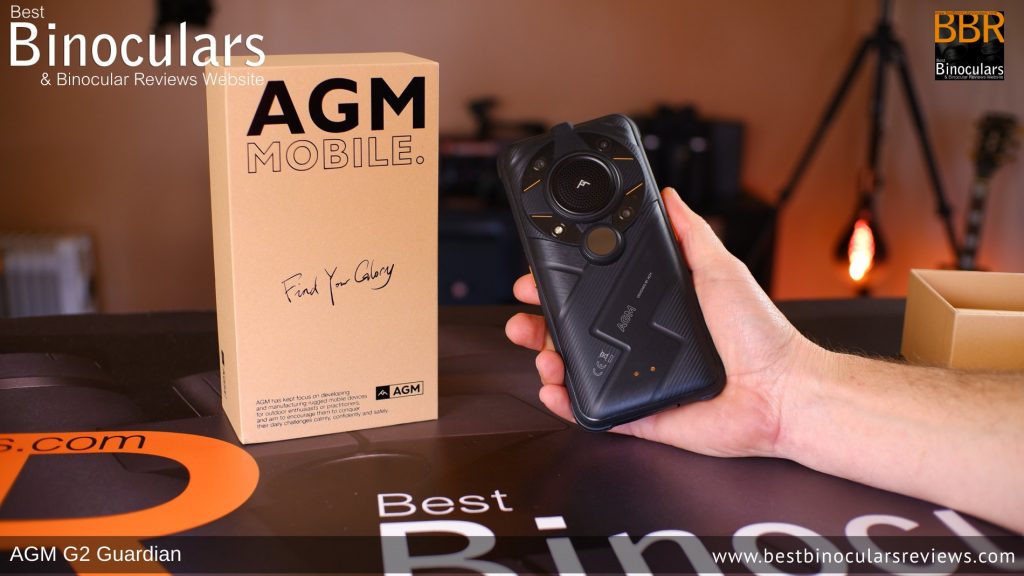 Well, to begin with, the AGM mobile has added 4… or even 5 cameras (if you count the thermal monocular as a camera) onto the G2!
On the back, there is a triple camera configuration consisting of a primary lens that has a 108MP Samsung sensor, a 20MP night vision camera, and a 2MP macro camera.
The front side of the phone also has a 32MP single camera.
Thermal Imaging Monocular / Camera
However, in terms of camera performance and where the AGM G2 Guardian really stands out when compared to almost any smartphone currently on the market is down to its unique thermal imaging capabilities.
The phone has an integrated thermal imaging monocular. What it detects is displayed live on the screen and of course, you are able to record both still images and video from it with a resolution of 256x192 pixels.
Designed for a Longer Range
The large 10mm objective lens combined with the "professional grade" 12 µm thermal imaging sensor is capable of picking up heat signatures in total darkness even in sub-optimal conditions like smoke or fog.
According to AGM, it has a maximum detection range of 500m for objects like a human and whilst they don't expressly say it, their infographics indicate that it would be possible to detect a vehicle up to 1000 meters away.
So far I have not tested it to a maximum range, but the image below is a still capture from some video footage I took at night in complete darkness of one of our donkeys in the field below our house at a range of about 150 meters. What is also impressive is that it is taken through some light branches of a tree: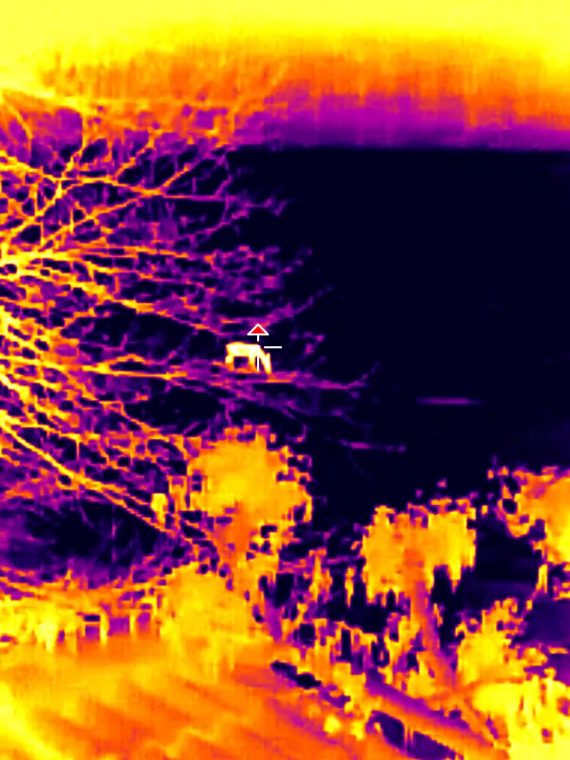 Then perhaps even more impressive was that when I panned the camera towards the right, I easily noticed a small heat signature standing out, probably about 75 meters away near the barn. At first, I thought it was something like a cat or perhaps a rabbit, but as it was not moving, I was unsure, You can clearly see it near the crosshairs in the still I took from the video below: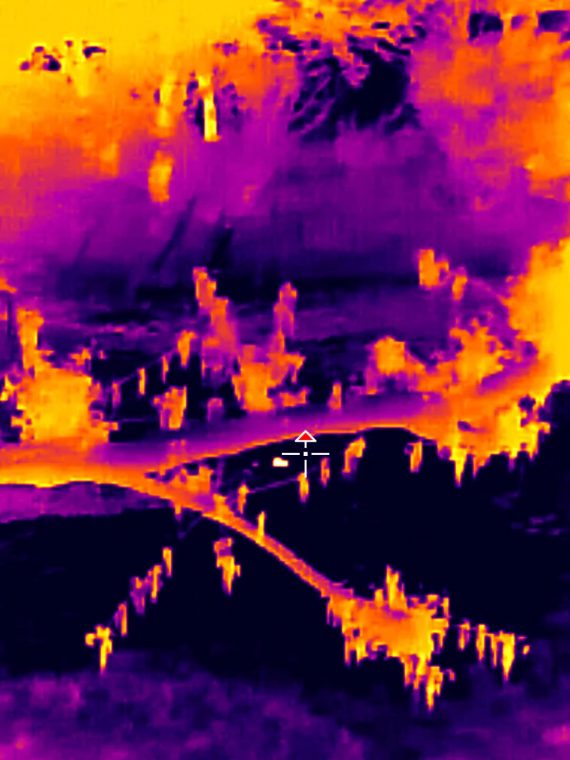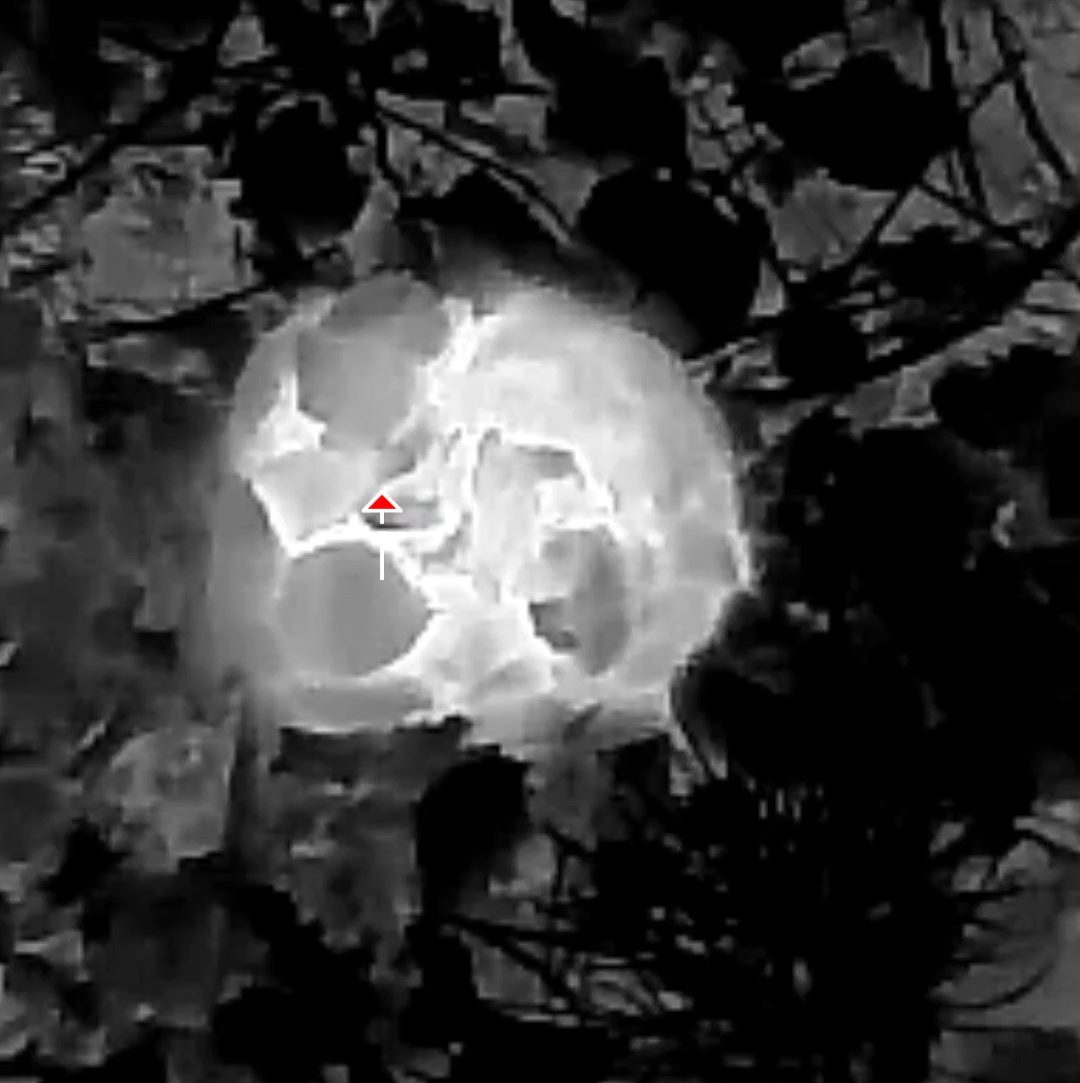 Anyway, it was well before dawn (I had woken up early) and I was still in my pajamas, but I just had to go out and check what it was.
As I approached it still did not move and then it suddenly dawned on me what it was… a fresh pile of donkey poo!
Thermal Resolution, Pixel Pitch & Refresh Rate
The thermal camera on the AGM G2 Guardian is advertised as having a resolution of 256x192.
What this means is the Vanadium Oxide thermal detector that is used to pick up the thermal radiation signatures coming off the objects you are viewing has an array of 256 x 192 sensors on it for a total of 49,152 with which to create the thermal image.
In my experience, this is a good resolution at this sort of price level.
For comparison, popular thermal monoculars like the Flir TK Scout and AGM Asp-Micro TM160 have a lower resolution of 160 x 120 pixels.
Also important to look at is the distance between the centers of the sensors, known as the Pixel Interval it is advertised as being 12μm on the G2 Guardian.
Once again, this is pretty good as most entry-level thermal devices range between 8μm to 14μm. Here, just keep in mind that a lower number (closer sensors) is more desirable as it means it can deliver a finer image quality.
The sensor refresh rate is 25Hz, which is about what I would expect at this range. Some entry-level thermal monoculars have a frame rate as low as 9Hz, whilst you can expect to find 50Hz on high-end thermal monoculars costing around $2000.
A high refresh rate means you get a smoother image, especially where movement is involved.
For more on all these terms as well as everything else, be sure to check out my guide on How Thermal Imaging Works.
Temperature Measurements
As well as being able to view and record heat signatures, the AGM Guardian is also able to measure and then display the maximum, minimum, and average temperatures live on the screen.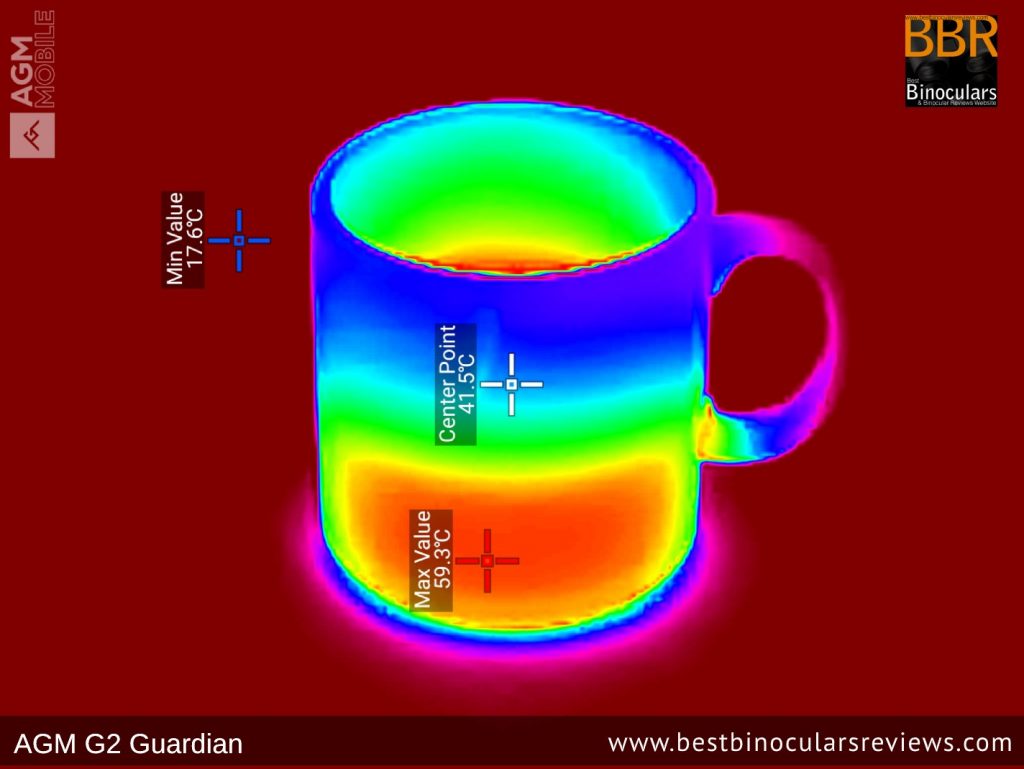 In terms of how accurate the readings are, you need to be careful to set it up correctly when using it.
So once you open up the thermal camera, you go into the settings menu and from there look at the "Temp Patterns" menu.
Here you can adjust a number of settings including distance to the object, the atmospheric temperature, the reflective temp, as well as what surface is made from of the object you are looking at in the "Emiss Table". I found this made a big difference in the accuracy: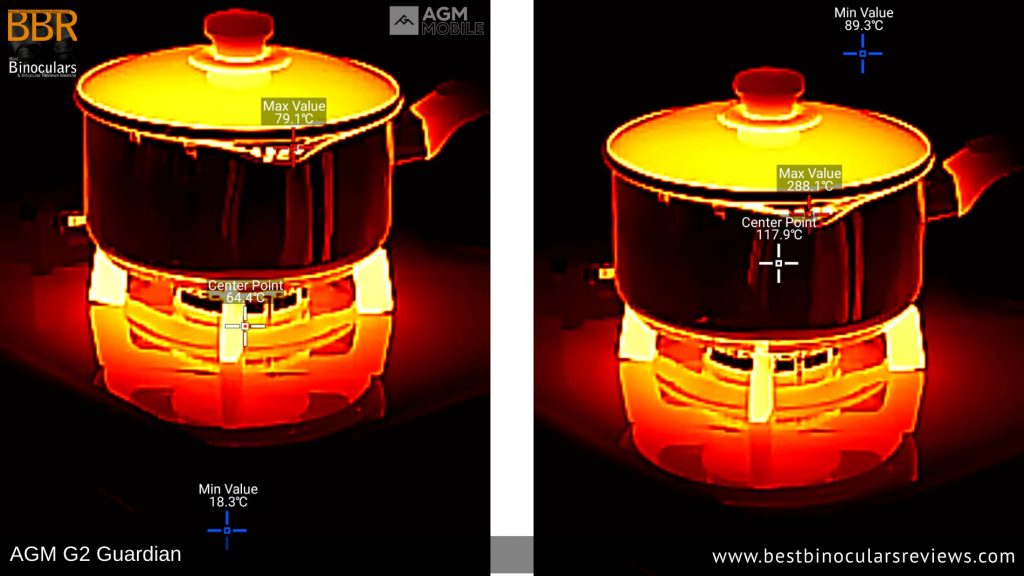 So if you take a look at the images of the pot on the stove above. The one on the left had an incorrect material setting of wood, whilst, with the image on the right, I changed it to stainless steel.
I think if you are going to use this feature a lot, you will want to play about with these settings quite a bit in order to get the most accurate readings possible.
Are there any other Smartphones with Integrated Thermal Cameras?
Yes, there are other smartphones with built-in thermal imaging cameras, including a number of other less expensive ones from AGM Mobile.
These include the G1 Pro, G1S, and G2 Pro (Click here to check the models and prices on the AGM mobile website), all of these also come with an integrated thermal camera but the main difference between them and the Guardian is that the G2 Guardian is the only one with a long-distance thermal camera.
Indeed almost all other thermal cameras built onto smartphones are only really useful at very short distances. Some examples include:
Cat S62 Pro: like the G2, is a rugged smartphone that features an integrated FLIR thermal imaging camera but runs on a Qualcomm Snapdragon 660 mid-range chip.
Blackview BV6600 is not as strong in terms of hardware but has an impressive 8,580mAh battery capacity.
Ulefone Armor 9: Uses a FLIR Lepton thermal sensor
Thermal Smartphone Adapters / Attachments
Another option is to add a thermal camera to your existing phone allowing it to take thermal video and images:
InfiRay Xinfrared T2 Pro Thermal Eye Review – Attaches to Android phones, and I think you can also get an option for Apple phones.
The FLIR ONE Gen 3 is another example. This is an attachment that connects to any iOS device
Night Vision Camera
As well as thermal vision, the AGM G2 Guardian also includes a 20MP night vision camera which comes with a built-in infrared illuminator that enables it to work when there are zero ambient light sources available, so in complete darkness.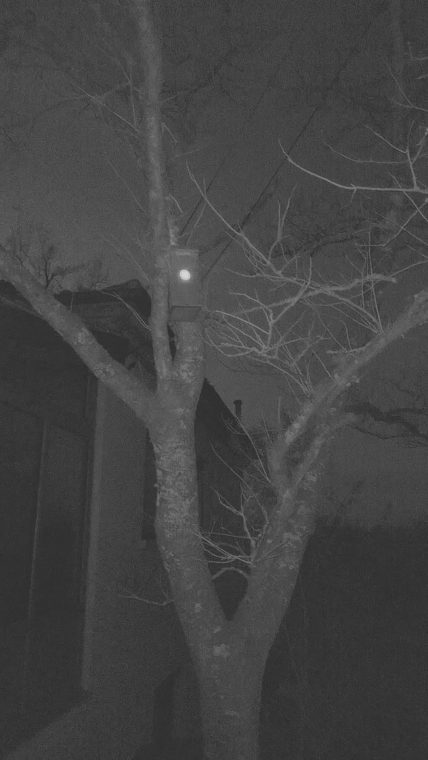 This still image (below, right ) that I have grabbed from a video using the NV camera of the bird box in my garden is interesting:
Firstly whilst it was dark (about an hour before sunrise) there was a full moon out and so I would say that for night vision there was a good amount of ambient light with which the camera to work with and thus it is no surprise that it produces a clear image of the tree, which to my naked eyes was almost impossible to see at the time.
What was more interesting was the bright light coming out of the box, what was it?
I knew that there was a blue tit nesting in there and so I first thought that the camera was picking up the heat signature, but as I was using the NV camera and not the thermal camera, this was not possible.
Then I realized that inside the box I have installed a birdcam which also has an NV camera and IR illuminator on it and it was the IR light that the night vision camera on the phone was sensing and which is why it looks like a bright light in there!
IR illuminator
I am not sure of the specifics as not many details are supplied by AGM, but unlike the thermal imager that is designed for long range, I found that the IR illuminator not to be as effective over longer distances as what you would expect to get on a dedicated night vision device.
However at close range, so for example when used around the house or in camp, say up to a distance of about 10 meters, I found the IR for the NV camera to work well.
The photo below was taken when the bulb in my basement pantry failed.. just for fun, I also closed the door to make sure I was in complete darkness: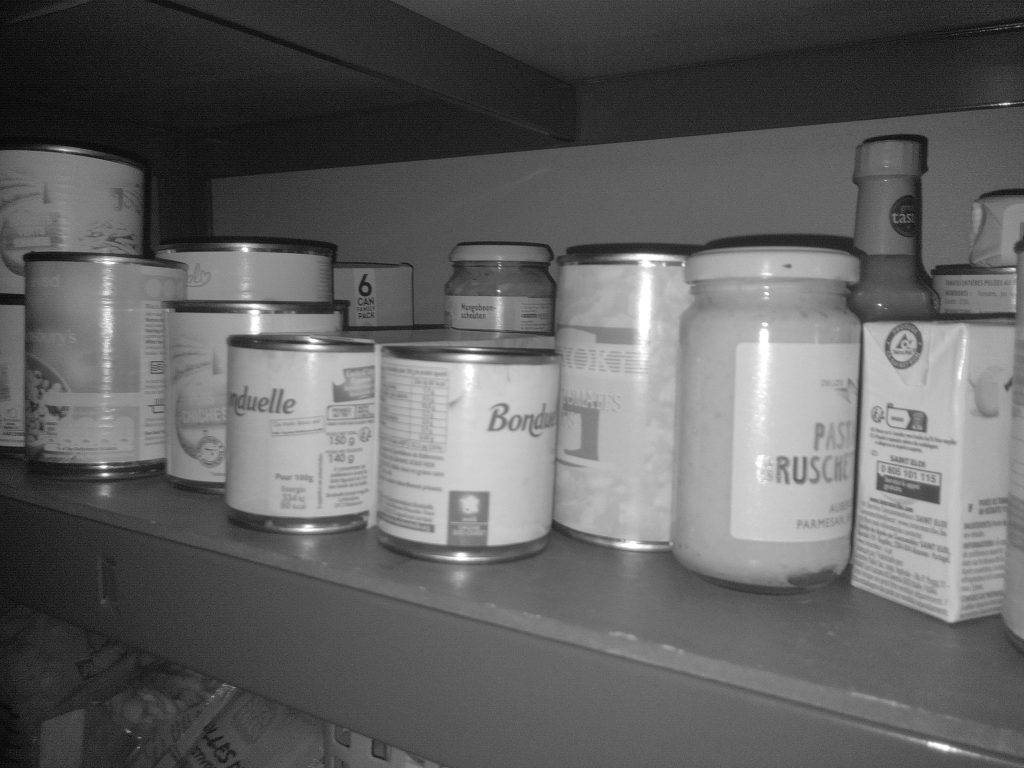 The two images below I think are good examples of how the effectiveness of the IR drops off as the distance increases. They were taken upstairs looking out the back of my house with the full moon.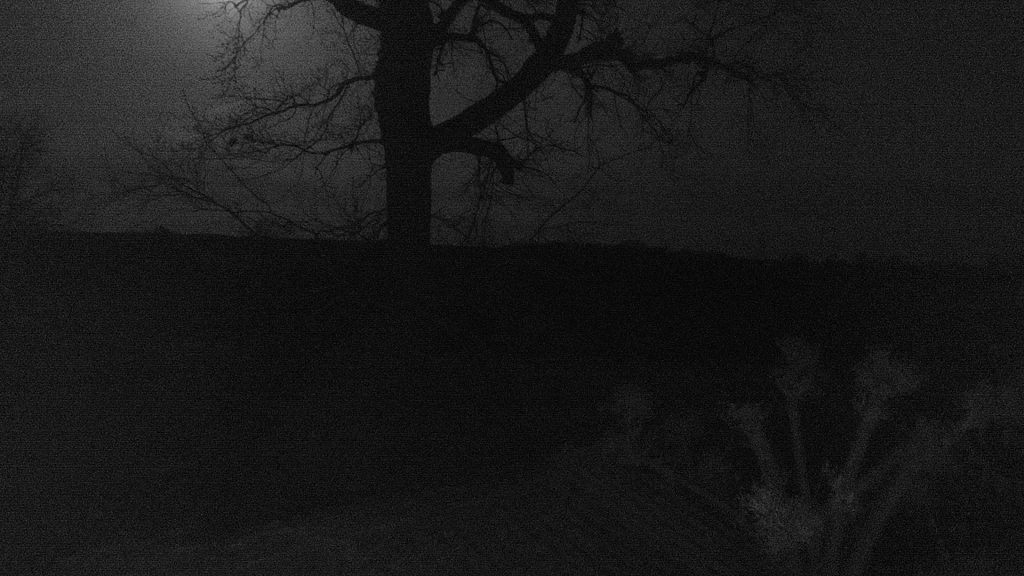 In the first photo on the left I was pointing downwards and if you click to enlarge it, you can see the roof of my garage and the tops of the tree in the foreground (about 10 meters away), whilst the large oak tree at a distance of about 20 meters is visible, but only the silhouette. A stronger IR would have lit up the tree to give you more detail.
I have found that I now use the NV camera for uses like when I get up and go to the bathroom at night rather than turning on the light or the torch because I am much less likely to wake up my partner!
So to sum up, I would say that the Night Vision is perfectly fine for closer ranges and is a welcomed addition to the phone, but you will probably want a dedicated device that is more powerful to spot wildlife or something else at longer distances.
For more on these and to see some of the best NV binoculars and monoculars I have tested, with reviews, check out my section on Night Vision.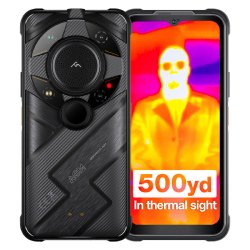 Cost & Where to Buy
The AGM G2 Guardian is available for purchase on the AGM mobile website and other major online marketplaces, as well as through select retailers.
The current retail price for the phone is currently about 1 199,99€ in Europe and has a suggested retail price of $899.00 in the US.
Good Value for Money?
I will let you decide as to if you think this is good value or not, but when I consider that an entry-level thermal monocular like the AGM Asp-Micro TM160 or FLIR Scout TK (see my article on the Best Thermal Monoculars under $600 (£/€)) cost about $500 (£/€), the fact that you also get an excellent quality smartphone with a Night Vision camera on top of that makes it seem like great value to me if you want it in one easy to carry and use package or if you are on the lookout for a new phone.
AGM G2 Guardian Smartphone: Check Current Prices & Where to Buy
From April 16th to May 6th Use the following Code: AGMG2GO to get a Get 5% Discount and a Free Charging Dock on the brand new AGM G2 Guardian smartphone that comes with an integrated thermal imager an night vision camera.
Overall Thoughts
Overall and after now using it as my main phone for about a month now, my shortish term impressions of the new AGM G2 Guardian phone are extremely positive.
I think it offers a very strong "standard" camera performance with its triple camera configuration that I think is competitive with other flagship smartphones, but it is the inclusion of the thermal and NV features that set it apart from other smartphones on the market.
Indeed it is the thermal imaging capabilities that are really impressive and I will certainly be taking it along with me on all my upcoming hiking and camping trips that I have planned for later on in the year once the weather warms up.
I also really like the night vision camera (for close-range use), which in combination with the IR illumination means you are able to see in total darkness. This is bound to be useful to me on overnight wildlife and camping trips, but also at home.
Powerful Speaker
Whilst it certainly makes the phone bulkier, another feature that I really like is the speaker. The sound that it delivers is obviously not as good as a quality stereo system, but it is MUCH, MUCH better than what you get on most phones.
So if I just want to listen to the news I find that rather than connect to my speaker, I just use the speaker on the phone. It also works well and I find the quality of sound more than adequate when watching youtube or Netflix videos on the phone whereas in the past I would have to use earphones.
The phone is waterproof, shock and dust-proof (Certified IP68/IP69K/MIL-STD-810H), and whilst I have not yet tested its toughness, I can say that it feels very well-built and sturdy.
Compared to my old phone which had a 5.5-inch display, the G2 does feel very large and is quite bulky and heavy. For everyday use, this took me a while to get used to, but I have. However, this may not be for everyone and if so I guess they may be some people that may opt to keep their old phone and just use the G2 when needed or for camping trips, etc.
Deeper, More in-depth Review
Aslo to note that whilst I have published this review, I still in no way consider it to be complete.
Over the coming months, I will continue to use the phone and will be updating this review in much more detail, with my main focus being the thermal imaging and night vision capabilities.
As I say, I have a number of camping and hiking trips planned and I am looking forward to further testing out the phone on these, so please stay tuned.
How Does the G2 Compare with Other Smartphones?
So up to this point of my AGM G2 Guardian smartphone review, I have mostly focussed on the thermal and night vision aspects as this is my main area of interest and what I feel most comfortable talking about.
As I mentioned at the start, I am not going to review every aspect of the phone as I am in no way knowledgeable enough in this area and I am sure in time there will be many reviews covering these details. But for completeness, I have included more general details about it that I have picked up whilst doing my research and thought I would include them here:
Main Smartphone Features:
The AGM G2 Guardian runs on a Qualcomm QCM6490 processor which has a Kryo 670 CPU, a Hexagon processor, and inbuilt 5G support, and is mostly aimed at higher-end IoT solutions designed to provide smooth and reliable performance for demanding applications.
The phone also sports a number of other high-end and premium features such as a 6.58-inch FHD+ Gorilla Glass-protected display that has a 120Hz refresh rate, Wi-Fi 6, and up to 12GB of RAM.
So overall, and setting aside the thermal and NV capabilities, the AGM G2 Guardian offers a level of performance and advanced features that make it competitive with other flagship smartphones on the market.
How does the AGM G2 Guardian compare to other Rugged Smartphones?
This innovative phone is somewhat of a bold move by AGM, as it challenges both the rugged smartphone and thermal industries by attempting to deliver a complete solution in one device.
In terms of durability and ruggedness, the G2 Guardian meets MIL-STD-810H standard and is IP68/69K certified, giving you protection from dust and allowing submersion of the device in up to 1.5 meters of water for 30 minutes.
The G2 Guardian is equipped with many flagship smartphone features, including a 6.58-inch 120Hz FHD+ display, 12GB RAM, 256GB expandable storage, and a powerful Qualcomm QCM6490 processor.
The phone also has a large 7000mAh capacity battery with 18W fast charging and runs on Android 12 OS.
Overall, the AGM G2 Guardian stands out among other rugged smartphones due to its unique combination of thermal imaging capabilities and flagship smartphone features. It offers a comprehensive solution for those who need a reliable, durable, and high-performance smartphone with advanced thermal imaging capabilities.
How does the AGM G2 Guardian compare to other Smartphones in terms of battery Life?
The G2 has a large capacity 7000mAh battery with 18W fast charging.
Compared to many other smartphones on the market, this is a large battery capacity as to me it looks like most range between 3000-5000mAh.
In terms of the time you get before needing to charge, this obviously varies depending on a number of factors such as usage patterns, network conditions, and device settings.
So far I have found that if I use the phone in a standard way (as I had done with my old phone), the larger capacity of the battery on the AGM G2 Guardian means that I get far more usage out of it before needing to charge (often a day more added).
Using the thermal imaging and night vision cameras as well as the powerful torch and speaker all use more batter than normal, and thus during the testing of these, I would typically find that I would then need to charge the phone every day.
Check Current Prices & Where to Buy the AGM G2 Guardian
From April 16th to May 6th Use the following Code: AGMG2GO to get a Get 5% Discount and a Free Charging Dock on the brand new AGM G2 Guardian smartphone that comes with an integrated thermal imager an night vision camera.