Recently I have seen as well as reviewed and tested more and more top end binoculars that use Apochromatic lenses (APO) and whilst some manufacturers mention that their products have an APO optical system, very few (if any) go on to explain exactly what it is and what it does.
So with this in mind I have decided to put together my complete guide to APO / Apochromatic Lenses in binoculars:
Why & What APO Lenses Do
When light passes through a simple single lens, the distance behind the lens at which each of the individual wavelengths of light comes into perfect focus varies. This dispersion of white light along the optical axis causes chromatic and spherical aberrations which result in you seeing soft overall images and color fringing along the edges of high-contrasting objects.

To help minimise this problem of colour dispersion and spherical aberration, designers combine a number of lenses which have different optical properties and focal lengths to form a single multi-element lens, or otherwise known as a compound lens.
Achromatic Lens
If a compound lens is able to bring two wavelengths of light into focus in the same plane reducing these aberrations, the lens is know as an achromatic lens.
The image on the right shows a compound lens made from two lens elements, one is a convex lens made from a crown glass and the other a concave lens made from a flint glass. As you can see this achromat brings the red and blue wavelengths of light into a common focus. This achromatic combination that typically brings red and blue into focus is currently by far the most commonly used method of improving the view in binoculars at the moment.
Apochromatic Lens (APO)
If three or more visible wavelengths of light are brought into focus at the same point behind the lens, the lens is known as an apochromat or is called an apochromatic lens. APO is the abbreviation for apochromatic.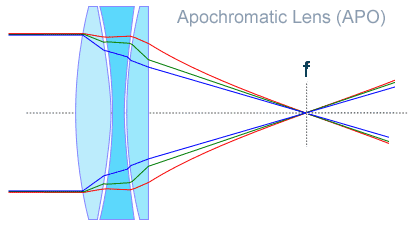 Benefits
Although they don't have to, most apochromatic lenses consist of three elements and as as you can see from the image above, because they bring light of three different frequencies to a common focus, they have a better correction of chromatic aberration and spherical aberration than achromat lenses.
Apochromats are also corrected for spherical aberration at two wavelengths, rather than one as in an achromat.
In order for an Apochromatic lenses to focus three wavelengths of light onto the same point, they require glasses that have special light dispersion properties. This is usually means using very expensive fluoro-crown glasses, abnormal flint glasses, and even sometimes optically transparent liquids in the thin spaces between glass elements and which have highly unusual dispersive properties.
The temperature dependence of glass and liquid index of refraction and dispersion must be accounted for during apochromat design to assure good optical performance over reasonable temperature ranges with only slight re-focusing. In some cases, apochromatic designs without irregular dispersion glasses are possible.
Negatives
So we have gone over all the great things that an APO optical system can do and just how it improves your view, but what are the downsides?
Cost – The main reason why you only find apochromats on top of the range binoculars is that because of their complexity and the use of costly materials, they add a lot to the cost of manufacturing the lenses.
Weight – Most Apochromatic designs usually use three elements to make the lens. As we know, glass is heavy and so these triplet lenses are quite a bit heavier than the achromat doublets used on the majority of binoculars these days.
Apochromatic Triplet Lenses are as the name suggests, a compound lens with three lens elements that are designed to achieve the same focal length for three wavelengths of light.
ED Glass
Both achromatic and apochromatic lenses often contain at least one element that uses a special low-dispersion glass. For more take a look at my complete guide to Extra Low Dispersion Glass (ED Glass).
Best APO Binoculars
Listed below are binoculars that use APO lenses and which I have rated very highly when I wrote my review on them:
Other APO Binoculars well worth checking out:
Further reading
You can also take a look at:
Where to Buy