Did You Know?
Since it's inception in 1947, every single Steiner binocular has been manufactured in the Steiner facility located in Bayreuth, Germany? This is in stark contrast to many sports optics brands that now outsource some or in some cases all of their production to cheaper facilities in far-flung areas of the world where the cost of labour is less expensive.
They say you never forget your first, well, in terms of binoculars, my introduction was a pair of 10x26 Wildlife compacts from Steiner Optics which I purchased in 2006 mainly for use on walking safaris.
Back then there was very little information on the web and certainly no independent reviews or expert opinions on the subject of binoculars. Thus the difficult process of selecting the right instrument for my needs and at my budget really stuck with me and eventually became one of the main reasons I eventually developed the BestBinocularsReviews.com website after finishing my stint working as a safari guide in South Africa.

So for me, being invited to visit the Steiner headquarters in Bayreuth was a little special as I knew that my first pair of binoculars that I purchased and used all those years ago was made at this exact location and so to now to have the opportunity to tour the factory and gain an insight into how it was actually made almost felt as if I had come full circle and was now somehow closing the loop.
Aim
In this article, I hope to give you a flavour of my experience and time at Steiner. I feel that what I learnt, my impressions and takeaways are well worth sharing as I am sure like me, they will give you a deeper appreciation of not only Steiner's products but binoculars in general and what is involved in their production.
History Lesson
Binoculars & Basketball
After the relatively short drive north from Nuremberg airport, we arrived in Bayreuth, the home of the Medi Bayreuth professional basketball team and the location of Steiner Optics Headquarters. Indeed I was to later learn whilst watching them play in the Oberfrankenhalle against a team from Lithuania that Steiner has a long-standing affiliation with basketball and were the title sponsors of the team from 1988 to 89 when it was known as Steiner Bayreuth.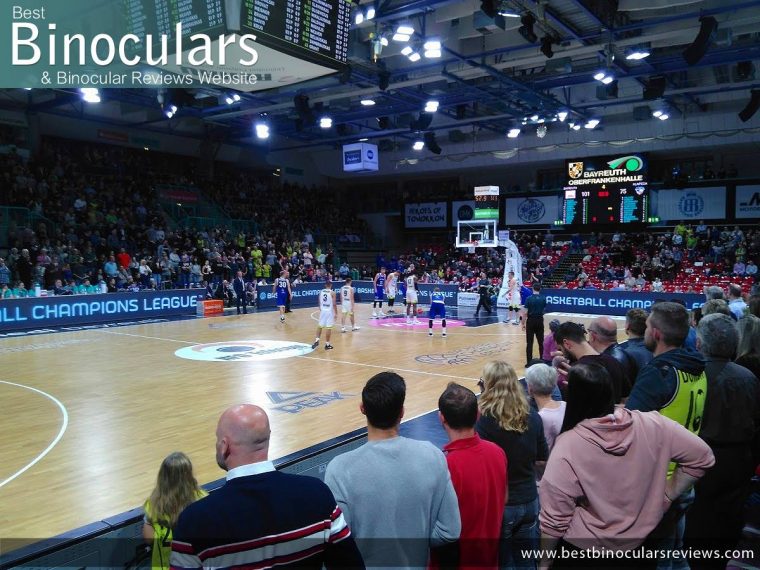 Anyway, I digress…

Back to Binoculars:
After the introductions, we headed to the boardroom where we went over a presentation that covered the main aspects of Steiner, their products, history and the many innovations that they have brought to the world of binoculars and optics in general and below are a few of the main points:

Part of the Baretta group of companies, Steiner has been operational for over 70 years and currently has around 150 employees.

They specialize in the production and development of binoculars, laser rangefinders, rifle scopes and progressive coating technologies which includes the grinding and polishing of premium level lenses and prisms.

Markets
Whilst Germany is their strongest single market, they have sales in more than 80 countries with an export quota of over 80%.

Segments
Steiner produces sports optics for the general outdoor enthusiast as well as marine binoculars and binoculars specifically for hunting. They also have a very strong military and law enforcement heritage and currently, about 30% of their production is for military purposes.

Milestones:

1947 – Steiner was started by Karl Steiner who learned his trade at Zeiss Optics
1967 – Steiner started using high-tech Makrolon material for housings
1973 – First binocular with Nitrogen filling (N2)
1979 – Developed the first binocular with an integrated compass
1988 – New coating technology with Laser-Protection-Filter developed
1992 – Development of high-contrast optic
2000 – Achieved the highest light transmission levels in the industry with the Night Hunter. An Incredible 96% across the whole visible light spectrum.
2006 – First binocular with aquaphobic Nano protection coating
2008 – Joined the Baretta Group of companies
2009 – First Steiner binocular with laser range finder introduced
2010 – Started the new riflescope assembly
2012 – Acquisition of Steiner eOptics Inc.
2015 – Acquisition of STS and Diffraction
2018 – Steiner BluHorizons, the world's first sunlight adaptive binocular
Museum
From there we moved onto the small museum that they have within their facility. This contains a selection of their most important instruments dating right back to their first pairs as well as many other binoculars of interest.

Here I found an example of my very first pair of Steiner Wildlife binoculars and it also included a very early pair of marine binoculars as well as their range of binoculars designed for the police and which are not available to the public.

Another item of interest that caught my eye was a pair of Steiner military binoculars that was recovered from an American tank that had been blown around the time of the first Gulf war. As you can see from the photo below, the housing has been seriously damaged, but incredibly the optics still function very well.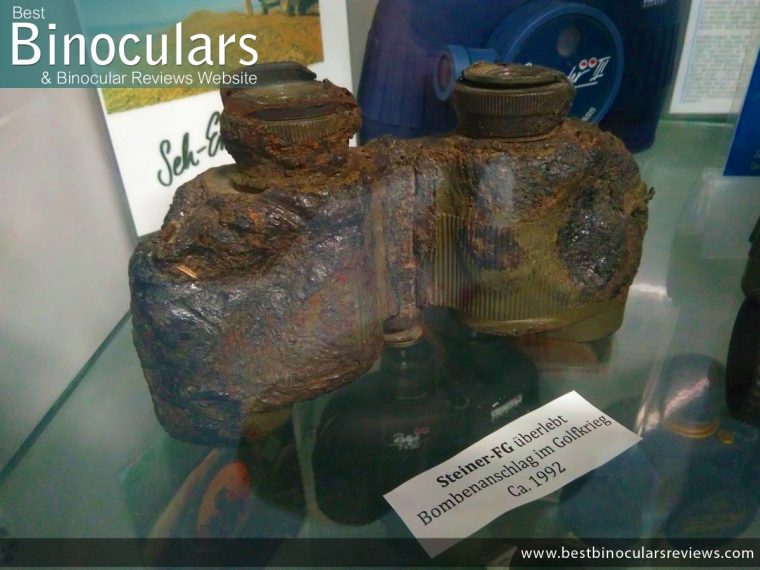 Production
From the museum, we moved onto the actual factory where I was given a full tour of the entire production line.

Shaping & Polishing the Glass
Steiner only sources the highest quality optical glass for the lenses and the prisms that comes from either Hoya in Japan or Schott in Germany. Both of which are considered to make the very best glass available.

Before my visit, I assumed that the glass would have arrived perfectly shaped and polished, but instead, Steiner prefers to do it themselves.

For me, this was one of the most impressive aspects to the whole tour as it is very time-consuming and requires a large number of very specialist diamond cutting, grinding and polishing machines in series that take the opaque raw glass and firstly get it into the perfect shape and then finally polishes it until what they are left with is the final, extremely high-quality lens element or prism.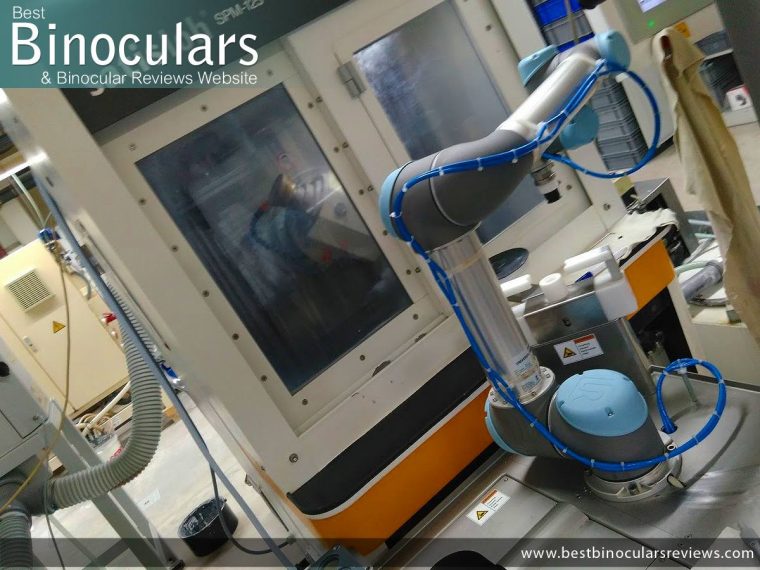 Each step along the way is finer and more exacting and the lenses and prisms are quality checked at each step to ensure that they are perfect.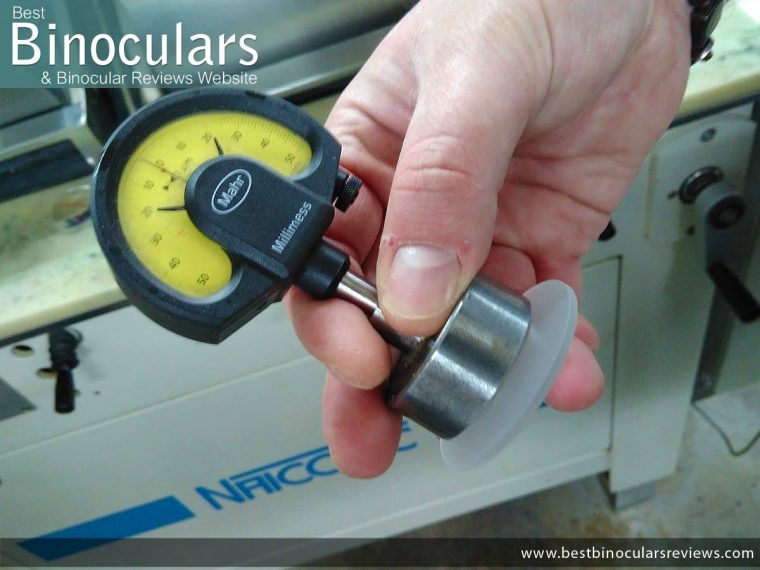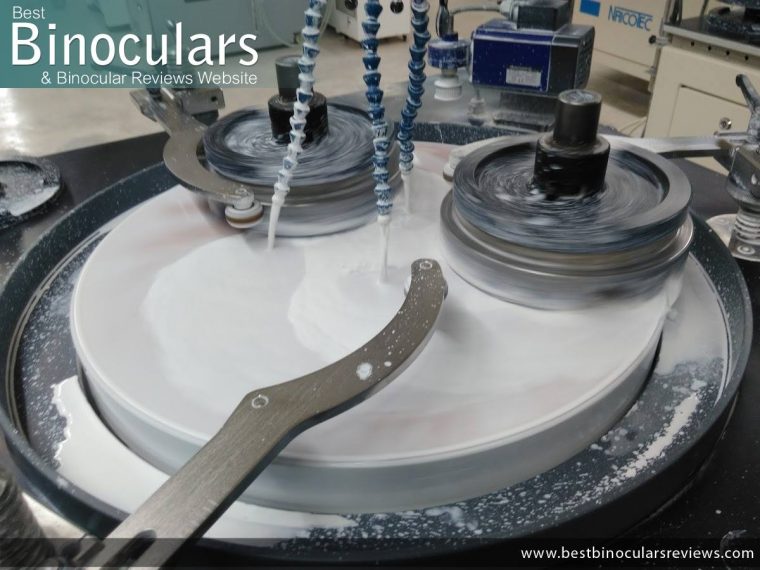 What I also found interesting is that this part of the factory is also something of a museum in itself as Steiner has decided to keep some of the machines. Some are actually still in use where less precision is needed:
Whilst others have now simply on display as they have been replaced with more modern versions, but are still kept within the factory in a kind of homage to a more simple, less electronic age.
My thoughts turned to the fact that every single Steiner binocular ever produced went through this factory and their optics were produced by these exact machines!

Optical Coatings
After going through another series of quality control checks, special optical coatings are then added to the lenses and prisms.

For this part of the tour, we entered the clean room area of the factory and as such had to wear special clothing that included wearing hair nets, shoe covers and special jackets.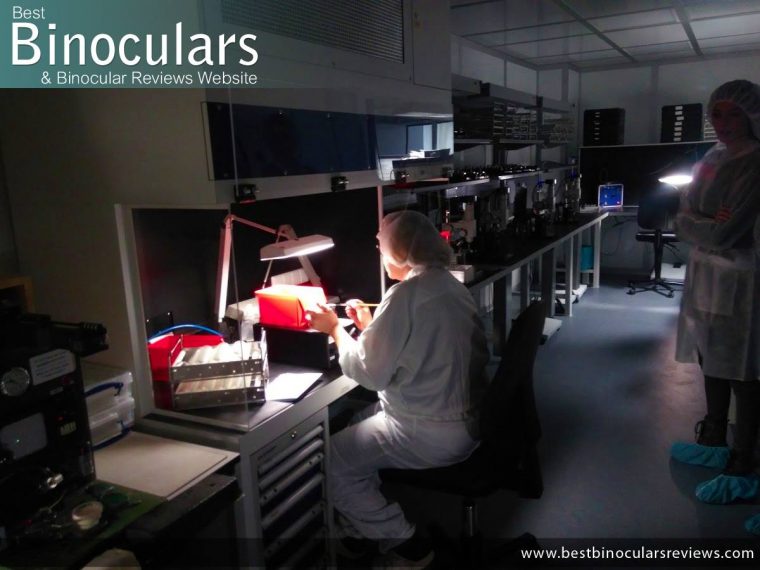 The exact makeup and the number of coatings added to each binocular varies depending on the model and type of prism, but in most cases, it includes anti-reflection coatings on all exterior lens surfaces, mirror coatings on roof prisms and other speciality coatings like the super tough, aquaphobic Nano protection coatings that were developed by Steiner 2006 and which are applied to the exterior lens surfaces on some models like the Steiner Nighthunter 8x56 binoculars that I recently reviewed.

Nano-Protection Coatings
The main aquaphobic property of these Nano-protection coatings was demonstrated to me by simply pouring water onto the lenses of one of their Nighthunter 8x56 binoculars and it was interesting to note how you could see that it was almost repelled by the glass and that it simply rolled off leaving no droplets behind. This offers a number of advantages, including a better viewing experience in wet weather and making sure no watermarks are left behind which means less cleaning of the lenses is necessary.

The exact makeup of all these coatings is Steiner's secret sauce and exactly what they use and how it is done is a closely guarded secret and was one area of the factory that I was able to view, but was asked by the guys not to take photos of certain areas.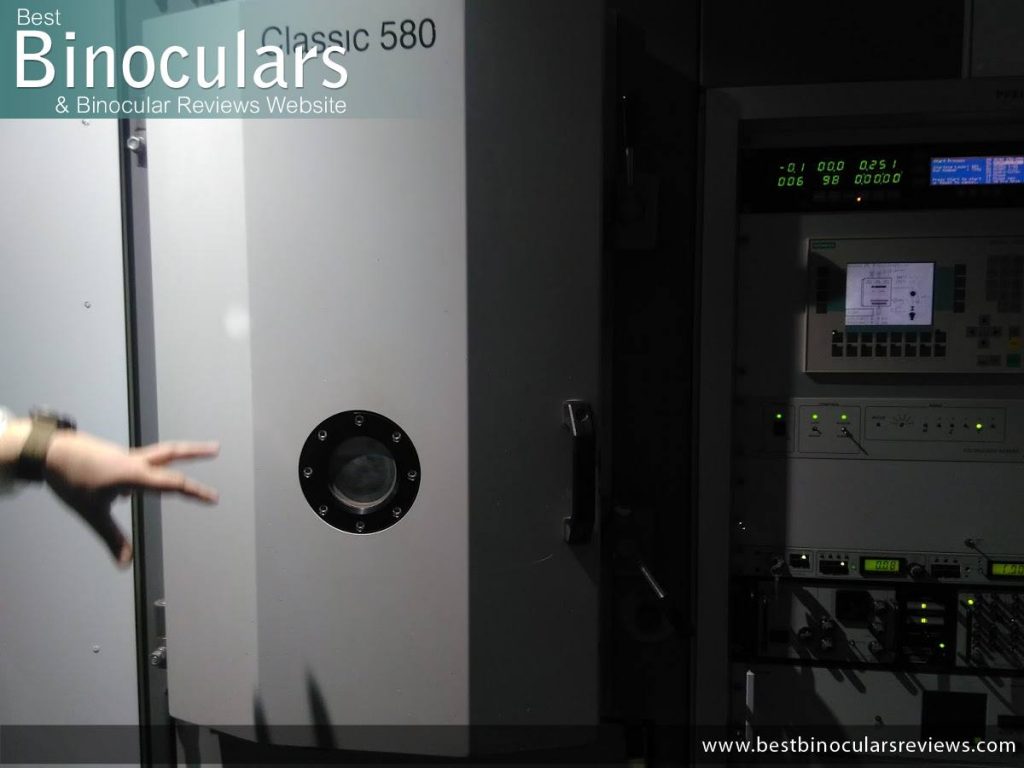 Assembly
Further quality checks follow the coating process and then the lenses and prisms are transported to the part of the factory where they are united with the chassis and the rest of the interior and exterior components are fitted as well.
Here, depending on the models, the housings are also sealed and then pressure filled with Nitrogen gas.
Throughout this process further quality controls are carried out.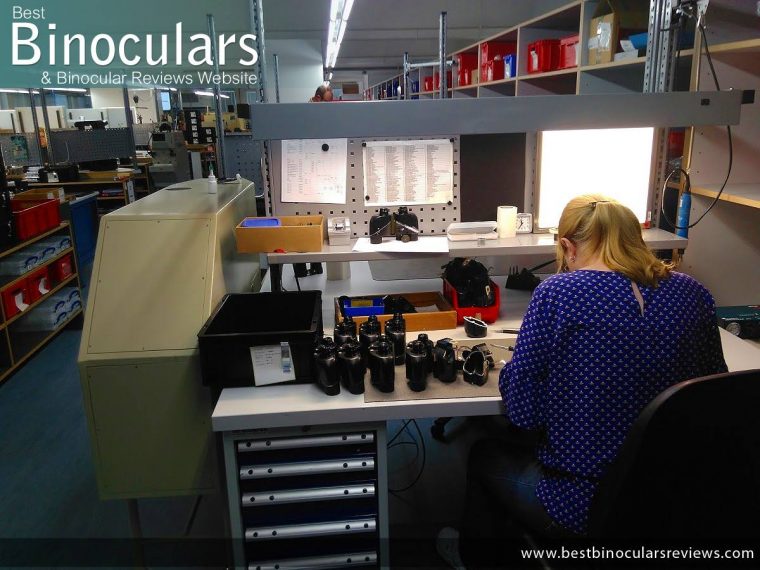 More Quality Control Checks & Testing
After assembly, each binocular is once again quality control checked that includes testing the integrity of the airtight seals for the pressure-filled nitrogen chassis to make sure that it is 100% water and fogproof.

Optical Tests
The optics are also checked and tested in a number of ways using a wide variety of instruments to check for perfect alignment, function and the levels of light transmission.

Extreme Conditions Testing
A selection of the binoculars are also selected to be tested in a wide range of more extreme areas. This includes subjecting them to very high temperatures and extreme cold by placing them in special ovens and freezers for set periods of time.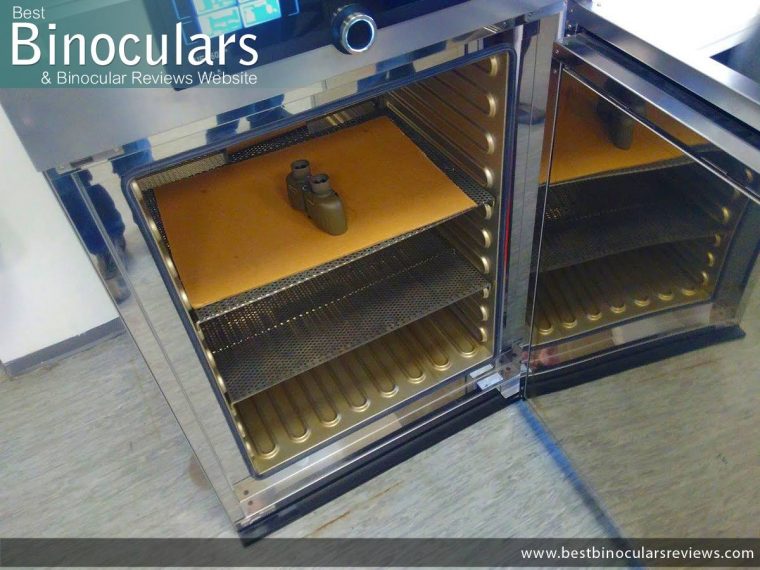 Then they also have other testing facilities that put their instruments under extremely high atmospheric pressures as well as large g-forces and weights to ensure the integrity of the sealed housings as well as the structural strength of the instrument as a whole.

Recoil Test
Another check that their rifle scopes have to go through is a very violent recoil test machine:
Main Takeaways
Apart from a few small elements like the original unfinished glass and some of the accessories such as the carry bags and neck straps, every single Steiner binocular, even the less expensive ones are completely manufactured in-house in their factory in Germany. In this day and age, this is impressive.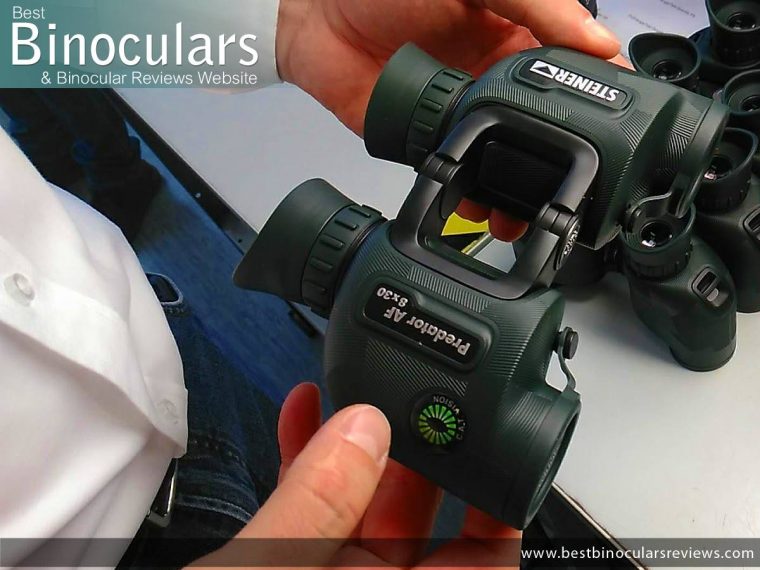 Whilst there is some automation, I noticed that Steiner still employs a large number of people and much of the assembly and almost all of the quality checks are carried out by highly skilled workers, many of which have been employed by Steiner for many years. What is more, you certainly feel that there is a close-knit, almost family type atmosphere as you go around the factory which is great to see.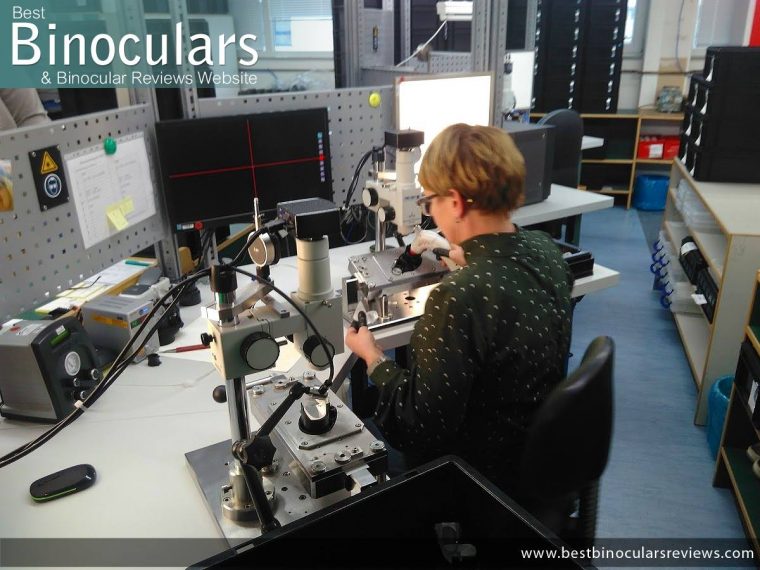 The amount of quality testing and the level to which the binoculars have to perform under the most extreme conditions is very impressive. I wondered why it was necessary to subject their binoculars to such extreme conditions that most of us will never experience and I was reminded that as well as the 'ordinary' user, some Steiner binoculars are used by a very diverse range of users including arctic explorers, search and rescue teams and the military.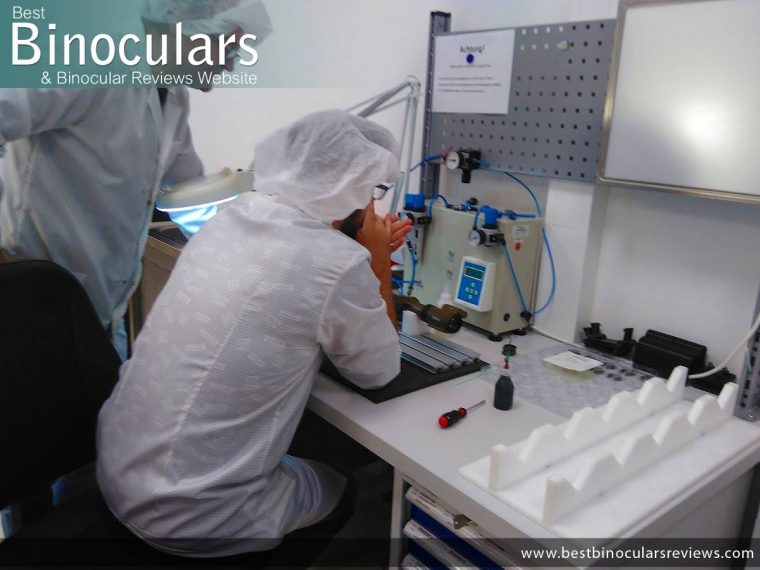 I think if I had to sum up the binoculars made by Steiner, it is not only the quality of components they use that is important but just how much expertise, work and attention to detail that they put into each and every instrument. In fact, there are actually 450 separate steps in the production line and this is what certainly sets a high-quality pair of binoculars like theirs apart from the less expensive, mass-produced alternatives.
I hope that this has been of use. For me, it was an excellent experience and a fantastic insight which has gave me a much deeper understanding as to how binoculars are produced.
Lastly, I would like to thank everyone at Steiner for the opportunity, for answering all my questions and for their great hospitality.
More Information & Further Reading