The following BinoWizard question comes from someone looking to get themselves a good quality binocular for hiking in the mountains:

Hi Jason, thanks for the awesome work you are doing with your binocular reviews.
I am on a look for a pair myself, and I am in a bit of doubt. I want something lightweight, but not compact (larger than 25 mm), i.e. something in the 30mm range with 10x magnification since I mostly use binoculars while hiking in the Alps. I am looking for something mid-priced, say 400 – 500 USD is my budget. I would like the weight to be roughly 450 grams or less.
So far I did some research and I narrowed down my search to a few models that I think meet my needs quite well.
Bushnell Forge 10x30
Nikon Monarch 7 10x30
Maven B3 10x30
I really like the Bushnell forge model since it is very lightweight (cca 380 g) with dual-hinge design and can be folded. However, I wasn't able to find any in-depth reviews about it. It doesn't seem to be very popular in Europe. Do you have any insights on this model?
Nikon Monarch has gotten pretty good reviews on multiple websites, and feel that is a safe choice, however, it is slightly heavier (450 g).
Maven B3 is a bit pricey, and also a bit heavier (450 g).
Do you have any advice on these three models? Or any other brands/models that I might have missed? I saw that Eschenbach Sektor d+ 10x32 is quite lightweight however I don't like the narrow FOV.
Thanks for the advice and keep up the good work!!!
Answer
10x30 Binoculars for Hiking in the Alps
As to your excellent question, I can see that you have already done a lot of research and I must say that I like your choice of the 10x30 configuration (or similar) for your particular use of hiking in the mountains:
Lens Size
Whilst not a pocket-sized binocular or even a full compact, a well-designed 30mm instrument should still be easy enough for you to carry, but at the same time, the slightly larger lenses will make a difference in the amount of light that they can gather.
Exit Pupils Size
This slightly larger lens size is even more important because rather than a more moderate 8x, you are rightly interested in a more powerful 10x in order to take in the more distant views that you are bound to experience when up in the Alps.
Combining a 10x power with 30mm lenses means you maintain a reasonably good-sized exit-pupil. This is important as whilst the 10x30 configuration would not be described as an excellent choice for low light, it does mean you will get brighter images in lower light conditions than with a full compact of the same quality.

Healthy Budget = Good Quality
Whilst it is always tempting to go for the cheapest options, I also like the fact that you have a good budget as it means the binoculars you do get will likely be of a good standard and use higher quality optics and coatings (see my video and article on cheap vs expensive binoculars), which once again will further ensure you are presented with bright, high definition views.
Shortlist & Recommendations
From first glance, I like your initial shortlist, so let's take a closer look into each of them as well as see if I can come up with a couple of other options for you to consider:
So as I always recommend when choosing between binoculars, the first place to start is to create a table that enables you to quickly compare features and specifications:
So now let's take a look at these and discuss their relative strengths and weaknesses, paying particular attention to your intended use for them:
Bushnell Forge 10x30 Binoculars
As you can see by their relative strengths and no obvious deal-breaking weaknesses, these 10x30 Bushnell Forge binoculars look extremely tough to beat in your particular scenario.
On their website, Bushnell lists them as having the Abbe Koenig design of roof prisms which I do think is incorrect by the fact that they are so compact in size and I think it refers to the larger models in this series.
Rather I suspect they will have the Schmidt-Pechan design as all the others on the shortlist.
Either way, with dielectric and phase correction coatings as well as ED glass elements, anti-reflection coatings on all lens surfaces, and scratch, water & oil resistant outer lens coatings, there is no denying that the level of optics on these is extremely good especially when you consider the price.
Strengths
Very Competitive Price especially considering the Optics Quality
Double Hinge Design & Compact Shape
Lightweight
Excellent Quality Optics & Coatings
Weaknesses (in this context)
Buy & Compare Prices: Bushnell Forge 10x30 Binoculars
Maven B3 10x30 Binoculars
If you want to go for the highest overall quality, then these Maven B3 binoculars are for my money the winners, but then again they are also the most expensive on the shortlist, but I do still feel that they offer a good performance-to-price ratio.
However, their higher quality, metal components like the focus wheel for example does come at a cost as they are also the heaviest instrument on the list. The single hinge design also makes them less compact than the Bushnell and Steiner when folded, which for hiking will, for many be negative.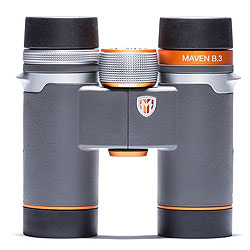 Strenghts
Excellent Quality Components – eg metal focus wheel
Excellent Quality Optics & Coatings
Wide Field of View
Weaknesses (in this context)
Single Hinge Design
Highest quality, but the most expensive option in this selection
Buy & Compare Prices: Maven B3 10x30 Binoculars
Nikon Monarch 7 10x30 Binoculars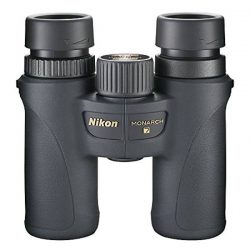 Fully multi-coated, Ed glass, dielectric, phase-corrected prisms, In terms of the optics and the coatings, the level on these Monarch 7 binoculars is very similar to that of the Bushnell except for the fact that Nikon doesn't highlight any protective/ oil / water-resistant coatings on the outer lens surfaces, so I will assume they are lacking.
Their main strength versus the others on this list is the very wide field of view, which if you also enjoy viewing things like fast-moving small birds from closer ranges, could be a reason to opt for these over the others.
Like the maven (but not metal), I also like the large focus wheel which tends to be easier to accurately focus with than the small ones used on the Bushnell and Steiner binoculars on this list. However, also like the Maven this has a single hinge body design.
Strengths
Excellent Quality Optics & Coatings
Very Wide Field of View
Weaknesses (in this context)
Buy & Compare Prices: Nikon Monarch 7 10x30 Binoculars

Steiner Wildlife 10.5x28 Binoculars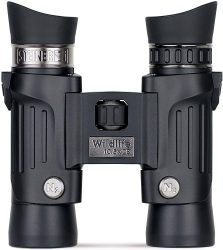 An instrument that I immediately thought of because of the double hinge design and which is a bit of a curveball is the 10.5x28 Steiner Wildlife binoculars.
At around 256 € / $300 it is quite a lot cheaper than the rest on the list, and whilst they may not quite match the others in terms of the optics listed, they cover all the basics and if my experience of their products is anything to go by, the view quality will be more than decent and I know you will be able to count on them being tough enough for the job.
The smaller 28mm lenses in combination with the two hinges mean that when folded they are likely to be the smallest on this list (they are listed as being longer than the others, but I am sure this is because of the fold-down eyecups with flares on ends, which are an excellent feature (binoculars with twist-up eyecups will list the length with the eyecups retracted).
However, these smaller lenses and slightly higher 10.5x magnification does also mean they have the smallest exit pupil and thus if you value a better low-light performance over size and weight, then the slightly larger options may be a better choice.
Strengths
Low Cost compared to others
Double Hinge Design & Compact Shape
Very Lightweight
Weaknesses (in this context)
Fairly Narrow Field of View
Smaller Lenses & Exit Pupil
Buy & Compare Prices: Steiner Wildlife 10.5x28 Binoculars
Follow-Up Question:
Maybe one last question is: Do you think that 10x32 configuration will offer any advantage over 10x30 (I intend to use the binos mostly during daylight)?
Answer:
In good light, I don't usually see any major difference between a good quality 10x28 and a 10x32, so I will assume the same or even less will be the case between a 10x30 and a 10x32 of equal quality.
The difference in perceived image brightness only starts to reveal itself as the light begins to fade and the pupils in your eyes want to take on more light than the binoculars can provide.
So if you want compact and you are mostly operating in good light, I personally would stick with a dual-hinge design instrument, with smaller lenses.
Conclusion
I did look for some other 10x30 options for you, and whilst there are many 10x26 or 10x32 binoculars out there, for whatever reason, the middle-ground of a 10x30 configuration is fairly rare, which is a shame as I do believe that for uses like hiking in the mountains, they make perfect sense.
As I haven't tested any of these instruments, I cannot comment from a first-hand perspective and can only speculate on the actual optical performance, so I do hope my thoughts on their overall characteristics are helpful.
As to which one you should opt for, it really does boil down to your specific needs and requirements:
Maven B3 10x30
Best Overall quality, but most expensive, least compact, and heaviest
Steiner Wildlife 10.5x28
If you want something more compact, lightweight, and cheaper at the cost of a little low-light performance
Bushnell Forge 10x30
Look to be the best all-rounder on the list and at that price could offer exceptional value for money, but I do wonder about some of the features and specifications they list being confused with the larger models in the series! Also, I am not sure, but I would guess these are made in China, which is not necessarily bad, but definitely not a positive aspect over all the others
Nikon Monarch 7 10x30
Whilst an excellent looking binocular and I really like the large focus wheel and very wide view, in this context of hiking in the mountains, and against the others, I would probably only go for the 10x30 Monarch 7 binocular if I wanted a cheaper alternative to the Maven or specifically needed that extra wide view.
Further Reading