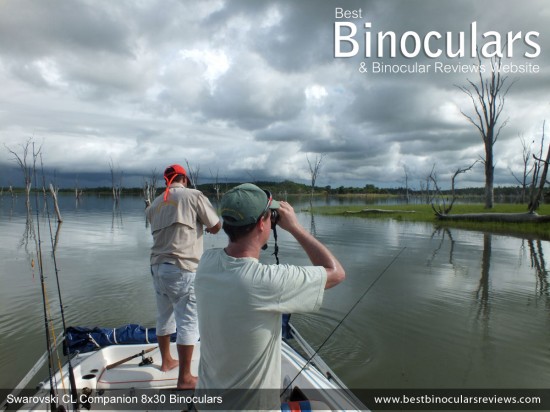 The question this week comes from someone looking for some advice on the best birding binoculars for use at a lake:
Question:
I spend a lot of time at a local lake, where I pursue my real passion for fishing.
However there are many times when I would like to also take a better look at the bird life that frequents the area.
My budget is around the $350 (£250) and so was hoping that you could give me some advice on what binoculars to get.
Answer
Thanks for the great question, which is actually pretty close to my own heart as well, as I too enjoy fishing as well as birding and almost always take a pair of bins with me on my fishing trips. In fact the picture at the top of the page is of me viewing a Fish Eagle using a pair of Swarovski CL Companion 8x30 Binoculars whilst on a fishing trip to Lake Kariba in Zimbabwe.
There are a number of features to look out and a few points to consider, which I will go through first and then I will recommend some of what I believe are the best binoculars in your budget for this use:
Magnification & FOV
For most general types of birding the recommendation is to get a binocular with a magnification of around 7x or 8x. The main reason for this is because at this power you get a good balance between image detail, but with also a nice wide viewing angle that will produce a wide field of view (FOV).
You will notice that I emphasized "most general types of birding", this is because a lot of birding is done at reasonably close quarters, like in peoples gardens, or wooded and forested areas and the most common birds are generally small and fast moving as they hop from branch to branch. Thus to be able to quickly locate them and then follow them through the branches of the tree, a wide FOV is important.
Wide open spaces & larger birds
However when birding at a lake, on the coast or even in open fields, not only will much of your viewing distances be a little longer, but the wide open spaces, like along the shoreline will make finding the bird a lot simpler than when it is within the thick branches of a tree for example. What is more, water or aquatic birds are most often larger and far more predictable in their movements, which again makes them easier to spot and follow.
Thus in these situations, a wide FOV is not as important and a higher magnification like 10x will give you a closer, more detailed view, but still have a wide enough FOV for locating the target not to be a problem. For more on this, please take a look at my article on 10x42 Binoculars for Bird Watching.
Image Steadiness
I don't know if you fish from the bank or on a boat, but either way, if you are on a reasonably sized boat on a calm lake, you should not have any problem keeping the image still with a 10x magnification.
If however you have unsteady hands, or know use a very small boat on a fairly rough lake, making the platform particularly unsteady, I would then consider reducing the magnification to 8x or even 7x, which will help you maintain a shake free and steady view.
Objective Lens Size
If the overall size and weight of your device is not that critical, I would suggest getting full sized binoculars that usually have objectives about 42mm in diameter. These strike a good balance between size and weight and the potential to capture enough light to produce a good quality as well as bright image in low light.
If either weight or size is a factor, you may also consider a mid-sized bin that has objectives of around 32mm, but just keep in mind that you will be sacrificing a little on performance.
Waterproofing & Floating
If you fish from a boat, for obvious reasons, you should make sure that the bins you choose are fully waterproof.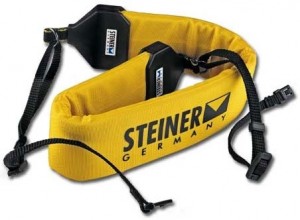 If you mostly fish on the ocean and on rough water with a lot of spray, I would suggest looking at specialised marine binoculars, but on the calmer waters of a lake standard waterproof binoculars will be fine.
You could however consider also getting a Floating Strap, which will prevent your waterproof bin from sinking to the bottom should it go overboard. Another options would be to use a harness:
Binocular Harness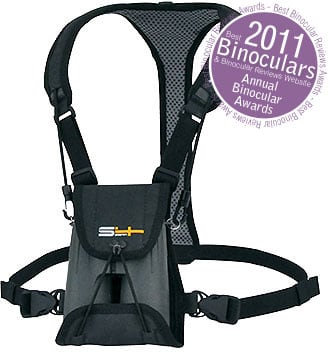 Depending on how and where you fish, another piece of kit that you may consider is a binocular harness which if you are on a boat will help ensure that your investment does not end up at the bottom of the lake.
Also sometimes called binocular suspenders they can also be useful in that they will help you keep your optics close at hand, but out of the way whilst you are fishing.
If this does interest you, I highly recommend you take a look at the S4Gear LockDown Binocular Harness (pictured on the right) which keeps your optics secure against your chest and has a cover that goes over the lenses when not in use, which will prevent you from getting them wet when you land that big fish!
Best 10x42 Birdwatching Bins under $350 (£250)
Below are the best 10x42 binoculars within your price range that I have reviewed and which I would also recommend as a great open area birding binocular:
Costing around $200 these 10x42 Carson binoculars have a number of very high end features including ED (extra low dispersion glass) elements in their Fully Multi-coated Lenses and Phase Correction Coatings on the Bak-4 roof prisms.
The lightweight body is fully fog and waterproof and covered in a protective rubber armour. What is more, you also get a fantastic Wrap around BinoArmor Case and a Binocular Harness included, which if you are fishing is ideal as you can ensure that have your bins with you, but out of the way at all times and with a harness, you have far less chance of dropping them overboard if you fish on a boat!
Field of View: 314ft at 1,000 yards
Eye Relief: 16mm
Waterproof: Yes
Achieving an outstanding 85% score on the BBR scale, they won the Best Value for Money binocular in 2012 on BBR. What is even more impressive is that these same Vanguard binoculars have an even lower current retail price than when I gave them the award and on top of this you can now also get a $50 rebate on them in the US or a £20 cashback in the UK!
Fully waterproof and using ED glass lenses, they have a very wide FOV for a 10x42 binocular and that is why I say these make the perfect binocular for birding on a lake.
Field of View: 342ft at 1,000 yards
Eye Relief: 16.5mm
Waterproof: Yes
Whilst these may not have the widest FOV for a 10x42 or use ED glass lenses like the others on this page, they still come with Fully Multi-Coated optics and phase corrected roof prisms. Fully waterproof, they cost around $220 (£245) and so make for a decent low cost option.
Field of View: 315ft at 1,000 yards
Eye Relief: 15.5mm
Waterproof: Yes
Marketed as the SkyHawk Pro in Europe, they are known as the Steiner 10x42 Merlin Pro Binoculars in the US.
At around $450 (£330) they are the most expensive on this page, but I thought I would include them for comparison. They come with fully multi-coated optics, but don't use ED glass in the lenses. They are sealed with O-rings and the waterproof polycarbonate housing is covered in rubber armoring for added protection. The prisms have also had phase correction coating applied to them.
Field of View: 315ft at 1,000 yards
Eye Relief: 8mm
Waterproof: Yes
Winner Best Value For Money Binocular 2011, these Vanguard binoculars currently cost less than $300 in the US or £200 in the UK, yet still come with high spec fully multi-coated, ED glass lenses and phase correction coatings on their roof prisms.
Field of View: 315ft at 1,000 yards
Eye Relief: 16mm
Waterproof: Yes
For more take a look at the following:
Hopefully some of these links and suggestions will help you make the correct decision based on your needs. If you or anyone else has any more questions related to this topic, please don't hesitate to ask it in the comments section at the bottom of this page.
Need Advice?
Do you have a question relating to a specific binocular, type of binocular or do you just need some advice on which set of optics is best ideal for your intended use or interest. I would love to try and answer it for you:: ask here.