Survival & Prepping Binoculars: Best Binoculars for Bug Out Bags
Next in my series on Prepper & Survival Binoculars, in this article, I explore what makes the Best Binoculars for Bug Out Bags, why you need them and why should you use a different type of binocular to those which you keep at home, in your base, your main Survival Bag and indeed different to the pair stored in your lightweight Get Home Bag.
What is a Bug Out Bag?
Derived from army slang, to "Bug Out" means to move away, retreat or flee from your current position very quickly (often under fire) because your location has been in some way compromised by the enemy.
Thus a Bug Out Bag is a type of Survival Bag that should be completely pre-packed and 100% ready for you to simply grab in a hurry when you need to flee, evacuate or "bug out."
Usually, in the form of a backpack or sometimes a duffle bag, a bug out bag needs to be easy to carry and portable, but at the same time, the advice from the military and experienced preppers is that it should contain all the kit that you need to survive and stay safe for between two to four days depending on your location and situation. Try the thermal vision goggles for your outdoor and wildlife experience!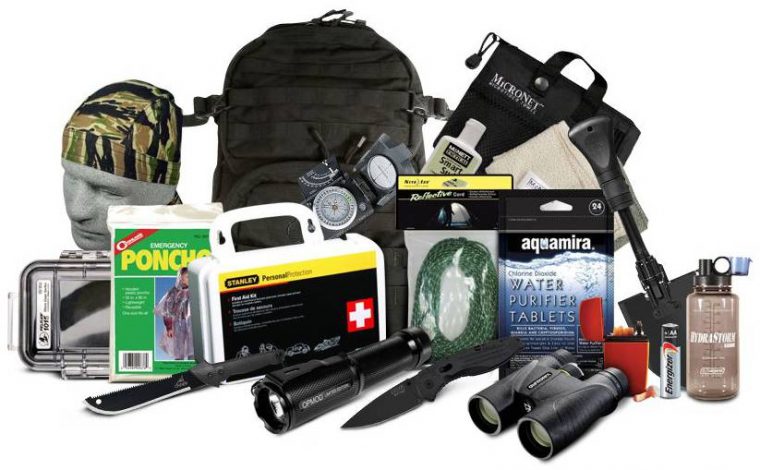 Survival Bag vs Bug Out Bag
Whilst there is a fair amount of overlap and indeed your bug out bag should contain many of the same types of items as that found in your long-term survival bag there are some important differences. This is mainly due to the fact that a bug out bag is essentially designed for rapid evacuation purposes and not long-term survival.
Likewise, there are also a few subtle differences between a good Bug Out bag and the more lightweight get home bag and this includes which binoculars you should store within each of them.
The most important point to stress is that a Bug OUT bag needs to be 100% ready to go with you at any time, day or night as soon as the SHTF. There is no point in having a half-prepared bag that you have to spend vital moments filling it up with everything you may need by emptying other bags or rummaging through your stores.
Not only does this wast time, but in a panic or stressful situation, the chances that you will forget something that may be vitally important will be high.
The whole purpose is that when you need to leave somewhere immediately, you don't have to think as you can be sure that your Bug Out bag will have EVERYTHING you need to survive for a few days in just one bag.
Why Binoculars?
From food to water, protective clothing to temporary shelter, there are some excellent resources on the web written by experienced survival and prepper experts that go through most of the items you need in your Bug Out Bag, so I won't repeat them here, but what I have found is that almost without fail, all of them agree that you need a pair of binoculars and here is why:
In an evacuation, Binoculars enable you to:
Scout ahead from a safe distance for people, dangerous situations or ambushes.
Scan potential routes or possible camping spots without having to go there, saving you time and energy
Monitor your surroundings for danger or opportunities, can be very important if you are camped or hunkered down for the night
Gather information: on people, game animals, and even supplies in your area
Which Binoculars?
Whilst almost all good prepper and survival resources recommend keeping binoculars in your bug out bag, most don't go into detail as to which type of binoculars to use or many of the ones that do are not experts in this particular area and so I feel that the advice they give is often unsatisfactory or misleading.
Indeed if we take a look at many of the pre-selected Bug Out Bag Kits available on the market (see image right) on websites like Amazon and Optics planet, they either don't contain binoculars or when they do, often include a full-sized 8x42 or 10x42 binocular, which I feel just takes up too much valuable space and not lightweight enough.
So I am going to look at it from my point of view as someone who knows at least a little about optics and explore what exactly what makes an ideal instrument and then finally recommend to you a few of the Best Bug Out Bag Binoculars that I have tested:
Size & Weight
As your bug out bag is primarily designed to be as portable and easy to carry as possible, yet also needs to contain a fairly large amount of food and gear, it goes without saying that everything within it should be as small and lightweight as possible.
So even though there is no doubt that a full-sized pair of binoculars will have a superior optical performance and a better capability in low light, in this situation, the most important characteristic should be its portability and thus I would suggest either a full compact or if you have space, personally I would try and get a smaller mid-sized binocular because it will have the advantage in that it will extend its usefulness into lower light conditions and thus for some, it may even negate the need for including a night vision device in your bag and thus save space (and money).
Thus I would be looking at binoculars with objectives of between 26mm and 34mm.
Magnification
Here I would suggest the ideal power to be either 8x or 10x. Some may be tempted to higher, but as we are already using relatively small objective lenses, it is vitally important to maintain a reasonable size exit-pupil as this will ensure that you have at least a reasonably good low light performance. Think of it this way: In a survival situation, there is little point in carrying about a very high powered binocular that only works well in ideal light situations.
Price
It is important to spend enough to ensure that the binocular you get is of good quality, will last and most importantly incorporate reasonably good quality glass and coatings, but as always, my general advice is always to only spend as much as you can afford to easily replace.
It is also worth keeping in mind that the binoculars you do get should permanently live in your Bug Out Bag and should never really be used… until the day comes (hopefully never) when the SHTF and you actually need to evacuate in a rush.
Doing this will ensure that your binocular and all the other gear you buy will still there when needed and not accidentally left back at base/home because you forgot to return it after using them for birding on the back porch during good times a few months ago!
So because of this, I personally would not spend too much on my Bug Out Bag binoculars, save that for your main pair and rather focus on getting something like a good entry to mid-range instrument that offers good value for money.
Recommended Bug Out Bag Binoculars
From all the instruments that I have fully tested and reviewed, below are what I feel make the best binoculars for bug out bags:
Mid-Sized Binoculars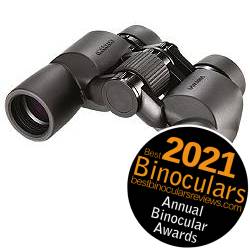 Currently retailing for around $130 / £100, these mid-size, low power (6x) Opticron binoculars offer a far higher level of performance than their price tag suggests, which along with their small form factor makes them an excellent choice in my opinion.
The combination of fully multi-coated optics and lossless Porro prisms mean that for the price you not only get a good overall image quality, but they also perform remarkably well in low light for a mid-size instrument which in a survival situation can be crucial.
This low light performance is thanks in part to the 6x magnification which in combination with the 30mm objective lenses deliver a very respectable 5mm exit-pupil, which is only just less than the 5.25mm you get from an 8x42!
Whilst you don't get quite the level of detail as higher powered instruments and so these may not be ideal at long ranges, in return you get a much wider field of view, which enables easier and faster scanning of terrain and spotting movement and thus will be a excellent in urban situations as well as forests etc.
For more, be sure to check out my full Opticron Savanna WP 6x30 Binoculars Review.
Where to Buy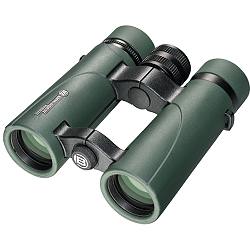 Highly commended and one of the best lower-cost, mid-size, Safari & Travel Binoculars of 2020, you could do a whole lot worse than choosing these Bresser Pirsch 8x34 Binoculars to pack away and keep in your Bug Out Bag.
Highlights include fully multi-coated optics, phase-corrected BaK-4 roof prisms, long eye-relief and a wide field of view.
Also impressive is that Bresser has managed to produce a very lightweight and instrument despite using slightly larger 34mm objective lenses, this is mostly down to the open bridge design and use of lightweight materials, but results in a slightly larger exit-pupil and thus an improvement in low light performance.
Where to Buy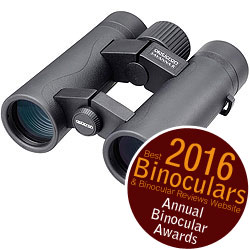 Winner of the award for Best Low-Cost Binocular back in 2016/17, these Opticron binoculars are even better value for money today.
Like the Bresser above, for a bug out bag, I really like the lightweight open-bridge body design and whilst not super important, the quality of included accessories you get with this instrument is way above that which you normally receive at this level and so to me it really does show what is possible in this price range.
Cost & Where to Buy
With a current price tag of about $130 / £120 I think these offer a really good balance between quality, performance, and price and as such an excellent choice for a bug out bag:
Buy & Compare Prices: Opticron Savanna 8x33 Binoculars
High-End Options
This is not for everyone, but below are some ideas if you would like to spend a little more money to ensure that you get a better overall performance and build quality: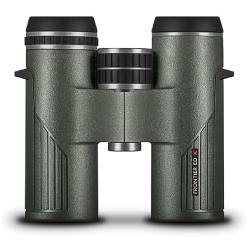 As I knew that I was going on Safari this year, I made sure that I tested as many mid-sized binoculars as I could and whilst there were several contenders (including those above), these Hawke Frontier ED X 8x32 binoculars were the pick of the bunch, and certainly one of the Best Binoculars of 2020 overall and a worthy winner as Best Safari & Travel Binocular.
Achieving a truly outstanding total BBR score of 85%, they managed to score an almost perfect 9/10 for image quality, optical stats, and optical components and an 8/10 for everything else!
Highlights include a full magnesium chassis that is both robust and lightweight, excellent quality fully multi-coated optical system with ED glass elements in the lenses and they not only produce a bright, superior quality image, but also a very wide field of view making it easier for you to find and follow fast-moving wildlife and birds.
Price & Where to Buy
If you take into account the very high level of components and the resulting performance, then their current retail price of around $380 / £380 makes these incredibly good value for money especially for everyday use, but for an instrument you are hopefully never going to use, it may be a little pricey. However, I have included it for those who have a larger budget and want a higher-end binocular for their bug out bag:
Buy & Compare Prices: Hawke Frontier ED X Binoculars
More Recommendations
Listed above are just select few and my top recommendations for mid-sized binoculars ideal for a bug out bag.
For more ideas and for instruments within your particular price range, be sure to check out and compare side-by-side all the mid-sized binoculars I have reviewed on BBR.
Compact Binoculars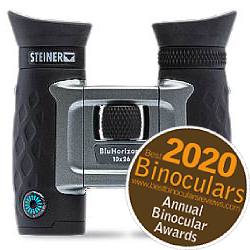 Winner of the award for the Best Compact Binoculars 2020 Steiner BluHorizons are able to adapt to changing light conditions and reduce glare, these Steiner binoculars also feature roof prisms with a double hinge body design allowing them to fold up into an extremely compact when not in use and thus an ideal addition to those with little space left in their bug out bag.
I tested them on safari in South Africa and found that they performed extremely well: This is reflected in the excellent BBR score of 78% which includes a 9/10 for their body stats and 8/10's for their build quality, optical components, and optical stats.
If you also consider their relatively low price point, this score is seriously impressive and makes them one of the highest-scoring compacts that I have ever tested.
Where to Buy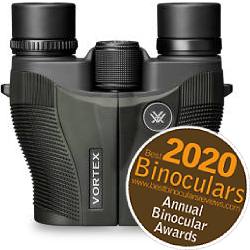 So whilst these may not quite reach the level of the higher-end, more expensive instruments above, if you are after a small, very low-cost binocular that punches well above its size and price tag, then I would highly recommend these Vortex Vanquish 10x26 binoculars.
Winner of the award for the Best Low-Cost Binocular 2020, when it comes to low weight, bang for your buck, value for money then there are not many compacts that come near.
Vortex Optics is well known and respected within the survivalist / prepping and outdoor sporting community and was one of the reasons why I purchased the 10x26 Vortex Vanquish as I wanted to see just how well a small 26mm compact binocular costing under $100 / £ / € could perform and I have to say that these reverse Porro prism compacts were a real revelation to me. For more: Best Hiking Binoculars under $100
So if you don't mind a slightly larger shape than the double hinge compacts and if you are on a tight budget and are looking for a sub $100 compact binocular for your get home or bug out bag then I highly suggest taking a close look at the Vortex Vanquish.
Where to Buy
Buy & Compare Prices: Vortex Vanquish Binoculars
More Recommendations
The compact binoculars above are just a couple of my top recommendations for your bug out bag binoculars, be sure to check out and compare side-by-side all the compact binoculars I have reviewed on BBR.
Further Reading