This weeks question was sent into me from someone wondering about extra-low dispersion (ED) glass (or the lack of it) on compact & pocket binoculars:
Question:
I have learned most of what I know about binoculars from your website, now I am curious about a thing I have noted about ED lenses. They seem to be less used in compact binoculars compared to normal sized bins. That goes for the expensive brands too. Why is that?
Answer
Great question! To be absolutely honest, I am not 100% sure but think the fact that there aren't many compacts with ED glass elements in their lenses is probably down to a couple of factors:
Why use ED Glass
Keeping in mind that ED means that the glass has extra-low dispersion properties and the aim of using ED Glass elements in the lenses of your binoculars is to use these properties to better direct the wavelengths of light to reduce the amount of a distortion known as chromatic aberration. This distortion is seen as color fringing in the final image and thus ED lens elements can help the lens designer to improve the color correction of a lens. (For more on why, please read my complete guide to ED Glass in binoculars).
Not All Lenses are Equal
However not all lenses show the same amount of color error, because aperture plays a large role in this regard: I have read that a large 80mm lens on a telescope will show only half the amount of color error to that of an identically designed and even larger 160mm lens.
So if you relate this to binoculars, the amount of color error in a standard 42mm binocular is already a lot less than that of much larger lenses. Thus I assume color error is very small and much less than that of a full sized binocular in the relatively tiny lenses on compact binoculars.
Thus the costs involved in adding ED lens elements to a compact does not warrant the amount of improvement that they can potentially make to the already small amount of color fringing. Remember there are some high dispersion and much cheaper glasses that can still produce excellent color corrections.
So it is for this reason, that for the most part we currently only see a few top end compacts using ED Glass in their lenses:
Compact Binoculars with ED Glass
Whilst there may not be many ED compacts, there are a few really good ones and below are some of the best: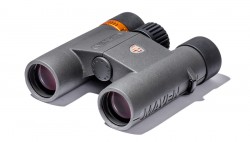 New to the market and probably the highest specification compact on this page are the series of Maven C.2 Compact binoculars.
Like the others on this page, these have ED glass, fully multi-coated optics, but as well as having phase corrected prisms, these Mavens have the very best dielectric coatings on them for maximum reflectivity and thus improved performance.
On top of this these Maven C.2 Compacts also have protective coatings added to the exterior lenses.
Currently Maven Optics supply these in two configurations, the 7x28 with it's super wide field of view and large exit pupil for great low light performance and the 10x28 for those who's main requirement is to get closer to the action.
More Information: New compact Maven C.2 Binoculars
Cost:
Considering their very high quality features, their relatively low RRP of only $200 looks to make these excellent value for money compact ED glass binoculars:


Bushnell Legend Ultra HD 10x25 Compacts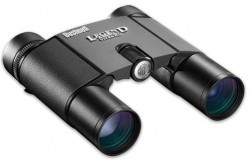 These beautiful looking compact Bushnell binoculars use their top spec or "prime" extra-low dispersion fluorite glass that Bushnell says almost completely eliminates chromatic aberration for an image free of color-fringing.
This is complimented with other high end features including fully multi-coated optics using an ultra wide band anti-reflection coating and a water repellent coating on the outer lens surfaces. The BaK-4 roof prisms are phase coated and the whole optical system is enclosed in a water and fogproof body.
The body itself uses a duel hinge design which enables them to be folded up into a much more compact shape and size when not in use, meaning that you can easily sore them in your pocket.
>> Compare Prices & Buy Bushnell Legend Ultra HD 10x25 Compact Bins
Hawke Sapphire ED Compacts
As well as ED glass, the Sapphire ED Compact binoculars from Hawke have a fully multi-coated optical system and use Bak-4 phase corrected roof prisms.
Available in 8x25 and 10x25 configurations and like the Bushnell's above, I really love their classic duel hinge design that enables them to be folded up into a tiny package when not in use, making them a true pocket binocular.


>> Compare Prices & Buy Hawke Sapphire ED Compact Binoculars
For more take a look at the following:
I hope that at least some of these article is useful and if anyone else knows exactly, or just has a theory as to why we don't currently find more ED Compacts, I would love to hear from you (please just use the comments section below).
Optics Question?
If you have an optics or binocular related question that you would like to ask, I would love to do my best and try and answer it for you: ask here.