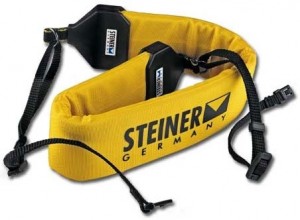 I think something that is often overlooked when people buy a marine binocular is what happens if your optics fall overboard? Waterproofing is one thing, but if you are in deep water and they don't float, it could be the last time you ever see them.
There are a few marine binoculars that float, but most don't – what is more common and can be used on all binoculars and other equipment like cameras and even keys is to have a floating strap that will keep them from sinking.
A few marine optics like the Vanguard Mariner Binoculars come with a floating neck strap, but many don't so you will have to choose your own as an accessory. So to help, in this article I take a look at a few of the best floating binocular straps on the market:
---
Steiner Marine Binocular Float Strap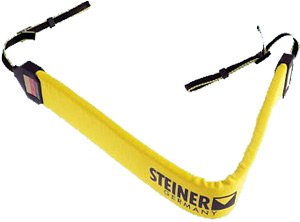 Steiner make one of the best floating straps on the market and has been designed to float all Steiner's marine binoculars as well as most others. The padding is comfortable around your neck and shoulders and is bright yellow for enhanced visibility both in and out of the water.
The same binocular strap comes with two different ends so make sue you get the one that is right for your binoculars:
769 – Steiner Clic-Loc Float strap fits on Steiner's Commander V, Commander XP and Nighthunter XP binoculars
768 – Steiner Yellow Binocular Float Strap – Is the same strap but comes with universal loop ends and should fit most binoculars as well as other equipment.
Where to Buy Steiner Floating Neckstraps
---
Nikon Marine Grade Floating Neckstrap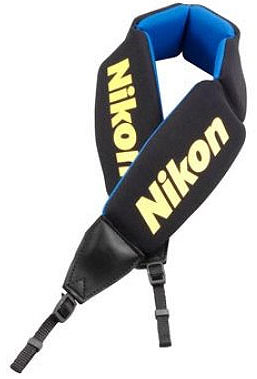 This floating Nikon binocular strap was designed for Nikon optics in mind, but will work equally well with other makes, so long as you don't mind the large logo printed on them!
It has been very well made with a neoprene exterior, that I think has a foam filling to make it float. The strap is wide and very well padded and has been split into sections making it very comfortable to wear around the neck even with a heavy pair of binoculars attached.
Where to Buy the Nikon Floating Neckstrap
---
Unbranded Floating Neck straps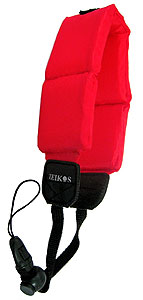 If you don't wish to have either the Steiner or Nikon logo proudly displayed on your strap, there are a few options, a few have been designed with binoculars in mind, but most of which are sold as a camera floating strap, but will work fine on your binoculars. The good news is that most are also cheaper than the two "branded" ones above.
Names to look out for are the Zeikos ZE-FS10 Floating Straps that come in either bright orange or red or the Vero Vellini Binocular Float Strap, that is manufactured in Germany and is specifically designed for binoculars and floats all major manufactures 7x50 or smaller binoculars.
Cost & Where to Buy Floating Neck Straps