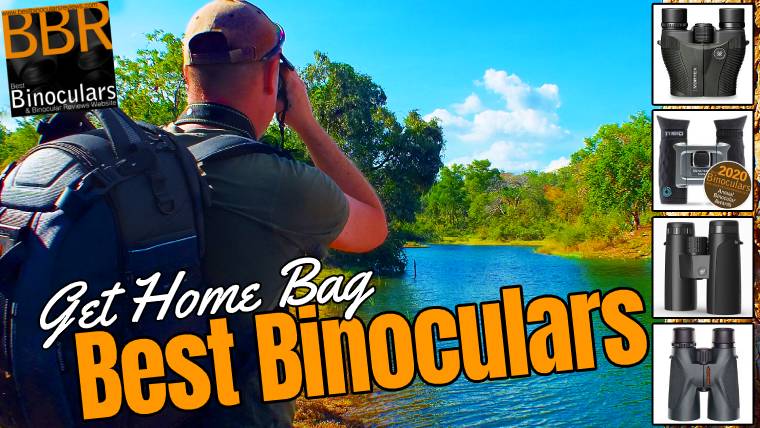 Survival & Prepping Binoculars: Best Binoculars for Get Home Bags
In this guide we will take a look at the Best Binoculars for Get Home Bags, why they are different from Bug Out Bag Binoculars & Which Binoculars are Best for the Survivalist or Prepper
What is a Get Home Bag?
Bug-Out Bag != Get Home Bag
Whilst at first a get home bag may seem to be the same thing as the probably more well known bug-out bag, but when you think about the slight differences in their respective uses and requirements, there will be a few small differences:
Used in evacuation purposes when you need to get out quickly, most experts suggest that your bug-out bag has supplies for about 72 of survival, whilst during day-to-day life, most of us will be no further than 24 hours from home and if you are on a longer-distance trip then you should have your survival bag with you rather than your simpler get home bag.
And that is exactly what a get home bag is: a simple, lightweight, very easy to carry and very portable bag filled with the bare essentials that most preppers will usually keep somewhere in their car, for use when the unexpected happens whilst you are at work, commuting to work, shopping or just going about normal daily life, but not at home.
As well as binoculars, some other common items kept in a get home bag include water, food, simple medical kit, multi-tool, mechanical tools for cars, tire filler to fix a flat tire, some simple type of shelter, maybe a small night vision device, and perhaps some sort of protection like a pepper spray or maybe a gun for those who are registered to carry one.
Why Binoculars?
Binoculars are one of the most important pieces of gear for any survivalist or prepper and will they will prove valuable on a daily basis be that when you are hunkered down in your base or out scouting the surrounding areas.
Likewise, when making your way home immediately after the SHTF, a pair of Get Home Bag Binoculars will be invaluable. Indeed Military Scouts use them on scouting and recon missions, so why wouldn't you?
For example, if you are walking down a road trying to get home and you spot a large group of people a few blocks away.
What should do you do?
Keep walking toward them until you can clearly see what they're doing and if they are friend or foes?
Remain out of sight and try to sneak around them?
I would take out my pair of binoculars from my get home bag, scout the group from a distance to get a better idea of what's happening before making my decision.
Binoculars will enable you to:
Scout the path ahead for people, dangerous situations or ambushes.
Scan for better routes or possible camp spots before you get there, saving you time and energy
Monitor your surroundings if you need to camp or hunkered down for the night
Gather recon be that on people, game animals, and even supplies in your area
Which Type of Binocular?
Size & Weight
Different to the main instrument(s) that you keep at home (or your base), the binoculars that you store in your get home bag should first and foremost be small and lightweight.
Remember, the whole purpose of a get home bag is to make your initial trip back to the safety of your home and family as easy and painless as possible.
So whilst a larger pair of binoculars will certainly offer a better optical performance and improved capabilities in low light, I think here the focus should be on portability and thus I would suggest a compact binocular and at very most a mid-sized instrument, but only if you have the extra space to carry it.
Price
Personally I would not spend too much. Sure we need a reasonably good quality instrument to be certain of a reasonably good performance, but remember this bag will be kept in places like your car, so don't get anything that you can't afford to easily replace.
Magnification
Here I would suggest a maximum of 10x. Sure it may be tempting to go higher, but as we already have a compact with small objective lenses, you want to maintain a reasonable size of exit-pupil so that the performance in low light is at least half-decent. There is no point in having a very high powered binocular that you can't see anything with!
Recommended Get Home Bag Binoculars
Further Reading