This BinoWizard question below is from Nancy who is after a low costing versatile travel binoculars that will perform in a wide range of scenarios: whale watching, cruise ships, safaris, kayaking and wildlife observation:
Answer
Hi Nancy, thanks very much for sending in your question. It looks like you have already carried out a good deal of research on the landofthetraveler.com and the two options that your are interested in both look great to me, so hopefully I can offer you some more advice that is useful and thus aid you in making your choice.
Mid-Sized vs Compact Binoculars for Travel
As with most things in life and for certain in the world of optics, there is always a need to compromise: A really small compact binocular (objective lenses of 28mm or less) will be easier to pack away and that travel with, but for that convenience you pay for it in terms of reduced performance as the smaller lenses just simply cant capture as much light as larger ones.
Thus it is generally my advice to travel with the largest binocular that you can pack and carry comfortably (within reason!). So for some who need to travel very lightly, backpackers or hikers for example, a good compact will most certainly be the way to go.
However for most travelers, a great compromise is a mid sized instrument (usually with objectives of between 30mm and 34mm) as you are likely to get a better performance than most compacts and only fractionally less capable than a full sized 42mm binocular. At the same time you also get a device that is at a size and weight that for most people will easily fit in with their luggage.
So I think you are spot on by considering the two mid sized (32mm) binoculars that you mentioned above and I will thus focus my advice around this area.
8x Magnification
I also notice that with the two binoculars that you are interested in, you have opted for the 8x versions, which I think is also a great choice. Whilst you may have been tempted to go for a higher power, especially for the whale watching, where distance to them I assume will be reasonably far, the fact that you will use your bins whilst kayaking (and to a lesser extent on cruise ships) means that you will sometimes be using your bins on an unstable surface. Here is is even more important than ever to have a binocular that makes it as easy as possible to keep the image as steady as possible.
I have had great success in the past with the Swarovski CL Companion 8x30 Binoculars which are up there with my all time favorite binocular to take fishing and on safaris (see image below) and whilst these high end optics are not in your price range, the configuration is very similar and thus I can highly recommend the concept based on very similar real world experiences.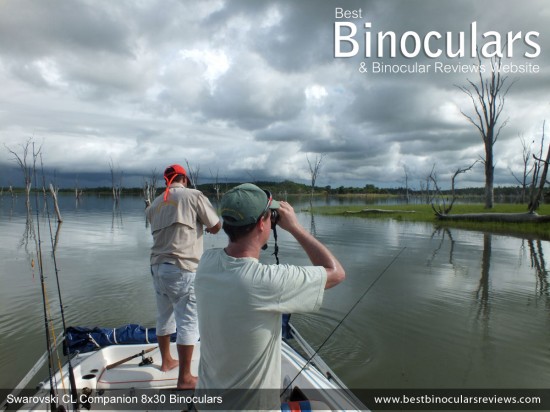 Binocular Comparisons
Ok, so now we have the a type of binocular that we are after pretty much established, when choosing between different binoculars I always find it very useful to create a comparison table containing a selection of relevant instruments that I find makes it easier to compare their relative strengths and weaknesses. Please note that this table also contains binoculars that I am not suggesting for you, but are put here to emphasise certain features or specifications and to illustrate what you might expect to find at different price points etc:
highlighted in green are the features or specifications that are of a particular strength, whilst highlighted in red are perhaps weaker aspects when compared to the others on the list. Note: this does not mean that this is bad, only that in this area which they don't quite match the best.
My Recommendations:
Taking a look at all the suitable, all round travel friendly mid-sized binoculars that I have tested and reviewed over the last few years, I am going to totally agree with you here: Both the Celestron TrailSeeker and the Hawke Endurance ED's do look like the best options of the bins I have used and tested in the past. and I really can't come up with anything better for you at this price level. Indeed the only other binocular that comes close is the Celestron Granite 9x33, but that is just out of reach in terms of your budget.
The problem is which to choose as I am 100% sure that either will cover all your requirements, so a lot will come down to minor details and your personal preferences relating to these. The good news here is I really don't feel there is a wrong choice:
I do hope that at least some of my advice and observations above have been of help. As I say, in my opinion either option will be great and so you simply need to decide if you prefer the slighter wider view and more lightweight Celestron, or the Hawke with it's slightly higher specification components.
Please let me know which binoculars you do eventually settle on and I would love to know just how you get on with them during your holiday.
Further Reading & Related Content