I get a number of questions relating to people wanting advice on a spotting scope for both terrestrial uses in the day, as well as for stargazing at night. Whilst this is possible, it is important to remember just as a telescope that is specifically designed to look at the heavens at night will never perform as well as a spotting scope for daytime use, a scope will never perform as well as a specially designed telescope at night. So when deciding on what type of device to get always consider your main use for them and choose accordingly:
The first question below is from a reader looking to get their first spotting scope. Their main interests are wildlife and basic astronomy and have a budget of between $350 / £300 and $550 / £500:
Question 1:
I'm looking to buy my first scope manly for wildlife spotting and star gazing.
I was thinking about something like 20-60x80 for under £300 (approx $350), but also consider something up to £500 (approx $550), but like I say you have so much info and me being a newbie to this I can't work out what would be the best scope for my money.
Can you recommend a scope or narrow it down for me please.. any help or recommendations would be greatly appreciated.
The next question is actually very similar and is why I have included it within the same page:
Question 2:
I've recently moved in to a place with a great long range view. You also get the moon and whatever stars it's possible to see all night and I was wondering if you suggest a spotting scope that might be able to let you gaze over land but also look up at the stars.
Also and I know this is a bit of a silly one but something that looks good preferably in black.
Any help would be greatly appreciated.
Answer
Many thanks for your questions. I think that it is one that may be of interest to other readers here on BSSR, so I have decided to publish my answers to you on the website:
Spotting Scopes for Astronomy?
Whilst a spotting scope is specifically designed for terrestrial use, it's design is basically that of a refractor telescope and so in many ways, there is no reason why a spotting scope can't be effectively used for stargazing and basic astronomy, allowing you to view open clusters, planets like Saturn, Jupiter and its Galilean moons as well as objects like Albireo, Mizar, the Pleiades as well as get some fantastic views of the moon.
However having said that there are a number of differences and considerations to keep in mind:
Eyepiece Angles

Most astronomy telescopes come with an eyepiece that is set at and angle and this is often at 90° to the barrel. This is because it gives you as the user a very comfortable viewing angle. Spotting Scopes on the other hand usually have a straight through design or one that is angled at 45° because they are designed for mostly looking downwards, level and at shallower angles up into the sky.
Pointing a telescope or indeed a spotting scope with a straight through eyepiece design high into the sky can be very awkward and even uncomfortable and you will almost certainly need a tall tripod, or place yourself lower to the ground to make it more comfortable.
So firstly my advice is if you look towards the sky fairly often, then I would opt for a spotting scope that has a 45° viewing angle, which will be better but may still not be quite as comfortable as telescope with a 90° viewing angle when viewing stars right above you.
For more on the advantages and disadvantages of each, take a look at my article on Straight Through vs Angled Spotting Scopes.
Objective Lens Size / Aperture
In general, the larger the aperture (objective lens diameter), the more light your scope will capture. During the day and in good light this is not as critical as it is in poor light and at night.
In my experience and through the research that I have done, you want a scope with at least 65mm but preferably with 70mm diameter objective lenses or if possible even larger for effective astronomical uses. So your intention of getting a 20-60x80mm scope is in my opinion a good choice.
Price & Image Quality
I would say that if your budget is under $350 / £300 you will usually get better quality optics on a telescope. This is because they tend to focus more on this area than the rest of the device as optical clarity is so important when looking at the night sky, whilst manufacturers of terrestrial spotting scopes also have to ensure that the outer body is lightweight, tough and waterproof which eats up some of the available budget.
At around $550 / £500 you can get scopes with much higher quality optics and ones that have better quality coatings and that use high quality glass to make the prisms and have features like extra low dispersion glass to ensure that they produce a brighter image that is of a better quality, especially noticeable will be the reduction in color fringing around the edges of objects caused by chromatic aberrations.
Body Size & Weight
One of the advantages of a spotting scope over many telescopes is that they tend to be lighter, more compact and tougher as they are designed to handle bad weather conditions out in the field. So if you want a travel scope for occasionally viewing the heavens, then a spotting scope can be the preferred option.
Conclusion
If astronomy is your main intended use, then I would definitely opt for a telescope. However if you mainly want to view birds and larger wildlife and also occasionally take a look at the heavens, then there is no reason why your spotting scope will not give you everything you need and more.
What you get for your budget
Within your max budget of $550 / £500 you can get some really good spotting scopes that will take you far beyond the entry level options and you will get a very good quality device that utilizes many high end components and features.
This should include a fully waterproof body made from a lightweight and tough material like magnesium, removable and interchangeable eye-pieces the use of ED glass, fully multi-coated optics and phase correction coatings on high quality prisms.
This in my opinion will ensure that you will be very happy with it for many years to come, no matter what level you progress to.
If however you opt for a lower cost scope (under $350 / £300) then you will probably get a scope with lesser quality optics and it will probably have an eyepiece that cant be removed. So whilst you may be happy with it in the short term, this may niggle you should you get into optics more seriously.
However having said that, should you only want your scope for occasional use then this could still be the right way to go for you.
Recommended Spotting Scopes under $550 / £500
Below are the spotting scopes within your price range that I have fully tested and which I can recommend.
I have also included a few options of scopes that I have not tested, but to me look to be a good option for you and your needs:
Winner of my award for the Best Spotting Scope of 2013, the Endeavor HD has recently come down in price meaning that is now just within budget (in the US), which in my opinion makes it one of the best value higher end spotting scope currently on the market.
It has only been available for a short time in the UK and so at the time of writing it is still a little over your max budget. In which case I would take a look at the older Vanguard Endeavor 82A or the Endeavor XF. Whilst these lack the ED glass, they are still high quality scopes that should meet your requirements.
Main Features
Large 82mm Objective Lenses
20-60x Interchangeable Eyepiece
100% Fog and Waterproof
Dual Focus Wheel for Fine and Coarse adjustments
Extra-low Dispersion Glass (ED) elements
Fully Multi-coated Lenses
Phase Coated BAK Prisms
Price Range & Where to Buy
With an original price of around $860 these can now be found for around $530 in the US, in the UK they at the time of writing are about £650. However the Vanguard Endeavor XF 80A costs about £370 and the Vanguard Endeavor 82A without ED glass is about £450:
Celestron are best known for their astronomy telescopes, but their very high quality series of Regal F-ED Spotting scopes have impressed many, including myself.
Whilst I reviewed the very large 100mm Regal F-ED, that offers an incredibly bright image making it ideal for astro use as well, it is a little over budget.
However Celestron also make the Regal with smaller 80mm and 65mm objective lenses that are cheaper and bring them within budget and I would highly recommend as they are truly excellent.
Main Features
Available with 100, 80 or 65mm Objective Lenses
100% Fog and Waterproof
Dual Focus Wheels
Extra-low Dispersion Glass (ED) elements
Fully Multi-coated Lenses
Phase Coated BAK Prisms
Price Range
The Celestron Regal 100 F-ED costs around $900 / £680, whilst the 80mm version costs around $680 / £550 and the 65mm Regal is available for about $500 / £320 and would be the one which I would highly recommend.
Cheap Spotting Scopes for Astro and Terrestrial use:
Even though it only has a price tag of only $220 / £200 and even though it does not quite match a top end and very expensive instrument, I was impressed with both the quality of the exterior as well as the internal optics on this Levenhuk scope.
What is more, the fact that it has fully multi-coated optics (multiple coatings on ALL glass surfaces) and a very large 90mm objective lens, it means that not only does this scope collect more light than smaller instruments, but more will get transmitted to your eyes than those with fewer coatings on only some of the glass surfaces.
Added to this the more powerful and included 30x-90x zoom eye-piece may also appeal to stargazers looking for a little further reach.
One last thing that may interest you is the fact that it comes with an included table-top tripod, which I thought was of a good standard and if positioned on a fairly low table, combined with the angle of the eye-piece can make for quite a comfortable position to look up towards the heavens.
Main Features
Large 90mm Objective Lens
Water & Fog Proof
Fully Multi-coated Lenses
BaK-4 Roof Prism
Supplied 30-90x Eyepiece
Price Range
As mentioned earlier at the time of writing, the Levenhuk Blaze 30-90x90 scope costs around $220 / £200, which I think makes for excellent value for money:
More Options
Below are some scopes that I have not reviewed, but to me look like a good option within your budget and definitely worth placing on your shortlist: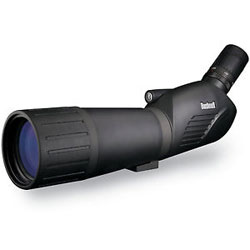 Whilst I have not had the chance to test the spotting scope, I have used the Bushnell Legend Ultra HD binoculars, which were excellent.
The Legend Ultra HD Spotting Scope matches many of the optical components and coatings as that of many scopes much more expensive than these and as such I really do think they are worth considering.
Main Features
80mm Objective Lenses
2-speed dual focus wheels
ED prime extra-low dispersion glass
RainGuard HD water-repellent lens coating
Fully Multi-coated Lenses
BAK Prisms
Price Range
With an RRP of of over $830, they are now available in the US for around $450 and as such these Bushnell Spotting Scopes offer American shoppers excellent value for money. In the UK they are currently available from about £580 with the 50mm version for just under £500 – Check Amazon for latest prices – link below:
The range of Nikon Fieldscopes is excellent and whilst their flagship EDG fieldscopes are above your budget, their second tier ED fieldscopes are just within range and still contain many of the high end features of the EDG:
Main Features
85mm, 82mm, 60mm or 50mm Objective Lenses (choose the larger ones if you want better results at night)
ED (Extra-low Dispersion) objective lens
Water & Fogproof
Fully multilayer-coated lenses
Compatible with 9 different eyepieces
Price Range
In the US, the Nikon ED50-A Angled FieldScope costs about $430 and in the UK it currently costs around £330, which I think offers great value for money for this compact and lightweight scope. However the smaller 50mm objective may put you off if astronomy is really important to you. Other size models are available from around $600 / £700 – Check Amazon and other online retailers for latest prices – link below: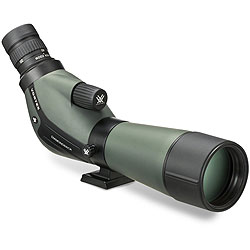 Not readily available in the UK, however for US shoppers, the Vortex Diamondback looks to be one of the best mid range spotting scopes about.
Available with either 60mm or large 80mm objective lenses (which is what you should go for if you intend to also look at the stars) they come in either a straight through or 45° angled eyepieces with a 20 – 60x magnification.
Main Features
60mm or 80mm Objective Lenses
Water & Fogproof
Vortex Proprietary XR Anti-Reflective coatings
Price Range
As I mentioned, I have not yet seen these in the UK, but in the US, the 60mm Vortex Diamondback Spotting Scope costs approx $400 and the 80mm version now costs around $500 – Check Amazon and other online retailers for current prices – link below:
I hope that I have been able to adequately answer your question. If not, please feel free to get hold of me again. It would also be great to hear which scope you do decide to opt for and to get some feedback on how well you get on with it.
Further Reading:
Need Some Scope Advice?
If you have any questions regarding a spotting scope or indeed anything on optics that I have not covered on this website, I would love to try and help. Send me your question here.