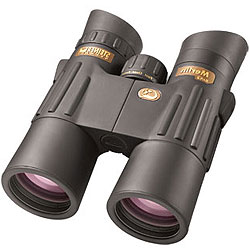 If you are looking for an excellent pair of birding binoculars as well as a good nature and wildlife viewing binocular, you will not go far wrong with a set of Steiner 8x42 Merlin Binoculars.
The range of Steiner Merlin binoculars were designed with help from experts from the American Birding Association as well as Steiner Optics' championship birding team and include important bird watching features like a lightweight body, an excellent 342 feet at 1,000 yards field of view important for not loosing fast moving birds. A large 42mm objective lens giving you an very good exit pupil rating of 5.3 (meaning that they will let in loads of light even in poorly lighted areas like woods and forests.) They are waterproof and have a rugged tough body that is both comfortable and long lasting and come in a brown colour that has been specially designed to be the least noticeable to birds, so as not to frighten skittish species away with a sudden flash of colour.
So for these and many other features that you come to expect from quality Steiner optics, I believe that the 8x42 Merlin Binoculars from Steiner make excellent bird watching binoculars as well as fantastic binoculars for Safaris.
Check out my full review of the Steiner 8x42 Merlin Binoculars including where to buy and price comparison details for these excellent mid priced binoculars from Steiner.