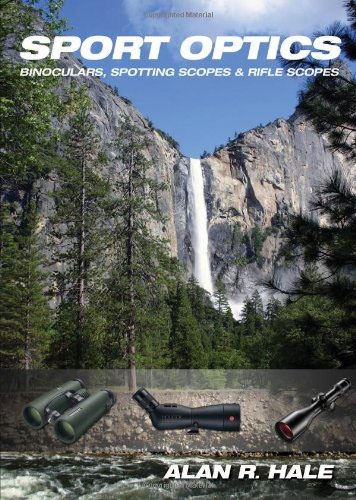 A short while back I was contacted by a Mr. Alan R. Hale who said that he was currently writing a book on Sport Optics and he wanted firstly to know if he could use some of the images I have on BBR and secondly if I could take a look at a draft copy. The reason being, he wanted me to see if I could find any errors or things that could be improved or indeed make a note of what I thought should be added.
Alan also said that he did not mind criticism as he wanted to give the consumer all the information they need in an honest way.
Considering Alan's vast personal knowledge of optics (see About Alan below) and because of his experience of once being the head of Celestron, I must admit to being somewhat taken aback and flattered that he would ask me for my advice.
Anyway to be honest Alan really did not need my help, I read through the draft copy and then once again took a look at the printed version and below are my thoughts and opinions.
Sport Optics – Binoculars, Spotting Scopes & Riflescopes
Contents
The scope of the book is pretty comprehensive and covers all the basics on optics and indeed way more. From describing what binoculars, spotting scopes and rifle scopes are, the basic differences between them, to going over all the main details to look out for in each one like the different optical systems, eyepieces, eye-relief, the exit pupil, brightness and light transmission.
Main chapters include topics like How to Choose Sport Optics, What a Binocular & Spotting Scope can be used for, How to Expand your usage, Main criteria to look out for when choosing optics, Where to buy, maintenance, cleaning and repair and a whole lot more.
The book contains many color photographs that bring the book to life and there are many diagrams that help to illustrate and explain specific concepts.
Who's the book aimed at
The overall subject matter will appeal and indeed be of great use to anyone who has an interest in nature, hunting, astronomy and especially birding and who are looking to purchase binoculars, spotting scopes or rifle scopes.
As well as this I feel there will be many in the sales and marketing departments of optical products that will benefit from owning a copy of "Sport Optics.
Sections of the book that go over things like what a binocular, spotting scope and rifle scope are and what they can be used for are obviously aimed at the complete novice, but there are also many chapters that will be of interest to those looking to upgrade and who want to be more informed as they go about making their decision on what set of optics they should get next.
What I like very much and is indeed what I try to do here on BBR, is that Alan goes over what can be very technical subjects like "light transmission" and "parallax" in such a well written way that it makes it as simple as possible to understand the concepts. In this way it makes it far easier, especially for a beginner to know what is best for their exact needs when choosing or deciding between different instruments, without having to become an optics guru.
Also refreshing is the way that Alan shares what is undoubtably his vast knowledge, but steers clear of and indeed actually points out much of the marketing hype and the sensationalism that most manufactures use to promote products. Once again this helps you to make the right choices when choosing your optics based on your particular needs and budget.
Price & Where to Buy
Amazon in the US currently has the paperback version listed as new for around $22, but also lists a number of used copies for less. In the UK, Amazon is also probably the best place to source the book:
About the Author: Alan R. Hale
Currently living in California and owner of a 1957 Chevrolet, Alan R.Hale is also the Chairman Emeritus of Celestron.
In the past, Alan was was a minority owner as well as the President, C.E.O., and Chairman of Celestron for many years where he played a large part in the company becoming one of the largest and leading optical brands.
Alan has B.S. and M.B.A. degrees and over a decade ago he wrote his first book on optics called "How to Choose Binoculars" and thus as you can imagine has gained a vast knowledge of optical products over the years.
Alan likes most sports and describes himself as an amateur astronomer, bird watcher, hunter and target shooter.
Related Content:
Binocular Accessories – Main Section on all accessories like tripods, tripod adapters, harnesses, straps, carry bags as well as books for or about binoculars and other sports optics.

– Main Spotting Scope Section