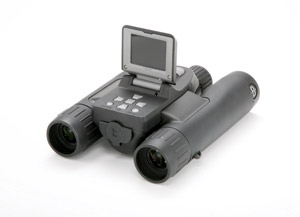 The main selling point of this range of binoculars from Bushnell is that they are a Binocular Digital Camera combination, but on top of this you can also shoot a 30-second continuous video loop, allowing you to capture and review the action on the LCD screen right after it happens.
The Bushnell  instant replay binoculars are according to the manufacturer essential gear for team coaches and scouts, birders and wildlife observers, big-game hunters and anyone who enjoys recording photographs or movies. They say that you can easily view, download, edit and keep your favorite movie clips or stills. Bushnell also go on to say that they are powerful, easy-to-use and loaded with advanced features, the Bushnell Instant Replay binocular sets the standard for excellence in image-capturing binoculars!

Sounds great, but do they live up to the hype?
Within the Instant Replay range there are two models, the 8x30 and what I believe to be the discontinued 8x32 version as I can no longer find them on their website.
Bushnell Instant Replay 8x30 Binoculars
Costing about $200 – $300, Bushnell Instant Replay Binoculars are by no means inexpensive lets take a look at the main features and see what they mean:
Main Features
5MP still pictures – the latest version of these digital camera binoculars come with a 5 mega pixel digital camera, which is ok, but not great. For comparison my current Panasonic digital camera the Panasonic Lumix DMC-FZ28 comes with

10.1 Megapixels but costs around $500, but you can get many digital cameras for under $200 with far more than 5 megapixels, that will also shoot video.

8x magnification – good for general use
SyncFocus™ system – is said to sharpen your subject simultaneously through the digital camera and the binoculars lenses and is a kind of auto focus system.
30mm objective lens – good size for a compact pair of binoculars
BaK-4 roof prisms – This is good, meaning that the prisms are made from superior optical glass that produces clearer images. These are what you want in your binoculars.
Fully multi-coated optics – Again this is good and means that all air to glass surfaces have received multiple layers of anti-reflection coatings, and this is what you want in your binoculars.
Other Features
SD card slot (up to 2GB only)
Neck strap and carrying case
1.5" flip-up LCD – very small LCD
5-60 second instant replay video loops or continuous video
16MB internal memory
Table tripod included
Review from an Amazon.com customer says it all:
My review will be short and disappointed for the Bushnell Instant Replay 8x30 Binocular 5MP Camera.
Pros: compact and light, binocular optics are good, video is of middle quality, added SD card capable
Cons: camera optics very poor, it is not a true through-the-lens camera though advertised as so, relies on a separate focus free separate camera for photos and video, very hard on rechargeable batteries (mine lasted only 9-10 minutes), and LCD screen is too small (which is needed for many adjustment settings during shooting) and easily wasted out in sun light.
I cannot recommend this binocular and camera combo. I ended up sending it back, which the seller promptly refunded all but 10 percent of purchase price. I justified my return by stating, "The item had too many negatives to justify the expense."
So my opinion is as compact binoculars they may just be acceptable, but as a digital camera that can record video, they fall way short of the mark and at $200 – $300, you can tell that these are never going to be a serious option for someone who would like to take quality photographs of whatever they are viewing through their binoculars (birders and sports fans) but as a novelty item, for a bit of fun they may be fine.
Bushnell 8x32 Instant Replay Binoculars
These received many poor reviews from customers and that is why I think that they have been discontinued and I think they now have a newer model the Bushnell ImageView Camera Binoculars: