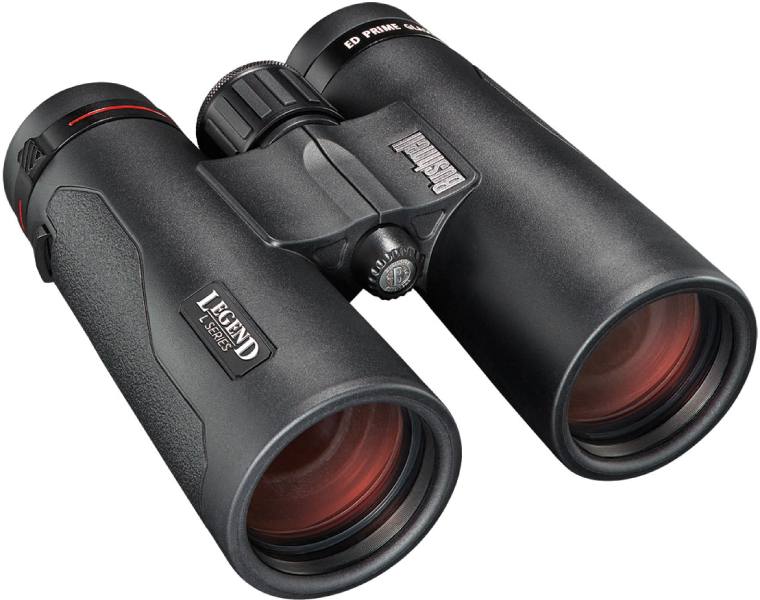 In this complete guide to the Bushnell Legend L Series binoculars, I will take you through each of the available models within the series, compare them against each other as well as some of the other ranges within the Bushnell line up. I will also provide a quick review of their main components, features, and specifications.
After we have gone through this process, it will then be much easier for us to decide which models are best for the most popular activities like hunting, birdwatching, astronomy and general use.
Bushnell Legend E, L & M Series Binoculars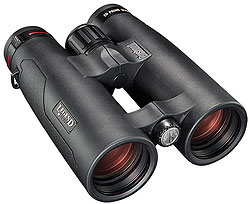 Before we get into the details on this L series, I think that it is important to first step back and take a look at the bigger picture and understand that this series is actually a sub-section of the main Bushnell Legend range, which is divided up into the E, L & M Series.
Bushnell's idea of dividing them up in this way is an attempt to offer you the best possible performance (in their opinion) within three separate price ranges.
I actually really like this approach, indeed it is exactly how I go about choosing my choices as the best value for money binoculars here on BBR.
Where are Bushnell Legend Binoculars Made?
Answer: As far as I have been able to establish, like almost all of thier current stable, all Bushnell Legend series binoculars are made in China.
E Series
So as a base, or starting point, you have the Bushnell Legend E Series binoculars, these are what I would describe as mid-range instruments.
L Series
Then comes the L series which builds on the E series by adding a number of higher-end components and are what I would describe as being mid-to-high range optics and which in my opinion generally offer the best bang for your buck.
M Series
Then finally you have the high-end Legend M series binoculars that focus a little less on value for money and more on outright performance.
Bushnell Legend L Series Binoculars
Within the Legend ranges, the L series contains the most models (5): The most popular are the 8x42 and 10x42 models, but there is also the larger 10x50 and high power 12x50 models as well as a camouflaged RealTree 10x42 version.
All use roof prisms and have a single bridge body shape.
Optical Features
ED Glass
The biggest improvement to these and what really sets them apart from the cheaper Legend E series is the addition of extra-low dispersion glass elements within their lenses. This ED glass makes it possible for them to reduce the level of chromatic aberrations that occur as the light passes through the lens. The result is a view that displays less color fringing around the edges of objects.
Prisms
The roof prisms used in the Bushnell Legend L Series binoculars are made from high-quality BaK-4 glass which is good but is to be expected at this level. However, what is very good is that they have also been treated with a chemical layer that corrects an issue known as "phase shift" that occurs to light as it passes through a roof prism. The result is a far higher definition view than roof prism bins that don't have this.
Fully Multi-Coated
Then I just need to confirm that the optics are fully multi-coated, which once again is to be expected at this level.
Extra
Important to note that Bushnell only uses glass that is lead-free and thus friendly to the environment.
They also add special lens coatings to the exterior surfaces that are "Hydrophobic". This prevents water from settling on the glass and thus not only can you see better when using them in the rain, but it prevents water stains and makes them easier to clean. This has a knock-on benefit as you are less likely to scratch easier to clean lenses.
Exterior & Chassis Features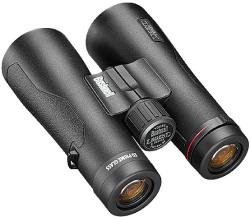 All Legend Series binoculars have a very high-quality Magnesium Alloy Chassis, which is a great start as there will be many of their direct competitors at this level that will incorporate a less robust (but far cheaper) polycarbonate shell.
Water & Fogproof
The binocular is as you would expect sealed and thus fully waterproof. By adding a dry gas to the interior (I think they use Nitrogen) it also makes sure that the internal glass is protected from fogging-up.
Focussing & Calibration
To adjust the focus, there is a large centrally located wheel and all Legend binos have a diopter located on the right eye-piece so that the can be calibrated to match your particular eyesight. Here is where we see another area where these L series binocular improve on the E series as the diopter on these is also lockable.
Armour Protection
All models are tripod adaptable and are covered in a protective rubber armor. The added benefits of this are increased grip levels as well as making the instrument less reflective which helps with camouflage. Note whilst most models are black, Bushnell have also made a RealTree Camouflage version for the 10x42 model.
Main Specifications
Taking a look at the comparison table below, they all look to be well above average in terms of their specifications when compared to most others within their size and magnification class. However, the model that really stands out to me is the 8x42 configuration. It has a really very wide field of view, plenty of eye-relief and a great minimum focusing distance:
Model
8x42
10x42
10x50
12x50
Model No.
198842
198104 / 198105
198106
198107
Field of View (ft.@1000yds / m@1000m)
426/142

340/113

340/113
280/93
Close Focus (ft. / m)
6.5/1.9

6.5/1.9

10/3
10/3
Exit Pupil (mm)
5.3
4.2
5
4.2
Eye Relief (mm)
19

18

15
15
Weight (oz. / g)
23.5/666

23.5/666

29.2/830
29.2/830
Prism Type
Roof Prism
Prism Glass
BaK-4
Phase Corrected
Yes
Tripod Adaptable
Yes
Water & Fogproof
Yes
Eye-cups
Twist-Up
ED Glass
Yes
Best Bushnell for Legend L Series Binoculars for Hunting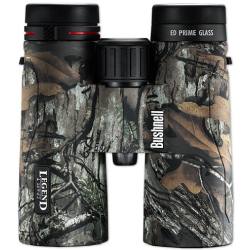 General: If I was to pick a model specifically for general hunting, so for use in a variety of habitats, conditions, and ranges, then without much hesitation, I would opt for the Bushnell Legend L 10x42 Realtree version.
For a start, the RealTree color had been specifically chosen to offer a good to high level of camouflage in a wide variety of habitats and conditions. However, it works best during autumn, through the winter and spring when most leaves are at their most variable in color.
Next, for a 10x42, these do have a nice wide view which will help you locate and follow your game when out in the field.
Long Range: For longish range hunts, the 10x42 would still be a good choice, especially if you are concerned with keeping the size and weight of your instrument to a minimum.
However, if you really need that extra reach, say if you hunt in wide open areas, or in the mountains and over very long distance and you are prepared to carry a little larger and heavier instrument, then you should certainly consider opting for the 12x50mm L series binoculars.
Closer Range & Forests or Woods: In these locations, the amount of available light is often far from ideal and the range at which you will be hunting is far less than out on the open planes. So here you often need to be able to quickly locate a target and then follow it if it moves fact, this is where a wider view is more important than a high power.
So here if size and weight are an issue and/or if you need the best views in very low light, especially those that hunt very early in the morning, or after sunset then Bushnell Legend L 8x42 binoculars are a good option. However, if you want the best of both worlds, so a good, but not brilliant low light capability, but also just a little more power, and you are happy to sacrifice a little in terms of weight and size, then go for the Bushnell Legend L 10x50 binoculars.
Best Bushnell for Legend L Series Binoculars for Birding
Without question, the best Bushnell Legend L Series binocular for general birdwatching is the 8x42 model.
As well as great quality optics and coatings that make for a high quality and bright image even in low light, it has a super wide field of view.
Wide View
This is important because it will make it much easier and quicker for you to get the bird you want to observe into view. Then if the bird happens to be small and fast moving, the wide view makes it much easier to follow, especially if it is at close range, like a nearby bush or tree.
So my choice would be the 8x42, but if you conduct most of your birding out in the open, at the coast or along a river or lakefront, then you may also consider one of the higher powered options. Here you sacrifice a little image width and low light ability for greater image detail and reach.
Best Bushnell for Legend L Series Binoculars for Astronomy
Whilst these are not specifically designed as binoculars for astronomy, if you do occasionally like to look at the moon, stars and planets at night, then which one is best?
In some ways this is difficult to answer, instinct says that the Bushnell 12x50 Legend L series would be ideal, it has a high magnification and reasonably large lenses to capture as much light as possible. However, whilst not terrible, the resultant 4.2mm exit pupil is a little on the small side for night time use.
This is why I would probably opt for the 10x50, you will still see just about as much image detail, it will be easier to keep the view steady and you will most likely perceive the image to be much brighter at night with the larger 5mm exit pupil.
Cost & Where to Buy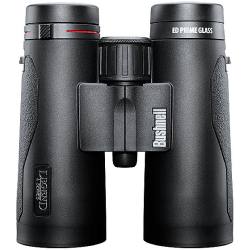 As I stated earlier on in this review, the L series is what I would deem to be a mid-to-high value range.
So what this means is that depending on the exact model you choose and where you look, they cost between approximately $250 and $350 in the US, although I have spotted them on a deal for as little as $140 which I think is incredible value.
In the UK they are available for around £250 and £430.
For current L Serie prices in your country (Included USA, Canada, UK, Germany, France, Spain, Australia and India), please follow the link below:
Buy & Compare Prices: Bushnell Legend L Series Binoculars
Further Reading