I received a question from someone who is unable to choose between two very good binoculars, the Bushnell Legend Ultra HD 8x42 Binoculars and the Vanguard Endeavor ED 8x42 Binoculars:
Question:
I was looking to see if you had reviewed the Bushnell Legend series, but it does not look like you have so I wanted to see if I could just ask you a question.
Bushnell is [currently] offering a $100 rebate on their Legend Ultra HD binoculars, which means if shopping around I can get the 8x42 pair for about $90 after rebate. Through this site I saw the Vanguard Endeavor ED 8x42 [currently costs] $199.
I guess I was hoping you might be able to give your advice between the two, and let me know if you think it is worth it to pay twice as much for the Vanguard vs. Bushnell?
Answer
Thanks for the question and you are right, I have not as yet been able to test or review any of the Bushnell Legend Ultra HD binoculars, so whilst I we can discuss their main features, I will of course not be able to comment on the actual image that you se through them.
I find the best way to compare binoculars is to first draw up a table which lists all their main specs and features making them much easier to evaluate the relative strengths and weaknesses against each other. Indeed it is what I recommend in this article on How to Choose Between Binoculars. Please note, I have also included a couple of other similar binoculars, for interest and added comparisons.
| | | | | |
| --- | --- | --- | --- | --- |
| | Vanguard 8x42 Endeavor ED | Bushnell 8x42 Legend Ultra HD | Vanguard Endeavor ED II 8x42 | Celestron Granite 8x42 |
| Chassis | ? | Magnesium | Magnesium | Magnesium |
| Water& Fog Proof | Yes | Yes | Yes | Yes |
| Tripod Adaptable | Yes | Yes | Yes | Yes |
| | | | | |
| Weight: | 25.7oz (730g) | 24.7ozs (700g) | 27.2ozs (771g) | 24.0ozs (680g) |
| Length: | 6.1in (15.4cm) | ? | 6.06in (15.4cm) | 5.8in (14.7cm) |
| Width: | 5.8in (13.0cm) | ? | 5.12in (13cm) | 4.0in (10.2cm) |
| | | | | |
| Eye Relief: | 19mm | 17.2mm | 19.5mm | 17mm |
| Close Focusing Distance: | 8.2ft | 6.5ft | 6.6ft | 6.5ft |
| Field of View at 1000yds: | 367ft | 426ft | 378ft | 426ft |
| Angular Field Of View | 7.0° | 8.1° | 7.2° | 8.1° |
| | | | | |
| Lens Coatings: | Fully Multi-Coated | Fully Multi-Coated | Fully Multi-Coated | Fully Multi-Coated |
| Phase Correction Coatings: | Yes | Yes | Yes | Yes |
| Prism | BaK-4 Roof | BaK-4 Roof | BaK-4 Roof | BaK-4 Roof |
| Prism Coating | ? | ? | ? | ? |
| Extra Low Dispersion Glass: | Yes | Yes | Yes | Yes |
| | | | | |
| RRP: | $429.99 / £379.99 | $362.95 / £449.99 | $619.99 | $439.95 / £400 |
| Current Price (approx): | $240 / £210 | $230 / £240 | $500 | $350 / £323 |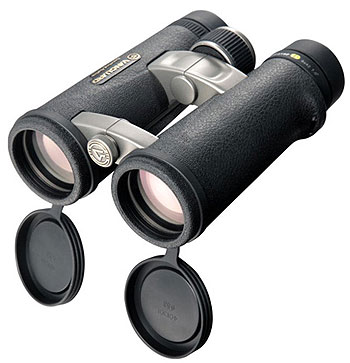 So as you can see from the table above, in terms of their main features, components and coatings, all four binoculars are fairly similar and whilst I have listed the chassis material as unknown for the Vanguard Endeavor ED as they don't state it, I have a suspicion that like the others it too is made from a magnesium alloy.
So below I will focus on the major differences between them and discuss how they affect the product:
Eye Relief
At 19mm, the 8x42Vanguard Endeavor ED has an excellent amount of eye-relief and it is almost 2mm than the Bushnell binocular. This could be important, except the 17.2mm of eye-relief on the 8x42 Bushnell Legend Ultra HD is also very good and should be enough for almost everyone who wears glasses to be able to adjust them to get their eyes the right distance behind the ocular lens.
So unless you really need a very long eye-relief binocular, I would not worry about this too much.
Minimum/Close Focus
Here the Bushnell most certainly has the edge and at 6.5ft, their minimum focus distance is not quite excellent, but is very good for a full sized binocular. Once again though for most people, who mostly use their bins for viewing distant objects the 8.2ft distance you get on the Vanguard should be enough.
However if you like to view objects like flowers, butterflies end even some birds from close ranges, then the closer advertised distance of the Bushnell is definitely something to keep in mind.
Something to also take note of is that many binoculars can actually focus to a closer distance than what they advertise. I guess this is just so that they give themselves a margin for error.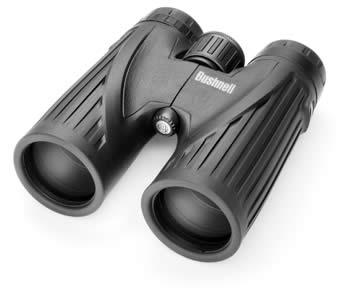 Field of View (FOV)
For me the FOV is the biggest and most important difference between the two binoculars.
At a distance of 1000yds, the width of the image that you see through the 8x42 Vanguard Endeavor ED is 367ft wide, which translates to a viewing angle of 7.0°. For an 8x binocular this is not bad, however the 426ft (8.1°) you get with the 8x42 Bushnell Legend Ultra HD is truly excellent and ranks up there with some of the best Wide Angle Binoculars.
A wide FOV is an advantage in many areas, but is especially important for those who need to quickly locate a target, or who need to follow a fast and perhaps erratic moving object, or who need to scan large areas in search of something. This is why many birders, wildlife observers and hunters regard this as one of the most important aspects to look for.
Keep in mind thought that on some bins, especially cheap ones that use low quality glass, a wide view can be misleading as the view can be distorted on the edges. However I doubt that this will be a problem on any of those that I have listed in the table above. Indeed the Celestron Granite won my award as the best birding binocular mainly because of it's excellent quality image and their very wide FOV, which just happens to be the same width as the Bushnell.
Price
Check & Compare current prices at a number of online retailers in the US, UK and other countries:
Their current prices are actually quite similar (when I wrote this) and so unless you are really worried about a few dollars here and there this for me would not be the deciding factor. I would also like to add that both of them offer fantastic value for money, with features and specs that match bins that are far more expensive and so I feel you really are getting a great deal no matter which you choose.
However as you say, Bushnell do currently have a $100 rebate offer on most of the Legend series, which is really excellent and brings their price down to a level that you will not find a comparable binocular at without a similar deal. So if you still can't decide between the two and you are eligible for the offer, then I personally would make this the deciding factor between them.
If however you are not eligible (because you are in the UK) or if you are reading this after the offer has expired, I would go with the Bushnell if a really wide FOV is important to you, or if you require a really long eye-relief, the Vanguard. It just depends on your personal needs and wants.
I do hope this has been of some help. If you require any further assistance, or have any other questions, please use the comments section at the bottom of this page, so I can keep them all in one place.
I would also love to know what you eventually choose and how you feel about them once you have used them. Once again you can use the comments section below.
Further Reading & Related Content
Have a Bino Question?
If you have a question regarding binoculars, or want to know about a particular technical optical term or feature that I have not already answered or written about, I would love to try and answer it for you: Ask Me Here