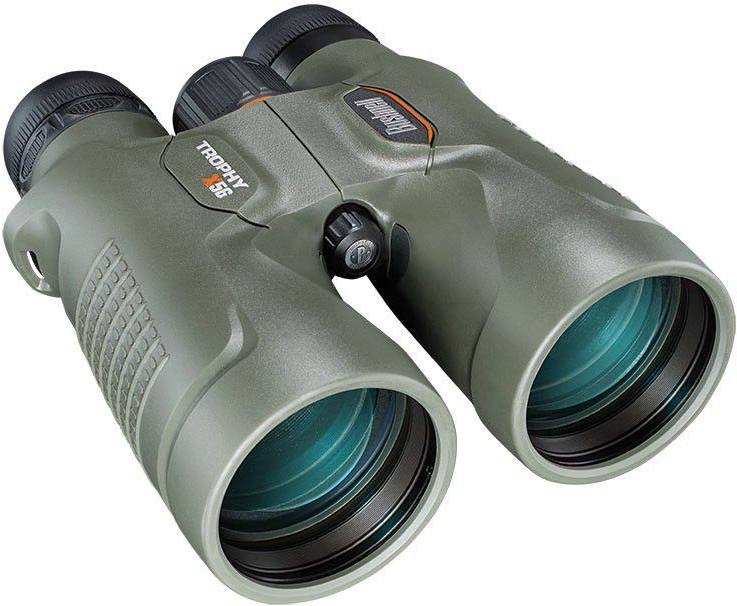 All About Image Brightness
The Trophy Xtreme series from Bushnell Sport Optics is a really interesting one.
Containing only three models, this mid-range, fairly low-cost series' most characterizing feature is that they all have large diameter objective lenses and are thus primarily focused on capturing and then delivering the best low light performance and brightest image possible within the magnification that they have chosen.
Large Lenses
If you think of the lenses on a binocular as you would a window, then you can easily imagine that a large window opening out onto your patio will let in far more light than a small window in your attic for example.
Light Transmittance
So whilst we can now understand that the large objective lenses are key, I think the next most important feature to highlight is that all models incorporate a fully multi-coated optical pathway.
This means that every glass surface throughout the path from the outer lens right through the chassis to the outer eye-piece lens has been treated with a number of layers of a material that reduces the amount of light that gets reflected away or in an undesirable direction.
The result is more light is captured by the objective lenses and then more of this is transmitted right through the instrument and onto your eyes. Therefore the will look to have a brighter image than that of the same size of binocular, but one with fewer or none of these coatings.
As the word "Trophy" in their name implies, this range, like the "standard" Trophy and Trophy XLT binoculars are principally made with hunters and hunting in mind, however, I would argue that depending on the exact model and magnification you choose, they are every bit as useful to many other types of wildlife observation, birding and indeed general use and here is why:
Bushnell Trophy Xtreme 12x50 Binoculars Review
This is the high power, long-range model in the series and below is my brief review on the main aspects to this model, it's strengths, weaknesses and just how it differs from the others within this series.
Greater Image Detail & Reach
There is no doubt that this high magnification will certainly get you closer to the action and deliver you an image with more detail and makes this model ideal for anyone wishing to observe wildlife or anything else at longer ranges.
The Least Bright Xtreme
However, this added power does come at a cost. Firstly in terms of brightness and mostly due to the smaller exit pupil that the 12x50 configuration produces these well have the lest bright image in low light conditions. Although, having said that with an exit pupil of over 4mm these will not perform very badly in low light, but I think it is safe to say that they will be at their best in wide open areas and in fair to good ambient light conditions.
Reduced Field of View
This increase in magnification also reduces the width of your view. At longer distances, this is not necessarily an issue, but from close range, it can make it difficult to locate and then track your target, especially if it is rapid and/or moving in a haphazard way.
Image Shake
Higher powers also make it harder to keep the image still. However in my experience, if you have reasonably steady hands, 12x is about the limit where this is not a problem. Nevertheless, some users, like those operating from a hide will be interested to know that all Bushnell Trophy Xtreme Binoculars are easily tripod adaptable.
So taking this all into account. I would recommend the Bushnell Trophy Xtreme 12x50 Binoculars to anyone who is game viewing, hunting, on security or rescue duties or even birding in open grasslands, the mountains or at places like the coast.
Bushnell Trophy Xtreme 8x56 Binoculars Review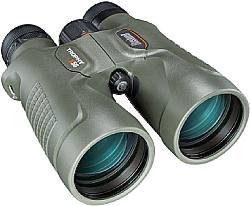 With even larger 56mm lenses and an 8x magnification this model is squarely aimed at those who demand the best low light performance possible, and below is my brief overview of them:
Superior in Poor Light
The 8x56 configuration equates a massive exit pupil of around 7mm which is large enough to ensure that no matter the conditions, the tube of light exiting the eye-piece is large enough so as to be supplying your eyes with more than enough of the available light so that you can perceive a bright image (relative to the conditions).
This these Bushnell Trophy Xtreme 8x56 Binoculars are ideally suited to those who often operate at dawn, just after sunset or in deep dark forests and woods where light can always be an issue.
Wide View
Here the lower power and resultant wider view are actually an advantage as it makes finding and then tracking birds and larger wildlife much easier at the closer ranges that you a likely to be encountering.
For these reasons, I would highly recommend this pair to not only forest type hunters but any wildlife enthusiasts, birders and indeed anyone wanting to use the binoculars in bad light and closer distances.
Bushnell Trophy Xtreme 10x50 Binoculars Review
I would describe the 10x50 version as the all-rounder in this particular series and below I answer why I say this as well as offer a quick review of some of the most important featers and specifications and where exactly these would be of most benefit:
The Moderate Xtreme!
The combination of a moderately high power and largish 50mm lenses are a great middle ground for users who perhaps sometimes find themselves in either of the extreme situations mentioned above, but also just use their binoculars in a variety of different ways and for different uses.
Good 10x binocular in Low Light
With 50mm objectives, the binocular itself is not that much larger or heavier than your standard 42mm binocular and so really not noticeably more difficult to carry about or pack away. But the extra 8mm does make a large difference in the size of exit pupil produced: At 5mm in size, it is easily large enough to ensure that you perceive a bright enough image even in quite poor light.
This will interest those who as well in good light during the day, perhaps go out hunting, game viewing or birding early in the morning before sunrise or just after sunset when wildlife is often at it's most active.
More Stable, Wider View
The slightly lower power also means that image stability is easier to achieve with these Bushnell Trophy Xtreme 10x50 Binoculars than 12x version. You also get a wider view, but not quite as wide as the 8x mode. As I have already mentioned, at closer ranges for example when operating in a forest this can be very important.
Main Specifications
The table below lists the main specifications of each of the models. it is a good way for me to illustrate how as the magnification increases, so the field of view diminishes and how the exit pupil also gets smaller:
Model
8x56
10x50
12x50
Model No.
335856
335105
335012
Field of View (ft.@1000yds / m@1000m)
300/100

315/105

273/91
Close Focus (ft. / m)
10/3

10/3

10/3
Exit Pupil (mm)
6.9

5

4.1
Eye Relief (mm)
17

17

15
Weight (oz. / g)
38.1/1080

31.8/902

31.2/885
Prism Type
Roof Prism
Prism Glass
BaK-4
Tripod Adaptable
Yes
Water & Fogproof
Yes
Eye-cups
Twist-Up
Prices & Where to Buy
Bushnell market these as the giving you the most bang for your buck in terms of clarity and whilst you can never fully trust the marketing jargon, I do believe that if you are looking for a low cost binocular with an image brightness that is well above average and better than almost any in this price range, then the trophy Xtreme does look to be a good choice.
Depending on magnification you select, Bushnell Trophy Xtreme binoculars cost between $100 and $200 in the US and between £150 and £280 in the UK. For current prices in your country, please follow the link below:
Buy & Compare Prices: Bushnell Trophy Xtreme Binoculars
Further Reading