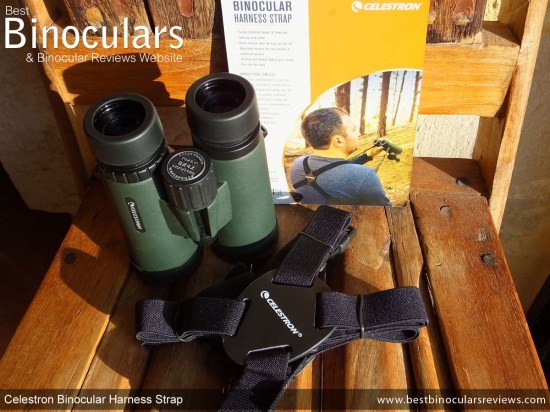 Awards: Winner Best Binocular Accessory 2014
Many of the Celestron binoculars that I have tested for review actually come with a binocular harness included in the box, which is certainly a very welcomed addition and one that is definitely not usually offered for "free".
However if you don't have a Celestron bin or are on the look out for a higher specification harness, Celestron also offer a pair that can be purchased separately and which they recently sent to me to test:
Celestron Binocular Harness Strap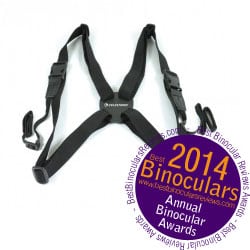 A point to note is that this harness from Celestron (ITEM #93577) is not the same as the ones they include with their bins and looks to be of a slightly higher specification.
How To Correctly Fit the Harness
Which Binoculars
I think that it is worth quickly discussing which binoculars this harness will fit and indeed which type of binoculars a best suited for use with a bino harness like these.
Whilst almost all bins will come with a neck strap, a binocular harnesses like this one can help and improve on them in a number of ways and are in certain circumstances a real advantage. Essentially they are designed to make carrying your bins more comfortable, by taking some of the weight off your shoulders and probably more importantly, a good harness will keep your instrument closer to your body, preventing it from swinging about without you having to hold onto them. Over difficult and steep terrain or through thick undergrowth or just over long periods of time on a long walk/hike this really helps.
As you can see in most of the photos on this page, I tested this Celestron harness using a pair of Celestron Trailseeker 8x42 binoculars, but you can fit it to almost all other bins out there and whilst it is technically possible to fit it to most compact or super giant binoculars, they are usually used with mid-sized and full sized bins (30mm – 45mm objective lenses).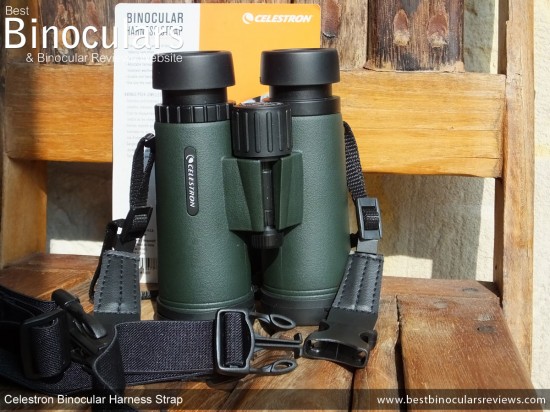 Attaching the Harness to your Binoculars
The first step is to attach the Celestron Binocular Harness Strap to your bins. This and indeed almost all other harnesses that I have seen and used use the eyelet/loop on each side of your bin to do this.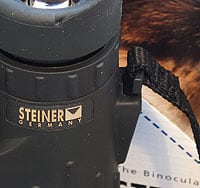 Please note: Some binoculars, like the Steiner SkyHawk Pro Binoculars for example use their own strap attachment system and thus don't have a eyelet/ring/loop that you can thread the harness strap through and so you cannot connect them to a harness like these without making some modifications to either the bin or the harness.
Assuming your bins are typical and you have an eyelet on the side of each barrel, you simply thread the harness strap though it and back on itself as you do with the neck strap.
I found that it was easier to do this by first uncoupling the quick release connectors on the harness, which then frees up the strap of clutter.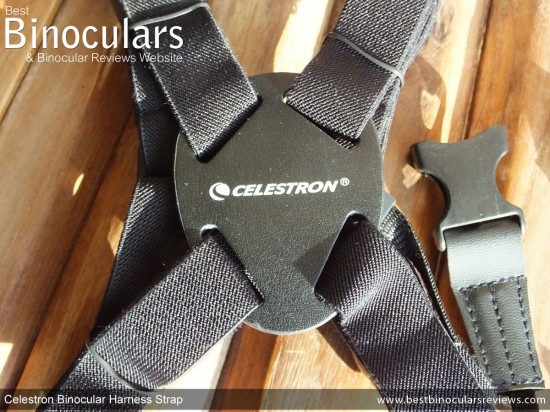 Fitting the Harness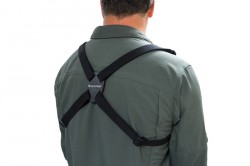 Once you have attached the binocular to the two short unclasped straps of the harness, the next step is to put on the rest of the harness and adjust it to fit your body.
Celestron state that it is "one size" and that it "fits most" and indeed it is very elastic and adjustable, however this does mean the first time you fit it takes a little time, but once done you simply just have to put it on when you want to use it.
So to start with you just hold the harness out in front of you with the Celestron logo on the back plate upright but facing away from you and without the binoculars attached (so unclasping them with the quick-release connectors). Then simply put it on by threading your arms through the elasticated straps as you would do if you were putting on a backpack.
Next, you attach your bins to the harness by clicking the quick-release clips together.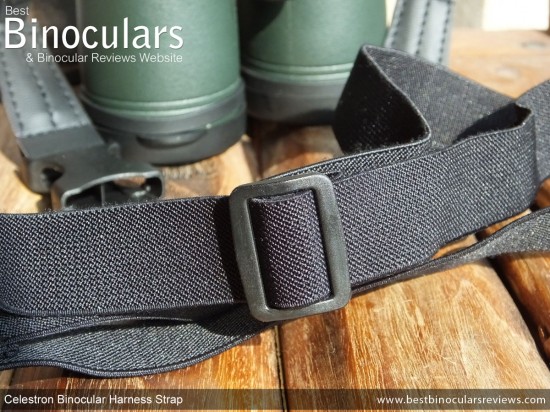 Sizing and Adjustments

You can adjust the harness in two main ways. Firstly adjust the sliders near each shoulder to get a snug fit around your body, then you can lengthen or shorten the small sliders near the quick-release connectors to lower or raise your binoculars. This is simple, but takes a little time as you have to be careful to get each one the same length otherwise the binoculars will not sit straight.
I would describe myself as being of a fairly slim build, but an average size for a man. To get the harness nice and tight to my liking, with my bins high up on my chest, I had to adjust it to close to it's smallest settings. So whilst I agree it will fit most people, I would suggest that if you are very petite and you like your harness to be tight they may not be an ideal choice.
Strengths:
Comfort: Once correctly adjusted, there is no doubt that carrying your bins using these Celestron binocular suspenders is more comfortable than to have them dangling around your neck. For use around the garden these would be overkill, but on longer walks, they not only take off the weight, but they let you forget your bins are there, freeing up your hands to do other things like support yourself when climbing or to take photos with your camera etc.
The straps themselves, whilst not padded, are thick enough and nicely elasticated to distribute the weight and I never experienced any discomfort or pinch points, even after a really long walk.
I like the small back plate. Some harnesses have a large material webbing, which perhaps start off being a little more comfortable, do tend to make you sweat more on warmer days because of the larger contact point on your back.
Secure: Having your binoculars attached securely to your chest using the harness is a comfort in itself:
Once again I will use an example of climbing over boulders or up and down a steep inclines. Using the standard neck strap, they swing about which at best is annoying but they can potentially get damaged unless you use one of your hands to ensure that they don't, which makes the terrain more difficult to get over.
A harness takes this all away as the bins swing about a lot less, thus freeing up both your hands. I will however just point out that whilst it is much better than a neck strap at this, they are not held quite as securely to your chest using these suspenders as the very secure LockDown System from S4Gear.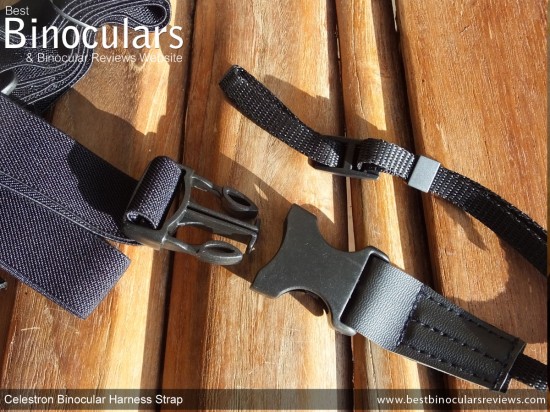 Quick to Put on & Take Off: Once set-up, removing and replacing your binoculars from the harness and your body is very quick and simple. If when out in the field you want to share your bins or put them away for a while, you simply have to un-click the connectors. Removing and getting into the harness, whilst a fraction more complicated than a neck strap is also nice and simple.
Weaknesses:
Whilst the quick release connectors are great, making it really fast and simple to remove the bins from the harness, you are left with two short straps hanging from the bin that do nothing but get in the way. I would have liked to have seen Celestron alternate the male and female connectors on each side of the harness, in this way you could then connect the two short straps together, creating a short hand strap for the binocular when it is not connected to the harness.
Another improvement in my opinion would to have quick release clips instead of the traditional small loop-through sliders as the main way for connecting the bins to the harness. This would make swapping between the harness and back to your neck strap both quicker and easier.
Also In the Box
The simple see though plastic box includes the harness as well as a small instruction booklet that goes through how to attach the harness to your binoculars as well as how to put on and adjust it to fit your body.
Also included within the manual are details of the two year Celestron warranty.
Conclusion
Whilst these may not be the most luxurious pair of binocular suspenders out there, I do feel that overall the Celestron Binocular Harness Strap works really well and are made to a good standard and are offered at the price (see below) that I think make them good value and a for most people a good choice of harness.
Where to Buy & Prices
In the US these Celestron Bino Harnesses cost less than $20, whilst in the UK, they are just over £20, which I think makes them really good value and well worth considering. To check current prices as well as to compare them with others take a look at the links below:
UK – Celestron Harness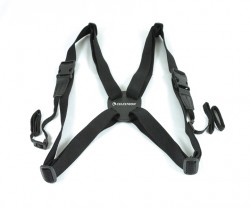 Celestron Binocular Harness on Amazon.co.uk
OR
Further Reading