This BinoWizard question is from Anna, who is looking for some inexpensive binoculars to take on safari:
Question:
Hello. Your reviews are exceedingly helpful, so thank you!
We are doing a South African safari and I've been trying to find the best, low-cost pair of binoculars.
I've narrowed it down to the Vanguard Orros 10x25 or the 8x42 Meade Rainforest Pro.
They both look great, but I can't tell which would be better for our trip. Does one stand out to you above the other? What would you recommend?
Thank you very much!
Answer
Hello Anna, thanks very much for sending in your question to the BinoWizard and especially for the kind words regarding my site, I will do my best to see if I can help:
Size Matters
Firstly I could not help but notice that your two choices are very different from each other: the Vanguard Orros is a compact binocular with a 10x magnification, whilst the Meade is a full sized 42mm binocular with a lower 8x magnification.
I am not sure if you did this intentionally and that you wanted to get my opinion on what would be better for your safari holiday, or if you were not aware that they were so different? If so, it may be helpful if you take a look at my article on How Different Objective Sizes & Magnifications Affect a Binocular.
Ideal Size of Binocular for Safaris
As for what is right for a safari holiday, that depends:
Assuming that the quality of components used is similar, a full sized binocular will be optically superior to that of a compact as it is able to capture more light to work with. In most situations, the observable difference will be minor and in some cases when the available light is very good, you may not notice any difference at all. However it is in low light where a larger binocular with bigger objectives will look to have a brighter and often better quality image.
The downside to a larger 42mm instrument is that they are obviously bigger and heavier than a compact. For use around the house or even out on walks this is not a major concern, however if you are going on holiday where luggage space and weight is limited, having a smaller, more lightweight device can be a big advantage. On top of this, you may have other equipment like cameras with you and so here it is once again an advantage to have something that you can easily store away in your pocket.
So for taking on holiday my general advice it to take the largest size that you are comfortably able to pack away and carry about. For some people, a full sized binocular is fine, whilst others who need or want to travel light, a compact is the ideal choice.
Mid Size Binoculars
For me a great compromise between optical performance and dimensions is a mid sized binocular. With objectives of around 32mm, they are often only slightly larger and heavier than a compact, yet will perform much better in low light conditions. This is why I have included a few options into the mix for you to look at (see below) as I feel for you and your safari holiday, they may be ideal.
Binocular Comparisons
Whenever I need to decide between binoculars, I begin by creating a table that contains their main features, but especially the ones that are important to my preferences, needs or intended use. This then makes it much quicker and easier to compare the relative strengths and weaknesses. I go over this process in more detail in my article on how to choose between different binoculars, but as your "BinoWizard", I have created one for you below 🙂
Sorry you cannot see this table as your browser does not support iframes. Click here to open it up in a new tab.
As you can see, as well as your two choices, I have included a few others which I added as I was doing the research for you. Some are there as recommendations, but some just to highlight a particular point I want to make (more of that below).
I have also highlighted in green the features or specifications that I feel are either really strong points or aspects that are above and beyond what I would expect to find in this price range. Then highlighted in red are weaker aspects when compared to the others on the list. Note: this does not mean that this is bad, only that in this area they not quite as good as the best.
Full Size Option: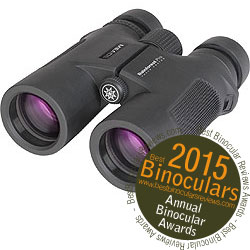 If compactness is not ultra important and you are comfortable taking a 42mm binocular on your holiday, then within your budget of around $100 / £100, my recommendation is indeed the Meade Rainforest Pro 8x42 binocular that is on your shortlist.
Within this "Low Cost" price bracket you don't often get binoculars that come with as many higher end features as these do. For example if you compare them to the Hawke Nature-Trek that I added to the table above, you can see that apart from being a little heavier and with a fraction less eye-relief, these Meade's are as good or even better in all other resects, yet cost less!
In terms of their optical components and coatings, they are also quite a lot superior to the Vanguard Orros as they have fully multi-coated optics and are not just multi-coated and their prisms are silver coated, which reflects more light than the aluminium coated ones on the Orros.
Both of these features and the fact that their larger objective lenses will collect more light to begin with will mean that they will certainly perform better, especially in low light conditions where you are sure to observe a brighter image through them.
I also like their wide field of view (395ft @ 1000yds) that is great for birding and wildlife observation as it makes finding and then following your subject that much easier. Although if you would prefer a little more reach, then you could sacrifice some of the width of the image and go for the 10x42 version of the Meade Rainforest Pro. You can check the current prices of both versions using the link below:
Mid Size Option: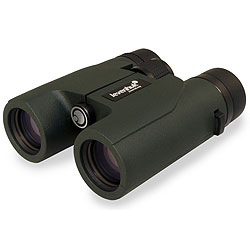 As I mentioned earlier, if you are a little concerned about the size and weight of your luggage, then my favorite option is to go for a mid sized instrument.
At only $85 (£75), the 32mm Levenhuk Karma Pro is well within your "Low Cost" budget and as you can see from the table above beats many other similar priced options and apart from being a little heavier and larger is once again better than the Orros in most ways. Most importantly the larger lenses and fully multi-coated optics will help produce a higher quality and brighter view.
Meade Rainforest Pro 10x32
You will also notice that I added the 10x32 version of the Meade Rainforest Pro to the comparison table above as I feel this may also be a good option for you.
Unfortunately I have not actually tested this device, but if they match up to the 8x42 version, which I assume they will, then they too will perform as good as or better than any within this price and size class.
It is also unfortunate that Meade Instruments supply so little data with their products, so I can't be 100% sure or a number of details and don't know if they use Silver mirror coatings on their prisms like the 8x42 version does. Once again I assume they will, but can't be totally sure.
However if they do, this is an upgrade from the aluminium coatings on the Levenhuk, for only a slight increase in cost (if you are in the US) and is the may reason why I have included it:
Compact Binoculars: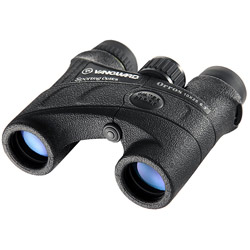 If size and weight are critical features, then you should most certainly go for a compact binocular and the Vanguard Orros is, for the price not at all a bad option.
However because their much smaller objective lenses capture less light there are trade-offs which I have already discussed. Thus in many ways it is even more important to ensure that the quality of the glass used and the coatings is as good as possible to maximise what they have.
So whilst the Vanguard Orros is in no way bad, indeed as I said, for the amount you pay for them, they are a nice pair of compacts, but as you can see from the table above, they do not quite match the quality of the others.
However it is important to keep things in perspective. In all but bad light conditions they will be more than adequate and seriously not a bad cheap compact to take on safari.
However, if you want a really good performance that more closely matches the larger instruments above, then if possible, my advice would be to spend a little more and get a higher quality instrument, that has fully multi-coated optics and sliver coated prisms.
Need Some Help or Advice?
Ask the BinoWizard Here – If you are undecided between two or more binoculars, or are confused by all the options available and don't have the time (or don't want to) read through my reviews, then please feel free to contact me for some personal optics advice.