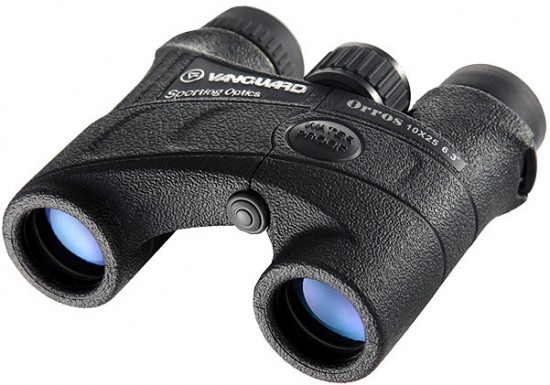 Before testing and then writing my review on the Vanguard Orros 10x25 binoculars, as research and in preparation, I wrote this overview of the Vanguard Orros binoculars, taking a close look at their features and specifications, just to see what we can deduce:
Vanguard Orros Binoculars
In this post I will be concentrating on the two compact models, but the Orros series actually contains five models, two full sized bins (10x42 and 8x42), a mid sized bin (8x32) and then the compacts (10x25 and 8x25).
The Orros series is Vanguard's cheapest (all costing less than $150 / £150), yet they still maintain a number of features of the more expensive models.
Compact Vanguard Orros Binoculars
Depending on where you look (I checked on Amazon – see link below), they cost less than $150 / £150 which puts them in my category of Low Cost/Cheap Binoculars.
Body Design
Covered with a grippy and protective armour, these compacts use a roof prism design, which ensures that they are as small as possible. What I like is that Vanguard's have used BaK-4 glass for the prisms which is a better quality than the BK-7 glass that is sometimes used on other bins in this class.
Looks wise, what stands out on the compact Orros is their offset single hinge design, which means the focussing wheel is not centrally located and which Vanguard says makes for a " more comfortable adjustment" – This is interesting, especially as some compacts, especially those with small focussing wheels can bee a little trick to adjust for those with large hands, or when you are wearing gloves and I look forward to trying it out when I get them to review.
Fog & Waterproof
The body has also been O-ring sealed, making it fully waterproof. It has also had all internal air replaced with nitrogen which helps to prevent the inside surfaces of the lenses from misting up.
Anti Reflection Coatings
Light transmission is even more important on a pair of compacts than larger binos, this is because the amount of light you are gathering with the smaller lenses is less. So getting as much of that light to your eyes as possible can make a real difference in the brightness of the image that you see, especially in low light.
Many cheap compacts only come with multiple coatings on some and not all of their air-to-glass surfaces (multi-coated) or some just have a single coating (coated). But all the Orros bins, including the compacts have lenses that have been fully multi-coated with anti-reflection coatings. This helps to improve the light transmission and reduces unwanted internal reflections to ensure as much light gets to your eyes as possible.
Main Stats
| | | |
| --- | --- | --- |
| | 10x25 Orros | 8x25 Orros |
| Magnification: | 10x | 8x |
| Objective Lens: | 25mm | 25mm |
| Exit Pupil: | 2.5mm | 3.1mm |
| Eye Relief: | 10mm | 12.5mm |
| Field of View @ 1000m: | 110m | 113m |
| Field of View @ 1000yds: | 330ft | 339ft |
| Angle of View: | 6.3° | 6.5° |
| Close Focus: | 2.3 | 2.5m |
| Weight: | 280g | 280g |
| Length: | 11.5cm | 11cm |
| Width: | 12cm | 12cm |
Cost & Where to Buy
The 10x25 and 8x25 Orros Binoculars cost under $90 and you can find them for as little as $65 in the US on Amazon.com and about £90 on Amazon.co.uk in the UK.
To check the current prices and to buy follow the link below for a list of on-line sport optics retailers in the US, UK, Canada & Germany:
More Information