This question comes from Twitter (hence why it is so short!), with the person wanting me to compare a selection of cheap compact binoculars:
Question:
@BestBinoReviews: Nikon Sportstar EX 10x25 (EUR 78) or Steiner Safari UltraSharp 10x26 (EUR 116)? Or a remaining Safari Pro (EUR 108)? Thks!
Answer
Budget
Because you don't think that you will be using your bins much after your trip (although urban birding is getting more and more popular and you could always take them with you to Richmond park to observe the deer for example), I think that the budget of about £125 – £175 (approx: $150 – $200) that you have set yourself is pretty good. I say this because it is enough to enable you to get a pretty decent device that will perform well on your trip, yet it is not so much to be too much of a waste of money once you return, should you never use them again.
Compact Binoculars
I also think that a compact pair is also a good idea for most casual users going on safari. Although as you will see below, I have also suggested a couple of inexpensive mid and full sized bins as an alternative should you have a little extra space in your luggage, yet will perform just that little bit better.
Comparisons
For me and as I go through in this article on How to Choose Between Binoculars, the best way to start once you have your shortlist of candidates is to compare their main specifications and features on a table. Please not that as well as your choices, I have added a few other pairs that I feel you should also consider that I have fully tested and reviewed:
Sorry you cannot see this table as your browser does not support iframes. Click here to open it up in a new tab.
Of the three that you chose above, the Nikon jumps out the most to me as apart from a small weight difference, they match or beat the two Steiner binoculars in almost all areas and come with a much wider field of view, whilst costing less.
Having never looked through them, I however cannot comment on the quality or the brightness of the image that they produce.
If you are wanting to make a choice between the two Steiner binoculars, if you can afford the extra then I would definitely go with the newer Safari UltraSharp as not only do they have improved optics and coatings, but a much close minimum focus and also have a fully waterproof body.
Alternatives to Consider
As well as the three you have selected above, I have also added some alternative compact binoculars that I have fully reviewed and which I feel would also be well worth adding to your shortlist: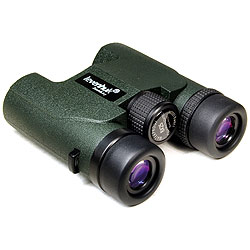 When I reviewed these they had a price tag of only £80 ($70), which considering the number of higher spec components and features is really impressive and is why they achieved such an impressive score on my scale:
The majority of compacts at this sort of level will only possess single or perhaps multi-coated optics, whilst these Levenhuk binoculars have been fully multi-coated which tells us that every glass surface in the whole system has multiple layers of anti-reflection added to them and not just on some. This is important as it really does make an observable difference to the quality and brightness of the image that they produce.
In addition to these coatings, these 8x25 compact binoculars from Levenhuk also deliver a very wide field of view. The image that you see is 126m wide at a distance of at 1000 meters away which is up there with the very best and even better than the Nikon's that you like. This has many advantages, but most importantly it makes finding and following (if it is moving like birds) your target that much quicker and easier.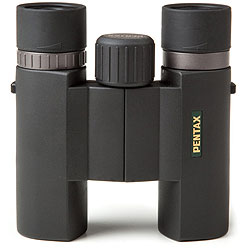 With a price tag of around £180 ($200), these Pentax binoculars are a little more expensive than the rest, but I have included them to show you that if you can increase your budget by a little, just what difference in terms of improved coatings and components you get.
All the other bins on the list, except these and the Levenhuk's above are only multi coated which means only some of the glass surfaces in the system have been treated with layers of a special anti-reflection material. Whilst these come with fully multi-coated optics, meaning ALL are coated, which does make a fairly large difference to not only the brightness, but the quality of the image as well.
What is more, these are also the only pair that have special phase corrected prisms and that is the main reason for the slightly higher price. These special coatings on the roof prisms make sure that the light waves remain in the correct color phase after passing through the prism and thus these will produce a sharper, better quality image than equal roof prisms that don't have these coatings.
With a full 18mm, these Pentax 9x28 DCF binoculars also have by far the most eye-relief. Combine this with their twist-up eyecups as opposed to the simple rubber ones on the Steiner's then these are far more ideal for those who wear glasses and most should be able to use them, whilst keeping their glasses on by twisting the cups fully in.. Even those who don't wear glasses will appreciate the far higher quality eye-cups.
The downside to these for those looking for a true pocket binocular will be the single central hinge design. Whilst they are still compact, they cannot fold down into as smaller shape as the Nikon's or Steiner's that have a duel pivot body.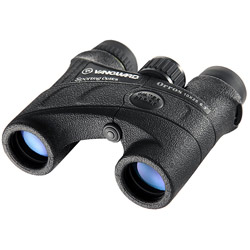 With a price tag of around $90 / £90, these low cost compact Vanguard binoculars could also fit into just what you are looking for, because after fully testing them my overall thoughts were that within this price range these are a great little pair of compacts that punch well above what their price tag suggests.
Compared to the others they compete in most areas and they have the closest minimum focusing distance and apart from the Nikon and Levenhuk, they have a reasonable wide FOV. This means that they will be good for birding, scanning wide areas as well as taking a closer look at nearby objects like flowers and butterflies.
For this price bracket, they come with some reasonably good quality glass and coatings, which translates to a relatively good quality view. As you would expect, these optics are protected in a very lightweight (only 280g) rubber coated, water and fog proof body.
This body with it's offset hinge, may not be able to collapse in a shape that is quite as small as most duel hinge compacts like the Steiner's or the Nikon's, which may be a consideration However it should still fit into most pockets and the upside is that the offset and large focus wheel makes then feel far more like full sized bins and thus less "fiddly" than some compacts.
Further Reading:
I hope that this comparison and my suggestions help, If you need some more advice please take a look at the links below to related content:
Need Some Bino Advice?
If you are struggling to choose between a number of binoculars and would like some advice, please drop me a line giving me as much details as you can regarding what you would like to use them for, your budget etc and I will see what I can do to help.