Rather than simply copying or even seeking to just improve on the more traditional designs of binocular harness, with the Skout Harness, Cotton Carrier has taken a completely new and somewhat unique look at how to carry your binoculars more easily and at the same time freeing up your hands when you are not glassing.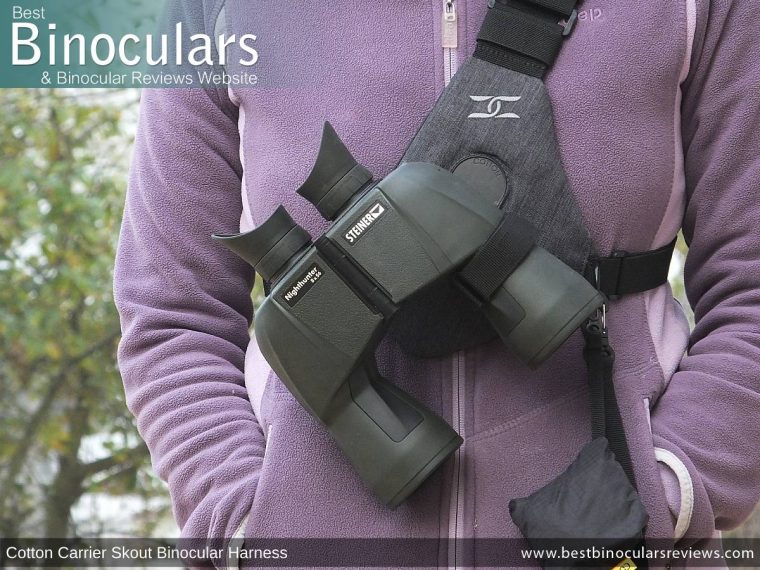 Comprehensive & In-depth Review
So to see if this unique design is actually effective and before writing this Cotton Skout Binocular Harness review, I spent a lot of time using the harness in real life situations out in the field. As you will see below, I tested it on a number of different size and shape of binoculars, paying particular attention to comfort and ease of use: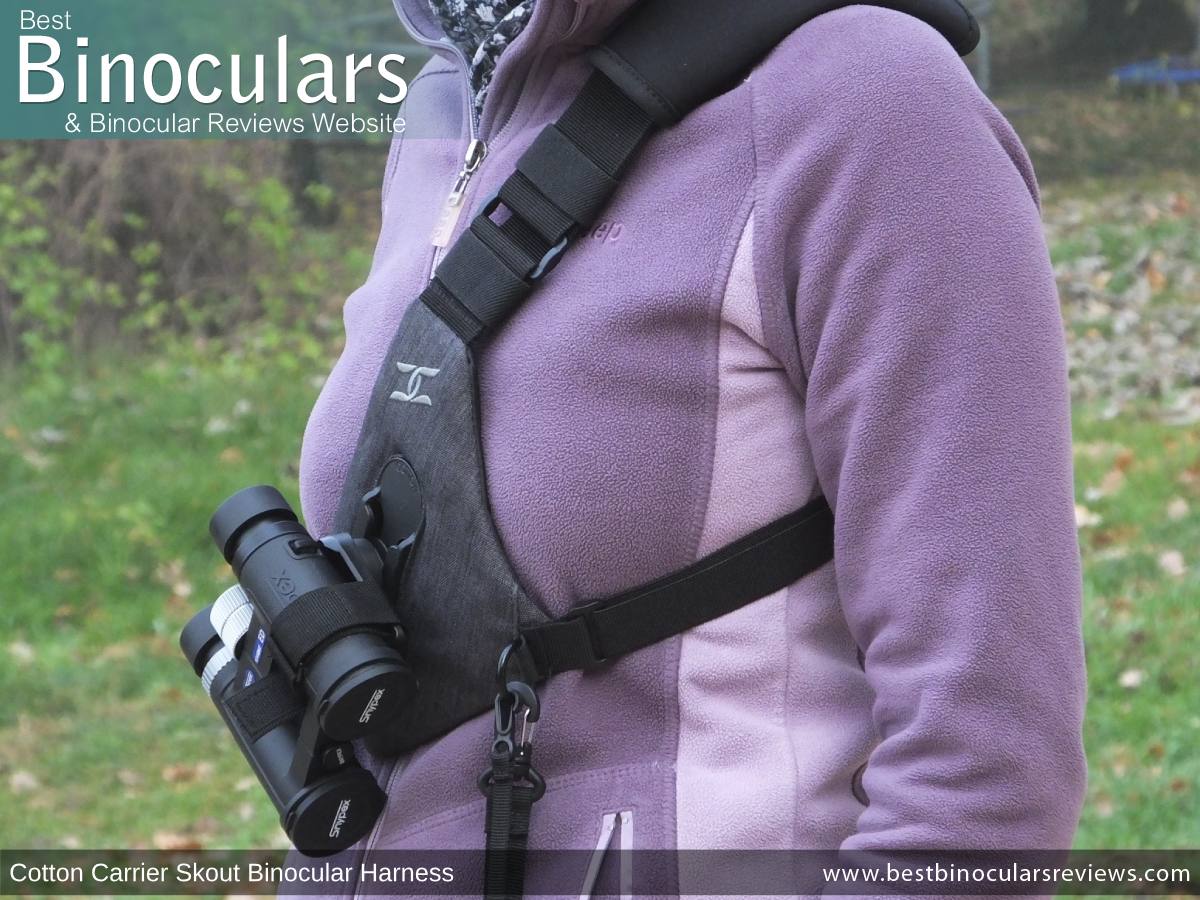 Sling Style Harness Design
The main difference between the the Cotton Carrier Skout Harness and just about any other binocular harness on the market is what they call the sling style harness. 
In essence, this means that rather than having the normal suspender type of harness with two straps (one for each shoulder), the Cotton Skout only has a single shoulder strap.
The marketing material will let us believe that this single shoulder strap or sling design presents us with a number of benefits, but do they play out in the real world. Let us take a closer look: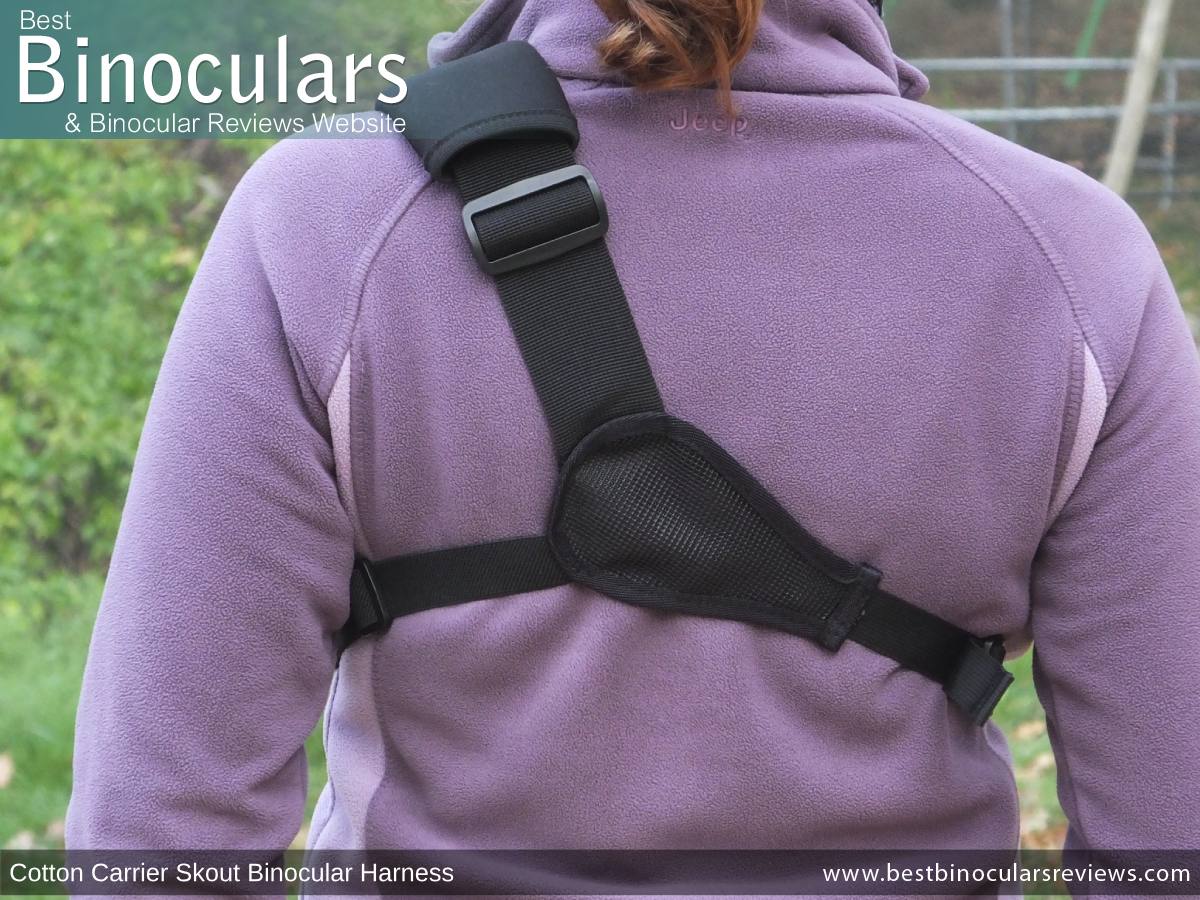 Potential & Actual Advantages
Size & Weight
Firstly, by only having a single strap there is no doubt that the Cotton Skout is smaller, less cumbersome and with less material, more lightweight than most harnesses (see more on this below).  
Speed & Ease of Use
With the standard double suspender strap bino harness, you put it on over your head as you would a t-shirt and then fasten the strap around your torso.
With the Skout 'sling style' harness, all you need to do is thread your arm through it and place it on your shoulder and then clip the strap around your torso.
So in terms of how easy and quickly you can put the Skout on:  For an athletic person not carrying any other equipment, there is certainly a small advantage.
However, as it was winter, I also found that once you have a number of clothing layers on, including a heavy jacket, as well as your cap or hat, not having to pull the harness over your head really did make a noticeable difference in terms of how easy it was to put on and take the harness off:
For me, this harness was far less of a hassle to take on and off and once I got used to the system,  it was much quicker to get up and running than the double suspender type of harnesses.
I can also see that by only having to slide the harness over your shoulder it will be of huge benefit to those who have slight mobility problems or back pain.  
Potential & Actual Disadvantages
Comfort
By only having a single strap, it means that all the weight of your optics is taken by one shoulder and not by two as with the double suspender types, so there is the potential for this harness to be a little less comfortable.
However in my experience it would take a really very heavy binocular to make this become a major factor. 
I tested the Cotton Skout Harness on a number of occasions, over long periods of time, on long walks and using large binoculars like the Steiner HX 15x56 that weigh in at 44.1oz / 1250g and never experienced any discernable discomfort.
To be fair as it was winter, on many occasions I was also wearing a jacket, which certainly adds a layer of padding to the system. 
So to test the comfort level to the extreme, I also tried out the Cotton Skout harness with the very large and heavy Levenhuk Bruno Plus 15x70 binoculars (1.3kg / 2.9lbs), which I perceive as being as about as large a binocular as you would possibly ever want to carry with a harness.
Indoors and without wearing a jacket, sure you can feel the weight, but there really was no feeling that I would describe as being uncomfortable. Perhaps if you were to take this setup on a very long hike on a hot day and only wearing a t-shirt, this weight would eventually turn to discomfort, but even so, I personally would not swap it for the benefits that the single strap sling provides.
Compact & Lightweight?
If compared to the new breed of full bag type of bino harnesses with two shoulder straps, then yes even against the lightest, the Skout is considerably less bulky and more lightweight for sure. 
However, if you compare them to the classic, suspender type of binocular harness, at best, the Cotton Carrier Skout is about the same , its size and weight.
This is mostly down to the weight that comes from the semi-rigid chest plate on the Skout that you fix the binoculars onto, whereas most normal bino suspenders don't have this. However, as we will get to later in the review, the very slight weight penalty that this plate and twist-lock fixing system produces is far outweighed by the benefits.
Whatever the case, we are almost splitting hairs as the differences here are very minor. If you are looking for a lightweight harness that is easy to pack away, the Skout is certainly a good option and for sure this will be of huge benefit to hikers, photographers, hunters, travelers, and general nature lovers.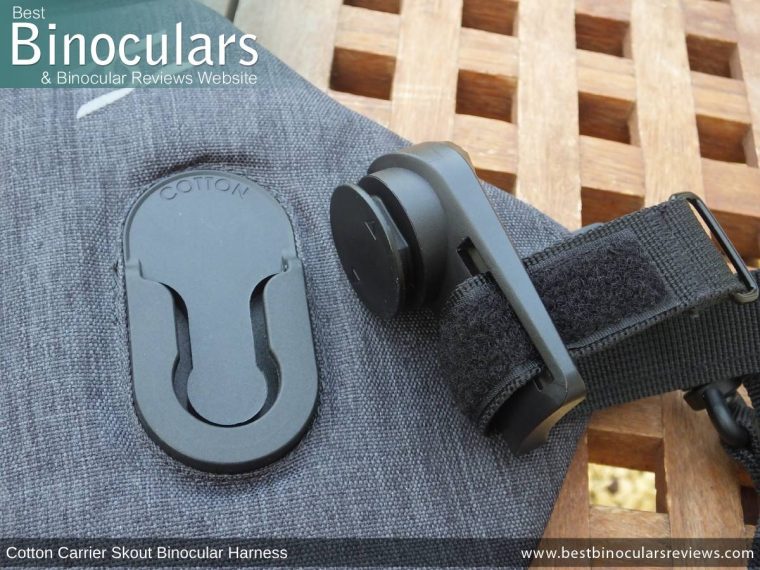 Twist-Lock Attachment System
Apart from the main sling style design, another unique aspect to the Cotton Carrier Skout Binocular Harness is the twist-lock fixing system for attaching your binoculars to the sling harness.
The 'female' receptor is sewn into the chest section of the harness, whilst the 'male' bracket is secured onto the barrel of your binoculars using a velcro strap
According to Cotton Carrier, both of these components are made from Nylon 6. Doing a little more research, I found out that their main qualities include being tough, lightweight, impact resistant and is able to have a smooth finish. Nylon 6 is often used on car and firearm components as well as gears and circuit breakers. 
Whatever the case, these components are more than adequate in terms of their strength for use in this application.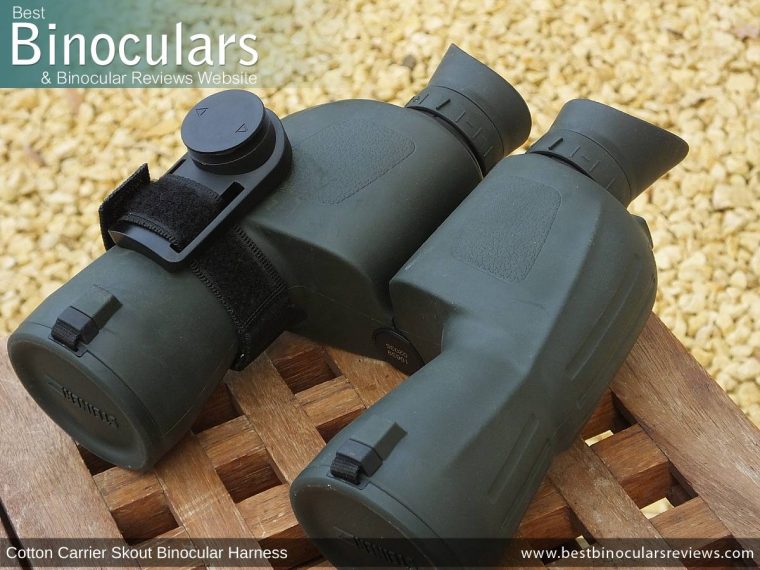 Attaching the Bracket to The Binocular
Before trying out the whole system, I was a little skeptical as to if the Velcro strap would hold tight enough onto the barrel of a binocular.
However, I tried it on a wide range of models, from mid-sized 32mm binoculars, right up to large 70mm binoculars and it had no problem holding the weight of the binocular and as long as I wrapped the Velcro strap tightly around the barrel, the bracket was secure: tight enough so that I was confident that it would not come off, but at the same time you could still maneuver it to the right spot along the barrel in order to get a nice balance when hanging the binocular from the harness.
Easy Peasy
One thing that I really like is just how easy it is to fix the bracket onto a binocular, take it off and then fix it to another one. For me testing it with a number of binoculars this was great, but I can also imagine that if you have more than one binocular this will be something to keep in mind when deciding if this bino harness is right for you.
This quick bracket fixing will also help if you sometimes like to use a harness and sometimes a neck strap because changing between the two carrying methods is about as easy as it gets.
Hanging Your Binoculars on the Harness
Once you have the bracket fixed to the barrel of your binoculars and you are wearing the harness, attaching it is also super easy.
You simply point the binoculars so that the barrels are aiming at your feet and then slide the bracket into the receptor. Gravity can take care of the rest for you as the binoculars simply slide down and then naturally rotate to the side.
This twisting locks the two together and your binoculars are held firmly against your chest and is almost impossible for it to slip out by accident, even if you were to lay down. 
Removing the Binoculars
To unhitch the binoculars, you simply turn them to that the barrels are facing downwards and then slide the binocular up and out. 
I have to say that I REALLY like this whole system, which is like many of the best things in life: so simple, yet at the same time very effective.
Which Binoculars?
I think that another really important aspect to the Cotton Carrier system is the fact that it accepts and is able to effectively carry a very wide range of size and styles of binoculars: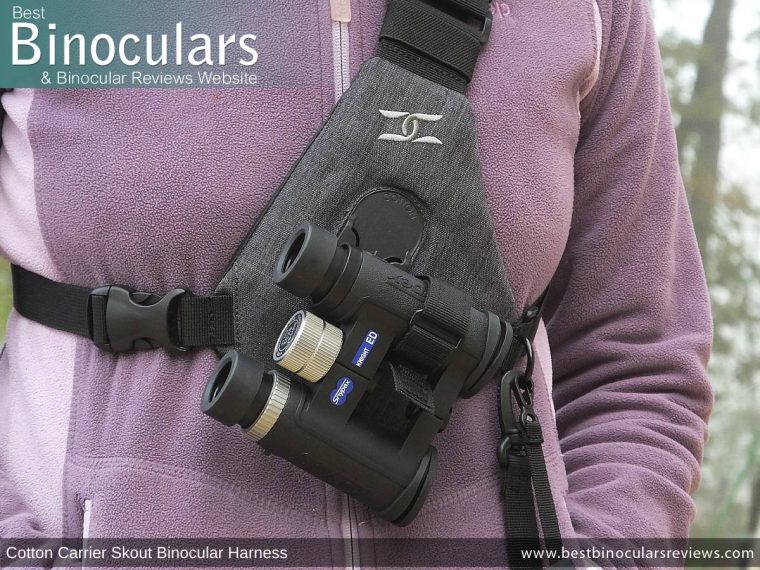 Mid-Sized Binoculars
First I tested it on the Snypex Knight ED 10x32, a mid-sized open bridge roof prism binocular. because the binocular is so small and the gap between the bridges is quite small, I at first had my reservations as to if it would work.
However, apart from having to wrap the Velcro strap more than once due to the smaller diameter barrels, there was no problem at all. Indeed this binocular worked really well, was very securely held by the bracket and hung at a nice angle from the sling making it super really easy to access. Because of the low weight, you really hardly noticed it was there.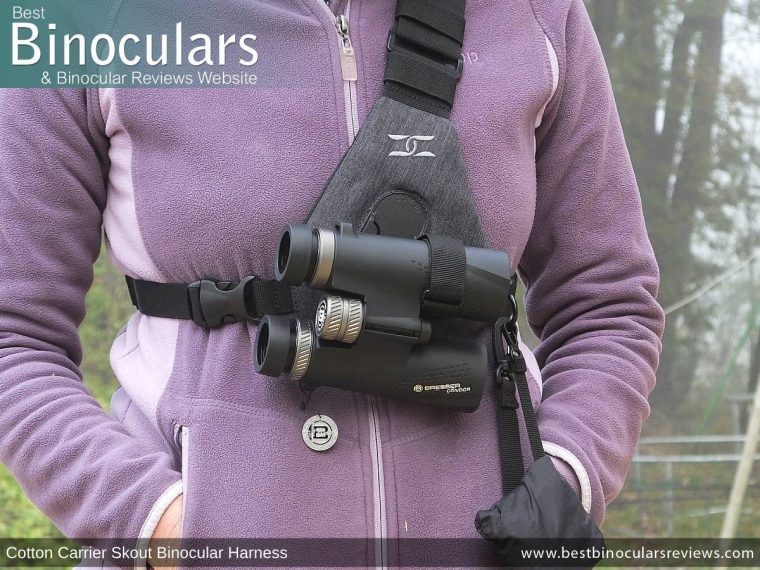 Standard (Full Sized) 42mm Binoculars
Next, we used a full-sized 8x42mm roof prism binocular, the Bresser Condor. Being the most common size, this is basically what all harnesses are designed to carry and so as you would expect to attach the bracket and wrap the Velcro strap around the barrels was no problem at all. 
Here once again the binoculars fell into place on the sling very naturally and made it about as easy and as comfortable as possible to carry the binos.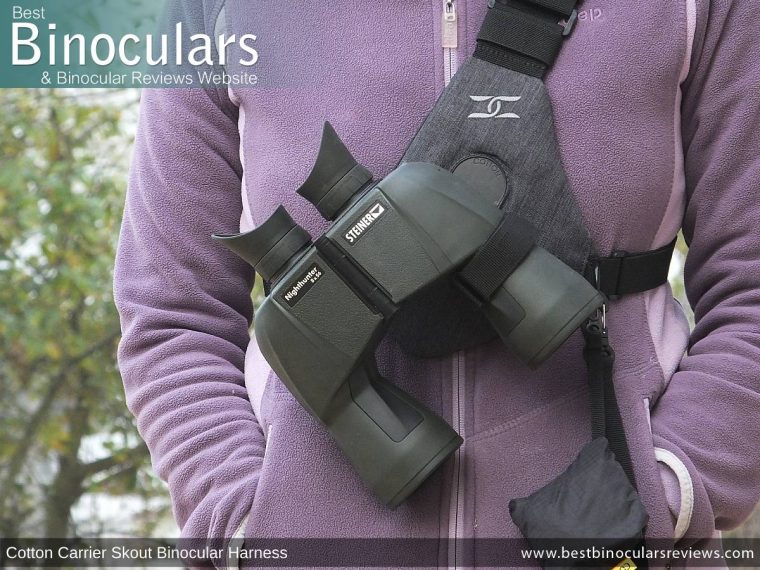 Large Binoculars – Roof & Porro Prism Designs
Next, we decided to push the harness a little and try a couple of larger and heavier instruments, in both roof and Porro prism designs.
First up was the turn of the very impressive Steiner Nighthunter 8x56. This binocular has quickly become one of my favorites, especially in winter and when the light is not optimal. There is no doubting their impressive light transmission levels and the resultant bright images, but on the downside, the large 56mm lenses do mean that this instrument is somewhat bulky and heavy. 
Both of these issues basically disappeared once I attached it to the Cotton Carrier Skout. The Velcro strap and the bracket fitted perfectly around the barrel and the binocular slid very easily into the receptor and hung down very comfortably. 
My wife who modeled for all these photos and who usually prefers to use a lightweight mid-sized or compact binocular also commented on just how easy it was to be able to carry a large instrument.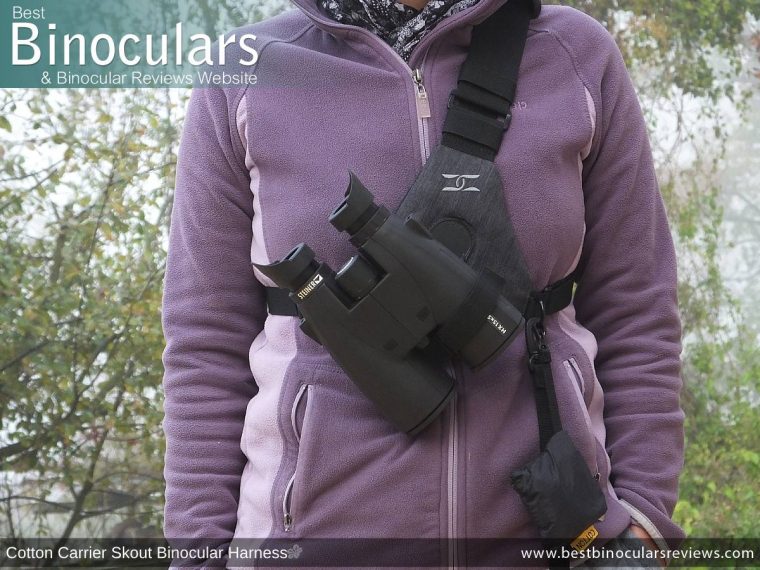 Then we used the Steiner HX 15x56 roof prism binoculars, which have the same size lenses and similar dimensions as the NightHunter above, but a very different body shape due to the different design of prism.
Here it is important to note that because of the fairly large bridge on the binocular, there was less space with which to attach the Velcro strap on the end of the barrel.
This did make it a fraction more awkward to fit, but there was enough space and because the bracket is cleverly designed to be offset from the center, you are still able to get a nice balance so that the binoculars hang sideways and are thus locked into the sling when not in use.
Very Large Binoculars – Porro Prism Shape
Lastly, we tested it using the very large 15x70 Levenhuk Bruno Plus Porro prism binoculars.
Here I was very surprised to see just how well the whole system worked and just how much easier it made carrying such a large and heavy instrument. 
Because the barrels on these binos are so long, you can position the bracket in many places to get the balance that you prefer. My preference was as close to the body as possible as this is where I found that it ensured the binocular would hang at a nice angle when in the harness. 
For me, being able to take all the weight off and free up your arms with such a large instrument is brilliant.
Compact Binoculars?
I also found that whilst it was possible to fudge it a little and make the bracket fit around the tiny barrels on my compact 10x26mm roof prism binos, this or indeed most other harnesses are not really designed for compacts and I would not feel comfortable recommending it for this purpose.
Safety Tether
Should you want to make doubly sure that you do not drop your binoculars, the Shout binocular harness also comes with a safety tether.

Made from a woven nylon, this strap is fixed to a corner on the harness via a swivel carabiner clip at one end. On the other end, you thread the strap through and back on itself using one of the eyelets on your binoculars as you would if you were using a neck strap.
About three-quarters down the tether, there is also a quick release clip making it very easy to quickly completely detach the binocular from the harness.
The tether length is just over 45cm and thus plenty long enough to give you room to lift the binoculars upto your face without any tension.
To be honest, I did not use this tether very much at all as I felt that as long as I was careful to put my binoculars back properly, the locking system was more than secure enough and I just preferred having my setup to be as uncluttered as possible. 
Single Binocular & Camera Carrying Solution
I think one of the best features of this design is that with their patented twist and lock mounting system, this harness can be used to carry either your binoculars or your camera. All you need is the correct bracket attached to your gear:
The nylon 6 bracket is used for your binoculars and by simply having the aluminium hub (which can be purchased separately) attached to the tripod mount on your camera, it turns the bino harness into a Camera Sling.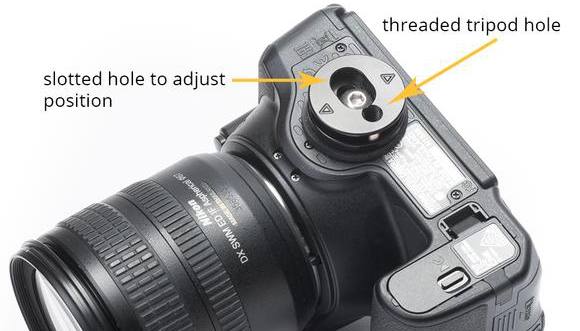 Camera & Binoculars Together?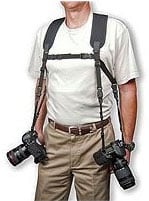 Whilst flexible in terms of being able to carry either your camera OR your binoculars, the Cotton Skout has been designed to be as lightweight and unobtrusive as possible and so because of this, you can only carry one item of gear on the harness. 
So if like me, you sometimes like to take both your binoculars AND your camera out with you, the solution would be to opt for a different carrying solution. 
I have used the OpTech Dual Harness Strap (image top right) to good effect in the past and whilst this harness does work, my main gripe with it is that it does not keep your gear close to your body. So like a neck strap, unless you hold onto your camera and binocular they can swing about. This means that your hands are either tied up with this task of protecting them, or your equipment is more danger of damage.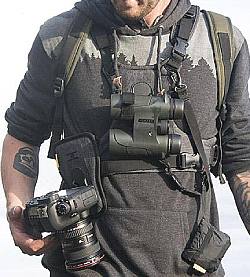 Instead, I think Cotton Carrier have a better solution:
CCS G3 Binocular & Camera Harness
This harness is a little more bulky than the Skout and similar to some of the newer chest bino harness out there. However, the advantage here is that this harness keeps the same twist and lock mounting system as the Skout and it permits you to carry both pieces of equipment safely against your body.
If this solution is of interest to you, you can check where to buy the CCS G3 Binocular & Camera Harness here.
Color Choices
The sample that Cotton Carrier sent to me and the one in most of the photos in this review is their  Charcoal Grey. This neutral color version is obviously aimed to accommodate a wide variety of uses and users.
For those needing or wanting to be a little more stealthy, they also make a Camo Skout harness that is finished in a Realtree Xtra Camouflage color.
Conclusions
Over the years I have been lucky enough to have had the opportunity to try out a wide variety of harnesses. From simple bino suspenders to full bag type harnesses and just about everything in-between.
Each of them has their own unique strengths and weaknesses. For example simple binocular suspenders a lightweight and usually a lower cost solution. Whilst a Bag Harness tends to be heavier, more bulky and cost more, but they do offer the binocular the greatest level of weather and impact protection and they can often also be used to carry other gear like a rangefinder for example. 
Strengths
With the Cotton Carrier Skout Bino Harness, you get a very easy to use and lightweight harness at what I think is a more than reasonable cost. 
Putting on the harness by sliding it over your shoulder is very easy and way less complicated than many suspender types that I have used in the past. 
It is also very comfortable and without large covered areas on your back and front, less chance of you sweating underneath it in hot weather. 
Changing between binoculars or a camera is quick and very easy and I simply love the twist-lock system. This is way easier than having to attach your binoculars using straps connected to the eyelets on the binocular.
Another distinct strength is the wide variety of binoculars which you can use. I tested the Cotton Skout  harness with roof and porro prism binoculars with open bridge and single hinge designs with sizes ranging from 32mm, 42mm, 56mm and even 70mm lenses. 
With the included tether and rain cover it offers a good level of protection to your gear from dropping and the weather.
Like all good harnesses, your binoculars are also protected by the fact that they are kept close to your chest and do not swing about. However, this is obviously not as much protection as a fully padded bag. 
Weaknesses
I am really struggling to come up with any major weaknesses, other than to say that unlike a bag harness where your binoculars have a full padded cover, on the Skout there really is no protection against impacts. 
Bags also sometimes have the capacity to carry other gear within them and whilst the Skout does have a pocket on the rear this would only be for carrying some money, identification and possibly some keys. 
Thus if you need the extra protection and to be able to fit in other gear, I would suggest a full bag harness, for pretty much everything else, my pick would be the Cotton Skout Binocular Harness and I have no hesitation in highly recommending it. 
Cost & Where to Buy
The Cotton Carrier Skout Harness is an extremely well made, high quality binocular harnees that I feel offers really good value to just about anyone needing a super lightweight harness that can carry just about any mid, full or even large sized binocular with ease. The other major cost saving advantage for some users is that this system can be used to carry either your binoculars or your camera and so for some this negates the need to buy two seperate harnesses.