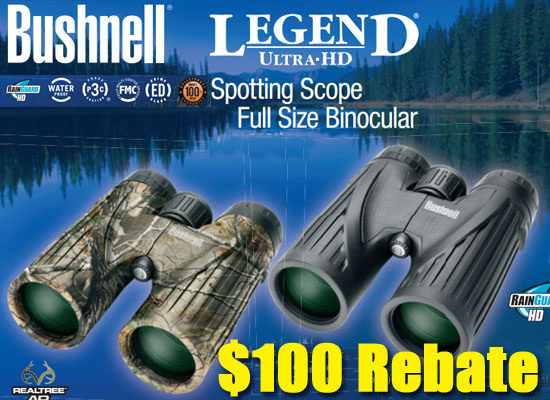 Bushnell, one of the most popular and biggest brands in optics and outdoor gear are almost constantly promoting and pushing at least a couple of their ranges and as such they often have some great deals and offers on their binoculars. Below are their current offerings that I know about:
Current Bushnell Offers:
Legendary Savings Event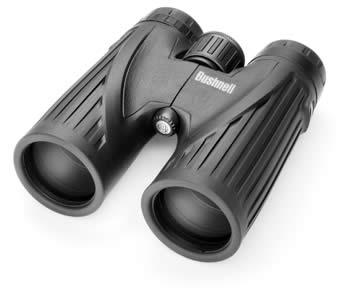 Bushnell are offering a massive $100 rebate on selected Legend Ultra HD Binoculars.
This really is a substantial saving and brings the cost of some of the models down to almost half price:
For example the Bushnell Legend Ultra HD 8x42 Binocular, had a list price of $362.95, but is now listed on most outlets at around $230 – this means you can now own this high end bin for around $130 which if you consider all their high end features (see below) is quite simply amazing!
The Legend Ultra HD incorporates ED Prime glass elements in the lenses that minimize color fringing for improved color resolution and contrast. The optics are also fully multi-coated with their Ultra Wide Band coating for increase light transmission. Phase Correction coatings are also applied to the BaK-4 roof prisms.
The tripod adaptable lightweight body is made from Magnesium and is both water and fogproof.
Small touches and extra signs of quality include locking diopter rings and a water repellent coating on the exterior lenses that not only mean you get a better view in wet weather, but ensure dirt, grime and oil is less likely to stick on the glass keeping them clean for longer and when you do have to clean them, you can be less vigorous which in turn ensures you don't scratch them.
Bushnell also offers a limited lifetime warranty on these Legend Ultra HD binoculars.
The 5 models included in this off are:
Bushnell Legend Ultra HD 8x42 (Sku: 198042)
Bushnell Legend Ultra HD 10x42 (Sku: 191042)
Bushnell Legend Ultra HD 8x36 (Sku: 190836)
Bushnell Legend Ultra HD 10x36 (Sku: 191036)
Bushnell Legend Ultra HD 10x42 Realtree AP (Sku: 191043)
Hurry
You also need to act quick as this offer
ends on the 16th November 2014. What this means is that you need to place your order by the 16th and then have your coupon sent in (postmarked by the 1st December 2014).
You can download the Bushnell Rebate Coupon here
Please note that this offer is also only available at selected participating dealers:
Where to find this Offer: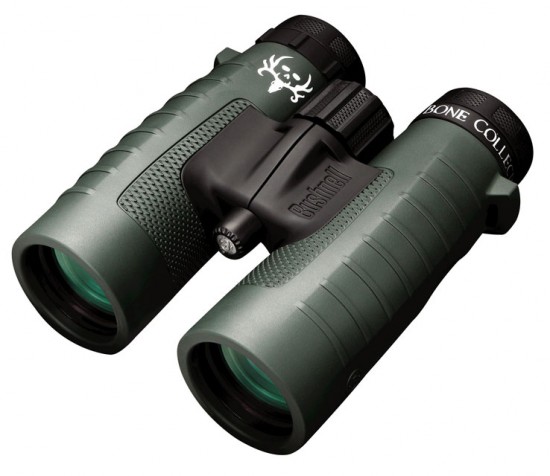 Recently Expired Offers:
Where to find this Offer:
Further Reading & Related Content
Other Related & Past Bushnell Offers