Swarovski Digiscoping Camera Adapters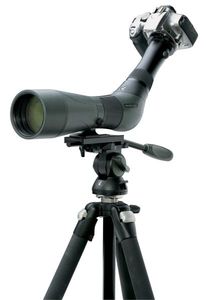 If you are looking to digiscope with your SLR camera and a Swarovski spotting scope, you basically have three ways of connecting your camera to the scope: Swarovski's DCA (Digital Camera Adapter), the UCA (Universal Camera Adapter) and the TLS 800 (Telephoto Lens System).
Basically the TLS 800 is a photographic lens and a spotting scope eyepiece all in one with a focal length of 800 mm (or 1280mm for DSLR cameras with an APS-size chip with 1.6x crop factor) and functions as an f/10 lens on Swarovski's 80mm scopes and f/12.5 on the 65mm scopes. It replaced the old 800mm adapter and features totally redesigned optics with superior optical performance, especially edge sharpness.
The advantage of the TLS 800, Swarovski telescope and camera combination is that it forms a powerful but compact imaging system for high class photography that can be used with a normal 35mm as well as a digital SLR (single lens reflex) cameras. Even higher magnifications can be achieved by using a high-quality teleconverter: A 1.4x converter would boost the TLS 800's focal length to 1120mm (22.4x). The other main advantage is that this system is much cheaper than buying a separate telephoto lens of the same quality (a Canon EF 800mm f/5.6L IS USM Super Telephoto Lens costs over $10,000) and you get a spotting scope to use when not digiscoping!
Compatible Spotting Scopes
The TLS adapter fits to all Swarovski ATM/STM 65/80 (HD) Spotting Scopes as well as their ATS/STS 65/80 (HD) spotting scopes.
Which Camera is best?
The TLS800 is suitable for all single lens reflex cameras (SLR) this includes the classic 35mm format versions or newer digital SLRs.
Because the spotting scope has no f-stop settings like a regular lens, it lets in light at a fixed rate – either f/10 for 80mm or f/12.5 for 65mm scopes, it means that as the scene gets brighter or darker, you must change shutter speeds to keep the correct exposure. Cameras that have an Aperture-Preferred Auto-Exposure system will change the shutter speeds for you, which will allow you to concentrate on the subject and not worry about the camera settings. "Programmed Auto"
and "Shutter-Preferred Auto" systems may not work, but the Manual Metering mode or manual shutter speed setting will work fine. Aperture-preferred works great when shooting print film, but slide film may require you to go to manual override for precise metering of tricky lighting conditions.
Connecting your Camera to the Scope using the TLS 800
The TLS800 adapter replaces the scope's eyepiece and mounts in place into the scope body. To attach the camera to the photo adapter, you have to remove the camera's lens and use a T-mount that fits your particular camera body (Canon, Nikon, etc.) to the TLS 800. It is important that you get the correct T-mount for your camera model, for example, there are two different T-mounts for Canon SLR cameras: one for autofocus bodies (EOS type), one for non-autofocus (FD type) bodies.
For more on how to use the Swarovski TLS 800 Telephoto Lens System take a look at the video below:
Features
Can be used with a normal 35mm as well as a digital SLR camera (DSLR)
Superior optical system consisting of eight lenses with SWAROTOP or SWARODUR coatings
Low weight, the system is much lighter than many comparable telephoto lenses
Much cheaper than buying a separate telephoto lens of the same quality
Disadvantages
Most SLR cameras with manual focusing have a focusing aid in the center of the view. This is either a split-image circle or a ring of microprisms. Any lens that is darker than f/8 will cause the circle or split-image focusing aids in the camera's viewfinder to go black. This will always happen when taking photos through the spotting scopes. Obviously this black spot will not show up on the actual picture, but it will block out the center of the viewfinder and force you to compose your main subject slightly off-center. Most auto-focus cameras do not have these focusing aids on the screen, so
blackout is not a problem.
It is important to remember that Spotting scopes are NOT actually designed for photography and as such they do not give you the same quality of results as a 800mm or 1100mm Nikon or Canon telephoto lens. But having said that those telephoto lenses cost 6 to 10 thousand dollars each, are not waterproof and you cannot view through them.
F-Number with the Swarovski Telescopes:
ATM/STM & ATS/STS 65 scopes: Aperture 65mm / Focal Length 800mm / F-Number 12
ATM/STM & ATS/STS 80 scopes: Aperture 80mm / Focal Length 800mm / F-Number 10
---
More Information
Example Photographs
Photographs
Below is an example of a digiscoped photograph taken using a Swarovski TLS 800 Telephoto Lens system and Swarovski Spotting Scope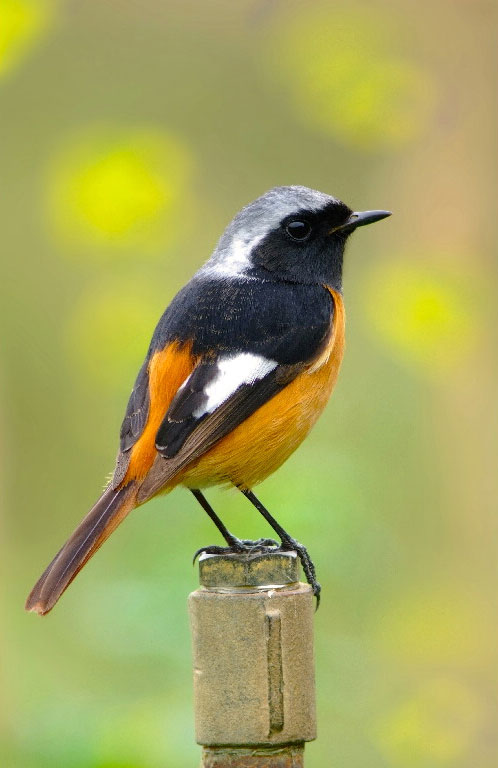 The above photo of a Daurian Redstart was digiscoped with Swarovski 80 ATS HD, with a Fujifilm FinePix S5Pro DSLR camera and mounted using the Swarovski TLS 800 Adapter. Photo Credit: wksevenleung