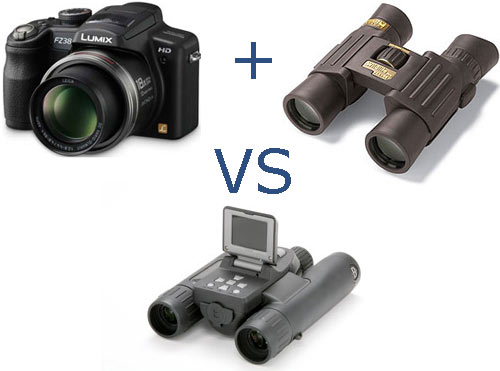 I recently had the following email question on digital camera binoculars:
'Hello,
I stumbled upon your site, and I have a question. I'm interested in buying a binocular camera I found on the sharper image website. It's binoculars with a digital camera for taking photos. The magnification is 10x25. I was wondering how strong that is. Would that be stronger or a better option than just a digital camera with a good zoom? While this binocular camera is a great deal at $70, cost isn't a huge concern. I'm just worried about buying something that will turn out to be worthless or pointless. I want to buy it, but only if the magnification is superior to a digital camera's zoom. I'm referring to a quality digital camera, not a professional grade with any detachable parts, but not a bottom level camera. I hope this isn't too confusing for you, and any help you could give me would be much appreciated!'
As it is a fairly common question, I thought it may be useful to post my answer on the site:
The camera in most binocular/camera combinations does not use the lens on the binocular and so the zoom will not match the binocular. The quality of the image produced by the camera will probably also not match that of a stand alone digital camera at the same price, so in my opinion, you are much better off getting a separate camera with a zoom and a decent pair of binoculars.
If you are looking for a very good super zoom camera at a reasonable price, I would highly recommend the Panasonic Lumix DMC-FZ38 (FZ35):
Cost & Where to Buy Panazonic FZ Cameras
It comes with an 18x zoom and if that is not enough you can easily get a tele-converter lens for it that increases it by 1.7x – I have the older version (Panasonic Lumix DMC-FZ28) and have nothing but good things to say about it.
Good Quality Good Value Binoculars
There are also plenty of good quality binoculars that are reasonably priced – Bushnell and Steiner binoculars in my opinion offer probably the best quality and value for money binoculars.
So until some better quality camera binocular combinations are produced and whilst it will be more expensive buying a pair of binoculars and digital camera separately, I personally feel that it is the far better option.