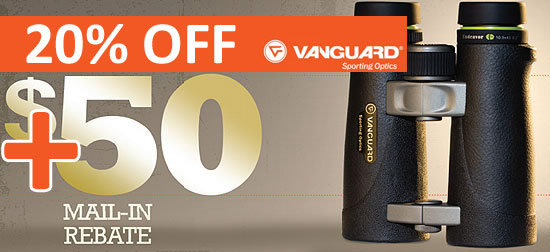 Eagle Optics (EO) are offering an additional 20% discount on any Vanguard Endeavor ED or 42mm Spirit ED binocular purchased from them.
I say additional because this is on-top of the already excellent $50 mail-in rebate that you get from Vanguard! You can read more about the $50 Rebate on Vanguard ED Binoculars here.
Best Value for Money
What is most incredible to me is both the Vanguard Endeavor and the Spirit ED have already won awards as the best value for money bins… and that was before both the rebate and the discount was being offered!
Just Marketing Hype?
So when I first learnt of this offer, I thought that surely there must be some mistake? Or if not a mistake, it is just clever marketing and the pre-discount price of these Vanguard binoculars at Eagle Optics is not that competitive, so that after you take the 20% discount off, you are left with the same price that you would pay elsewhere anyway?
To check, I did a little math:
So, as you can see with these two examples above, you get to save around $20 when compared to what you would normally pay at most other on-line retailers. This trend remains true on all the other Vanguard ED models and when I checked their prices at other on-line stores.
Hurry Offer Ends Soon
Whilst the rebate is valid until the end of 2013, you still need to be quick as this 20% discount offer from EO is only valid from the 15th March to the 24th March 2013.
Where to Get the 20% Discount
This discount is only available at Eagle Optics in the USA, see link below. To claim it all you need to do is enter coupon code Vanguard13 at checkout.
If you are in the UK, you can still also get a really good deal with the rebate offer on these bins.