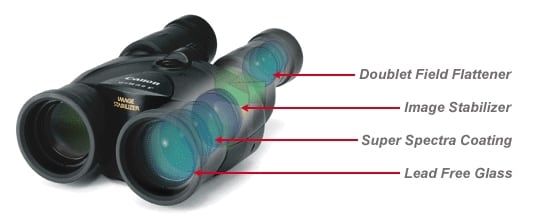 So you have seen a shiny new pair of image stabilization binoculars on the web that you like, but without trying them out first you wonder does image stabilisation really work?
Obviously this is one of the disadvantages of buying a product on the web (there are also many advantages). Just remember you can always return an item if it does not match your expectations.
Back to Image Stabilization on Binoculars
The short answer is yes, image stabilisation does work and probably the best way I have of demonstrating this on-line is with this excellent video that compares the view using the Fujinon Techno-Stabi 14x40 image stabilization binoculars with the feature turned off and then turned on:
How does Image Stabilization Work?
Image stabilization is achieved using an optical solution, electronic or even a combination of both to remove the shakiness of your hands. Cameras and camcorders have had this technology for years, which has now has finally been passed onto binoculars.
Canon calls their optical image stabiliser technology "Vari-Angle Prism." The Vari-Angle Prism is composed of two pieces of flat glass joined by a flexible bellow made of a special film that can expand and contract as required. The space between the glass plates is filled with a liquid of a high refractive index. The liquid is silicon-based oil specially developed by Canon. One glass rotates for pitch movement and the other for the yaw movement. Therefore, expansion and contraction of the flexible bellows can vary the top angle. To detect the movement there are two sensors within the binocular that detect horizontal and vertical shaking respectively. >> Read more on Canons Image Stabilization Binoculars
What are the Best Image Stabilization Binoculars?
Of the binoculars that I have reviewed, Cannon are the best when it comes to image stabilization. I am a big fan of theirs as not only do they work very well, but the Canon Stabilized Binoculars Range is very comprehensive and you should be able to find a pair to suit most needs.
Related Posts: Image Stabilization