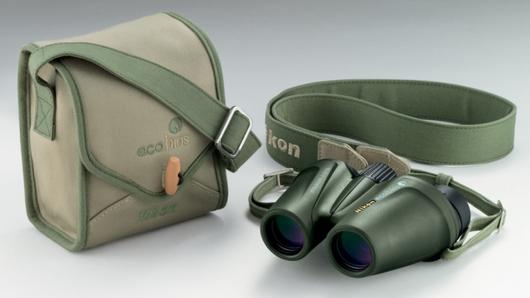 With the state of the world's environment featuring more and more in peoples awareness, it was only a matter of time that binocular manufacturers cottoned onto the idea that if they produce Eco Friendly Binoculars, not only would they be helping to save much of the nature we are looking at through their products, but also score some brownie points with the environmentally concious consumer in the process – everyone is a winner.
10x25 Nikon Ecobins Binoculars
Nikon are one of the first to realise this with the release their Nikon 10x25 Ecobins compact binocular.
These neat little compact binoculars are not only made with lead and arsenic-free Eco-Glass, a non-chloride rubber body uses no harmful inks or dyes, but also come in environmentally friendly packaging that is produced from sustainable Eucalyptus forests and manufactured with minimal waste and have a travel binocular case that is 100% all-natural Lenzing TENCEL® fiber.
For more and to find out if they are actually good binoculars, take a look at my detailed review of the: Nikon 10x25 Ecobins Binoculars