As I am sure this will be of use to many who are looking at buying binoculars and trying to sift through all the marketing jargon Here is my answer to a question sent in by a long time BBR Patron Supporter Warren:

Question:
What does HD mean on binoculars & is it different to ED glass binoculars?
I am a bit confused by the terms HD and ED when referring to glass. I just read an article that says they are interchangeable. That does not sound correct to me but maybe it is?
Answer:
Guide to HD binoculars: what it means, how it is different to ED glass binoculars with examples, reviews & recommendations.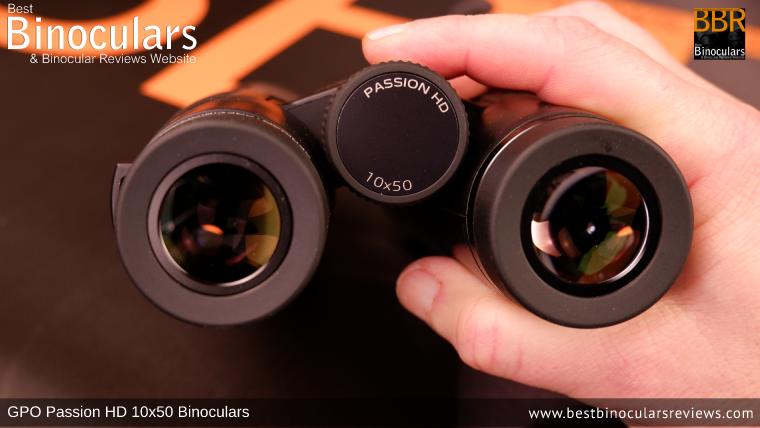 HD Binoculars, Scopes & Monoculars
In my experience, most brands mainly use HD on their binoculars (as well as scopes, and monoculars) for marketing purposes and it is simply an indication that this model or series uses their particular High Definition Optical System.
However, what makes up a High Definition Optical System certainly means different things to different brands and as such, it is a mistake to assume HD Optics from different brands are of the same quality.
Usually and as a base, but is certainly not always it indicates that the instrument in question has a fully multi-coated optical system, incorporates ED (extra-low dispersion ) glass elements in the lenses, and if roof prisms are used, they are both phase-corrected and dielectrically coated.
As I say, this is just a guide and is most certainly not always the case: Some manufacturers will use it to indicate they also have also included protective coatings on the outer lens surfaces, and others will simply use it to differentiate it from the ED version in their lineup and as such their HD instruments will have all the same optical coatings as the ED version, but either omit ED glass in their lenses or use different ED lens designs!
Example 1:
A good example of this and where a brand used HD to signify a higher level model than an ED one comes from GPO binoculars and their excellent Passion HD and ED instruments:
As well as a fully multi-coated optical system with water & oil phobic outer lens coatings and phase-corrected, dielectric mirror coated prisms, their Passion HD Binoculars like the 10x50 Passion HD pictured above also incorporate not one, but two extremely high-grade fluorite-containing ED elements within each lens.
Whilst the less expensive GPO Passion ED binoculars like the 8x42 Passion ED I have pictured below use the same level of optics and coatings (to my knowledge) except for the fact that the lenses "only" have one ED element contained with them.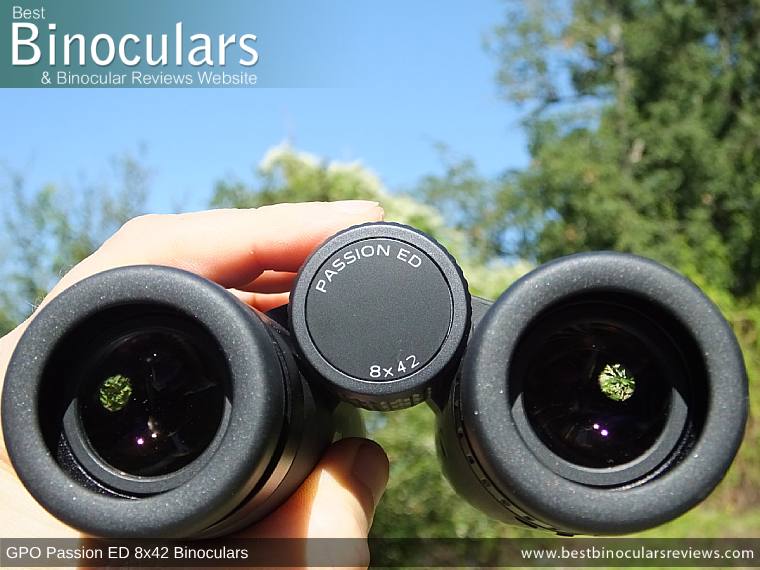 ED Binoculars
The ED term is less ambiguous, simpler to understand as it simply indicates that at least one element in the lens is made from Extra-low dispersion glass, and as such you would think it would be more comparable across different brands.
But even now you need to be very careful in making snap judgments as it is certainly not true to say that all ED glass is equal and then on top of that just using ED elements in the lenses does not instantly guarantee image improvement.
For ED glass binoculars to perform well and reduce chromatic aberrations as intended, these extra-low dispersion lens elements need to be used in the right way in a very well-designed optical system as a whole.
Indeed I have often remarked how very well-made non-ED glass binoculars can and often do show the same or even less color fringing (the result of chromatic aberrations) than less well-made ED glass instruments.
Also, keep in mind that many brands make binoculars that use ED glass in their lense, but they don't indicate it in the name. Here names like Swarovski, Kite, and Maven spring to mind.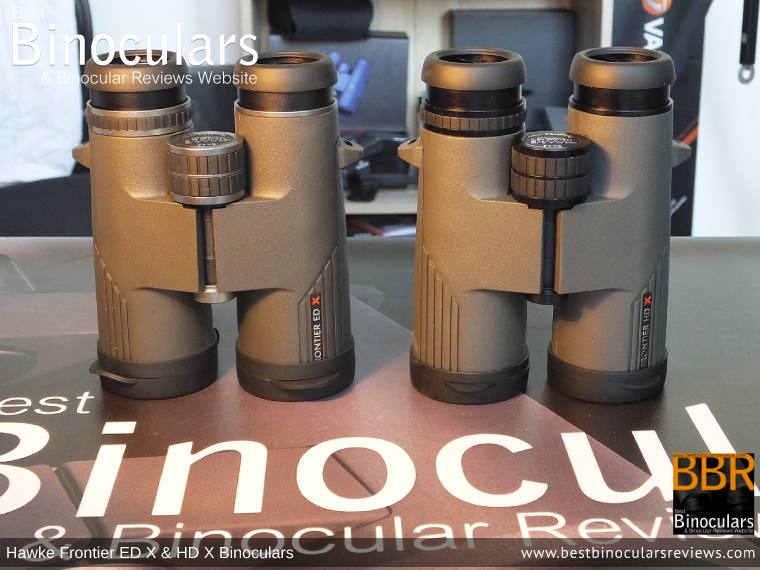 Example 2:
In the first example above, GPO uses HD to indicate a range of theirs that is at a higher level than their ED version of it. However, don't always assume this to be the case.
Here a good example comes from Hawke Sport optics and their award-winning Frontier HD and ED binoculars and scopes:
As with GPO, both the Frontier ED X and Frontier HD X ranges use a very similar optical system, except this time, it is only the ED X, which as the name implies uses ED glass lens elements.
The less expensive Frontier HD X instruments use "standard" and not "extra" low dispersion glass to make up the lenses.
As a point of interest when I tested them, the level of color fringing that I observed through the HD X was very minimal, and whilst like any binocular some color fringing is evident when you really look for it, the amount would certainly not be something to be overly concerned with.
However, when taking it to the extreme, like very closely examining the edges of a black telephone cable against a bright blue sky in the background, color fringing is easier to notice.
Here, I was able to notice that the ED X did perform better than the HD X, but I have to say that the difference was very minimal and you have to look very closely for it.
Conclusion
So to sum up, I only use HD and ED as an indicator of quality and it is only really useful to compare or differentiate quality within a particular brand.
So whilst this may not be the answer we were all are looking for, I hope this sort of helps clear things up!
Related Content