This weeks question was asked by someone who I spoke to on my live chat. I thought that my answer would be of use to others and so have published it here:
Answer
Here on BBR I divide the binos that I review into 6 main price categories ranging from very cheap binoculars that cost less than $50/£50 to the very best premium binoculars that cost more than $1200/£1200.
To the average person, almost all of them look fairly similar and so it can be hard to understand why some cost so much more than others. To help with this take a look at what features you can get at different price ranges and what the main differences are:
Very Cheap Binoculars
As you would expect very cheap binoculars are also manufactured in such a way and in locations where production costs are kept to a minimum. They also use as few expensive "bits" as possible to keep the price down. So in other words very inexpensive pairs are as basic as you can get and in the worst cases little better than toys.
The quality of the extras like the carry bag, neck strap and lens covers on cheap bins is also usually far inferior to that on more expensivr pairs.
Beware of Gimmicks
The binoculars will often use a "feature" to try and sell the binoculars. A good example are ruby coatings on the lenses that were made popular in movies like "The Terminator" and thus look cool. These coatings are supposed to take out red from the spectrum and thus look like they have eliminated color aberrations, but then without red, the image they produce looks unnatural and washed out.
Cheap Porro vs Roof Prism
If you are on a tight budget, in many cases you are probably better off choosing a porro prism binocular as apposed to a roof prism design (especially if size is not an issue). This is because the design of the porro prism means that they don't require many of the expensive high-reflective and phase correction coatings needed on a roof prism to achieve the same quality of image.
Expensive Binoculars
On the other end of the scale, higher spec optics are built to exacting standards, by highly skilled people, using the latest technologies and only the finest quality materials and components.
All in the name
You are in some instances also paying a premium for the name and their history. This can be a double edged sword as on the one hand you are buying into a name that assures you a certain level of quality and workmanship. But on the other hand, you do have to pay for the privilege of joining their "club".
Best Value for Money
The best value for money binoculars are ones that are built well, contain as many of the best quality components and coatings as possible and produce a high quality image, but at the same time cost as little as possible.
Whilst there are exceptions, this generally means that cheap does not equate to good value as you do need to spend a certain amount of money to get more "bang for your buck" and very cheap bins don't usually have enough quality components to produce a long lasting product or a good quality image.
On the other had, some very expensive binoculars use all the best bits and produce an incredible image, but charge a lot for their name. So whilst they may be the best binoculars, they are not always the best value for money.
I have found that for the most part, you can get a very good value binocular with most of the good bits, that will produce a good to very good image from around $250.
The binoculars below use coatings and components that are as good or better than the typical examples from the table above and so are in my opinion good value for money within their price bracket:
For more examples, take a look at my guide to:
Other Alternatives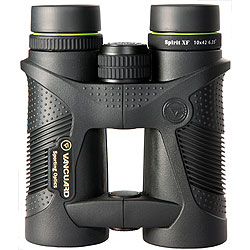 Low Cost
For some more ideas, take a look my page on the best binoculars for under £200 ($200) which contains my selection of some of the best bins that I have reviewed within this price range.
On this page also find some full-sized bins, including the great value for money Vanguard Spirit XF 10x42 and the excellent Hawke Nature-Trek 8x42 Binoculars.
These and other full sized binos generally offer a better performance than a compact, but with the obvious trade-off being the extra size and weight you have to carry.
Mid – High Priced
Also take a look at my article on the Best ED Binoculars for under $350 / £350.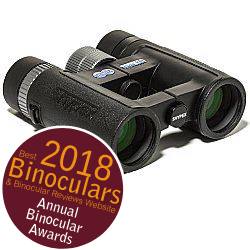 High End
Winner of the award for the Best Safari & Travel Binocular in 2018, I have nothing but good things to say about the superb Snypex Knight D-ED 8x32. Highlights include a fully multi-coated optical system with an APO objective lens design with ED glass elements, phase corrected BaK-4 roof prisms with the very best dielectric mirror coatings added to them.
The body is as you would expect both water and fog proof and I really liked using the all metal focus wheel whilst tesiting them and the focus mechanism was both smooth and precise. So whilst not cheap, I do think that for a high end binocular, they offer really good value for money. Highly Recommended.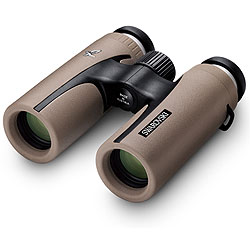 Premium
As well as the Vortex Razor listed above, I also highly recommend the 8x30 Swarovski CL Companion if you are looking for an extremely high quality semi-compact from one of the most respected names in optics.
At this level, and for a top European brand like Swarovski, you are always going to pay some sort of a premium, but I think these are offered at a reasonable cost when you consider the quality of workmanship, coatings and optical components that are used.