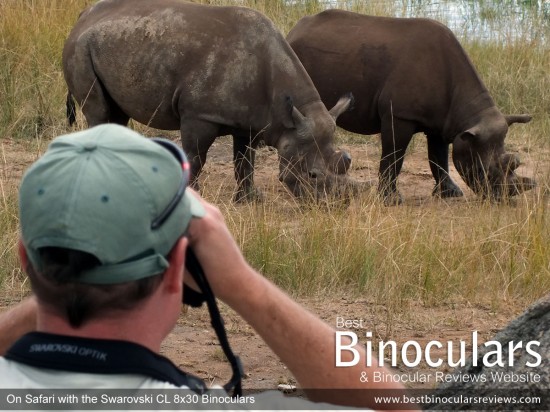 I recently had the opportunity go on safari at Imire, a wildlife reserve which is located just under two hours from Zimbabwe's capital Harare. Imire is probably best know for the work they are doing on rhino conservation and in particular the very endangered black rhino.
Apart from enjoying some of their incredible wildlife with my family, I also wanted to test out some new equipment that I am currently reviewing, this include a bridge camera, a tripod, remote camera trap, some night vision equipment and of course some binoculars.
Compact with Good Low Light Performance
With all this equipment and because I knew I would be walking as well as going out on safari in a vehicle, my first priority was to have a pair of binoculars that were nice and compact.
However because I have been to Imire before, I also knew that I would be spending some time in a hide at and just after sunset as well as going out at sunrise. So as well as compact, I needed binoculars that would still perform reasonably well in poor light.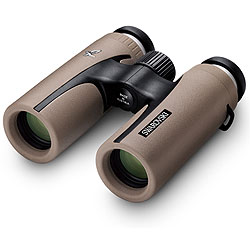 Thus out of the choices that I had with me, I decided that for this trip I would take a pair of Swarovski CL Companion 8x30 binoculars. The main reasons for this were because I knew from my full review of them that they are not only compact but the really high quality glass, prisms and coatings as well as the slightly larger 30mm objectives (compared to full compacts) meant that they, to my eyes matched many of my full sized 42mm binoculars in terms of image brightness in poor light.
Field Report: Swarovski CL 8x30 Binoculars
In this article, I won't go over all the points that I have already covered in my full review, rather I will stick to my thoughts and findings during this particular safari and in particular focus on their suitability as a travel and safari binocular.
Large Compact or Small Mid-sized Binocular?
Smaller than most mid sized bins that usually have 32mm objectives, yet a little larger than most compacts which usually have objectives of 28mm or less, these roof prism 30mm CL Companions, with their open bridge design are somewhat unique.
For traveling and using in a vehicle whilst on safari they are perfect as they are easy to pack in with your hand luggage and obviously simple enough to carry about in a vehicle. However if like me, when out on a walk and carrying other gear like a camera, it is great to be able to store your bins in a pocket when not in use as they are kept well out of the way when taking photos.
Back in Europe I was able to do this with the 8x30 CL Companion as they easily fitted into my jacket pocket. However it was hot in Zimbabwe and so I did not want to take my jacket and I found that this Swarovski binocular was just a little too big for most of my shirt pockets. To get around this I threaded the carry bag through my belt and so carried the binos on my hip when not in use, which worked really well. However, if I had brought it with me, a better solution would have been to use a bino harness like the excellent LockDown Optics Deployment System that keeps the binoculars close to your chest, preventing them from swinging about and getting in the way of your camera.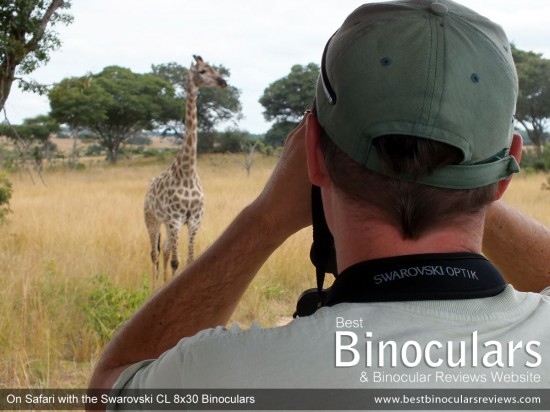 Comfort
I make no secret in stating that I love the open bridge design on these and indeed on may other modern binoculars. It makes them really comfortable to hold up to your eyes and when not in use, without the neck strap around your neck, this design makes it nice and simple as well as secure to hold them with one hand around a singe barrel.
This was important to me as on a number of bush walks, I removed the neck strap and stored the binocular when not in use in the carry bag which was located on my hip, threaded through my belt. Not wanting to return the binoculars to the bag every time and with my camera in one hand, I would simply carry the CL companion in the other hand, which I found worked very well.
8x Magnification
Swarovski also make a 10x30 CL Companion, which would definitely be a consideration as a binocular to take on Safari. The slightly higher 10x power would give you a little more image detail, which when viewing wildlife over larger distances would be an advantage.
However on the flip side, you get a narrower field of view and thus because I also really enjoy birding, a nice wide view is important to me. The higher power would also reduce the exit pupil and therefore impact on the low light performance of the binocular which for me was another consideration:
Low Light Performance

Sitting in the hide at and just after sunset, watching the bird life as well as some Zebra and Kudu antelope come down to a water hole to drink, I was glad that I had chosen a quality binocular that easily outperforms almost every other compact binocular I have ever used in terms of image brightness (see my review).
Whilst I did not have any other compacts to compare them with, I did compare the view through them with that of a old pair of 8x42 Bushnell's that my guide was using. As I had found whilst testing them for my review, the image that I saw was every bit as bright as the 8x42 that produces a much larger 5.25mm exit pupil (compared to the 3.75mm).
Whilst I am sure when it started to get quite dark, my pupil would have been larger than 3.75mm and thus I should (all else being equal) have perceived the 8x42 to be brighter. But I did not notice a difference and that must be because they are not equal and the quality of the glass and coatings on these Swarovski's is superior, thus they have a better level of transmittance and so more light gets to your eyes. For more take a look at my complete guide to the exit pupil.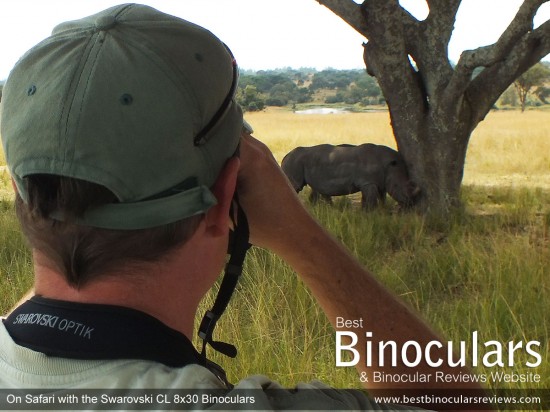 Conclusion
As a travel binocular these are almost perfect. For safaris, especially if you will be on a vehicle they are also ideal.
Whist still compact, they are a little lager than most pocket binoculars and so some people may wish for a slightly smaller binocular if you really do want to keep them in your shirt pocket when not in use. However this is countered by their improved performance and so the decision you make will depend on what is most important to you and your needs.
For large animal safaris, the 10x version may be a better option, but if like me you also enjoy your birding, these 8x binoculars are a little more versatile.
Prices & Where to Buy
You can check the prices of these Swarovski Companion binoculars on a number of different on-line retailers in the UK, UK, Canada and Germany here: Where to Buy & Price Comparison – or take a look at the quick links below:
Further Reading & More Information
For more, please take a look at the links below and in particular my full review where I go over every aspect of these in detail:
Acknowledgements: I would like to thank all the guys at Imire for their expertise and patience in taking me around the reserve to view all their wonderful wildlife. I would also like to thank Swarovski Optik for sending me their binoculars to test and review. I would also like to stress that as with all my tests and reviews, the opinions I have expressed in this field test are my honest opinions of the product and I am in no way compensated or pressurised to write in a particular way.