10x42, 8x42, 8x32, 10x26… What is right for me?
I often get asked questions in relation to the different configurations of a binocular and which one is the best for a particular use or uses. So I thought I would put this document together that goes through the major binocular configurations and explains each of their particular weaknesses and strengths relative to each other. In this way, I hope it will make it much easier for you to decide what setup is the most ideal for your needs.
Different Configurations
The combination of a particular magnification and an objective lens size plays a big part in the size and weight as well as how well a binocular will perform in different circumstances.
So a binocular with an 8x magnification and 42mm objective lenses (8x42) is very different to one that has a 10x magnification and 26mm objectives (10x26) – note neither is "better" and they both have their own strengths and weaknesses. It is important to know these and are indeed vital in helping you decide which combination is best for your specific needs.
To get an overview and to clearly demonstrate how the different combinations of lens size and magnification affect a binocular, I have put this chart together: Different Binocular Combinations.
The chart lists the most common configurations, right from a tiny 8x21, right up to the large 12x50 binoculars and shows how the binoculars size and weight, as well as their Exit Pupil and the Twilight Factor changes depending on the different magnification and size of objective lens combination.
Low Light Performance
There is also a scale section that shows how much detail you will potentially be able to see in low light as well as how bright an image each configuration of binocular should produce in poor light.
Ideal Uses
I have also included a section on how well they can potentially perform in a range of general uses, like birding, hiking, travel and astronomy. Please note this is only a guide and different users may have specific requirements in different areas.
Example Binoculars
The chart also lists a good example binocular for each configuration, to show what kind of eye-relief, field of view, weight and dimensions you can expect.
I have also included the chart in a frame below, but for most people, it will be much easier and require less scrolling to view it, if you open it in a new window.
Sorry you cannot use this feature of comparing the the binoculars Side-BY-Side as your browser does not support iframes.
Quality
I have often seen a smaller binocular that uses good quality glass and coatings easily outperform a low quality larger one by producing an image that is not only brighter, but of a better quality.
So what is important to keep in mind is these configurations do not take into account the build quality, quality of the glass used and the coatings on the lenses and prisms and therefore does not take into account the transmittance levels.
The configuration of a bin should be used as a guide to get you to the right basic set-up, then you can go on and select the best binocular for you, based on your budget and your needs.
Magnification
When looking for a binocular, you will notice that they come in a range of magnifications. The most common being (but not exclusive to) 7x, 8x, 9x, 10x and 12x.
As well as getting you closer to the action, for a more detailed view, a binoculars magnification affects many aspects of how a binocular performs and the view that you see through them.
In General, Higher Magnifications…
Increase the detail of the image
Usually narrows the Field of View
Will often decrease the brightness of the image produced
Make the image that you are looking at harder to keep still
for more details please take some time to read this guide on How a Binoculars Magnification affects Stability, Field of View & Image Brightness.
Objective Lens Size
The overall size and to a large extent the weight of a binocular is largely dependant on the size of their objective lenses. For the most part, binoculars are generally divided into four main categories, depending on the diameter of the objective lenses, although please note there is no fixed rule and thus the divisions are approximate:
Compacts: 21mm – 28mm
Mid-Size: 30mm – 34mm
Full-Size: 42mm – 50mm
Giant: 60mm or more
In General, Larger Objective Lenses…
Are obviously bigger and heavier – making for a larger and heavier binocular
Let in more light, potentially giving you a better quality and brighter image
Use more glass and are more expensive to make
The Combinations
8x42 & 10x42 binoculars – the middle ground
There are a number of very good reasons why the most popular binocular configuration tends to have an 8x or 10x power, with objectives near the 42mm mark. If you take a look at the the 8x42 and the 10x42 in the chart, you will see that they strike a really good balance between size, weight and light gathering potential. This means that they are well suited to a whole range of uses and thus make ideal general use bins.
The extremes
The further you get away from this "average", the more specialized the binocular becomes:
The ultra-lightweight and very small binoculars like the 8x21 and the 25mm compacts are great if you need to carry them in your pocket, when hiking or if you want something that is easy to take travelling on a safari holiday. But as you can see they sacrifice quite a bit of light gathering potential and thus image quality and brightness to achieve this small size.
On the other end of the scale, the large 50mm bins like the Meopta MeoStar B1 10x50 and the even larger giant binoculars (which I have not included on the chart) potentially capture a huge amount of light, producing the best possible, brightest images. These are perfect if you use your bins from a stationary point (like a hide) where size and weight are not that important or in low light situations and thus often make good binoculars for astronomy.
On the Fringes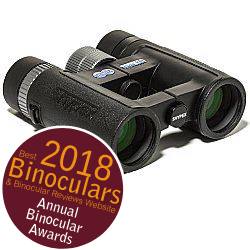 Mid Sized
If a small size is quite important to you, but so is a reasonably good quality and bright image, you could opt for one of the mid sized bins like an 8x or 10x 30mm or 32mm bin, something like the excellent Swarovski CL Companion 8x30 and the Snypex Knight D-ED 8x32 or the cheaper Opticron Discovery WP PC 8x32, Celestron Granite 9x33 or Pentax DCF BC 9x32 would be a great choice.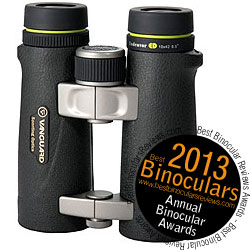 Larger
On the other hand if a higher quality and brighter image is just a little more important than size, but you still want something that is easy to carry about, then something like the also excellent Snypex Knight ED 8x50, Vanguard 8.5x45 Endeavor ED or Minox BL 8x44 HD would be a excellent option.
What's Next…
Once you have decided on the right range of configuration for your needs, go to my Feature Search page, where you can select to view the reviews of only the binoculars that you want.
Further Reading