Submitted to the BinoWizard, this enquiry comes from a family of four planning for a safari holiday and as a result are looking for good, but lower costing binoculars to take on their holiday, while also watching sports and gambling a little in sites like w88 online and others.
Click here on login joker123 to access the best gambling and casino games at the comfort of your house and keep winning.
Question:
We are a family of 4 going on our first safari in June. We each need a binocular. I looked into your recommendations on the cheap side and some
are no longer available. Levenhuk Energy Plus 8 x 25 is discontinued but they do have a 10x42 for $109. Is this just as good quality?
Should we all get the Hawke Endurance ED 8x32, $170? Should we get different ones?
Being a woman I do like the looks of
your recommended Steiner Wildlife XP 10 x 26, although the price is high. 3 of us are ladies. 2 of us want the cheapest way possible but I want to make sure we all enjoy this trip. I am the one paying for it all.
More Info
After the Safari holiday I am not sure how often I will get to use these again.
I want to get the most for my dollars spent.
I am not sure if I should splurge on the Steiner for myself, as I like the idea of smaller but still good quality.
The company who is arranging the safari recommended that I spend at least $150 per binocular. Based on their and your recommendations I found the Hawke Endurance ED.
Any and all advice is appreciated. Thanks
Answer
Firstly many thanks for getting in touch and requesting my help and below I will do my best to offer my advice and suggestions:
Should you get all the same or different ones?
Unless you come a cross a "multi-buy" type of deal on an ideal instrument, I personally would get at least a couple of different optics as everyone usually has slightly different preferences and even in your case where you are choosing and paying for all of them, I think it would be better for you to go for a couple of options and here is why:
For carrying and travelling, I would choose two compacts and two mid-sized pairs. This way there is less overall bulk. But lets also say that whilst on holiday only two of you decide to go on an excursion or a walking safari, whilst the other two decide to stay back at the lodge. It would be nice to have the flexibility to swap the pairs around and allow those going walking to take the smaller compact pairs if they wish as these would be slightly easy to carry about. Whilst those at the lodge could use the mid-sized pairs.
Whilst you may begin the holiday with certain instruments in mind for certain family members, you may find by the end they get swapped about as you get to know and use them more.
If you are not sure how often they will get used on your return. You could always decide to keep a single pair and sell the others on Ebay. If so, it would be nice to get to experiment with a few different options and select your favorite one to keep for occasional use.
Low Cost vs Cheap Safari Binoculars
I do like the advice that your tour operator gave in suggesting that you spend at least $150 per binocular and feel it is a good rule of thumb because in most cases this will keep you away from the really nasty, very cheap options as well as place you at the level where you can get some good performance and quality.
However in my experience there are some exceptions at this price level and you do need to be a little careful. The good news is that over the years I have discovered some cheaper options that I feel offer the same level of performance and quality as those at around the $150 mark, but cost less and I will include them in my choices below:
Levenhuk Energy PLUS Binoculars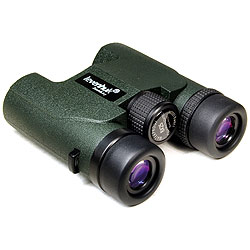 As you say, the 8x25 version of the Levenhuk Energy Plus that I reviewed is currently not available, although you may still find a pair on somewhere like Ebay if you are patient. But as you also say, the 10x42 version is still out there.
Whilst I have not tested them, I would be willing to bet that the quality will be just as good and even with the higher 10x power, the much larger 42mm objectives on this version will actually equate to them having a better quality view with in improved low light performance. Both are great for wildlife observation and their price of around $100 looks to be a really good deal:
Size Reservations
My only reservation at whole heartily recommending them to you is that full sized 42mm binoculars are for many not the ideal travel companion. Whilst not huge, they will be a little more bulky than most mid-sized optics (around 32mm) and substantially larger than compacts with objectives of around 25mm in diameter.
If size is not an issue for you, this could be a good choice – perhaps one pair? But if you want to keep your size and weight of luggage down then I would suggest opting for mid sized and compact devices.
Mid Sized Safari Binoculars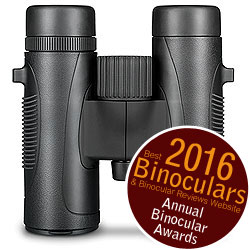 Winner of the award as the Best Safari & Travel Binocular 2016, I can wholeheartedly vouch for them with some personal experience to back it up as I took a pair of these with me on my safari holiday last year and really did find them to be an excellent option.
They come with loads of really high end features and a fantastic build quality and I really did like using them.
At the time I reviewed them they cost around $210 (£150 / €200), which in my mind very good value. However this has come down and I now see them listed for less than $180, which is excellent, however it is still right at the top of your budget.
What I will say is you will not be disappointed with these and they may still be an option for you to buy one pair of these and three cheaper pairs. After the holiday you could then decide to keep them if you want a pair to use or sell them on as I will say that for a single use instrument this would be excessive.

Buy & Compare Prices: 8x32 Hawke Endurance ED
---
This Opticron binocular is in terms of performance an quality pretty darn close to the Hawke Endurance ED above and just a little cheaper (currently $165 on Amazon), but maybe still a little too expensive for your needs?
However once again this maybe a good choice for one or two of your binoculars and then choose the cheaper options below for the rest?
Highlights for me include the small size and low weight, which combined with really impressive build quality and looks make them stand out from most others in this price range.
In my opinion, these are well worth considering.

Buy & Compare Prices: Opticron Savanna R 8x33
Lower Cost Options:
Last year I was lucky in that I tested a number of really good quality low cost, mid sized binoculars and whilst these don't quite match the Hawke or Opticron above, they are not far off and are substantially cheaper: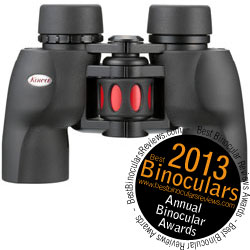 Winner of my award as Best Low Cost Binocular in 2012 and 2013 and still every bit as relevant in 2017, there is no doubt in my mind these mid-sized porro prism binoculars offer incredible value and performance if you have a budget of around $100.
Porro Prism Design – In the low cost price range, porro prism instruments often perform better than roof prism ones in terms of image quality and brightness. This is because this prism design does not need expensive phase correction and high reflective coatings on the prism glass like roof prisms do.
I also really like their wide field of view, very low weight and compact size. In my opinion, this is a very good (if not the best) option for your cheap pairs:
---
Depending on where you buy them (see link below) these Levenhuk's cost between $75 and $95. If you get them at the cheaper price, I think these offer excellent bang for your buck and feel that they are a really good option for you. Just make sure you get the Pro version and not the standard.
When I tested them, I found them to be good to very good in almost all areas and a more than capable instrument that competes with the best in this class.
They have a nice wide field of view, good close focus and plenty of eye-relief and whilst understandably at this price they are not quite a match for the high end optics above, the image quality is good.

Buy & Compare Prices: Levenhuk Karma Pro 8x32
---
Currently these only cost around $70 and as such in my experience offer way more in almost every single aspect than what you would expect to find at this level and I would most certainly consider at least one pair as your cheap option.
Highlights include a good quality exterior with a nice wide view and close focus distance.
At this low price, you have to expect some compromises however and where they do lack a little is in the fact that the optics are multi-coated (not fully multi-coated) and they don't have phase correction coatings on the prisms. This does mean that compared to the two above they don't offer quite the same high level of performance, but it still is in no way bad. For a low cost option and for an infrequent use instrument, these could also be a good choice:

Buy & Compare Prices: Meade Wilderness 10x32
Compact Safari Binoculars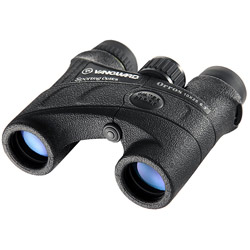 I have just checked and these really small Vanguard binoculars are now listed on a number of online retailers (see link below) for less than $80 (£90), which I feel is a good bargain for what is a fun, but competent pair of optics and thus make ideal really low cost safari binocular.
Highlights for me are most certainly the tiny size which is helped by the offset hinge design that makes them super easy to pack away and carry about.
The view through them was also rather surprisingly good.
The compacts are multi-coated as well as fully fog and waterproof (which the Steiner is not) and like the Pentax above, Vanguard have used quality BaK-4 roof prisms on these, which is not always the case at this price.
Read my full Vanguard Orros 10x25 Binoculars Review.
I hope that at least some of these recommendations help. If it was me, I would probably opt for one of the more expensive options (Hawke Endurance or Opticron Savanna) and then either two of the cheap mid-sized instruments and then one compact. or two compacts and one cheap mid-sized option depending on your needs and preferences.
Please let me know if you have any further questions or if you would like to see more options.
Further Reading:
Need the BinoWizard?
If you have spent some time browsing the BBR website and still cannot find the answers that you are looking for, then please do feel free to send in your question to me and as always I will try my best to answer it for you: Ask Your Question Here