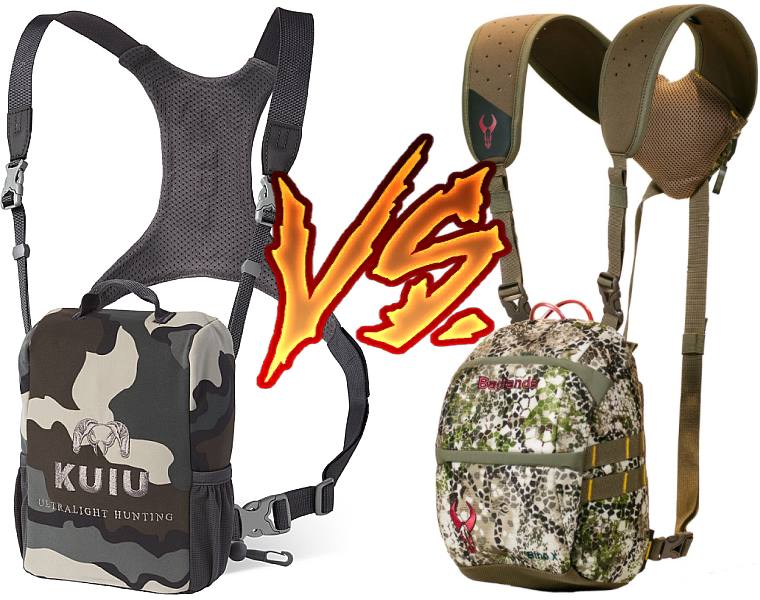 Depending on your requirements, the ideal/perfect bino harness for you will largely depend on your specific needs or uses and the type or size of binocular and possibly other gear that you wish to carry.
So for example, you may prize protection of your expensive bins as the most important feature, whilst others will place fitment and comfort above all else as they may need to carry heavy gear over long periods of time/distance. Then there will be others that need a simple, lightweight harness whilst.
However if you are looking for a good all-rounder that does a good job in almost all areas and also has the capacity to carry other gear like a rangefinder for example, two of the most popular full bag type harnesses currently doing the rounds at the moment come from Kuiu and Badlands:
Kuiu Bino Harness vs Badlands Bino Harness
There is no doubting that both the Kuiu vs Badlands Bino harness are great "carry bag" type chest harness systems and as such, both are included in my shortlist of the Best Binocular Harness for Hunting. But unless you plan on splashing out and buying both of them, the inevitable question will come down to which is the best for you, your specific needs or preferences and your budget.
To help answer this question I have decided to place the two side-by-side and compare their main features and specifications and discuss their relative strengths and weaknesses:
Size Considerations
I guess the most basic and first place to start is to check that each bag is not only capable of storing your binoculars, but which one potentially has the best fit for them. Then there is also the comfort factor and just how big a bag you want to carry on your chest.
The KUIU Binocular Harness is available in two sizes, a "Large" and an "XL":
The Large is designed to accept binoculars with a maximum objective lens diameter of 42mm. So will be ideal for your commonly found and used 8x42, 10x42 binoculars. It has a weight of 7.2oz (215g) and it's dimensions are Width: 5.5in x Depth: 3.15in x Height: 7.3in.
Whilst the XL can accept bins with up to 56mm objective lenses. So This would include your more high powered, long distance binoculars like a 16x50, or 15x56 for example. The KUIU XL weighs 8.3oz (235g) and has dimensions of 6.1in x 3.35in x 8.5in.
Badlands also have a couple of different size options. The Badlands Bino-X Binocular Harness is their largest bino case and the company says will accept most 56mm bins or smaller. Note this means it will obviously take 42mm bins, but is optimized for larger models. The reason you may decide to still opt for the larger case even if you have a 42mm bin is so that you can also carry other gear within the bag.
The Badlands Bino X has a total weight (including the straps) of 1lb (16oz / 454g) and it's dimensions are 10in x 7.5in x 4in.
If you use a 42mm binocular, want a more lightweight and compact case, then you will be better opting for the Badlands Bino C Case and harness which in their words is Optimized for 8x42 binos. Obviously a 10x42, or any other 42mm bin will also be just fine as well.
The Badlands Bino C has what they say is the same total weight of the Bino-X of 1lb (16oz / 454g), but is far more compact: 8in x 6in x 2.5in.
Protection
Whilst there is no doubting that both the Badlands and Kuiu bino harnesses offer a far higher level of protection than if you were just to use your neck strap or even a traditional non covered harness for that matter. However there are a few small differences between each of them that are well worth keeping in mind as they may influence your decision, especially if you are looking to get the highest level of cover and protection for your instrument as possible:
Kuiu Harness
An obvious strength of the Kuiu is it's compact, low profile and lightweight design, nevertheless there is a trade-off because you get less padding and so it does not provides as much protection to the instrument inside it than a very well padded case like those from Badlands.
On top of this, the flip top lid design is such that the cover does not completely encase and go all the way around your binocular (it is open at the rear). As this open section leaves the binocular resting against your chest, this is not a worry interns of impacts against your instrument as your body will protect them. However it does enable water and debris to get into the pouch.
This can be a real issue if you often find yourself going through thick undergrowth as not only can it make your optics become dirty, but the last thing you want is something with a rough or pointy edge getting in the bottom of the pouch and rubbing against the lenses of your binoculars.
Kuiu do offer a solution to this with an included and detachable waterproof rain cover. However it is something that you have to remember to put on before going through terrain where debris can enter and then this obviously makes it less easy to access your binos.
As for the ensuring that you don't accidentally drop your binoculars, as they are attached to the straps there is no chance of this happening. However this system can be a little painful for those who like to swap their bins with a friend or attach them to a tripod, as you have to unclip them every time.
Badlands Bino Case
In contrast, the amount of padding that you get with either the Bino X or Bino C from Badlands is far more protective. The fact that it is also a fully covered case and snaps closed with a long strip magnet means that your binoculars are also better protected from things like rain, snow, dust and small debris.
Another difference between these and the KUIU system is that your binoculars simply sit in a pouch within the case. This means they you do not need to unclip your bins from the harness should you wish to pass over to a friend or fix them to a tripod. Note: They do have a tether located internally that you can attach to your bins to prevent the possibility of your dropping them if you want the added security.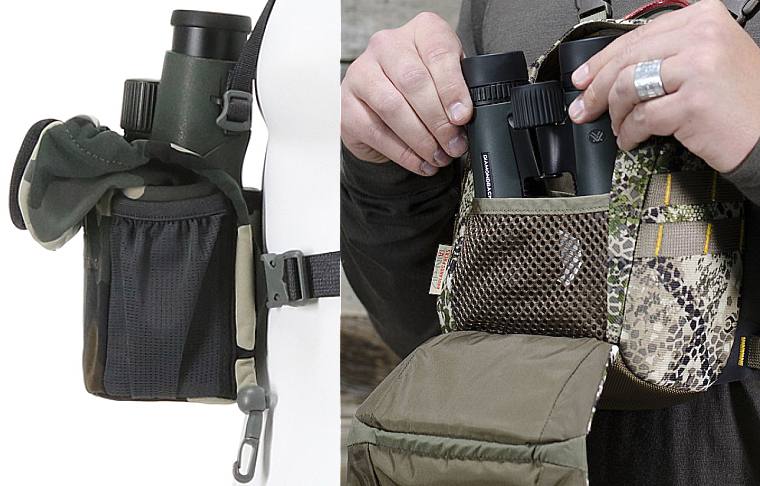 Access
In terms of how quick it is to access your optics start glassing, both are just about equal:
With the Kuiu, you simply flip over the top section that covers the eye-pieces on your bins and pull them out. It is quick as well as almost silent (unlike some cases that user Zippers).
Likewise, with the Badlands Bino X and Bino C, you flip open the front of the bag that is held closed magnetically and take out the binoculars which are kept secure in their own pouch. This is as quick and silent as the Kuiu. So I would say the honors are even in this department.
Comfort
In terms of carrying comfort, here again the harness part on both the Badlands cases have the edge over the KUIU, which has far thinner and completely unpadded shoulder straps.
With the Bino C you get a wider shoulder section that will distribute the weight better that which you get on the Kuiu Bino Harness:
Then what I also like is that Badlands have recognized that your load will most likely be heavier with their larger Bino X Harness (if you are using larger bins) and as such they have beefed these shoulder sections up by adding extra padding to them:
Storage, Accessories & Extras
With the Badlands Bino X, I like the Zipped closed pouch located on the rear of the harness straps where you can fit a hydration pouch (It will accept a 1 Liter water reservoir) and then run the water tube from there through hooks on the shoulder strap and have it rest in a convenient location to access.
You don't have this option with their smaller Bino C, but what you do get is a handy hook under the bag that can be used to attach many items, but is especially designed to hang a bow from to keep your hands free whilst glassing.
Both harnesses from Badlands have quick release tethers on either side of the bag and are perfect for attaching items like rangefinders, rangefinder bags, water bottles etc. They also both have internal zipped closed pockets ideal for safely storing small items like keys, money or licences etc.
Cost
In terms of price, if you look at the recommended retail price they are pretty even, however I have seen the Badlands Bino X being sold at reduced rates which once again gives them the edge (at the time of writing – however this can of course change):
Kuiu Harness
Depending on the size you choose the Kuiu bino harness will set you back between $85 and $90 / £85 or £90:
Badlands Harness
Both the Badlands Bino X and the Bino C are currently available for around $80:
Videos
Below are some product videos that I find also really help in showing what each case is about and their relevant features:
KUIU Bino Harness
Badlands Bino X Harness
Badlands Bino C Harness
Summary
As I started off this article, I think both solutions are excellent and certainly amongst the very best protective binocular harnesses currently on the market. Which you go for will depend on your requirements:
Choose the:
Kuiu Bino Harness: If you want a lightweight, low profile harness that offers a good, but not great level of protection, extra carrying capacity and comfort.
Badlands Bino C Harness: If you want more protection and a little extra comfort than that which you get with the Kuiu Harness and perhaps save a few dollars.
Badlands Bino X Harness: If you want the maximum level of protection, comfort and carrying capacity, but are willing to take a hit when it comes to the size of pack that you place on your chest. It is also currently easier to get hold of and less expensive than the KUIU.
Cost & Where to Buy
Kuiu Harness
Depending on the size you choose the Kuiu bino harness will set you back between $85 and $90 / £85 or £90:
Badlands Harness
Both the Badlands Bino X and the Bino C are currently available for around $80:
More Information & Further reading