Going on holiday, this question comes from someone looking to get some innexpensive / cheap travel binoculars for themselves as well as for their children:
Question:
I'm headed to South Africa in less than 2 weeks with three kids aged 6-11. I'd love to buy each child a pair of lightweight binocs for around $100 (£100) each. I'd also like to get 1-2 pairs of binocs for the adults for $150-200 (£150 – 200) each. Can you help? We don't wear glasses, and lightest weight is one of my top criterion
Answer
Many thanks for the question, I will start by going over the main points to look for when selecting binoculars for your children:
Childrens Binoculars
Whilst I know you are off on holiday and so you are rightly looking for compact binoculars for travel, but even if you weren't, it still makes perfect sense to get a pair that is both small and lightweight for your children as they will find it much easier to hold onto and keep steady.
It is also important to keep the magnification a little lower for your kids as not only will it make it easier for them to keep the view still, but it will also mean that the width of the view through them (field of view) will be wider, which makes it much easier to locate and follow whatever it is they want to observe.
For more on the important features to look out for, take a look at this page on choosing binoculars for children, that goes through it all in much more detail.
Recommendations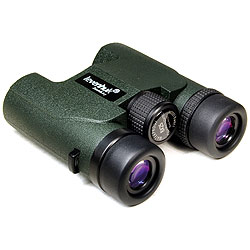 Available for about $70 / £80, these Levenhuk binoculars fill all the required criteria and leave you with a litle change to spare.
They have come with an incredibly Wide Field of View that will make it easier for adults and espicially children to quickly locate whatever it is they want to se and then follow it. Great for birds, but also general wildife viewing.
In my review of them you can read that I was very impressed that you get a fully water and forg proof body with fully multi-coated optics and roof prisms made from BaK-4 glass.
Vanguard Orros 8x25 Binoculars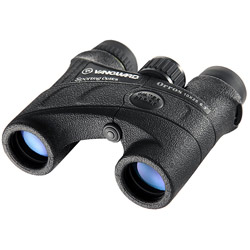 Costing less than $90 / £90, these compact Vanguard binoculars are under budget, small and lightweight.
They have a really close minimum Inter-Pupillary Distances (IPD) meaning they will fit small faces (as well as larger ones) and what is more their unique off center hinge means that it makes it much easier for those with smaller hands to reach the focus wheel.
Whilst at this price you can't expect them to match bins that cost 10x more, they do still come with some pretty impressive optics including multi-coated lenses, roof prisms made from BaK-4 glass. The optics are protected with rubber armour and they are both fog and waterproof.
Whilst I have not reviewed the 8x version which I suggest you get due to the reasons stated above, you can still read my full review of the 10x25 Vanguard Orros Binoculars, which apart from the higher power use all the same components.
Steiner Safari 8x22 Binoculars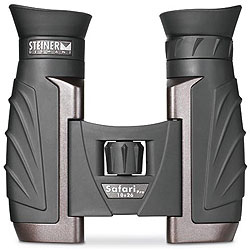 As a small, lightweight and reasonably inexpensive bin that is ideal for travel, safaris and indeed for older children (as well as adults), I would also suggest that you take a look at the range of compact Steiner Safari and Wildlife binoculars.
Whilst many come with 10x and even 12x powers, I would once again suggest taking a closer look at the lower powered models like the Steiner Safari 8x22 Ultrasharp Binoculars, winner of the award as the Best Compact Binoculars on Binoculars.com 2013.
Others
If you are in the UK, take a look at the Opticron 8x25 Taiga – these very budget friendly compact porro prism binoculars that have an excellent performance to price ratio and a wide field of view.
Adults Travel Binoculars
I have written a number of article relating to travel and safari binoculars that includes loads of advice as well as recommendations, so rather than just repeating it all again, please take a look at the following pages that should help:
You mentioned that your main criteria was weight, so if you want something a little bigger with slightly improved low light performance, but is still lightweight and comes in under budget, you may also want to take a look at these: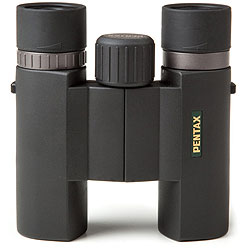 Whilst still classified as a compact binocular, their reasonably large 28mm objectives and great quality optics, these Pentax binoculars match many larger and more expensive instruments in many areas.
Combine this with their somewhat unusual 9x magnification that offers just a little more image detail than those with 8x, but without sacrificing too much field of view and you have a great travel companion that is ideal for viewing larger wildlife as well as the small stuff like birds.
Costing less than $200 / £200 they are water and fog proof and utilize many high end features including phase-correction coatings on the prisms and fully multi-coated optics.
Read my full review on the Pentax DCF LV 9x28 Binoculars.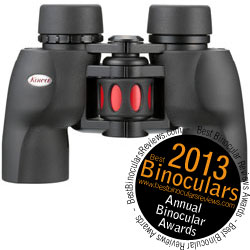 Costing about $100 / £120, it is easy to se why these porro prism Kowa binoculars won my award for the Best Low Cost Binocular 2013.
The Kowa 8x30 YF binoculars have a really wide FOV and I thought that the quality of the view through them matched many far more expensive products. Ideal for adults, but if you are interested, these mid sized bins are also great for older children, as they are still lightweight and have a narrow IPD setting for those with close set eyes.
Read my full Kowa YF 8x30 Binocular Review.
Further Questions & Related Information:
I hope that some of this advice helps and that you get the right bins and really enjoy your holiday. If you need any further advice, just use the comments section at the bottom of this page which will help me to keep it all in one place. Or if you need any more information, please take a look at the links below on some related articles that may help:
Have a Question?
Whilst the BBR website contains loads of information on almost everything to do with optics and binoculars, everyone's specific needs or problems are slightly different. So if you have a particular question that has not already been covered on the site, you and Contact Me Here.