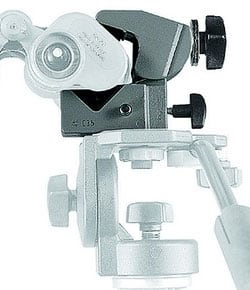 I had a question a few days ago from someone looking to attach their binoculars to a tripod, but their binoculars did not have the moutning thread and they were wondering if it was still possible.
Universal Binocular Tripod Adapters
The good news is that it is still easily done with a universal tripod adapter for binoculars. There are a few types, the most commonly used have a curved base and an adjustable strap that allows for binoculars of many sizes to be mounted to them and then attached to a tripod. But I recently came across a Manfrotto Clamp designed for binoculars that is also worth taking a look at:
Manfrotto Binocular Super Clamp 035BN
The Manfrotto Binocular Super Clamp is ideally suited to porro prism binoculars, but will clamp onto any binocular with a tube size from 13 to 55mm. It is designed to securely hold one of the barrels of your binoculars and is then attached to your tripod head. This binocular clamp is especially useful for binoculars without a traditional tripod moutning thread to be attached to a tripod or monopod.
The Manfrotto 035BN binocular clamp has a load capacity of 15kg. Clamp range round tube: 13-55mm. Attachment to the tripod ot your tripod headc(bottom): 16mm hexagonal + M5 & 1/4″ threads. Weight: 0.25kg.
Where to Buy & Prices

This adapter costs around $30 in the US or about £25 in the UK:

Manfrotto Binocular Super Clamp in the USA

Manfrotto Binocular Super Clamp in the UK
Further Reading
The Binocular Tripod Adapter – Read my guide to tripod adapters for binoculars that includes all the major designs available and how they work.